One Direction and Justin Bieber fans fall under tough criticism for their fandom. But this has less to do with them than it does technology and hormones.
Teen and pre-teen girls have caught a lot of flack for their dogged adoration of pop stars like Justin Bieber and One Direction. And in some cases, rightly so: on several occasions, Bieber fans–popularly coined as "Beliebers"–have actually issued death threats to people (often women) who get too close to their carefully-coiffed obsession.
In 2011, when Bieber failed to win a Grammy for best new artist, fans vandalized the Wikipedia page of Esperanza Spalding, the jazz artist who bested Bieber for the title. And lest it be forgotten, after Zayn Malik called it quits with One Direction early in 2015, teen girls began to share images on social media which indicated that they had physically harmed themselves after hearing the news.
While these fans may seem insufferable–and often are authentically, unabashedly so–such attributes have less to do with the generation specifically and more with the technology that allows the hysteria to circulate so quickly and widely. Can you imagine what a Beatles fan would have tweeted during their 1964 tour in the United States, or what images an Elvis Presley devotee would share following the announcement of his engagement to the young Priscilla?
In a 1992 essay on Beatlemania, authors Barbara Ehrenreich, Elizabeth Hess and Gloria Jacobs wrote that "For girls, fandom offered a way not only to sublimate romantic and sexual yearnings but to carve out subversive versions of heterosexuality. To abandon control—to scream, faint, dash about in mobs—was, in form if not conscious intent, to protest the sexual repressiveness, the rigid double standard of female teen culture."
As girls' bodies begin to change and sexuality becomes less of an idea that lurks beneath Barbie's dress and more of a reality begging to be examined firsthand, the feelings that a girl develops come not just with desire, but fear. The sexual world is new and difficult to navigate, especially when it stands before you, flexing its pelvis and singing its promises of pleasure.
Said writer Rachel Monroe in an essay on the subject, "Teenage girls have been mocked for their crushes, but that scorn is just a shoddy mask for the anxiety these crushes inspire. Because a teenage girl with a crush is frightening. The Beatles were always on the run from shoving, hysterical girl-crowds, who wanted—what? To crush into them, to crush themselves, to crush against other girl-bodies that were all feeling the same feeling together, a chaos of feeling, a feeling that took your breath away."
Rather than responding to the singular appeal of artists like One Direction and Justin Bieber, today's teen and pre-teen female fans bring the legacy of music's complex, seemingly magical relationship with human hormones and sexual defiance into the present. The shrieking and squealing is still there; it's just shared a bit differently. See the similarities below in this gallery of hysterical fans past: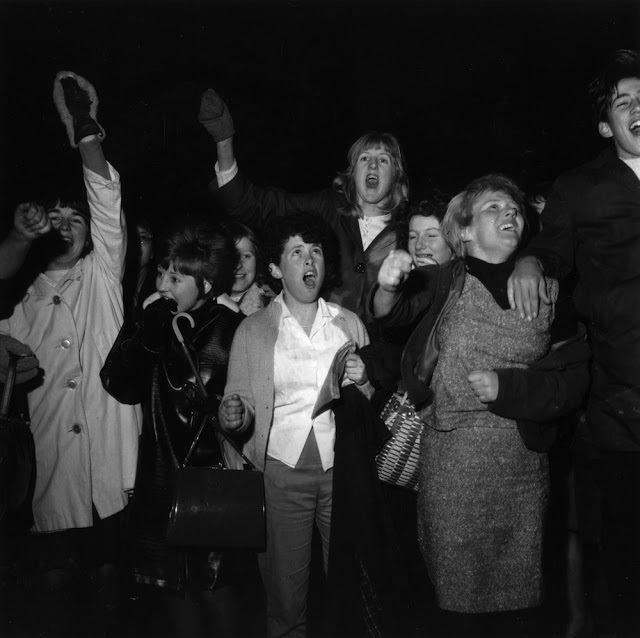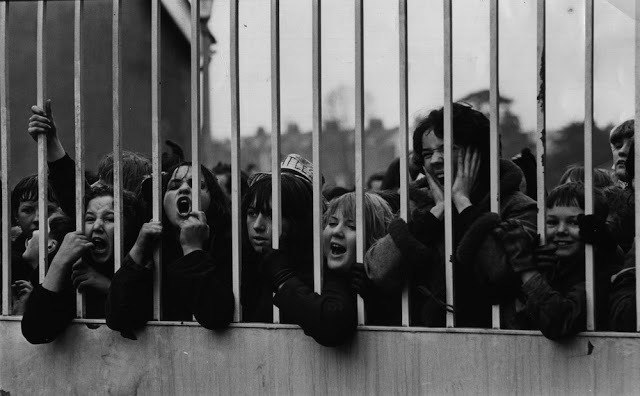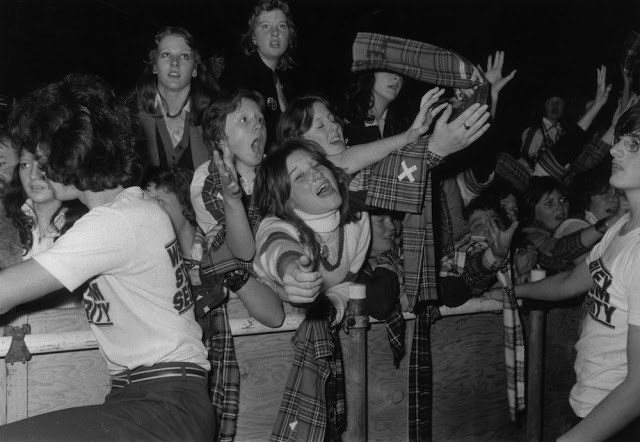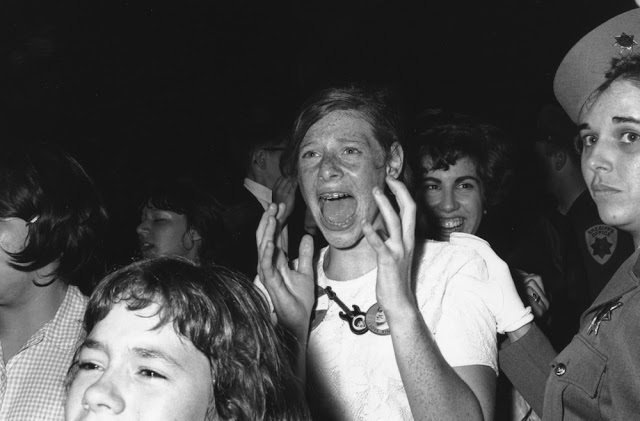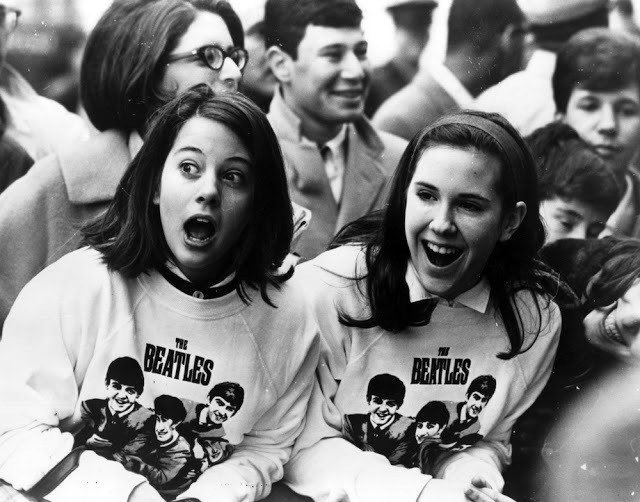 Beatle fans get hysterical at a December 1963 show. Source: Getty Images
Beatles fans wait for their idols to exit ABC Television Studios in Teddington, England. According to Getty, fans waited three hours in the rain only to be told that the Beatles would not be leaving for at least another eight hours. The fans stayed and waited. Source: Getty Images
Hysterical pop fans at a 1975 Bay City Rollers concert at Wembey Empire Pool, London. Source: Getty Images
A Beatles fan squeals upon sight of her idols. Source: Getty Images
Two girls don Beatles sweatshirts while waiting to welcome the group as they arrive at the airport. Source: Getty Images
Teenage Beatles fans screaming in the United States. Source: Getty Images
David Bowie fans at his last concert in which h performed as his Ziggy Stardust persona. The concert took place at the Hammersmith Odeon, London in July 1973. Source: Getty Images
An overcome David Cassidy fan at a May 1974 concert in London. Source: Getty Images
Teenagers at a May 1974 David Cassidy concert at White City, London. Source: Getty Images
Dave Clark of the Dave Clark Five meets with fans outside of The Royal in Tottenham, London in January 1964. Source: Getty Images
A hysterical fan grasps a wire fence at a David Cassidy concert at White City, West London. Source: Getty Images
Front row Duran Duran fans scream at a concert held at London's Wembley Arena, December 19, 1983. Source: Getty Images
In May 1975, Osmonds fans wait behind a barrier in Eaton Square where the group is staying during a visit to London. Source: Getty Images
David Essex fans lose control during an October 1975 concert at the Belvue in Manchester. Source: Getty Images
A London policeman covers his ears as Beatles fans welcome the group as they return from their USA tour in February 1964. Source: Getty Images
18th February 1954: Jazz fans collapse at a crowded dance hall where Ted Heath, Dickie Valentine and Lita Roza are performing. Source: Getty Images
In November 1963, girls wait at the door of the Prince of Wales Theatre, where The Beatles are rehearsing for the Royal Command Performance. Source: Getty Images
Beatles fans go nuts in New York. Source: Getty Images
On May 30th, 1975, teenage girls scream and cry at the sight of The Osmonds. Source: Getty Images
15th March 1965: British police hold back excited young Beatles fans hoping for a glimpse of their musical heroes during the filming of the musical 'Help', on location in London. (Photo by Stan Meagher/Express/Getty Images)
Policemen attempt to control a crowd of young female Beatles fans. Source: Getty Images
In May 1975, Bay City Roller fans shriek at a concert in Swansea. 16 of them had to be taken to hospital. Source: Getty Images
In August 1964 a fan is escorted off the stage as The Rolling Stones perform at the Wimbledon Palais, London. Source: Getty Images
A fan lies crying on the stage at a May 1974 concert by the British rock group Slade. Source: Getty Images
Rolling Stones fans watch the band at an August 1964 concert at the Wimbledon Palais, London. Source: Getty Images
Hysterical fans at a 1964 Stones concert. Source: Getty Images
American police officers hold back Rolling Stones fans in New York, 1964. Source: Getty Images
Rolling Stones fans at a concert at Wimbledon Palais, London. Source: Getty Images
In February 1964, Beatles fans watch the group perform on the 'The Ed Sullivan Show'. Source: Getty Images