The Ferguson protests raise a number of important questions about what justice looks like in a broken system.
When trying to make sense of what often appears to be a senseless world, it often–and perhaps inexplicably–helps to look at satire. In the case of the recent protests in Ferguson, Missouri, journalist Josh Keating does just that when he examines what coverage of the clashes in the St. Louis suburb would look like if they happened outside of the US:
"The crisis began in August in Ferguson, a remote Missouri village that has been a hotbed of sectarian tension. State security forces shot and killed an unarmed man, which regional analysts say has angered the local population by surfacing deep-seated sectarian grievances. Regime security forces cracked down brutally on largely peaceful protests, worsening the crisis.
In response, ancient American tradition called for the gathering of a community tribal council known as a "grand jury" to weigh the case. On November 24, it announced there would be no charges against the responsible security forces. The stunning decision, which reflects the opaque and mysterious nature of the "grand jury" tradition, further outraged the already despondent local populace."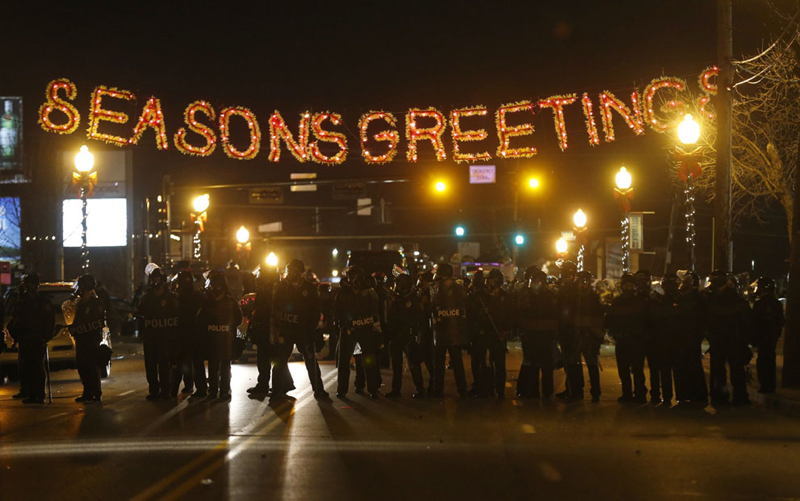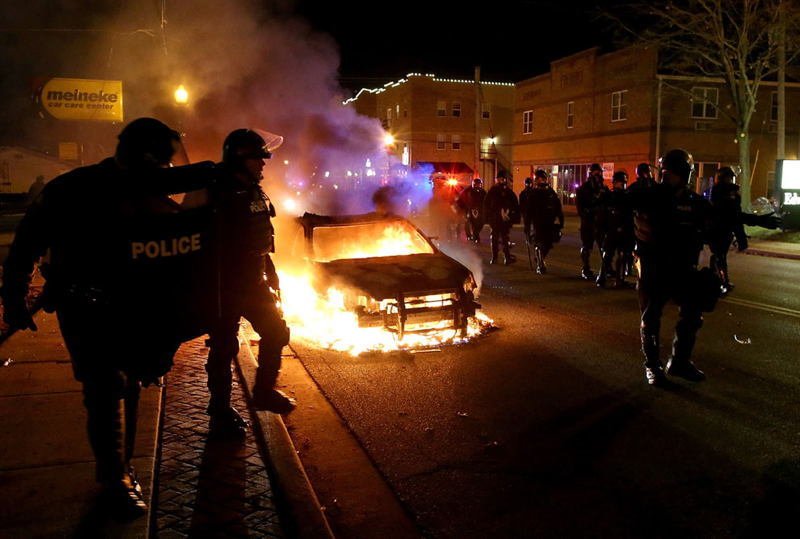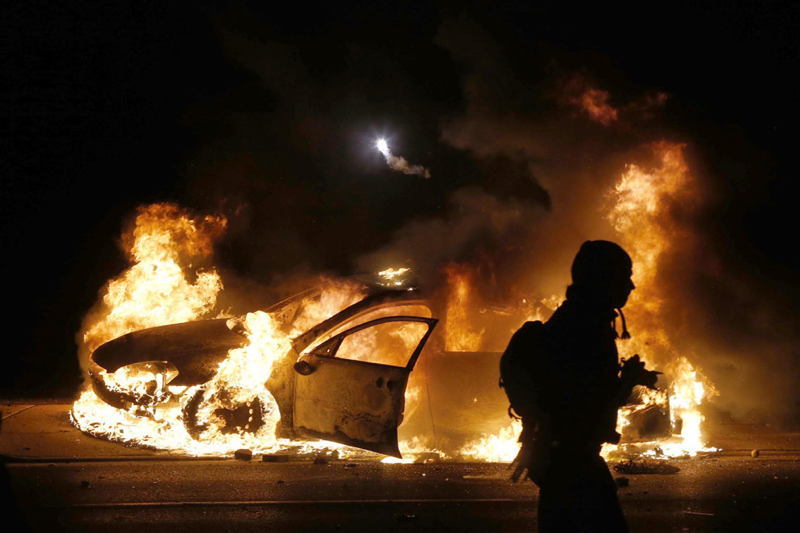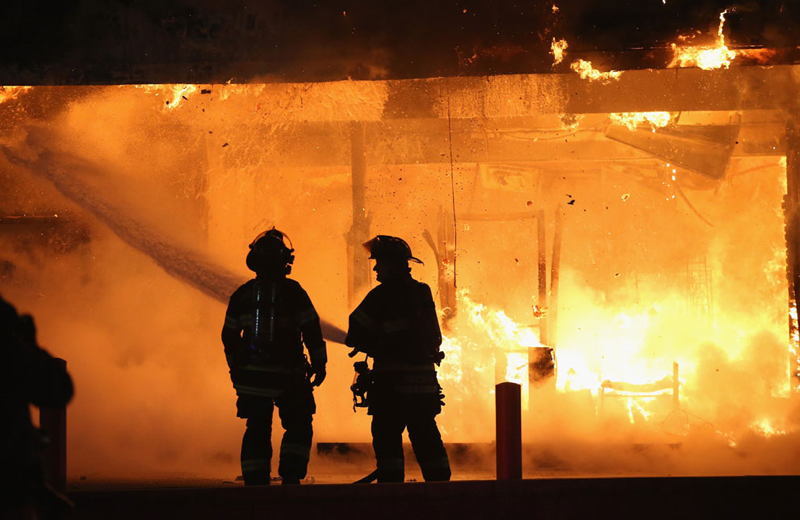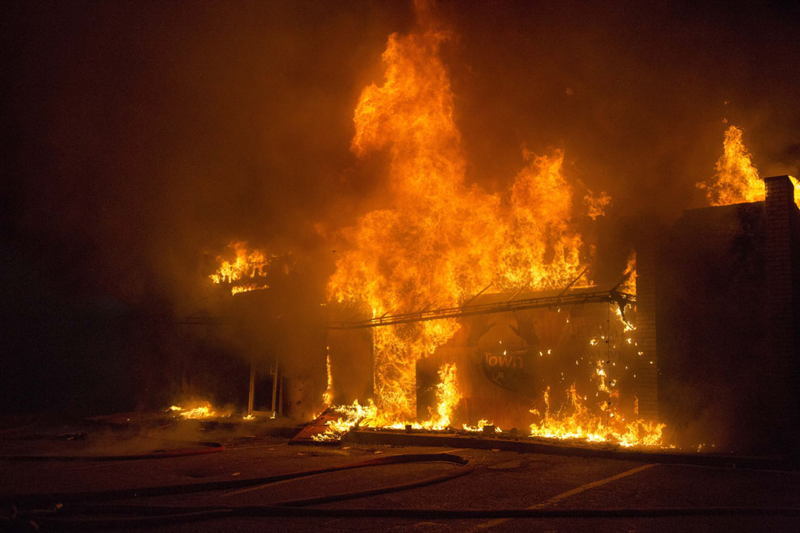 On the eve of Thanksgiving, the grand jury's decision--and community response--leaves Americans with much to consider regarding race, equality and power.
A police car burns in Ferguson Missouri, following a grand jury decision not to indict Darren Wilson in the shooting death of Michael Brown.
Following the decision, Ferguson quickly devolved into absolute chaos, with protestors burning buildings and, as this photo shows, cars.
Firefighters try to assume some sort of control over a burning restaurant.
Many small businesses in Ferguson saw their fiery end the night the Brown-Wilson decision was delivered, doing little to advance the economic standing of the neighborhood or the legitimacy of the "protestor" cause.
Media coverage of the post-decision events in Ferguson has been as vast as it is instant. Here, media gather at the scene of a Ferguson fire.
A looter exits a drug store in a haze.
A fire breaks out within a Walgreens in Ferguson.
This photo captures looters in the act.
To some in Ferguson, civil discontent following the jury decision allowed for anarchical, illegal acts like looting.
Looters exit Ferguson Market and Liquor store on Monday.
Protestors kick at a police car following the grand jury decision. One of the primary problems surrounding the case is how much leeway Missouri state law gives to police officers' use of lethal force in times of conflict. Such lawful latitude is one of the reasons why the jury did not choose to indict Wilson.
Missouri State Troopers break out the riot gear in preparation for public outcry regarding the grand jury decision.
A demonstrator's eerie silhouette can be seen before the cold light of Ferguson police vehicles.
This woman's anger is palpable as she approaches a barricade in Ferguson.
While most media attention has focused on chaos, a number of people expressed their disappointment with the decision peacefully. Here, a group of people protest through prayer outside the Ferguson Police Department.
The events following the decision evoked a number of unbelievable responses, this being one of the most surprising of them all--and not unlike the "flower power" moment during anti-Vietnam War protests.
Police officers in Ferguson don gas masks to protect themselves during clashes with demonstrators.
Numerous protestors in Ferguson were met with tear gas following the decision.
Police haul off a suspected looter outside of a Dollar Store in Ferguson, Missouri.
Firefighters examine the remains of a strip mall in Ferguson.
A Ferguson firefighter examines strip mall rubble. The strip mall, like a number of other buildings, was set ablaze following the jury decision.
Charged with trying to re-assert some sort of order following the chaos, yet another firefighter surveys the damage suffered by
Another wrecked storefront in Ferguson.
"Justice" took a number of forms early this week; some constructive, some not. Here, Natalie DuBose stands before her cake store, which had just been ransacked by looters seeking "justice" in the name of Michael Brown.
St. Louis county police examine a business burned during the demonstrations.
Another victim of the Ferguson riots, Terri Willits, leaves what once was a gas station she managed.
Another victim the day that Brown was killed is this convenience store owner, from whom Brown was alleged to have stolen a pack of cigarillos. Following the jury decision, his store--like so many others--fell victim to the riots.
Hunan Chop Suey restaurant owner Shan Zhao stands before his business on Tuesday. It was vandalized and looted the night prior.
An aerial photo really exhibits how devastated the restaurant--and Zhao's livelihood--was violated by illegal activity. More than a dozen businesses were badly damaged or destroyed.
One of the most widely circulated images coming from the Ferguson riots. All that remains of this shop is its sign; the building itself was reduced to a pile of charred rubble.
Shards of glass must be cleaned up the morning after the riots.
A police officer says goodbye to his child Monday morning. Missouri officials had anticipated violence before and after the release of the indictment decision. They were correct in their assumptions.
A reporter examines a damaged laundromat in Ferguson.
Rubble and glass replace salt and pepper shakers in this damaged Ferguson restaurant.
A reporter heads to one of the many buildings damaged during the riots.
This man's love for Ferguson means that, in spite of being broken into the night prior, he will come back to work the following day to quite literally pick up the pieces.
Looters broke into a beauty supply store as well, leaving behind a strewn mannequin.
Looters took the "free cell phone" sign quite literally at a cell phone store in Ferguson.
During the day, the burned car remains assume a more ghostly character.
More than just business owners participated in the post-riot cleanup. Here, a volunteer does some grunt work to restore buildings damaged during the protests.
A protestor's sign comments on the alarming trend of men gunning down young black men--and the media's tendency to fetishize it--in one fell swoop.
Protests have extended throughout the country. Here, protestors are featured marching up New York City's Seventh Avenue.
Just a little farther West, demonstrators gather in Newark, New Jersey to rally against the decision not to indict police officer Darren Wilson.
Demonstrators seen outside of Minneapolis Police Department's Third Precinct.
In the nation's capitol, schoolchildren from Potomac Preparatory Charter School participate in a "die-in" outside the Office of Police Complaints.
Protestors block traffic in Seattle.
The march continued to the White House.
In Seattle, a protestor is met with tear gas.
That, in a nutshell, is precisely what has happened in Ferguson this week. Missouri state officials anticipated such a response, establishing a state of emergency prior to the release of the decision not to indict police officer Darren Wilson, who killed 18-year-old Michael Brown following what Wilson claimed to be a life-threatening physical altercation with Brown.
Coupled with Missouri state law that grants police officers considerable legal leeway when it comes to the use of lethal force, the evidence and (often conflicting) testimony presented failed to convince the grand jury that Wilson was not acting "reasonably" in shooting Brown and therefore had committed a crime.
Before St. Louis County Prosecutor Robert McCulloch--who has been severely criticized for his handling of the case--finished the press conference in which he relayed the jury's decision to the masses, parts of Ferguson were already up in flames--with many other parts of the country taking to the streets in solidarity.
The images emerging from Ferguson are hard to make sense of: the majority of responses shown are incredibly glandular, and in terms of scale--over a dozen buildings were damaged or destroyed--seem to be responding to something much larger than a single jury decision.
Some, like Senator Rand Paul, link the dramatic events unfolding in Ferguson to the increasing powers of the police force and the War on Drugs. Others consider it to be a response to years of subjugation--and fear--of the big, black man on behalf of the (mainly white) state.
Still others see no difference between the two camps and describe the events unfolding in Ferguson as the results of years of institutionalized racism finally revealing its ugly, community-shattering face. As for the fiery riots, they are more symbolic: Martin Luther King Jr. considered riots to be the "voices of the unheard", and others have since argued that property destruction represents an attack on the property-owning class which has waged a longer, more damaging war against the landless and often darker poor.
Most taking part in Monday night's events claimed that they did so in pursuit of justice for the now deceased Michael Brown. And yet, as an already broken community begins to pick up its physical pieces, one cannot help but wonder if justice can ever be achieved through continued violence and destruction.
For context's sake, here's what the St. Louis County Prosecuting Attorney, Robert McCulloch, said (in full) before Ferguson descended into chaos on Monday night:
Be sure to check out the nation-wide response in this video:
And the cell phone video from the Michael Brown shooting. Please be warned that it is graphic:
Thanks to Yahoo, CNN and The Atlantic for the images featured in this post.