The geyser at Fly Ranch in Nevada is a unique, rainbow-colored geologic wonder — and it formed by complete accident.
In the middle of the Nevada desert lies an otherwordly landmark: a geyser in the shape of three six-foot-tall rainbow cones that spews boiling water nearly 12 feet up into the air.
Though it might seem like the least likely place on Earth for this geological wonder to exist, Fly Geyser does, indeed, stand in the dry desert climate of northern Nevada.
Located on a 3,800-acre plot of land known as Fly Ranch about two hours north of Reno, Fly Geyser is a remarkably beautiful sight. But perhaps most interestingly of all, Fly Geyser isn't an altogether natural formation. In fact, it likely wouldn't have existed at all if not for a combination of human involvement and geothermal pressure.
Here's everything you need to know about the Fly Ranch Geyser and how it came to be.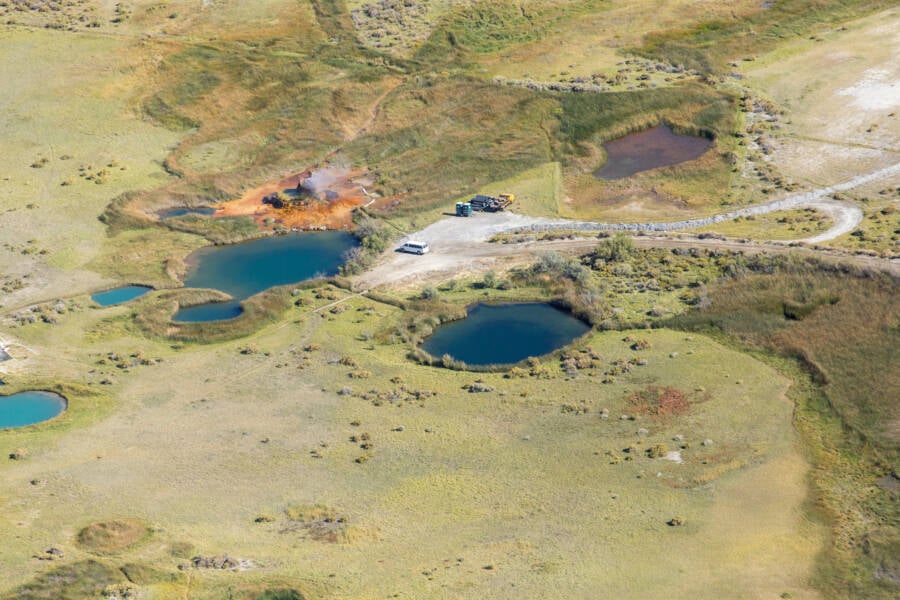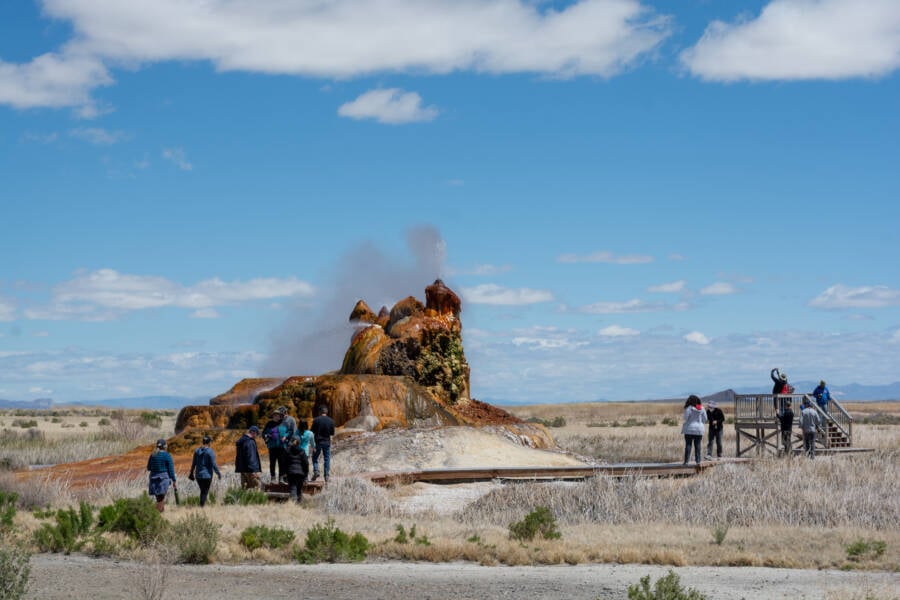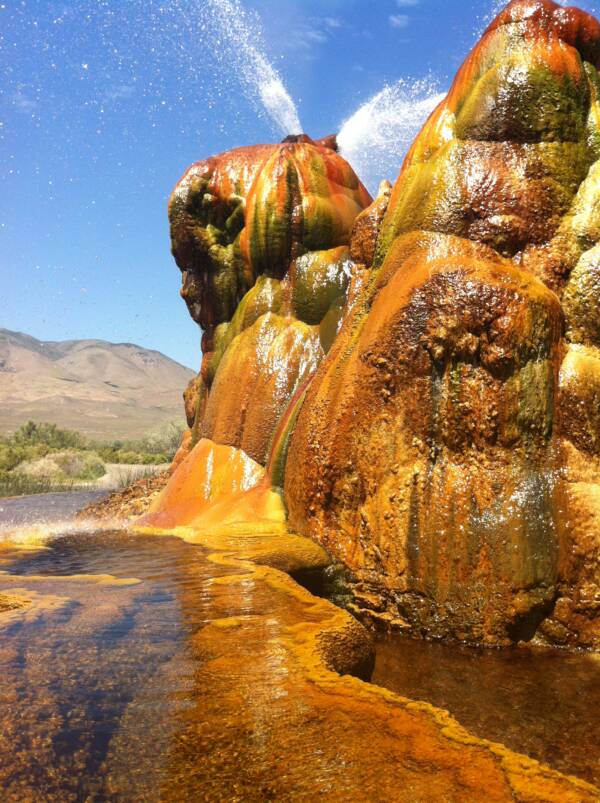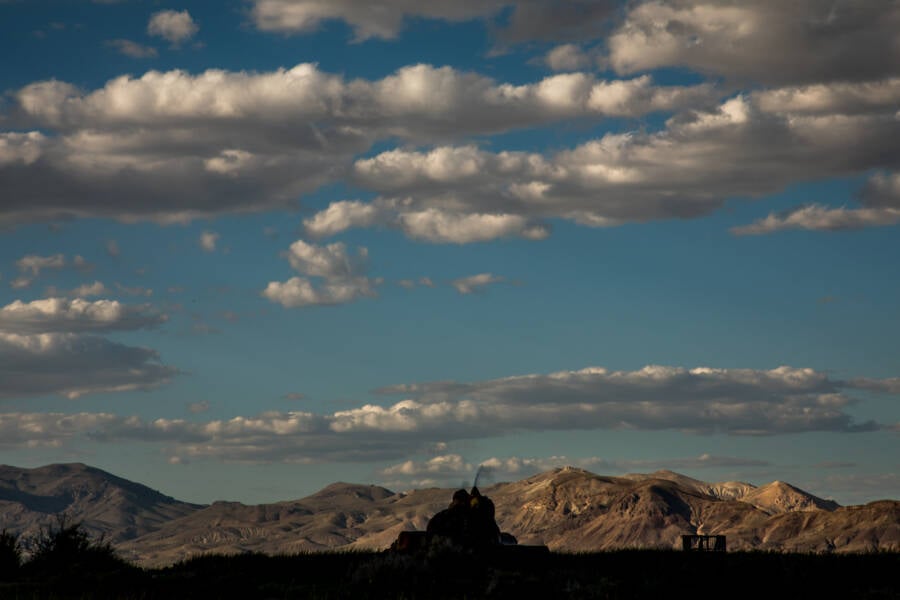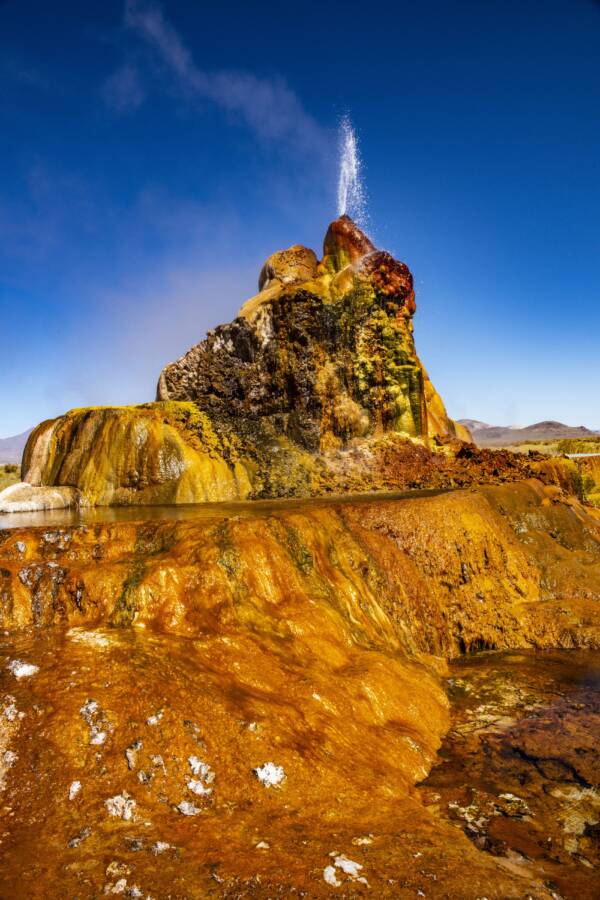 Harmony Ann Warren/Flickr
Christie Hemm Klok for The Washington Post via Getty Images
Bernard Friel/Education Images/Universal Images Group via Getty Images
Christie Hemm Klok for The Washington Post via Getty Images
Education Images/Universal Images Group via Getty Images
Lauren Monitz/Getty Images
Lukas Bischoff/Getty Images
Education Images/Universal Images Group via Getty Images
Christie Hemm Klok for The Washington Post via Getty Images
Steve Tietze/Getty Images
Bernie Friel/Getty Images
Ken Lund/Wikimedia Commons
How Digging For A Well Led To Fly Geyser's Formation
In 1916, residents seeking irrigation to make the desert suitable for farming attempted to build themselves a well. They gave up, however, when they realized the water was far too hot — boiling, in fact.
According to the Reno Tahoe eNews, this is when the property's first geyser, The Wizard, began to develop, but it wouldn't be until 1964 that the main geyser would form in a similarly accidental fashion.
That year, a geothermal power company drilled its own test well at Fly Ranch, but apparently, they failed to seal the hole off properly.
It's unclear whether this was because they simply left it open or didn't plug it well enough, but regardless, boiling water soon burst from the hole, starting the formation of calcium carbonate deposits.
Over the decades, these deposits have continued to build, eventually turning into the three massive, cone-shaped mounds that now form the Fly Geyser. Today, the cones stand about twelve feet wide and six feet tall atop a massive mound and spit water an additional five feet in the air.
Then, in 2006, a third geyser known as Will's Geyser was discovered in the area, though it's believed Will's Geyser developed naturally. But while the Fly Ranch is a site filled with natural and manmade wonders, the public was unable to access them for years.
How The Burning Man Project Is Making It Safe To Visit Fly Geyser
For a time, access to Fly Geyser was limited. It sat on private land, and remained closed to the public for nearly two decades between the mid-1990s and 2016. That year, however, the land was acquired by the non-profit Burning Man Project, which has worked to revitalize the region and make it open to visitors.
Local public radio station KUNR reported on the geyser following its reopening, with writer Bree Zender describing it as "the weirdest thing I've seen in my life — not just in geyser terms... The weirdest thing I've ever seen."
By the time the public could visit Fly Geyser in 2018, the entire formation had grown to be about 25 or 30 feet tall, which only accentuated the strange, alien-like appearance of its multicolored cones.
But making it safe and accessible hasn't been an entirely straightforward task, especially considering that some pools of water at the ranch can reach 200 degrees Fahrenheit. And in addition to Fly Geyser, Fly Ranch has multiple smaller geysers, hot springs, and wetlands, all of which make the region a unique challenge for the Burning Man Project.
"You know, we need to be mindful of where we walk. We are going to be taking a lot of game trails," said Burning Man's Zac Cirivello. "Trails that already exist. We don't want to carve new roads or seriously impair things."
Thankfully, improved accessibility has also allowed researchers to study Fly Geyser — and they've made some fascinating discoveries.
One researcher, Carolina Muñoz Saez, told KUNR, "I took some water samples to analyze the origin of the water."
Through this analysis, Muñoz Saez found that the inside of Fly Geyser is lined with a fair amount of quartz, which is more common in older geysers — 10,000 or so years older, in fact. Given that Fly Geyser is just over 60 years old, the formation of quartz in this instance is rather surprising.
But there's a reason, of course, that the quartz formed. As Muñoz Saez explained, the region has "a really high amount of silica," which, when combined with the heat of the water, makes quartz.
Today, Fly Geyser is open to visitors on a reservation-only basis. Tourists and locals curious about this strange wonder can book nature walks operated by Friends of Black Rock-High Rock, on which they'll get to see Fly Geyser and the park's other geothermal marvels.
"To me on a personal level, the geyser represents constant change," Cirivello said. "It represents a sense of being literally connected deep into the earth. I wouldn't have thought something like this could exist until I saw it. And so it begs the question, what else is possible that we haven't necessarily considered?"
---
After learning about this odd man-made wonder, check out Ireland's most majestic attraction: the Cliffs of Moher. Or, for more geyser-related stories, see why scientists are having trouble learning why the world's most powerful geyser won't stop erupting.