The couple are believed to have fallen into a crevice.
One day in 1942, Francine and Marcelin Dumoulin left their mountain home to milk their cows. Neither would ever see their home — or their seven children — again.
75 years later, authorities suspect two "perfectly preserved" bodies uncovered on a melting Swiss ski resort likely belong to the long-missing couple.
"The bodies were lying near each other," the Les Diablerets resort director Bernhard Tschannen told Swiss media outlet Le Matin. "It was a man and a woman wearing clothing dating from the period of World War II."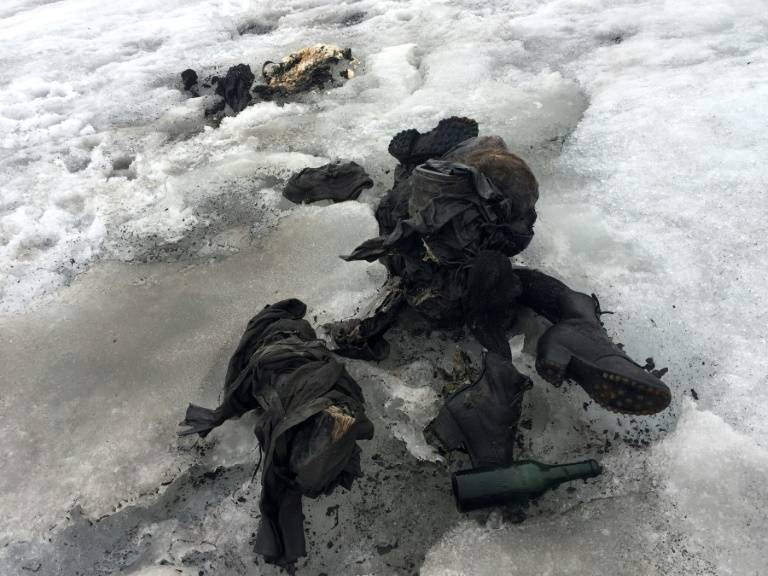 Along with the remains, Tschannen's employee found some backpacks, tin bowls, shoes and a glass bottle. It appears the couple had fallen into a crevice.
Though DNA tests have yet to be conducted, the discovery has given the couple's daughter "a deep sense of calm."
Now 79, Marceline Udry-Dumoulin said that she had never stopped looking for Marcelin, 40, a shoemaker and Francine, 37, a teacher.
She and her siblings were divided up into different households after their parents disappeared. Over the decades, they lost touch.
"After a while, we children were separated and placed in families," Udry-Dumoulin said of her five brothers and sister. "We all lived in the region, but became strangers."
Though it's an undoubtedly sad story, she won't be wearing black to the upcoming funeral.
"I think that white would be more appropriate," she told Le Matin. "It represents hope, which I never lost."
And while the thawing glacier offered hope to the Dumoulin family, it represents something entirely different to just about everyone else.
As global warming rapidly continues to melt glaciers, the mountains they've held together for centuries are starting to crumble.
Massive floodwaters, avalanches and rock slides have become regular occurrences for Swiss towns dotting the region — which has warmed significantly faster than most of the world's regions.
But silver lining: maybe we'll find some more bodies.
---
Next, see why they're digging up the body of Salvador Dalí. Then, how climate change is turning Antarctica green.