With the oldest-known dildo clocking in at 28,000 years, sex toys are older than civilization, religion, and marriage combined.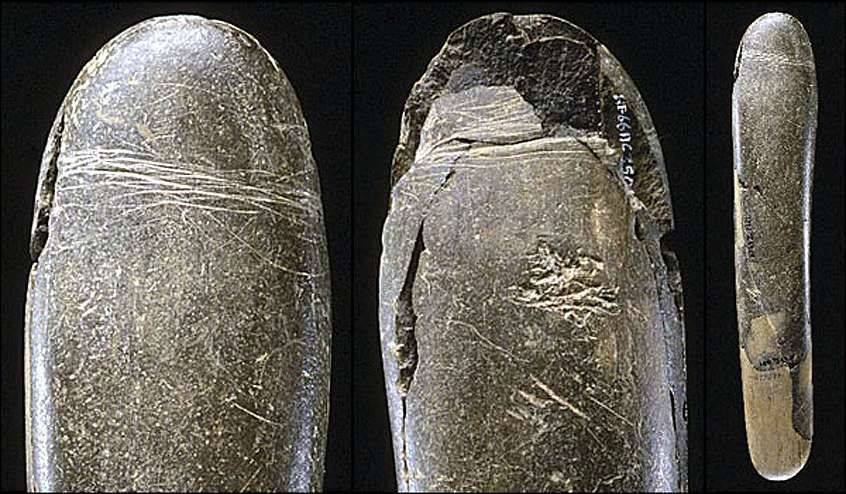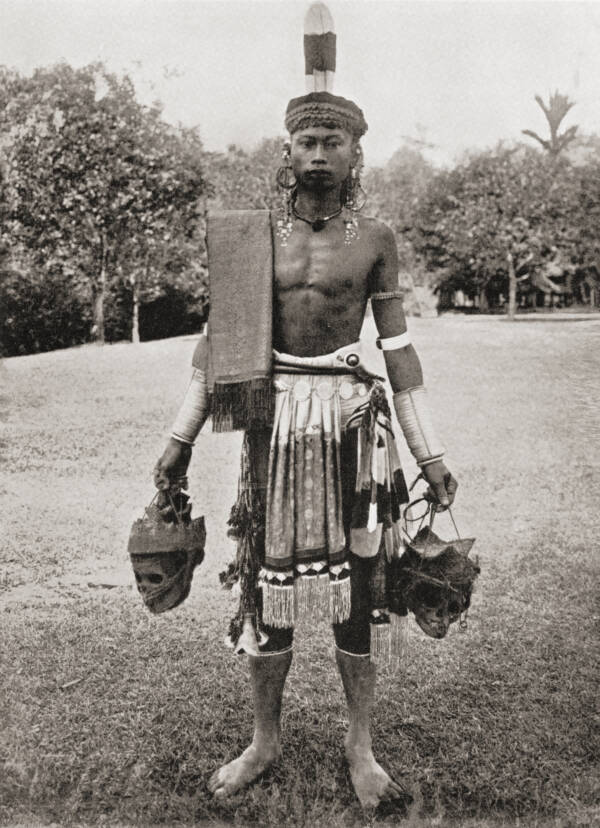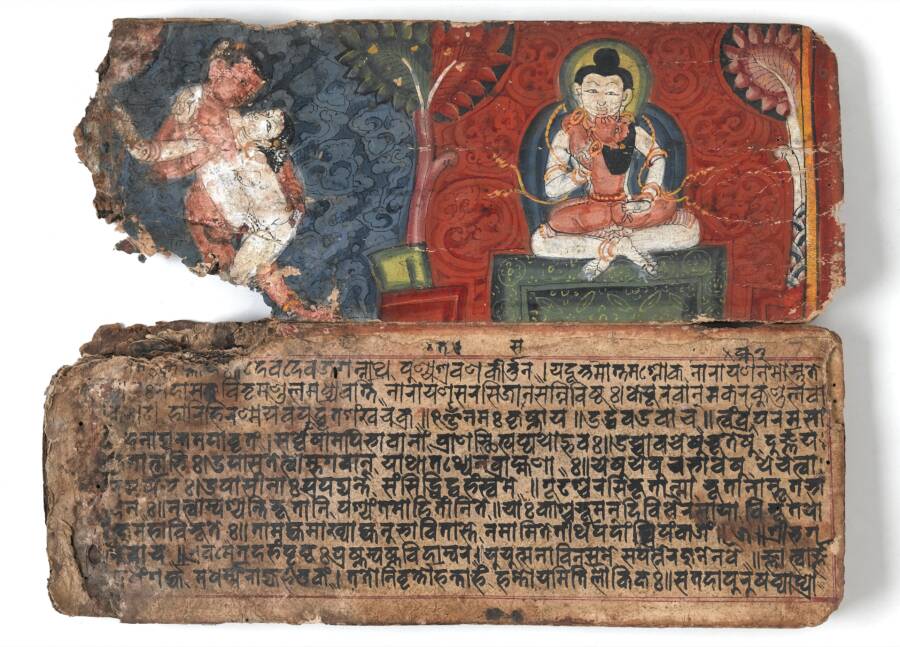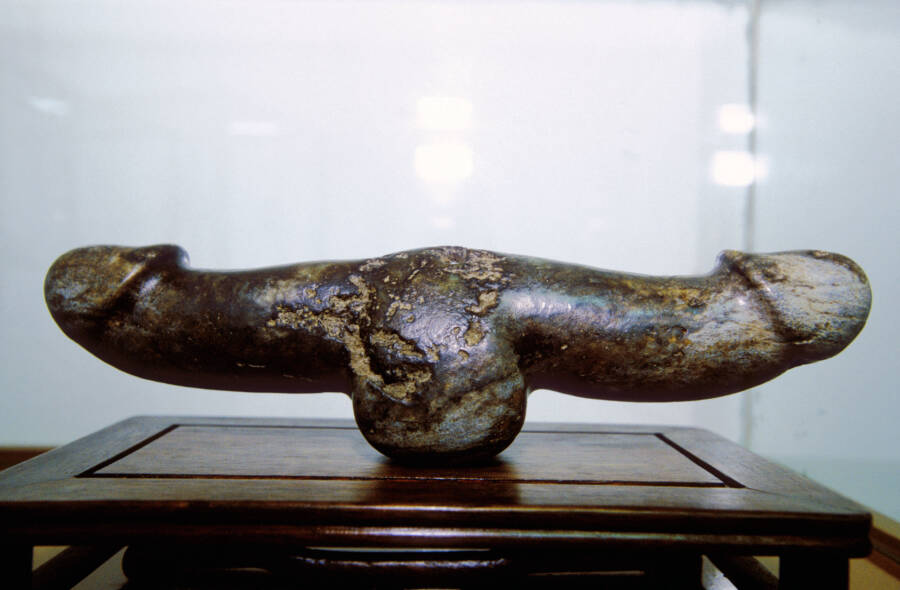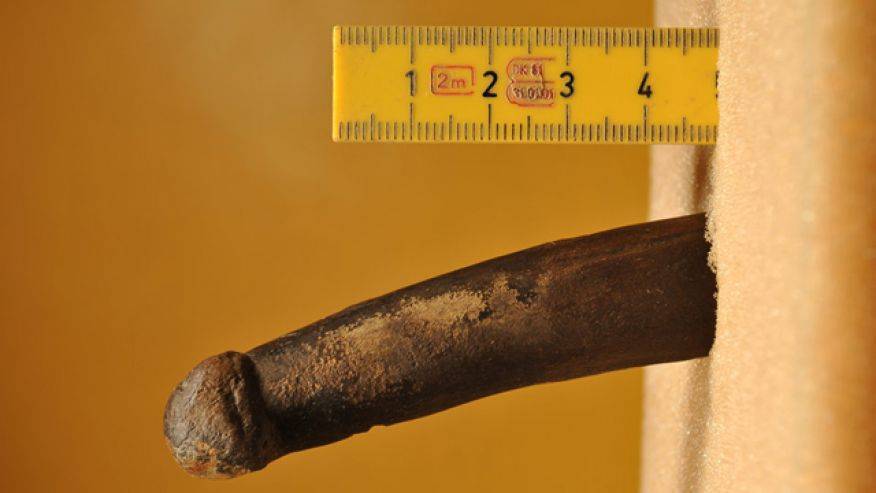 Museum Of Prehistory Blaubeuren
Universal History Archive/Universal Images Group via Getty Images
Photo by Sylvain GRANDADAM /Gamma-Rapho via Getty Images
Peter Zetterlund/Swedish National Heritage Board
Wellcome Collection gallery / Wikimedia Commons
The Print Collector/Print Collector/Getty Images
Sex Machines Museum Prague
Ajuntament de Sabadell / Flickr
The sex toy market is booming. Between more variety in toys than ever — including vanilla vibrators and BDSM tools — and the rise of eCommerce platforms like Amazon, getting your hands on a toy of your unique fancy has never been easier or more satisfying.
In fact, the sex toy market was valued in 2018 at a whopping $26.5 billion — and that's just in the United States. It makes sense, though, with 53 percent of Americans stating that they use adult toys.
However, the Asia Pacific region is not far behind, with China housing the highest number of sex toy manufacturing facilities in the world. Here they make and distribute everything from dildos to A.I. sex dolls to countries across the globe.
Perhaps most interestingly is the storied history of sex toys. Let's take a closer look at the bold and bizarre collectibles of yore.
The Most Ancient Of Sex Toys: The Classic Dildo
Asia has a long history with sex toys, far outdating the recent advancements of the American market, which is just starting to shrug off its taboos.
Going as far back as the ancient Han Dynasty, Chinese aristocrats enjoyed artfully crafted jade butt plugs and bronze strap-ons. The butt plugs were apparently used by embalmers to prevent bodily essences, like chi from leaving the body. Many of the strap-ons were light and used for either men or women and were bespoke.
These were not the first dildos in human history, however. The oldest sex toy to be discovered so far clocks in at 28,000 years old and is eight inches in length.
It seems dildos are older than civilization, religion, and matrimony combined.
Humans have been crafting dildos from whatever resources they had access to. They started with stones and bones, then moved to marble and metal, then even bread, before settling into our modern-day use of plastic and rubber.
The Expansion Of Adult Toys
As the human race became more creative generally, so too did their sex toys.
The Araucanian people in South America tied bundles of horsehair together to stimulate the clitoris during sex. Dyak men pierced themselves with bamboo and ivory to increase the pleasure of their partners.
Thousands of years later, Burmese Balls or Chinese Ben Wa balls were created. At first, these tiny metal balls were meant to be inserted into a man's penis in order to increase his pleasure. Then, women created larger balls for their own pleasure.
When inserted into the vagina, the balls would move and click together releasing waves of satisfaction.
Soon after, 17th-century seamen began experimenting with sex dolls or what they called dames de voyage.
In order to ward off lonely nights during long journeys, they tied bundles of straw together to replicate a human form, then dressed it in women's clothing.
Ushering In The Modern Era Of Sex Toys: Enter, The Vibrator
Finally, in the era of industrialization and the attitude of a "New World," Victorian-era peoples conceived of and created vibrators to achieve sexual pleasure.
The devices started small and needed to be hand-cranked in order to work, but soon advanced to steam-powered toys.
The Manipulator, the first of its kind, was a terrifying steam-powered tool patented by an American man in 1869. It was supposedly intended for medical use, though most likely not to cure a woman's "hysteria" as a prominent myth would imply.
Instead, the Manipulator and a variety of other vibrators of the time were marketed as cures for sore necks and weight gain. While we can't be sure if the creators of these devices knew what their target audience was actually using them for, there's no doubt that they quickly became the latest and greatest sex toy.
This false advertising continued up until the late 20th century, perhaps most notably in the case of the now-infamous Hitachi Magic Wand. First sold as a back massager, this most revered of vibrators gained a cult following during the sexual revolution of the 1960s and '70s, which has continued to this day.
Breaking Sexual Taboos In The 21st Century
After the sexual revolution of the '60s and '70s, sex-positive experts and enthusiasts began to sell adult toys for what they were.
Feminist sex stores, such as Eve's Garden and Good Vibrations, opened their doors and catered to women who didn't want to experience the shame that went with asking a department store clerk for the latest Hitachi model.
Shows of the '90s and early aughts such as Sex and the City continued to break the model of secrecy put forth by the Victorians, featuring vibrator heavyweights such as the Hitachi and the more modern Rabbit.
Finally, as we enter the third decade of the 21st century, sex toys are advertised and discussed with unprecedented openness.
This is perhaps thanks in part to the advent of the internet and social media, as well as a more open attitude about sex in general, from pre-marital sex to the LGBTQ+ community and even the world of kink.
At our fingertips now are new and improved versions of humankind's ancient favorites, such as remote-controlled vibrators, and even VR-controlled sex simulations.
Indeed, it seems that sex toys are a primal corner of human history and aren't projected to disappear anytime soon. We've come a long way from bone and bronze phalluses, and who knows what sophisticated toys are in our future.
---
If you enjoyed this history of sex toys, then be sure to check out this list of wild and kinky sex facts. Then, take a deep dive into the history of prostitution, one of the oldest professions known to humankind.