These Hunter S. Thompson quotes could be the soul-stirring reminder that adventure is just around the corner.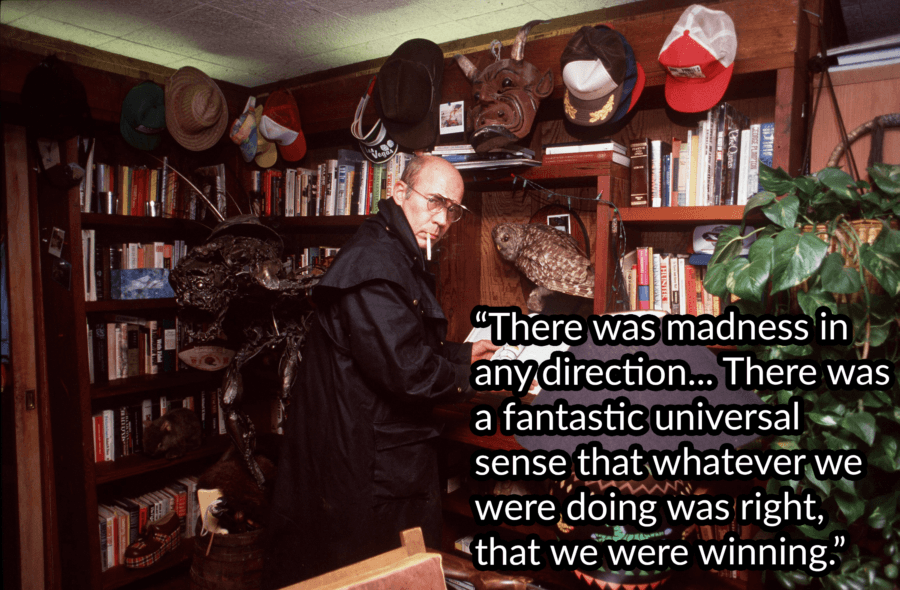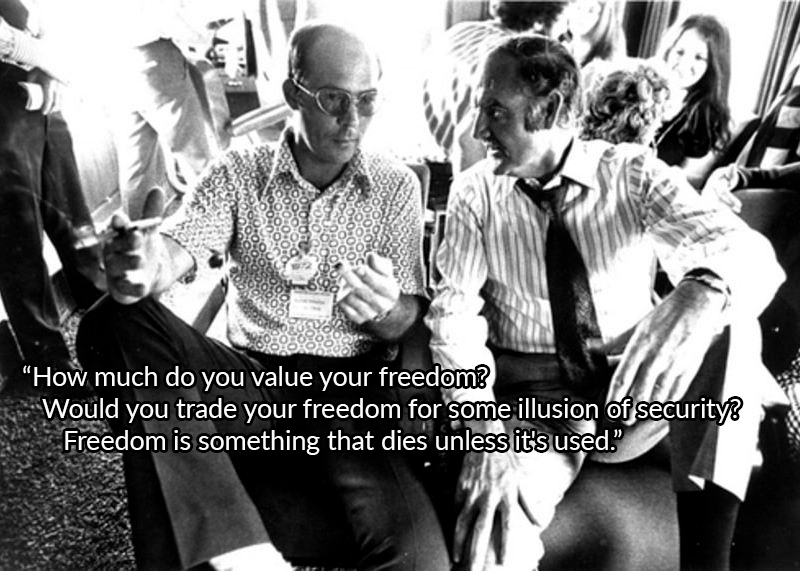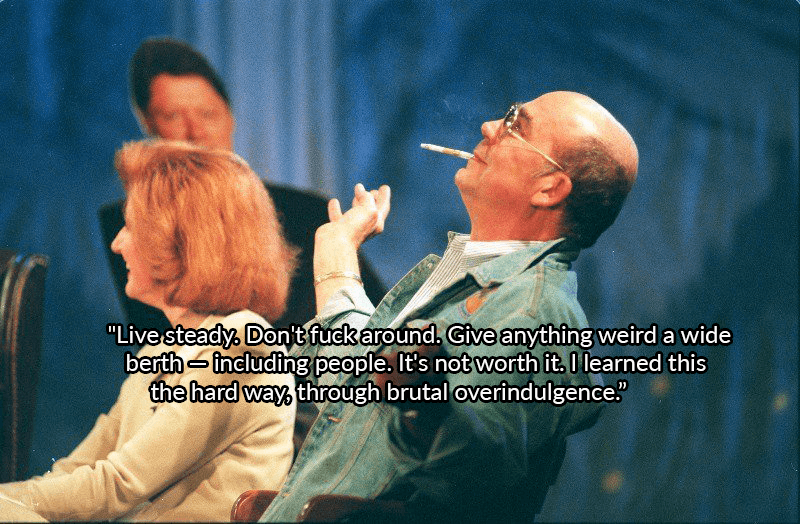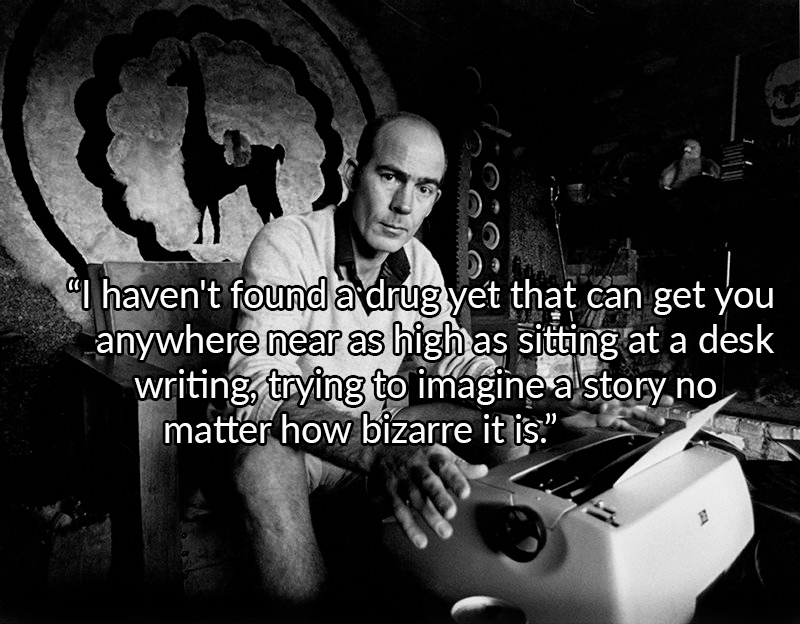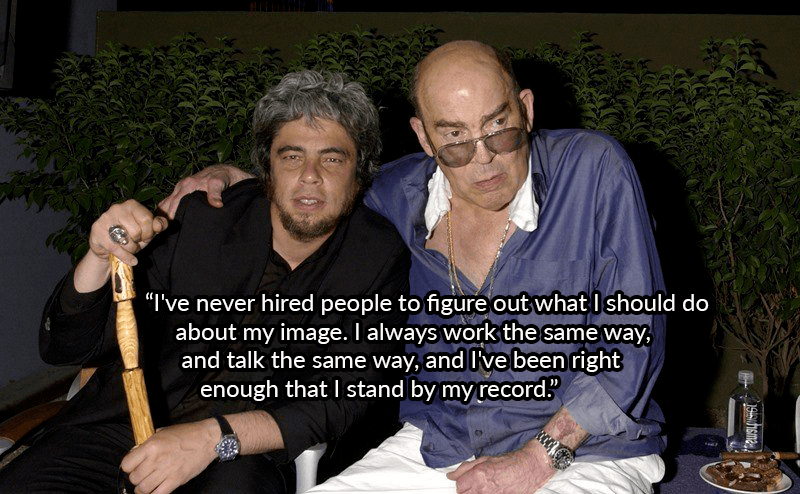 Hulton Archive/Getty Images
Neale Haynes/Getty Images
Michael Ochs Archives/Getty Images
Denise Truscello/Getty Images
Frank Mullen/Getty Images
Michael Ochs Archives/Getty Images
Jeff Kravitz/Getty Images
Rose Hartman/Getty Images
Michael Ochs Archives/Getty Images
Michael Ochs Archives/Getty Images
Neale Haynes/Getty Images
Michael Ochs Archives/Getty Images
Michael Caulfield Archive/Contributor/Getty Images
Denise Truscello/Getty Images
JHU Sheridan Libraries/Gado/Contributor/Getty Images
Michael Ochs Archives/Stringer/Getty Images
Michael Ochs Archives/Stringer/Getty Images
Matthew Naythons/Getty Images
Neale Haynes/Getty Images
"Too weird to live, too rare to die." That's how Hunter S. Thompson described a character in his second classic, Fear and Loathing in Las Vegas, though fans of the infamous journalist would agree that the monicker fits the Good Doctor himself all too well.
Since Thompson's suicide in 2005, the prolific American writer has attained mythological status in the corridors of pop- and counter-culture.
His origin story itself — a mischievous Louisville, Kentucky boy who had the choice between jail and joining the Air Force as a writer — was the perfect foundation for that legend.
Thompson's nose for important stories made him a figurative Candide of the 1960s and 70s, always present at the right place in the right time to serve as our political stenographer. He never failed to enmesh himself in the situation, either.
In that sense, he virtually unleashed a whole new form of literary reporting in the form of Gonzo Journalism — a more participatory form of Tom Wolfe's New Journalism, in which the writer isn't merely part of the story, but influences and drives it forward too.
Ultimately, Thompson was a lover of all things fast, unusual, and explosive. Whether that be a lifestyle, the people he surrounded himself with, or actual bombs and firearms.
He was beloved by politicians desperate for honesty, celebrities tired of Hollywood fakery, and impotent men trapped as bystanders in their own lives.
The 33 Hunter S. Thompson quotes above serve as a reminder of just how freewheeling and idealistic the 20th century's wildest wild man was.
From Louisville To Gonzo Journalist
Thompson was born in Louisville, Kentucky on July 18, 1937. According to Rolling Stone — the magazine he arguably single-handedly turned into a respected political publication — he worked as a journalist in Puerto Rico before moving to San Francisco.
His first published novel, Hell's Angels, showed only glimpses of what was to become his standard form of reporting. He infused himself into the feared biker gang's inner circles by gaining their trust and made a name for himself nationwide with the subsequent 1966 book.
Not everyone was pleased with this book, however. Members of the gang assaulted Thompson for publishing things they claimed were untrue.
Thompson ran for sheriff of Pitkin County, Colorado before writing the American classic, Fear and Loathing in Las Vegas — and nearly won, too.
Running on a "freak power" ticket that aimed to rid the Rockies of the old guard and reduce penalties for harmless drug offenses, Thompson became somewhat of a local celebrity.
To his initial glee and eventual chagrin, his drug-filled Las Vegas-based novel only further turned him into a caricature.
Rolling Stone co-founder Jann S. Wenner would later recall how similar Thompson was to his literary alias, Raoul Duke.
"He stood six-three, shaved bald, dark glasses, smoking, carrying two six-packs of beer; he sat down, slowly unpacked a leather satchel full of travel necessities onto my desk — mainly hardware, flashlights, a siren, boxes of cigarettes, flares — and didn't leave for three hours." — Jann S. Wenner
Fear and Loathing in Las Vegas became Thompson's defining novel, though his political reporting for Rolling Stone, namely Fear and Loathing on the Campaign Trail '72, was arguably more important at the time.
Thompson became the toast of the town, schmoozing with celebrities like Johnny Depp and Dennis Hopper, and serving as the freak hermit entombed on his Woody Creek ranch in Colorado.
Thompson was infamous for staying up late and calling friends and various contacts for spur-of-the-moment assignments.
Depp, for instance, was no stranger to Thompson's behavior, having lived with him while preparing to portray Thompson's protagonist in the film adaptation of Fear and Loathing in Las Vegas.
"You'd get a call in the middle of the night saying, 'When can you meet me in Cuba? I need you in Havana, man, I'm going to do a piece down there and we're going to go as Rolling Stone correspondents.' When Hunter made a request like that, you made it happen. Hunter wanted to interview Castro, but we never got through to him, so the story turned into our adventures down there. He referred to me as 'Ray, my bodyguard.' It was wonderful — just me and Hunter prowling around Havana, going to these various restaurants or homes that you're not supposed to go and eat at, but you're invited. It was totally ludicrous and surreal." — Johnny Depp
To be clear, Thompson was an extremely passionate, hard-working journalist. He certainly enjoyed a cornucopia of substances and wild fun — but he took nothing more seriously than he did his writing and political awareness.
Football Season Is Over: The Death Of Hunter Thompson
In the end, Thompson shot himself through the mouth with a .45-caliber gun while working at home. He always said he'd feel trapped in life if he couldn't leave on his own terms.
In a sense, his suicide was less tragic to some than it was earned. His note, nonetheless, is ravaged with melancholy.
"67. That is 17 years past 50. 17 more than I needed or wanted. Boring. I am always bitchy. No Fun — for anybody. 67. You are getting Greedy. Act your old age. Relax — This won't hurt." — From Hunter S. Thompson's suicide note titled 'Football Season is Over.'
His ashes were shot out of colossal cannon in the form of a Gonzo fist like he always wanted and even helped design in the 1970s.
According to The Guardian, friends like Johnny Depp helped foot the bill. Depp spent around $3 million for his late friend's final wish.
The ceremony was less of a dour mourning than it was an opportunity to let loose and celebrate. And that, fortunately for all of us, was the spirit Hunter S. Thompson meant to leave behind.
---
After reading these 33 Hunter S. Thompson quotes, take a look at these 40 Bruce Lee quotes that will change your life. Then, check out 21 wrenching Ernest Hemingway quotes on life and war.