"I never knew Marilyn Monroe… I knew and loved Norma Jean."
Although James Dougherty had a successful career in his own right – he was a well respected Los Angeles Police Officer and even helped invent the SWAT team – he is perhaps best known for the brief four year period of his life when he was married to Norma Jeane Mortenson, the woman who would become Marilyn Monroe.
Norma Jeane's mother Gladys had psychiatric issues, which kept her in and out of mental institutions throughout her life, making it difficult for her to take care of her daughter. As a result, Norma Jeane spent most of her youth in and out of foster care and orphanages around the state of California. She was eventually placed in the care of a friend of her mother's, Grace Goddard. In early 1942, her foster family decided they wanted to relocate to West Virginia.
Only fifteen years old, Norma Jeane was still a minor and, due to state foster laws, could not go with them out of the state.
As it happened, at that time the Goddards lived across from the Dougherty family, who had a son named James. He was only twenty years old, had just graduated Van Nuys high school, and started working at the nearby Lockheed Aircraft Corporation. Rather than sending Norma Jeane back into the foster care system, Grace had another plan: she introduced her to James Dougherty.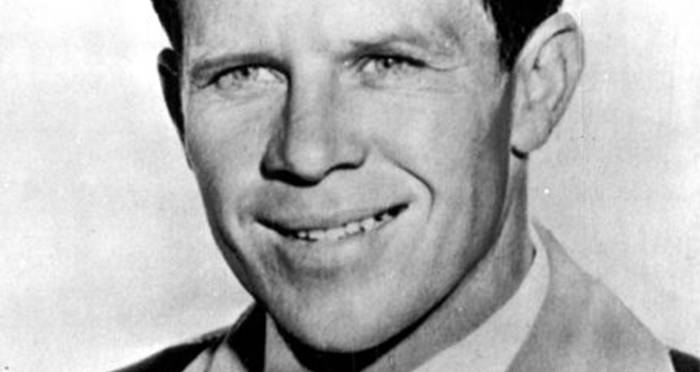 The couple went to a dance on their first date, and, although she was four years younger than him, James Dougherty remarked that she was "very mature" and they "got on pretty good." Their courtship was short, and in June of 1942, barely over two weeks after Norma Jeane's birthday, the couple got married rather than send Norma Jeane back into the foster care system.
He left Lockheed and joined the Navy shortly after their wedding. He was stationed in Catalina Island for the first year of their marriage. Despite their youth and the whirlwind romance, Dougherty has said that they loved each other deeply, and for the first few years of their marriage, they were very happy.
But the happy times didn't last long. The couple returned to Van Nuys in 1944, and Dougherty was shipped out to the Pacific shortly after. His long stints away from home put a strain on their marriage, and Norma Jeane's ambitions were too great for her to remain just a housewife. She took a job in a radioplane factory making parts for the war effort.
While she was employed there, she met a photographer named David Conover, who was sent to factories to photograph female workers supporting the war effort for the U.S. Army Air Forces' First Motion Picture Unit. She caught Conover's attention, and she began doing other modeling jobs for him. The next year, she signed with the Blue Book Model Agency and began gaining some fame as a working model.
Building on her initial success as a model, she went in for a screen test at 20th Century Fox, where she made an impression on the executives there. Despite not having much acting experience, they agreed to sign a contract with her, but with a stipulation: they wouldn't sign her if she was a married woman. Dougherty tried to convince her otherwise, but to Norma Jeane, the trade-off was worth it. In 1946, she asked to end their marriage so she could pursue her dream of becoming a famous actress.
After just four years of marriage, the pair divorced, and Norma Jeane became Marilyn Monroe. The starlet, of course, skyrocketed to fame, starring in American classic films like The Seven Year Itch and Some Like it Hot.
Although James Dougherty followed the career of his ex-wife, they did not keep in touch. He remarried twice, had three children, and lived most of his life out of the public spotlight in Los Angeles. He retired to Maine with his wife, where he lived until his death from leukemia in 2005.
---
---
After learning about James Dougherty, Marilyn Monroe's first husband, take a look at these photos of Marilyn Monroe, when she was still Norma Jeane. Then, check out these iconic Marilyn Monroe quotes.