Construction on the Barcelona basilica of La Sagrada Familia, the magnum opus of controversial Catalan architect Antoni Gaudí, began in 1882 and is slated for completion in 2026.
When the cornerstone for Barcelona's La Sagrada Familia, or The Church of the Holy Family, was laid in 1882, the church was supposed to be a typical, neo-gothic church. Instead, the masterpiece of eccentric architect Antoni Gaudí is still under construction — 140 years later.
Unlike any other building on Earth, this stunning church is considered a groundbreaking example of Catalan Modernism, a phantasmagorical collage of natural forms and architectural inventiveness.
Through the century that it's taken to build it, Sagrada Familia has slowly morphed from a grandiose vision to an iconic piece of architecture that's known around the world. It has gone through countless stone masons and artisans — and many architects since Gaudí's death in 1926 — to become the awe-inspiring basilica that it is today.
Completion is scheduled for 2026, the 100th anniversary of Gaudí's death. See photos of Sagrada Familia below and learn the full story of its complicated past.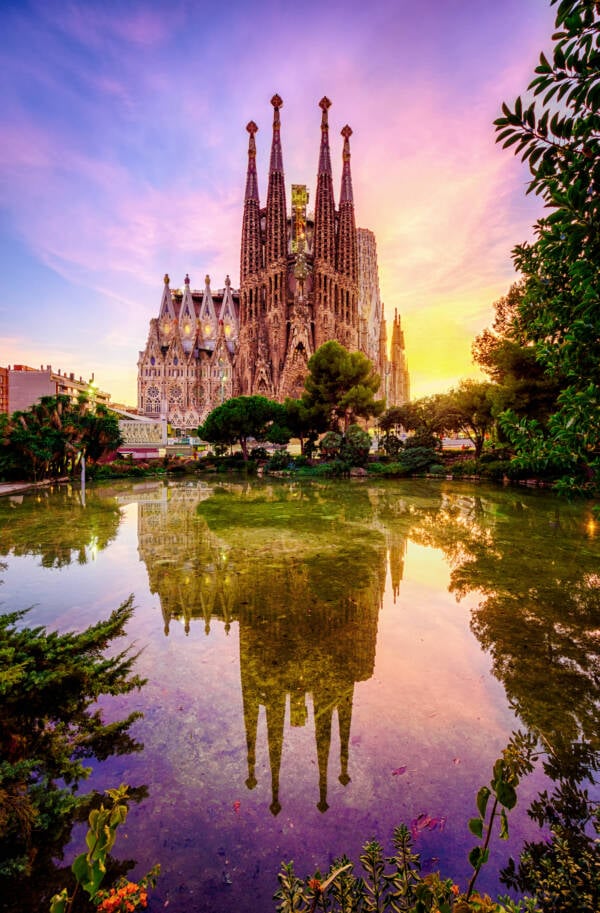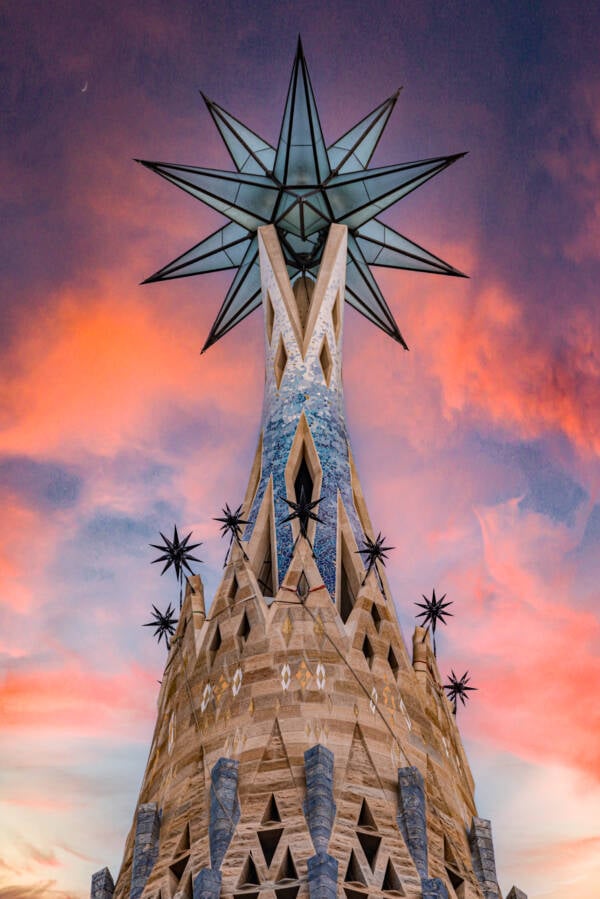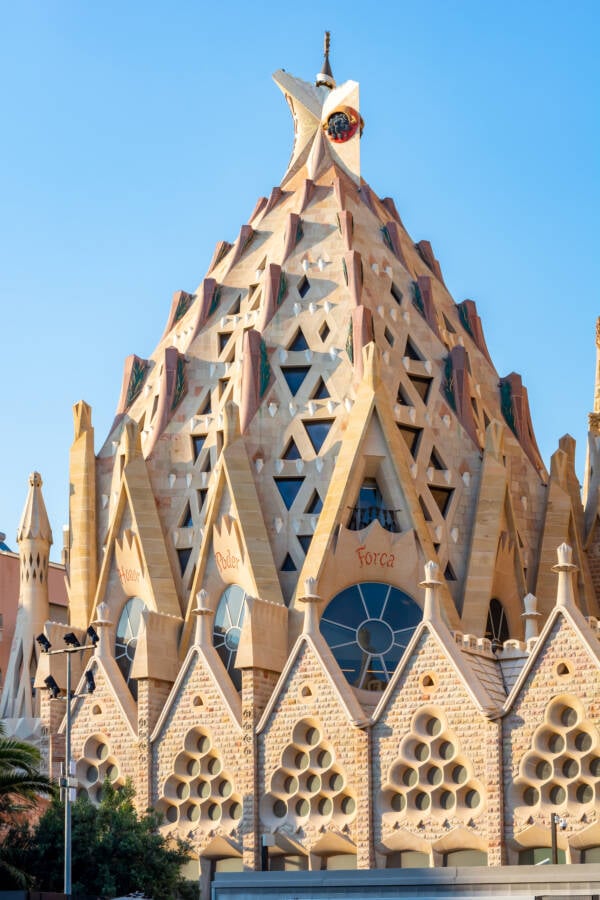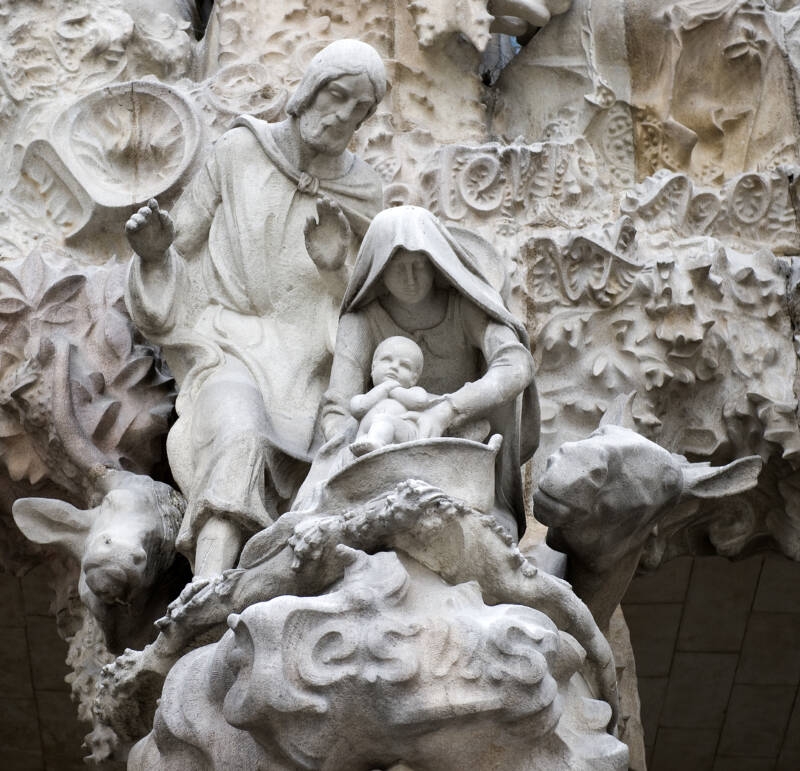 Lisa Voigt Garms/Getty Images
Philippe Lissac/Getty Images
James Strachan/Getty Images
Vanni Archive/Getty Images
Jordi Boixareu/Getty Images
Alexander Spatari/Getty Images
Sergi Escribano/Getty Images
La Sagrada Familia, The Magnum Opus Of Antoni Gaudí
Before it became the masterpiece of young visionary Antoni Gaudí, Sagrada Familia was under the supervision of Spanish architect Francisco de Paula del Villar, whose original 1877 design was rather simple and traditional.
Funnily enough, Gaudí actually worked under del Villar on another project, years earlier. After disagreements with another architect on the job, del Villar abandoned Sagrada Familia and recommended Gaudí — then an ascendent designer — to take his place.
Gaudí immediately drew up new blueprints so grandiose that he eventually had to devote all of his focus to the construction of the church itself, which he did in 1914. He would spend his final decade preoccupied only with the basilica.
But by 1891, Gaudí realized that the temple would not be completed in his lifetime. Often asked about how long the church would take, Gaudí is said to have always replied, "My client is not in a hurry."
Because of this, he decided to start construction of the exterior of the church first; nervous that donations might dry up once patrons could worship inside. In fact, donations did dry up for a while — for approximately 18 years during and after Spain's Civil War. Anarchists set the incomplete church on fire, torching much of the workshop. But in 1954, construction restarted. By then, Gaudí was already long dead.
Indeed, when he died in 1926, the church was only about 20 percent complete.
A Bold Architectural Vision Inspired By Nature
As these photos of Sagrada Familia show, part of what makes this temple so breathtaking is its vast symbolism and parallels to nature, as was Gaudí's signature style.
It is composed of five naves in the shape of a Latin cross. Four towers representing the 12 apostles extend from each of the three exterior facades; the Nativity, the Passion, and the Glory. The three entrances of the church even symbolize the three virtues: Faith, Hope, and Love.
With organic patterns and columns that resemble trees, Gaudí's belief that nature is the work of God is a prevalent motif. Interestingly, he was not a devout Catholic when he began the project.
According to tour guide Onno Schoemaker, Gaudí had ultra-specific and detailed biblical scenes carved into the church's facade because he knew much of Barcelona's working class was illiterate at the time. "So Gaudí wanted to tell the story of Jesus through imagery, through sculptures and visual elements, rather than through text." He explained.
Indeed, the front of the church is almost like a "storybook." Within each of the three facades, "you get specific elements of Jesus' life story."
However, text is not completely absent from the design. Included in the themes are words from the liturgy; towers are inscribed with the words "Hosanna," "Excelsis," and "Sanctus." When the Glory façade is finished, it will feature words from the Apostles' Creed.
Modern-Day Controversy Haunts Sagrada Familia
Today, the church is nearly complete. But now, controversy surrounds it. Residents that live nearby feel crowded out, as the continued construction encroaches on their property lines.
Janet Sanz, deputy mayor for urban planning, the environment, and transportation, serves as a spokesperson for the residents. "How do we guarantee that the neighborhood isn't converted into one giant souvenir stand? How do we keep traffic flowing? And when we already have a shortage, is destroying more housing the best solution?" She asked.
Not only this, but there'd been rumors that Sagrada Familia never acquired the proper building permits in the first place. "When I took office," Sanz noted, "I asked my team to look into it, and we saw that for more than 130 years, they had been building without a license."
La Sagrada Familia's board members wanted to rectify this oversight. In addition to securing the permits and paying past construction taxes, they made a deal to cover costs with an additional $36 million over the next decade. This could provide increased security and a private metro entrance so the surrounding streets would be less clogged with tourists.
All those improvements would undoubtedly prove helpful because, in 2005, the Nativity façade and crypt were declared a UNESCO world heritage site. This increases interest and brings in even more tourism. Furthermore, Pope Benedict XVI consecrated La Sagrada Familia as a minor basilica in 2010 — increasing visitors even more.
Many on the construction team are deeply religious. Recreating Gaudí's plans is a daunting task, but one they take profound meaning from. As current head architect Jordi Faulí remarked, "Somehow, Sagrada Familia lifts everyone so that they bring their best to it. It's transcendent."
---
After perusing these photos of Sagrada Familia, read about two of Spain's most remarkable architectural marvels, Bellver Castle and Paronella Castle.