Built in 1905 by eccentric sewing machine magnate Frederick Bourne, Singer Castle looms over Dark Island like a modern medieval fortress.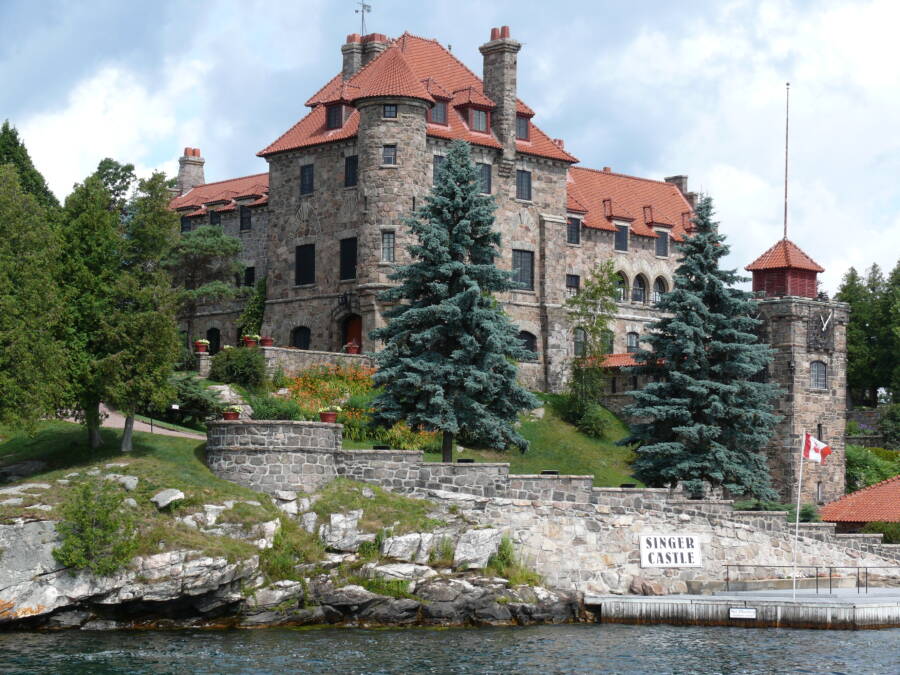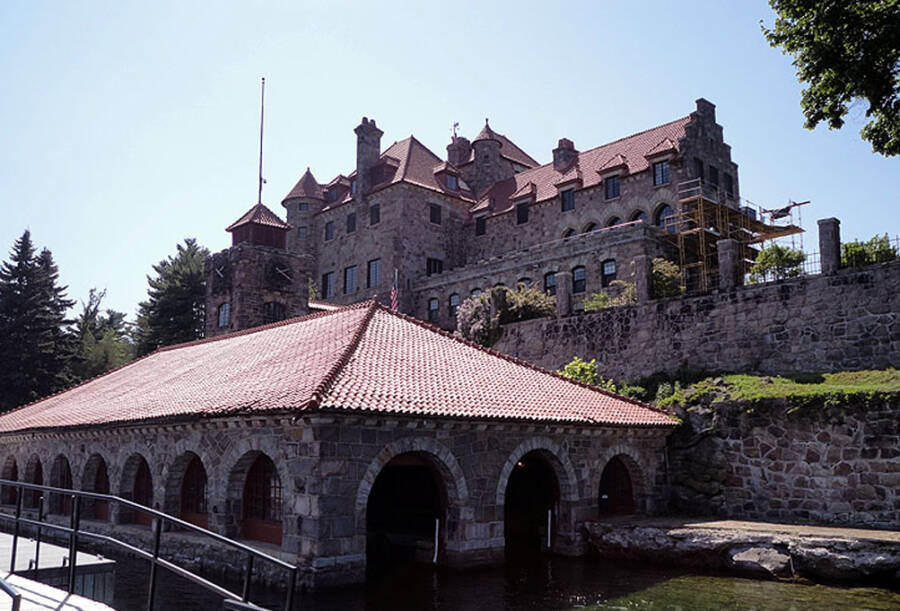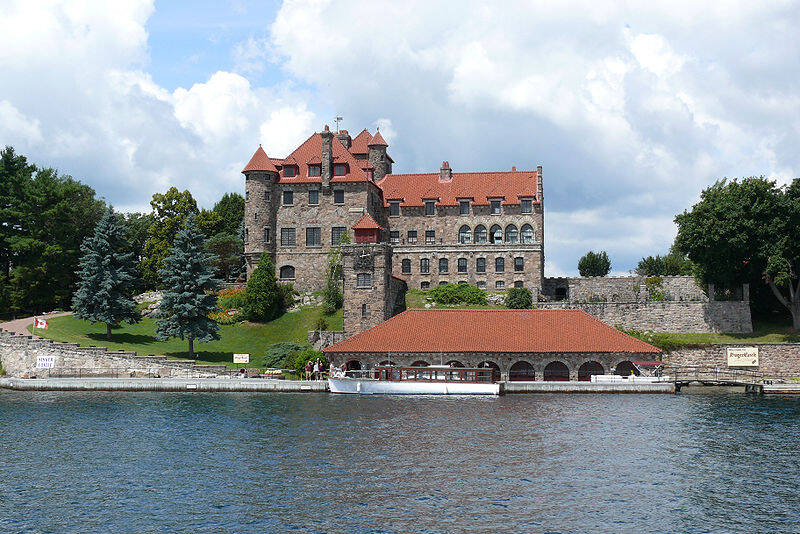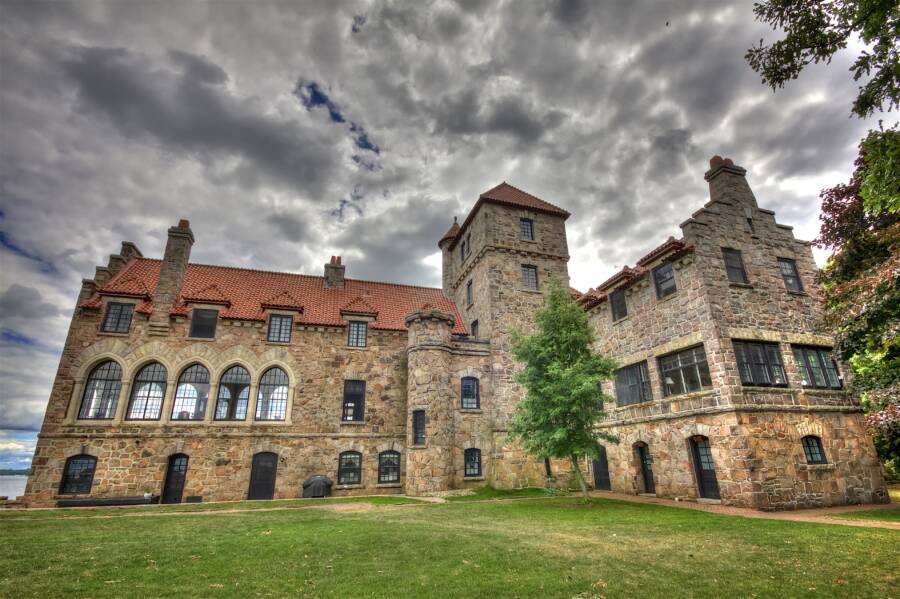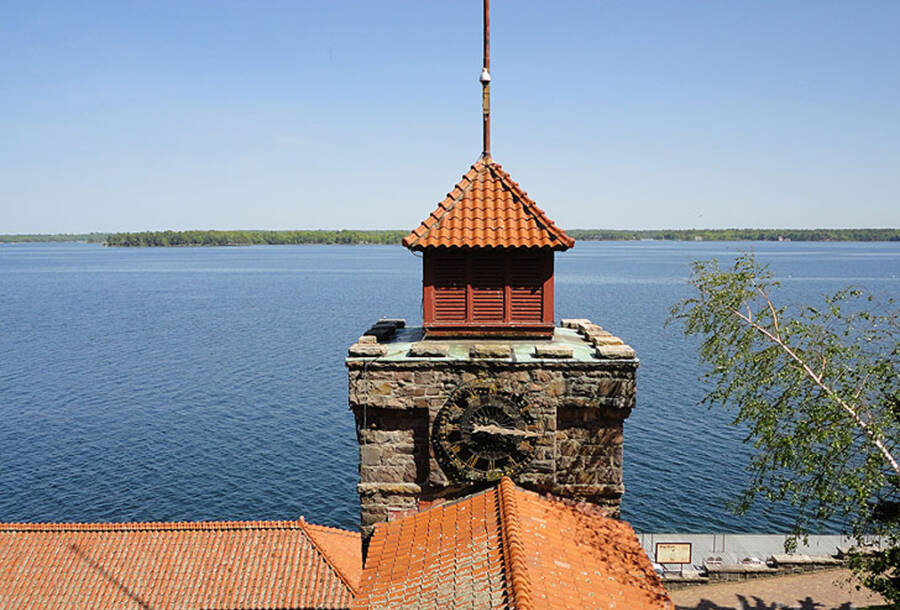 Ad Meskens/Wikimedia Commons
Singer Castle on Dark Island
Singer Castle on Dark Island
Singer Castle on Dark Island
Ad Meskens/Wikimedia Commons
Singer Castle on Dark Island
Singer Castle on Dark Island
Ad Meskens/Wikimedia Commons
For more than a century, Singer Castle has loomed over the rocky shores of upstate New York's Dark Island. Built in 1905 by the president of Singer sewing machine company, Frederick G. Bourne, this English and medieval-style fortress remains an architectural marvel to this day.
Even decades later, no one knows quite why Bourne built his country estate quite the way he did. From its secret passageways to its dungeon to its multi-story clock tower rumored to be made of solid gold, Singer Castle is unlike any palace ever built.
The Inimitable Features Of Dark Island's Singer Castle
Among the castle's most unique rooms is the great hall, which is built in the medieval style. A coat of armor stands guard amid stone walls, antique Singer sewing machines, and a huge marble fireplace. It's a fairly large room, and infinity mirrors make it look even larger.
There's a wine cellar, breakfast room, and formal dining room, the latter of which has buttons under the table for ringing the servants. In fact, almost every room has a button to call servants, except for the so-called "Marjorie's suite" in the castle's newer addition.
The dining room at Singer Castle features hand-carved tables and chairs, a wrought-iron chandelier, and breathtaking bronze work.
The grand library has walnut-paneled walls and a secret passageway back to the wine cellar, which was presumably built so that servants could deliver the drink in record time. There's also a painting that tips back away from the frame so someone behind it can spy into the room.
The library houses books from the previous owners' personal collections, which include the Bourne family, Dr. Harold Martin, and its current owner, German businessman Farhad Vladi.
Plus, Singer Castle has a dungeon that's accessible via a secret passage in Bourne's office.
Heading back outdoors, one will find a squash court, traditional rose garden, and three boathouses — one big enough to house a 120-foot yacht. Another contains steam engines and the massive generator that powers the entire castle.
Frederick Bourne's Eccentric Vision
Frederick Bourne began his employment at the Singer sewing machine company as a young man and worked his way up to ultimately become its president, a position that made him very wealthy.
He purchased Dark Island in 1902 and builders completed construction of Singer Castle in 1905. Bourne hired Italian stonemasons to build the castle for the approximate cost of $500,000, or about $13 million in today's dollars.
To look at it today, it's difficult to tell that the castle actually started out as a hunting lodge and retreat. Perhaps the telltale signs are the displayed guns, alongside the heads of elk, moose, and caribou in the drawing-room.
Bourne and the fortress's main architect, Ernest Flagg, fittingly dubbed the castle "the towers" for its whopping 47 stories.
The Bourne family enjoyed the extravagant grounds of Singer Castle for many years. After his death in 1919, his daughters Marjorie and May continued to live there until 1961.
The island, and therefore Singer Castle, were sold for $5,000 in 1965 to a religious organization, which then sold the property to Farhad Vladi, a German businessman who opened a company conducting tours of the private island. His company has held ownership of the remarkable palace and grounds ever since.
Renting Out Singer Castle Today
Today, interested parties can stay at Singer Castle, located on New York's Thousand Islands, in the Royal Suite which sleeps up to six people. Not only does the suite mix period charm with modern amenities, but guests can request meals in any room you like.
Seeing as Singer Castle is just a few yards south of the U.S. and Canadian border, guests can also enjoy the Canadian sunset and an American sunrise.
The Royal Suite features all the lavish decor of an old English castle but supplemented with wi-fi, a stocked refrigerator, and a microwave. Eat a light continental breakfast, and when it's time for the late meal request it served in any room of the wing.
Guests can make reservations between the end of May and into November, and the cost is $700 per night.
For curious visitors, the singular medieval-style palace is sure to amaze. With a history as storied as its many luxurious rooms, Singer Castle represented all that money and power could buy in the heyday of early American industrialism.
---
After this look at Singer Castle, experience the grand beauty of Germany's Hohenzollern Castle. Then, travel to Japan's breathtaking ⏤ and possibly haunted ⏤ Shuri Castle.