Known as the "father of remote control," John Hays Hammond Jr. built his dream palace with traditional medieval features, including a drawbridge, bell tower, and dungeon.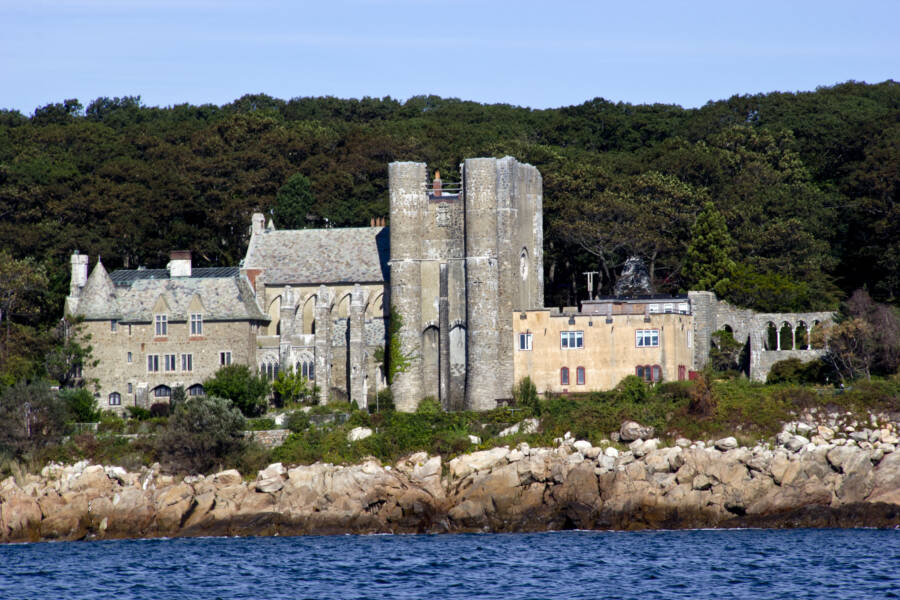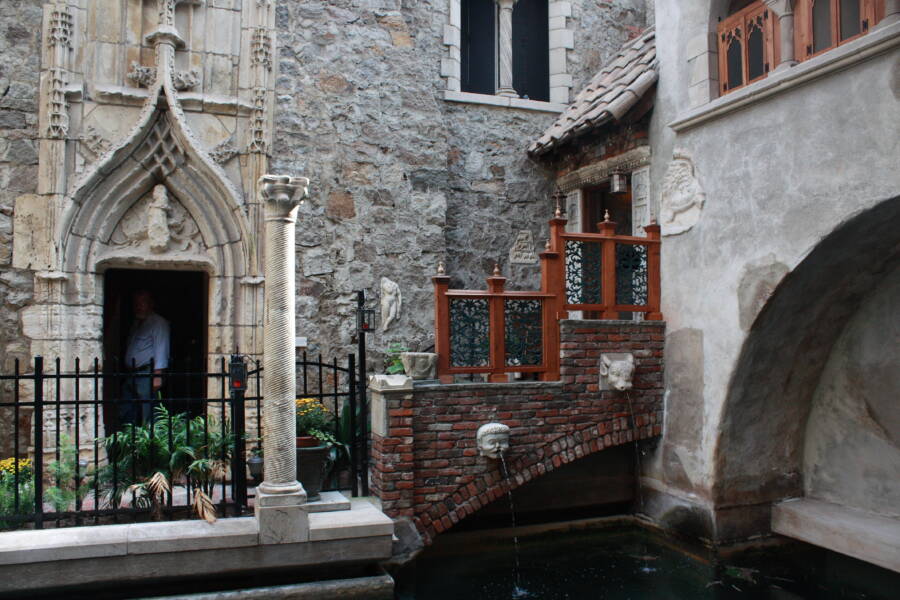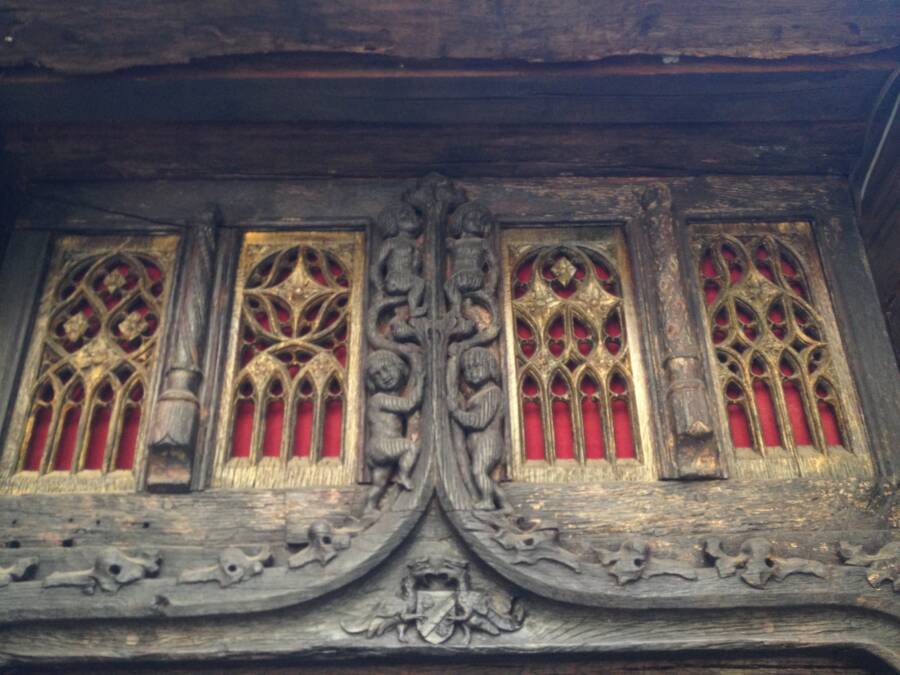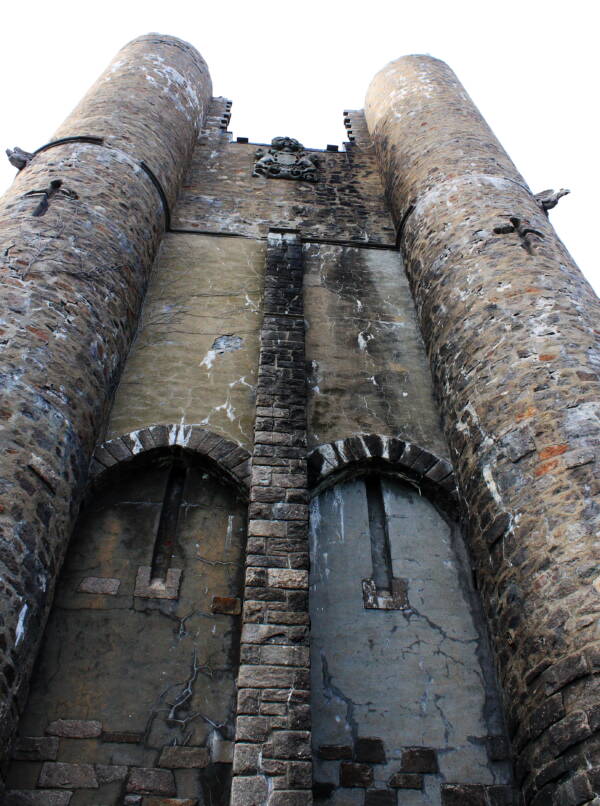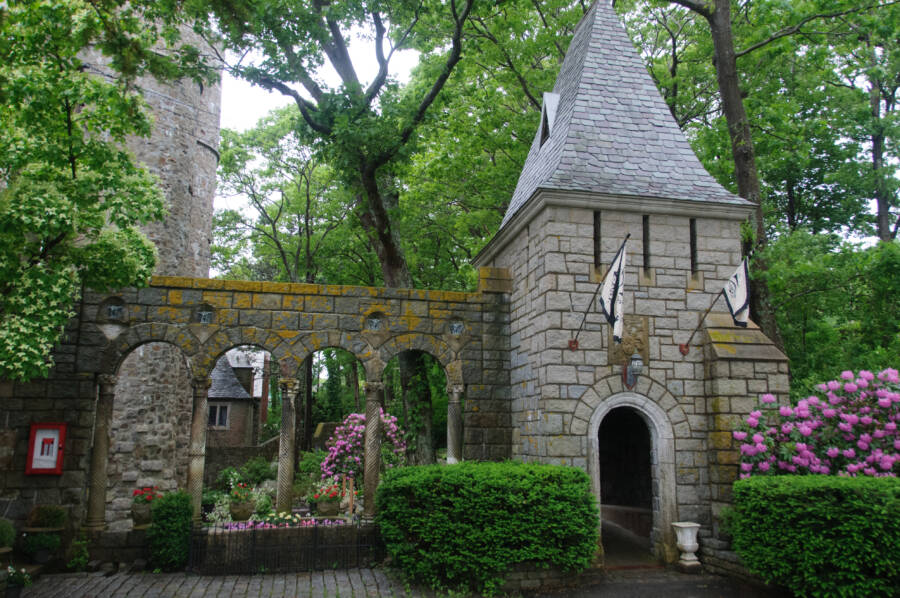 Dale E. Martin/Wikimedia Commons
Robert Linsdell/Wikimedia Commons
Robert Linsdell/Wikimedia Commons
Robert Linsdell/Wikimedia Commons
Robert Linsdell/Wikimedia Commons
Dale E. Martin/Wikimedia Commons
Dale E. Martin/Wikimedia Commons
John Hays Hammond Jr. was a prolific inventor. With over 400 patents to his name, he amassed a fair amount of wealth – which he put toward building a fantastical home: Hammond Castle.
The spectacular mansion that looms over the coast in Massachusett's Cape Ann is a mix of a medieval castle, a French chateau, and a Gothic cathedral. Though it looks like it's straight out of the middle ages, it was actually completed in 1929.
The mansion reflects Hammond's own unique architectural interests and sense of humor. It includes a courtyard with its own remote-controlled weather system, the largest pipe organ ever installed in a private home, and a library that can hold no secrets.
Hammond Castle has also hosted a slew of celebrities from its day, including Walt Disney, who hosted an early screening of Fantasia right there in the mansion's Great Hall in 1939.
Take a look inside the fantastical modern palace that is Hammond Castle.
The Man Behind Hammond Castle
To understand Hammond Castle, it's helpful to know who its creator was. John Hays Hammond, Jr. was born in San Francisco, California 1888, and he spent his early years with his family in South Africa and England, where his father was a mining engineer. At the turn of the 20th century, however, they returned stateside.
When Hammond was 12 years old, he visited Edison's laboratory in New Jersey and made quite a splash there. The budding inventor ended up asking so many questions that he got an extended tour — and lots of advice from Edison himself. Edison became a mentor to Hammond, who he considered to be a genius and they remained friends until Edison's death in 1931.
In addition to Edison, Hammond also rubbed elbows with famed electrical engineer Nikola Tesla. One can imagine this ruffled Edison's feathers a bit, as Hammond and Tesla even considered starting their own wireless company together.
As if that roster of mentors wasn't impressive enough, the inventor of the telephone, Alexander Graham Bell, even took young Hammond under his wing at one point.
After graduating from Yale in 1910, Hammond got a job in the U.S. Patent Office where he hoped to get a sense of which kinds of patents made money. As he'd gleaned from Edison, inventing could be a money-making venture. He must have learned something, as by age 19, he was already a millionaire.
Hammond is credited with some 800 foreign and domestic patents on more than 400 inventions — mostly in the area of remote control, naval weapons, and radio. He also has a few modified pianos and organ patents, as well. He is also considered "the father of the remote control," and his inventions are currently the basis for all modern remote radio devices.
He became the second most successful inventor in the U.S., second only to Edison.
Building A Modern Medieval Fortress
"In a few years after I am gone, all my scientific creations will be old-fashioned and forgotten," Hammond wrote in 1924. "I want to build something in hard stone and engrave on it for posterity a name of which I am justly proud."
So he did.
Having lived in England as a child, Hammond grew fond of castles and history. He pieced together his inimitable home with relics and materials he found in medieval European villages. He'd literally pick up building façades and panels from World War I rubble piles, put them on a boat, and sail them across the ocean.
Hammond Castle is called Abbadia Mare, or the "abbey by the sea," for the likeness it bears to a church. He installed flying buttresses and a bell tower — even a drawbridge that still serves as the main entrance.
Inside, the main living area resembled a 13th-century French cathedral and was filled with odd artifacts from Roman and Renaissance times, including the skull of one of Christopher Columbus's crewmates.
Hammond Castle so impressed famed art collector John D. Rockefeller that he modeled the Cloisters Museum in New York after it.
Ironically, Hammond's wife, Irene Fenton Reynolds, was not as taken with the medieval architecture of their home as her husband was. Though she tried to decorate the guest bedrooms in a lighter fashion, Hammond still managed to put in an element of the unexpected.
He extended her wallpaper to cover the room's doors and removed the doorknobs. In lieu of the knobs, he installed buttons that opened the doors — hiding them within the wallpaper design. Many drunken overnight guests resorted to yelling for help in order to find their way out the next morning.
A Remote-Controlled Courtyard And Record-Breaking Organ
Many visitors today consider the courtyard and pool to be the main draws of Hammond Castle, where salvaged fronts of old French markets make up the walls.
As "the father of remote control," Hammond put in a courtyard weather control system that allowed him to set the weather inside the castle grounds to anything he desired; from torrential downpours to sunsets and artificial moonlight in the middle of the day.
Hammond was known to jump into the pool cannonball-style from the castle's second story. Perhaps it's this lust for life that also prompted him to put a nude statue of himself overlooking the pool – with an appropriately placed fig leaf at his wife's request.
Back inside the castle, in the Great Hall, sits the largest home-installed pipe organ in the world. It has over 8,000 pipes and they run eight stories tall. Unfortunately, due to the amount of upkeep required for these organs, it no longer works.
Hammond's library also has a secret — that it can hold no secrets! The domed top acts as an acoustic megaphone. If someone stands in the middle of the room under it, they can hear any conversation in the library as if it's being broadcast over a speaker. Even if the conversation is only as loud as a whisper.
Finally, the castle features a true medieval dungeon, where guests were allegedly sometimes playfully locked in if they spilled wine at the dinner table.
John Hays Hammond believed that his fame would be fleeting as technology marched on after he was gone. He built Hammond Castle as a more lasting part of his legacy, and perhaps also out of his pure zest for life.
Hammond Castle is open to visitors who can take tours at their leisure, or it can be rented out for special events.
---
Next, check out Neuschwanstein, the fairytale castle with a heartbreaking secret. Then, see which famous inventors don't deserve the credit for their most famous invention.