Between 1919 and 1947, William Randolph Hearst and architect Julia Morgan constructed a sprawling palace in San Simeon, California complete with 165 rooms, elaborate swimming pools, and even a private zoo.
Nestled in the Santa Lucia Mountains of California's central coast is a lavish estate called Hearst Castle. Also known as "La Cuesta Encantada" or "Enchanted Hill," the expansive home was built by newspaper tycoon William Randolph Hearst between 1919 and 1947.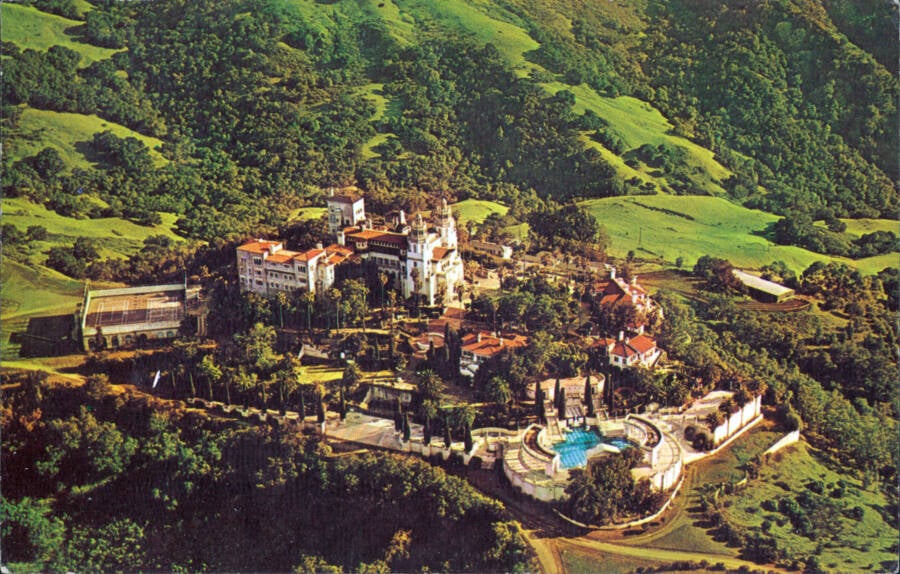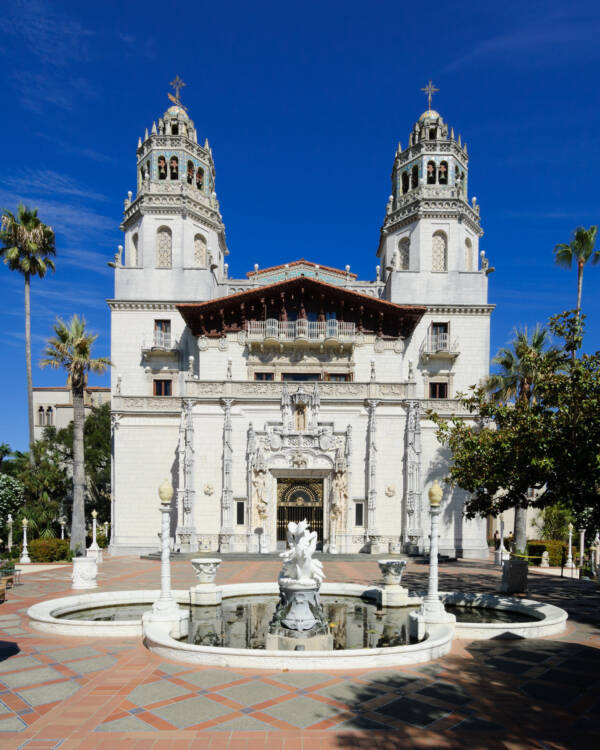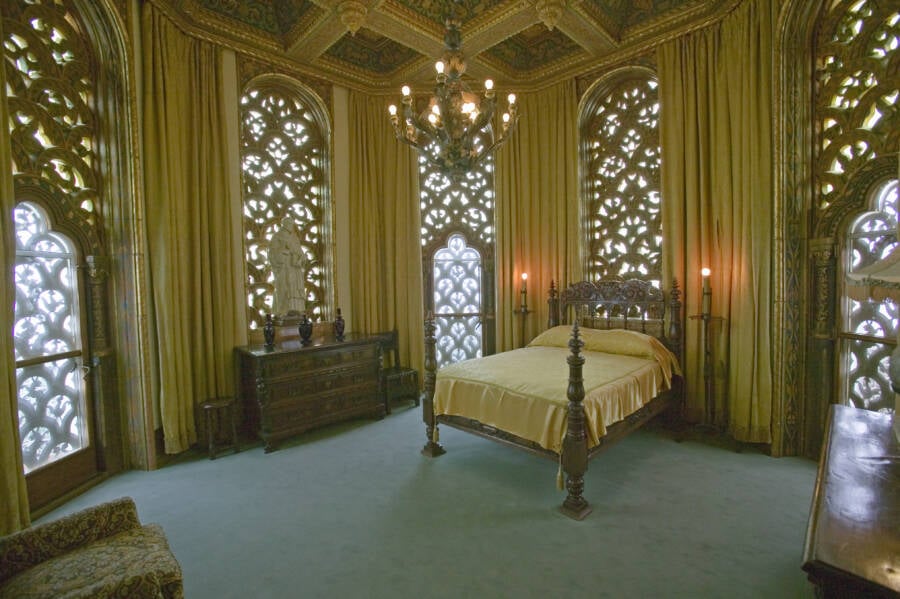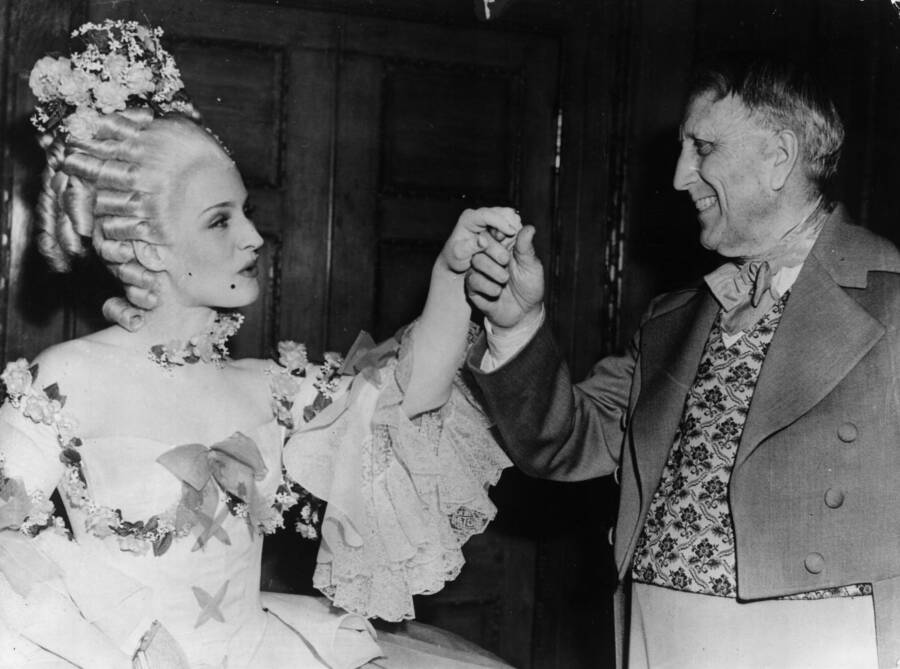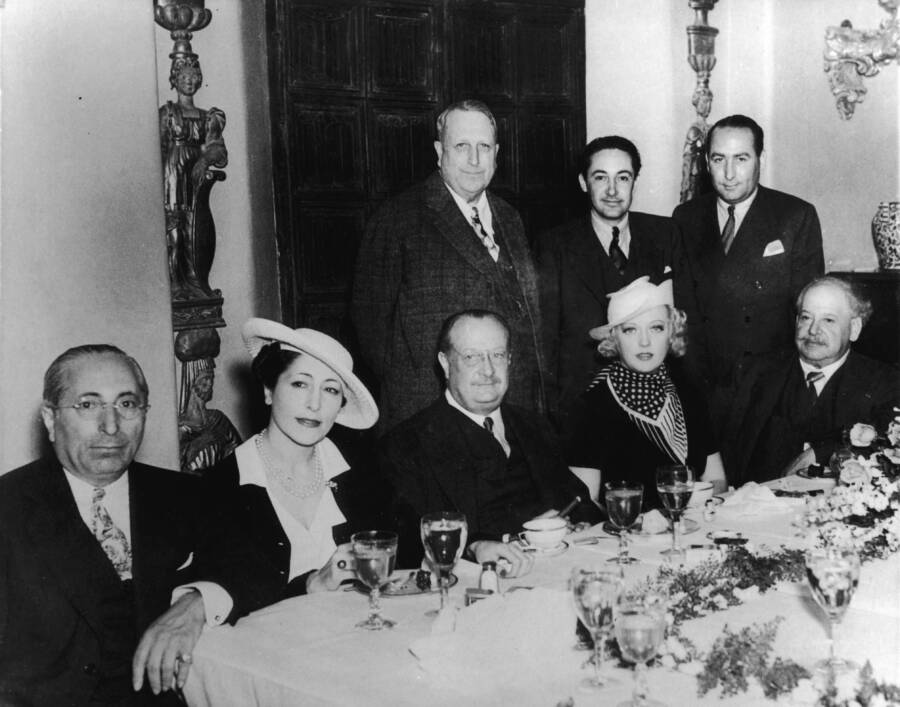 Smith Collection/Getty Images
Joe Sohm/Visions of America/Universal Images Group/Getty Images
Hulton Archive/Getty Images
Smith Collection/Getty Images
François GOHIER/Gamma-Rapho via Getty Images
Bob Riha Jr./Getty Images
Bob Riha Jr./Getty Images
Carol M. Highsmith/Buyenlarge/Getty Images
Hearst worked with architect Julia Morgan to design the 165-room castle that sits on 250,000 acres of land in San Simeon, California. With 38 bedrooms, 42 bathrooms, three opulent guest houses, and two enormous pools, the estate cost an estimated $137 million in today's currency to build.
Throughout the 1920s and '30s, Hearst Castle hosted countless parties that were attended by some of Old Hollywood's biggest stars. What's more, William Randolph Hearst and his luxurious home even inspired Orson Welles' acclaimed 1941 film Citizen Kane.
Hearst resided in the castle with his wife — and later his mistress — during the course of its construction. He was ultimately forced to abandon it in 1947 when his health declined. After the newspaper magnate's death in 1951, Hearst Castle was donated to the State of California, and today it is a California State Park and historical monument.
The Affluent History Of Hearst Castle
William Randolph Hearst was accustomed to grand displays of wealth. His father, George Hearst, had made millions during the California Gold Rush. According to the official Hearst Castle website, George then used that money to buy 40,000 acres of land between San Francisco and Los Angeles.
As a child, William Randolph Hearst often visited the land, which was then called "Camp Hill," with his family. According to PBS, they rode horses, went on hunts, and slept in fully-furnished tents on the property.
After George Hearst died in 1891 and his wife Phoebe followed in 1919, William inherited the land. He also inherited his father's struggling newspaper, The San Francisco Examiner, and he soon transformed it into a successful business. By the 1930s, William Randolph Hearst was the head of a media empire comprising dozens of newspapers, magazines, wire and photo services, newsreels, radio stations, and film studios.
In 1919, Hearst was already well on his way to success. He decided to build a home on the property in San Simeon that he had loved so much as a child. He purchased the surrounding land until he had a plot of 250,000 acres. At first, he intended to build a simple bungalow, and he approached trailblazing female architect Julia Morgan to help him design his quiet California escape.
Morgan was the first woman to graduate with a degree in engineering from California State University, and she had studied architecture at the renowned Ecole des Beaux-Arts in Paris. When Hearst first reached out to her in 1919, he reportedly said, "Miss Morgan, we are tired of camping out in the open at the ranch in San Simeon and I would like to build a little something."
That "little something" quickly became the vast mansion that towers over the property today.
Inside The Extravagant Halls Of Hearst Castle
Hearst Castle consists of one main house — the Mediterranean-style "Casa Grande" — and three guest cottages, each of which is larger than the average American home. Casa Grande stretches a staggering 68,500 square feet. That's larger than the White House.
Altogether, the four houses have 165 rooms. In addition to its 38 bedrooms and 42 bathrooms, Casa Grande has a billiard room, a theater, a library, and even its own beauty salon. Surrounding the buildings are 123 acres of lush, manicured gardens, walkways, and terraces.
There's also the outdoor Neptune Pool, which is encircled by reconstructions of Roman temples. Inside, meanwhile, is another pool that took years to construct.
According to CNN, it took builders five years to complete the tilework for the indoor pool, which is designed to look like ancient Roman baths. When they finally finished, Julia Morgan decided it looked "too perfect" — and made them rip it all out and start over again.
While the pools, gardens, and opulent rooms are impressive, one of the most valuable parts of Hearst Castle is its art. William Randolph Hearst wanted his mansion to, in part, serve as a showcase for his extensive art collection.
Some key pieces include ancient Egyptian sculptures, a 17th-century painting by Spanish artist Bartolomé Pérez de la Dehesa, and a 15th-century ceiling from a palace in Spain. Hearst even hung two tapestries from the famous "Hunt of the Unicorn" series in the billiard room.
Every detail in Hearst's home was meant to impress — which is perhaps why it soon became a hot spot for Hollywood's biggest parties.
The Prominent Guests Of Hearst Castle
Not long before William Randolph Hearst started building his own personal palace, he began an affair with the young actress Marion Davies. Soon, she and Hearst were hosting parties for major celebrities at their estate.
"There was an old saying in Hollywood that there were two groups of stars," a Hearst Castle tour guide, Jim Allen, once said. "The ones who had been to Hearst Castle and the ones who had said they had been to Hearst Castle."
As reported by Far Out Magazine, Hearst's parties hosted some of Old Hollywood's most darling stars: Charlie Chaplin, Cary Grant, Greta Garbo, Buster Keaton, and the Marx Brothers.
Guests flew in through the castle's private airstrip for costume parties and film screenings. When not drinking or lounging by the pool, they explored the massive property or visited Hearst's private zoo, the largest of its kind in the world at the time.
However, not everyone was as impressed by Hearst as his Hollywood friends.
One of his prominent guests, Winston Churchill, described him as "a grave, simple child — with no doubt a nasty temper — playing with the most costly toys."
In fact, Hearst became so well-known for his lavish parties and lifestyle that actor and director Orson Welles decided to base one of his most famous characters off of the newspaper tycoon.
'Citizen Kane' And William Randolph Hearst's Final Years
Citizen Kane was released in 1941, and many say it's Orson Welles' magnum opus. The film is a scathing satirization of the wealth of obsessive media mogul Charles Foster Kane, and it's clear that it's based on Hearst's own life. Kane even has his own sprawling estate called Xanadu, a mirror of Hearst Castle.
Hearst attempted to shut down the film's production several times. He began publishing petty personal attacks on Orson Welles, and he even banned advertisements for Citizen Kane across all of his publications. Obviously, Hearst failed. To this day, Citizen Kane is considered one of cinema's greatest accomplishments.
Unfortunately for Hearst, Citizen Kane is the last impression many had of him. After he lost a great deal of wealth during the Great Depression, the parties at Hearst Castle died down. He had to close his private zoo and stop construction, leaving parts of the estate unfinished.
He and Marion Davies left Hearst Castle for the last time in 1947, when Hearst's health started to decline and he needed to be closer to a hospital. He reportedly cried as they drove away from the estate. Davies said, "We'll come back, W.R., you'll see."
But they never did. Hearst died four years later, and today the castle serves only as a reminder of his outrageous wealth and opulence.
---
After exploring Hearst Castle and learning its history, take a look inside Hammond Castle, the extravagant estate built by Thomas Edison's protégé. Then, check out these 10 castles in New York built by American "royalty."