Utagawa Hiroshige was such a talented artist that he inspired Van Gogh and Monet. But in 1856, the famous woodblock printer "retired from the world" to become a Buddhist monk.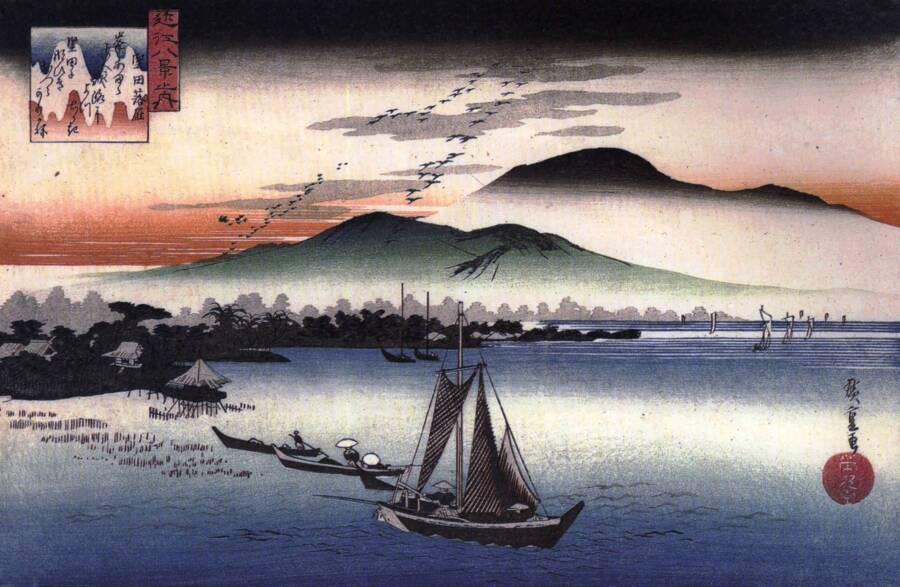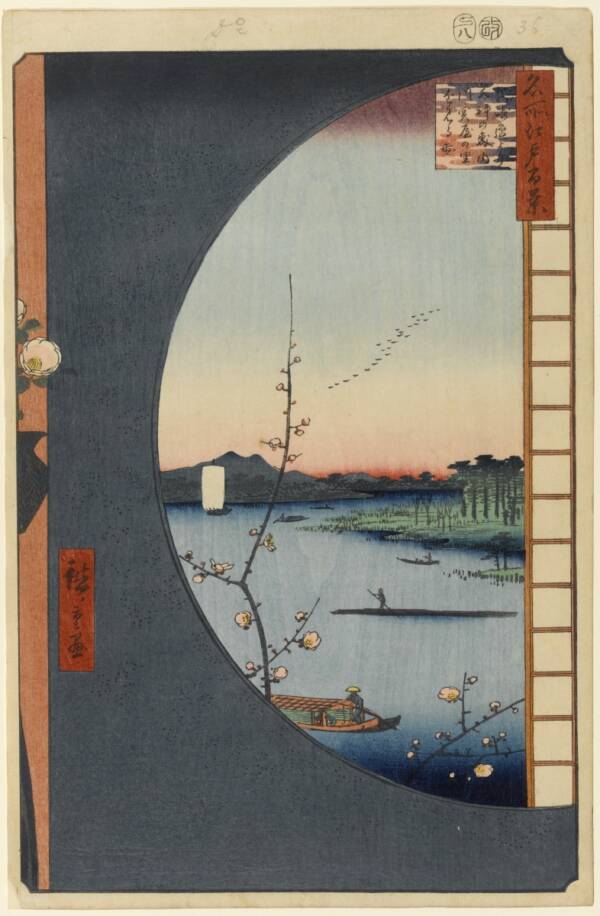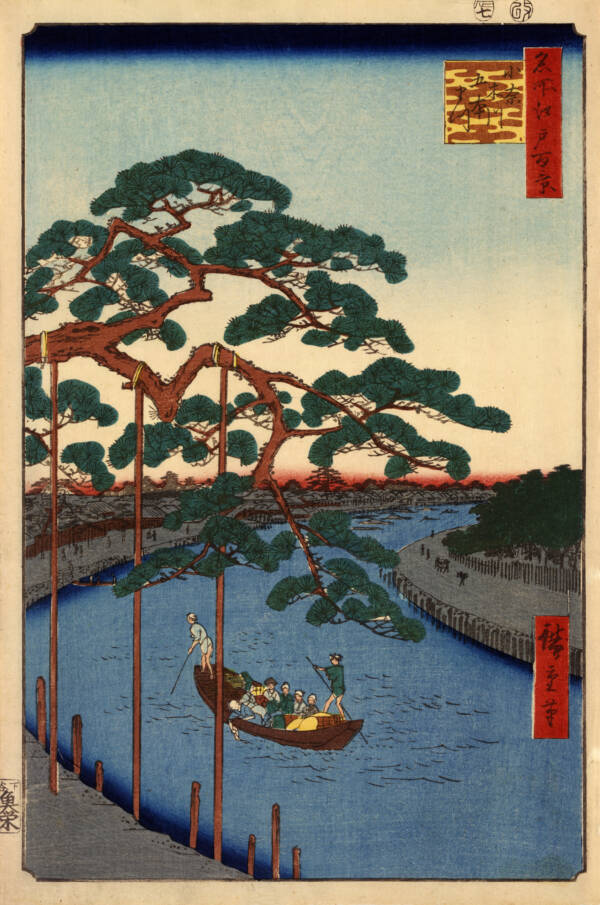 In the 19th century, Utagawa Hiroshige became one of Japan's most revered artists in the world of ukiyo-e, or woodblock printing and painting. Hiroshige's use of color and poetic nature made him a master of the genre. Some critics say he was the last great master of this craft.
However, his road to mastery was paved with tragedy and devastating loss. As a young boy, Hiroshige lost his parents and his sister — and later channeled his grief into creating beautiful, delicate landscapes that are still revered today. Take a closer look at some of the most renowned artworks produced by Hiroshige in the gallery above.
Utagawa Hiroshige's Early Life
Born Andō Hiroshige in 1797, Utagawa Hiroshige was raised in the Yaesu area of Edo (modern-day Tokyo). Hiroshige's father was the fire warden for the brigade that served Edo Castle. It was the residence of the shōgun and the military capital during the Edo period of Japanese history.
Hiroshige's family was Samurai, which was the highest of the four castes in Japan at the time. This meant his father's post as fire warden was hereditary, and entitled to him in the name of civil service.
He had three sisters, one of whom died at the age of three. Tragically, in 1809, young Hiroshige's mother died as well.
Perhaps in the face of this loss, or even with a premonition of what would come, Hiroshige's father dutifully passed down the job of Edo Castle's fire warden to him. Not long after this, he also died. And with that, Hiroshige was left a 12-year-old orphan and fire warden, with little family left.
Fortunately for Hiroshige, his job wasn't demanding. It actually left him a lot of leisure time. Since he also made a decent wage, he was able to explore his true passions — like painting — around the age of 14. He even applied to Toyokuni's prestigious painting school, but there was no room at the time.
Then, a kindly librarian put him in touch with a famed ukiyo-e artist, Toyohiro, and Hiroshige soon became his apprentice. During this time, he got the chance to study many artistic techniques. Soon, the orphan was producing work suitable for book illustrations, as well as images of kabuki figures and narrative illustrations of comic poems.
However, he was destined to become much more.
The Road To Fame
Hiroshige later married Okabe Yuaemon, the daughter of a fireman, in 1821. That same year, the couple welcomed a son named Nakajirō. And in his professional life, Hiroshige focused on creating woodblock prints, many of which emphasized singular figures.
But in 1829, Hiroshige began working on landscapes — the subject matter that he would soon master.
In 1831, inspired by a landscape painter named Katsushika Hokusai, Hiroshige published his first series: a 10-parter called Famous Views of the Eastern Capital. Soon after, he received an invitation to join an official procession that involved transporting horses to Kyoto for the imperial court in 1832.
During this trip, Hiroshige traveled along the Tōkaidō route that connected Edo to Kyoto. It was the most important of the five roads that linked Edo with the rest of Japan. There were 53 post stations along the route to Kyoto. And he got the opportunity to sketch throughout the entire trip.
Upon his return to Edo, he presented the series The Fifty-Three Stations of the Tōkaidō, which contains some of his best-known work in his legacy today. He followed up his success with the Illustrated Places of Naniwa, Famous Places of Kyoto, and Eight Views of Ōmi.
And in the meantime, Hiroshige passed the hereditary position of the fire warden down to his son, Nakajirō.
The Death And Legacy Of Hiroshige
In 1856, Hiroshige "retired from the world" and became a Buddhist monk. This was when he began his influential One Hundred Famous Views of Edo. He died two years later in his early 60s.
Although he died during the great Edo cholera epidemic of 1858, it's unclear whether the disease claimed his life. And even though he had been famous and prolific, he was not wealthy at the time of his death. He even had to leave behind instructions on how to pay his debts.
He was buried in a Zen Buddhist temple. At some point before his death, he wrote this farewell poem:
I leave my brush in the East,
And set forth on my journey.
I shall see the famous places in the Western Land.
Throughout his life, Hiroshige created some 8,000 works, and he remains a legendary figure in the art world today. Many other famous artists have been inspired by him. For instance, Van Gogh created Bridge in the Rain (1887) in tribute to Hiroshige's Sudden Shower Over Shin-Ohashi Bridge and Atake.
The French Post-Impressionist painter Paul Cézanne was also familiar with Hiroshige's prints. Art historians have noted that Cézanne's approach to perspective is similar to that in The Fifty-Three Stations of the Tōkaidō.
Monet and other Impressionists were also greatly influenced by Japanese artists — including Hiroshige. Even American artist James Abbott McNeill Whistler created paintings that show compositional and thematic similarities to Hiroshige. But despite the similarities, most people will always remember Whistler by his famous portrait of his mother.
The Fifty-Three Stations of the Tōkaidō is considered Hiroshige's magnum opus. But his legacy will never be bound to just one series of artworks. In the words of Russian artist Mstislav Dobuzhinsky: "I liked to choose a viewpoint of my own so that the composition would be striking, unusual; in that, I had the constant example of Hiroshige before my eyes."
---
After learning about Utagawa Hiroshige, find out what the West misunderstood about Japanese geishas. Then, see 55 photochrom images that look like they're straight out of a fairytale.