This "Witch's House" was originally built in 1921 to hold offices and dressing rooms for a silent film studio, but it was transformed into a single-family home and moved to Beverly Hills just a few years later — and Spadena House remains there to this day.
Spadena House is not your typical piece of 90210 real estate.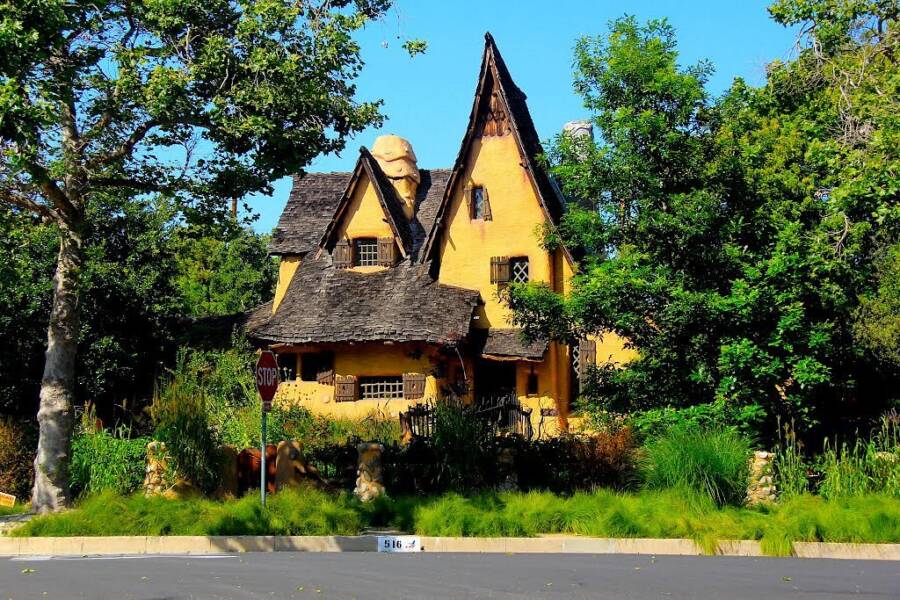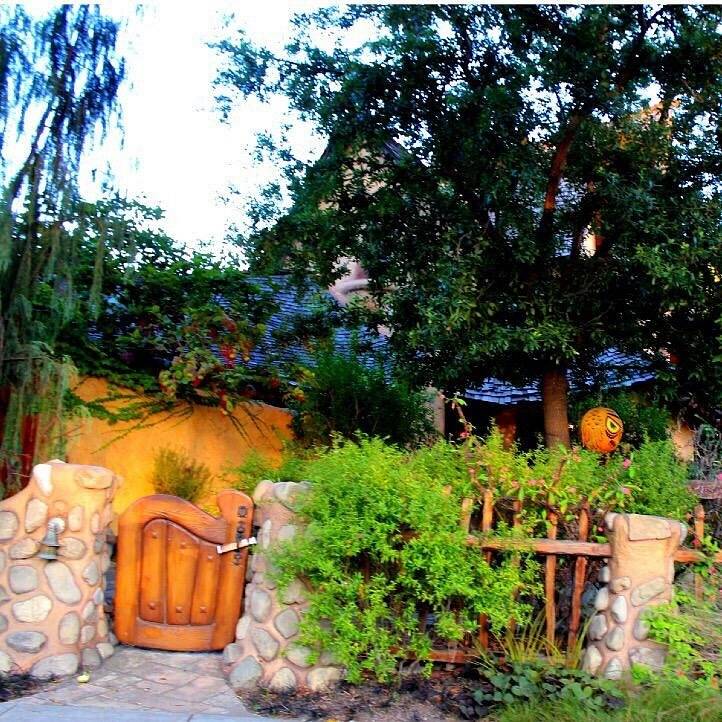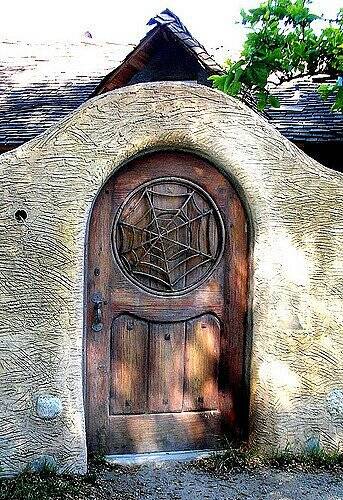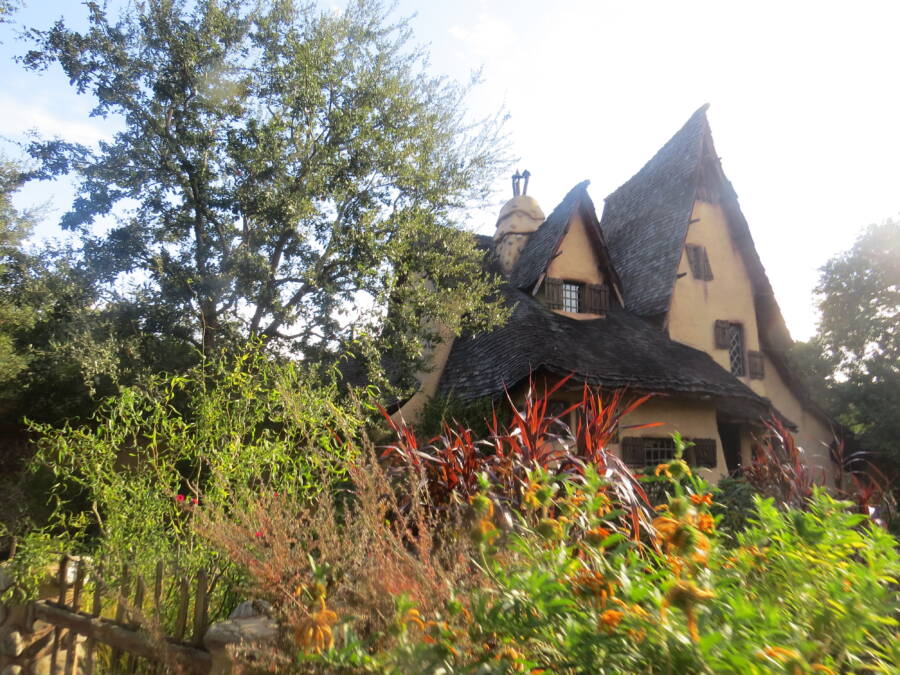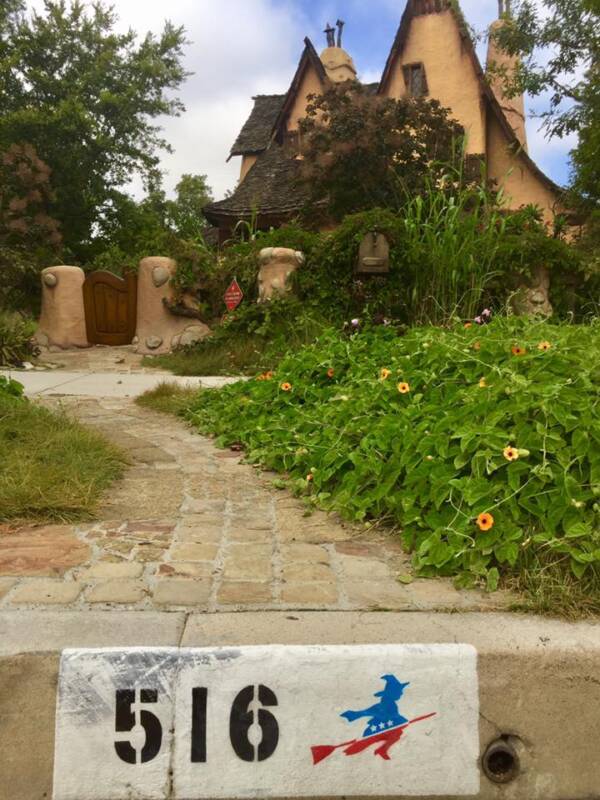 Facebook/Jennifer Cousins
Facebook/Christy Meadows Bowling
Facebook/Beverly Hills Heritage
Facebook/Marek Lichtenberg
Facebook/Marek Lichtenberg
Flickr/rollercoasterphilosophy
This whimsical cottage in the middle of Beverly Hills started as an office space for a silent film studio in the early 1920s. Now, the spooky destination is a favorite spot for trick-or-treaters every Halloween. It's even become known as the "Witch's House."
With a crooked roof, rustic gardens, a rickety fence, and a moat, the property looks like it was plucked straight out of a fairytale. In fact, Spadena House is the epitome of the storybook architectural style that gripped Los Angeles in the 1920s and '30s.
Though the home has changed hands a few times, each owner has embraced the property's quirkiness — even though some people consider it an eyesore to the neighborhood. Above, explore Spadena House through 25 whimsical photos. And below, read all about the enchanting history of the home.
The Hollywood Origins Of Spadena House
The "Witch's House" of Beverly Hills was designed by Harry Oliver, an art director who created sets for films like Ben-Hur: A Tale of the Christ (1925) and Scarface (1932). In 1921, the structure was constructed on the lot of Willat Studios, a silent film studio in Culver City, where it held offices and dressing rooms.
When the studio closed in the mid-1920s, Spadena House was moved to its current location on Walden Drive and converted into a private home, according to Fancy Pants Homes. At that time, it got its name from some of its first residents: the Spadena family.
Long after the storybook architecture craze died out in California, Spadena House remained standing as a testament to the era. A second family moved in during the 1960s and renovated much of the interior, but they left the exterior mostly intact.
When the Witch's House of Beverly Hills went on the market again in 1997, it was sorely in need of repairs. Because of the location's value, most of the interested buyers just wanted the lot — and planned to demolish the house.
Consequently, local realtor Michael Libow, who had grown up in the area and had a soft spot for the home, purchased it for a cool $1,267,510. Libow wanted to renovate the interior, which he remembers as "an example of bad 1960s bordello-style," but he had no intention of making it more modern. Instead, he hoped to add to the fairytale charm of Spadena House — and he did just that.
The Unconventional Beauty Of The Witch's House
The whimsy of Spadena House starts with its curb appeal. Once described as the "quintessential Hansel and Gretel house," the home has a pitched roof, tiny shuttered windows, and intentionally distressed walls. As Libow told CNN, the exterior is designed to evoke "a home that looks as if it's 300 years old that really isn't."
The property is surrounded by a rickety picket fence, a thorny garden complete with gnarled trees, a moat with a wooden bridge, and hand-crafted "No Trespassing" signs that would look right at home outside of an actual witch's abode.
"As my life is one of organized chaos," Libow says, "I wanted to integrate that feeling into the garden. As the house is, the garden is perfectly imperfect. While the gardens look somewhat unkempt, it takes a twice weekly maintenance crew to keep it looking that way."
Aside from the landscaping, the exterior of the house doesn't differ too greatly from its original construction. Rather, it's inside that Libow truly made his mark, creating what he calls a "charming storybook interior replete with amorphous shapes and unique broke tile installations."
From custom cabinetry and built-ins to curved walls, wooden ceilings, and fanciful tile work, the entire home is spectacularly odd. Libow even purchased furniture to match the storybook theme, including a dining room table with a base made from a tree trunk.
During renovations, Libow told the Los Angeles Times, "We're going for a Gaudí-esque cottage look," referring to Antoni Gaudí and his signature organic style of design and architecture.
"It gives me great joy to be able to bring joy to people who stop by to look at it," Libow said. "It is, I'm told, the most requested non-celebrity house to visit in Los Angeles."
But while a steady stream of tourists treks to Walden Drive to catch a glimpse of Spadena House throughout the year, the home attracts a whole new level of attention every Halloween.
Behind The Scenes Of Halloween At Spadena House
Every October, as many as 4,000 children and their families arrive to trick-or-treat at Libow's home. "The Witch's House is a Mecca on Halloween," he told Los Angeles Magazine in 2014.
It's a time-honored tradition. As Alison Martino wrote for the magazine feature, "I grew up trick-or-treating... in the late '70s and early '80s at the Witch's House. The owners at that time would dress up as ghosts and goblins and hand out taffy from a witch's kettle."
Lidow also recalled his own childhood in the area and noted that Spadena House "was the place that everyone migrated to on Halloween." He continued, "I was actually scared of it back then. I never imagined I would one day be the owner."
Each year, Libow gears up to hand out candy to the thousands of visitors who come by to experience the spooky home for themselves. He even hires private security to make sure things go smoothly.
Nearby streets are closed off for safety, and Libow stands by the gate to greet guests, as traversing the front walk to the door can be dangerous. He reportedly hands out close to 6,000 pieces of candy each Halloween.
Some trick-or-treaters are frightened of the house as Libow was in his own youth, but most look forward to Halloween night at Spadena House as a delightful annual tradition. "I have only seen a few children over the years on Halloween who are remotely scared of my home," Libow notes, "but that could have also been due to an array of tall drag performers on the night dressed as menacing Disney villains."
"The bottom line is that nearly everyone has a smile on their face when passing my home," he says, "and that is exactly as planned."
Most neighbors enjoy the festivities, but in the past, a few have asked Libow to stop welcoming so many visitors. He once attempted to take a year off from entertaining the crowds to appease them — but people showed up in droves anyway.
Inside, the home is always decorated like it's October; it just fits the overall aesthetic. Libow's friends are constantly gifting him unique items that fit right into the enchanting abode.
It appears that Libow intends to stay in Spadena House for a while — perhaps even happily ever after.
---
After reading about Spadena House, check out the Church of La Sagrada Familia, Antoni Gaudí's most epic project. Then, discover the history of Houska Castle, a Gothic fortress built to seal a "Gateway To Hell."