North Korea tends to grab the headlines as the world's favorite ideological basket case, Turkmenistan offers just as much potential for lulz.
North Korea tends to grab the headlines as the world's favorite ideological basket case, but there's another Asian dictatorship with just as much potential for absurdity.
Turkmenistan erupted from the Soviet Union in 1991, and immediately got taken over by one of the craziest people in the world. Saparmurat Niyazov came from the slums of Stalin-era Turkmenistan and clawed his way to the top of the local Communist party. In 1991, he supported the coup attempt to overthrow Gorbachev and was rewarded by the local Supreme Soviet by being appointed the president of the country at independence.
Seeking legitimacy, Niyazov "ran" for "president" in an "election" as the only "candidate." He must have done a really good job, because in 1994, 99.9 percent of the people of Turkmenistan voted to extend his term by 10 years. Niyazov died in office in 2006—two years after his term officially ended—and left behind a country that's every bit as stable and well-thought-out as you'd expect.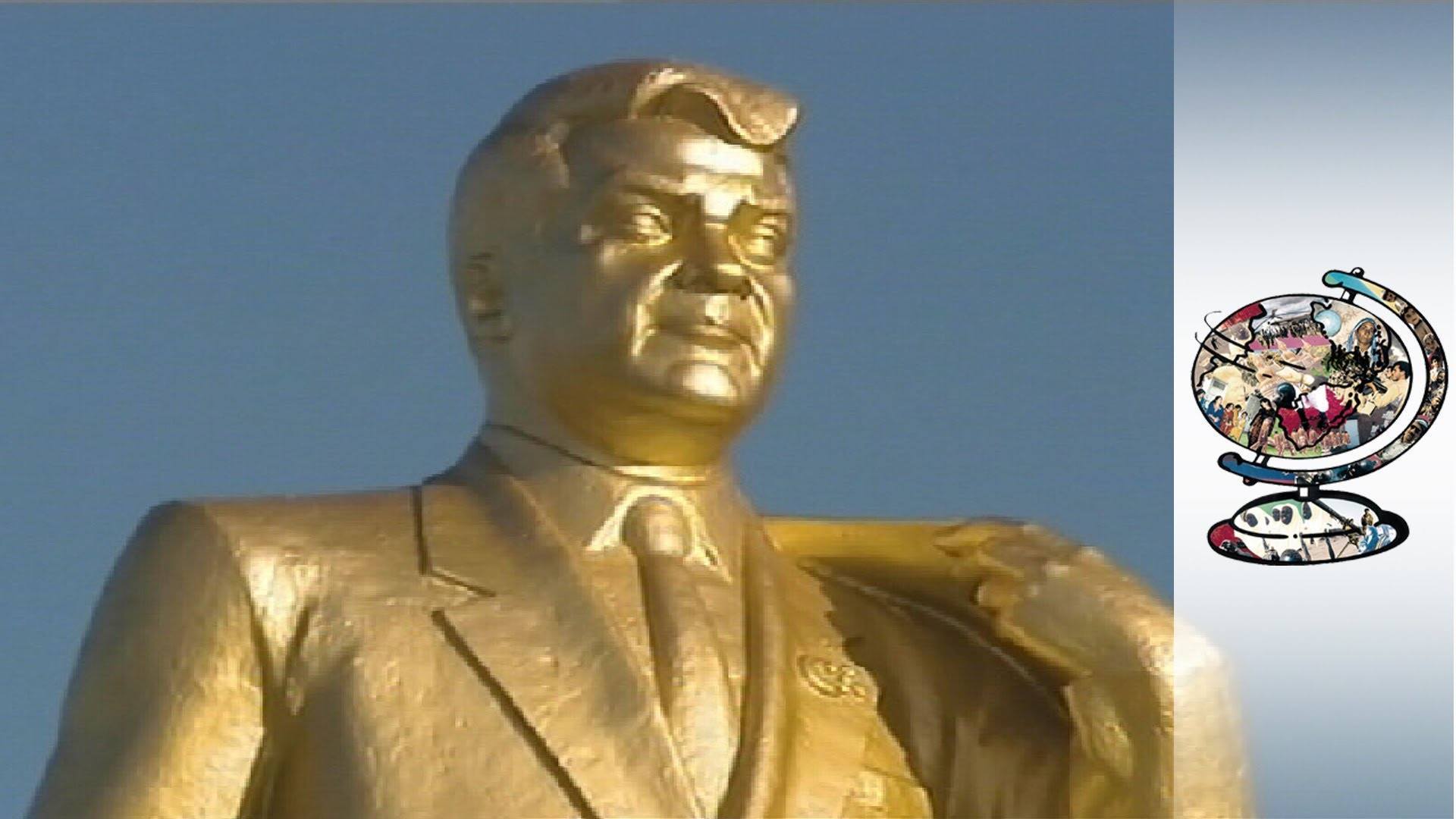 ---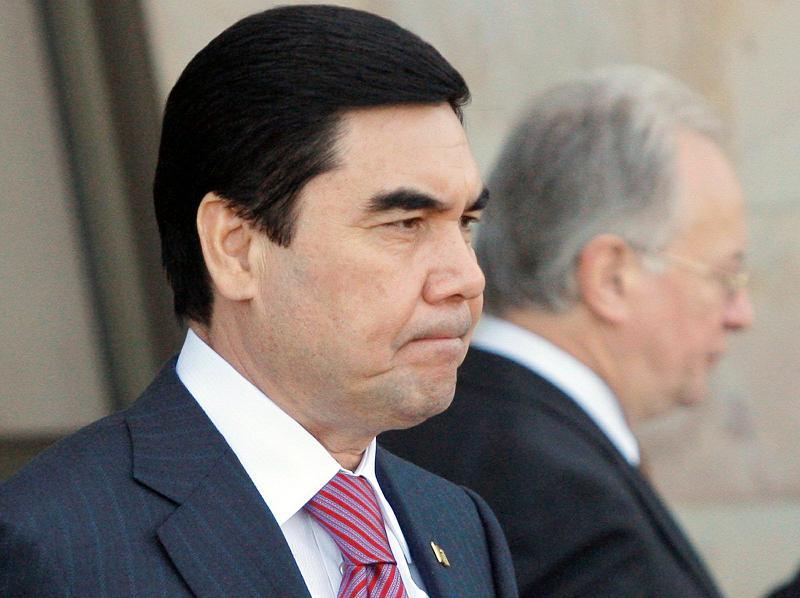 ---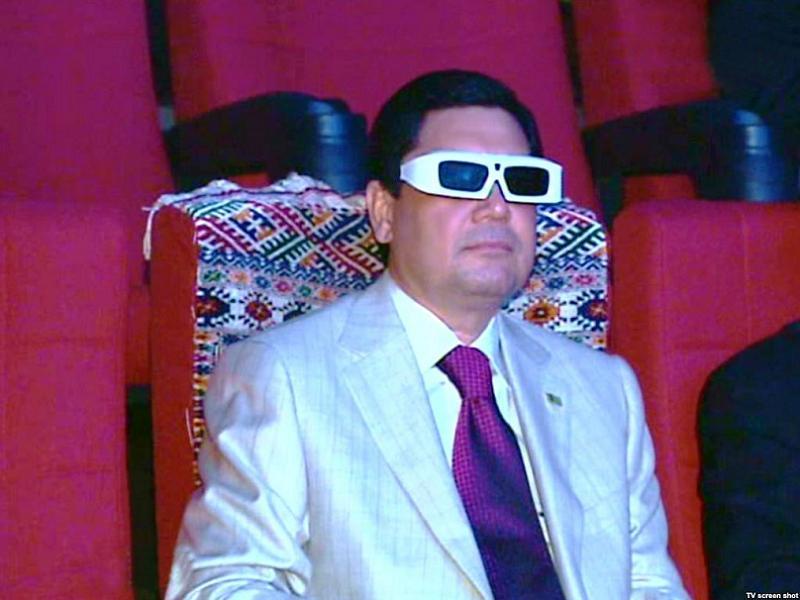 Here he is again, being less serious. Source:
RFERL
---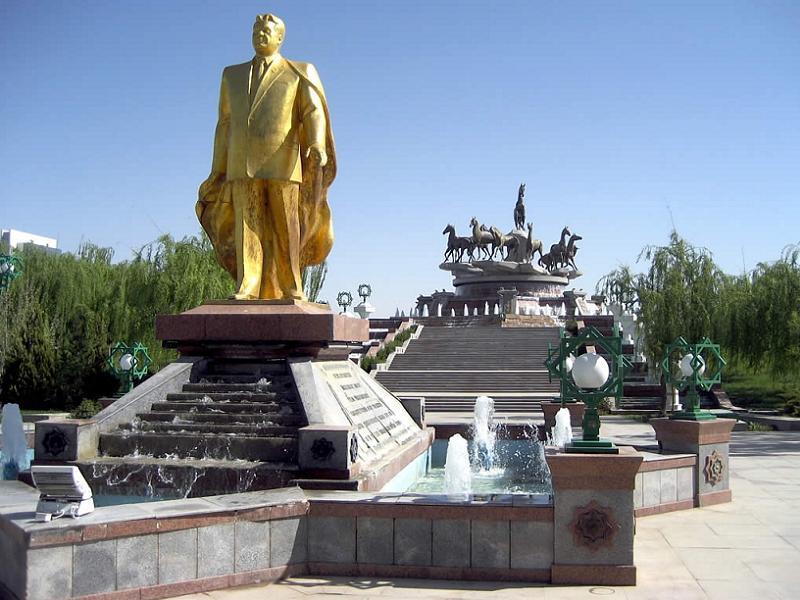 Half the fun of being a dictator is posing for the gigantic golden statues. This one isn't the most overdone.
---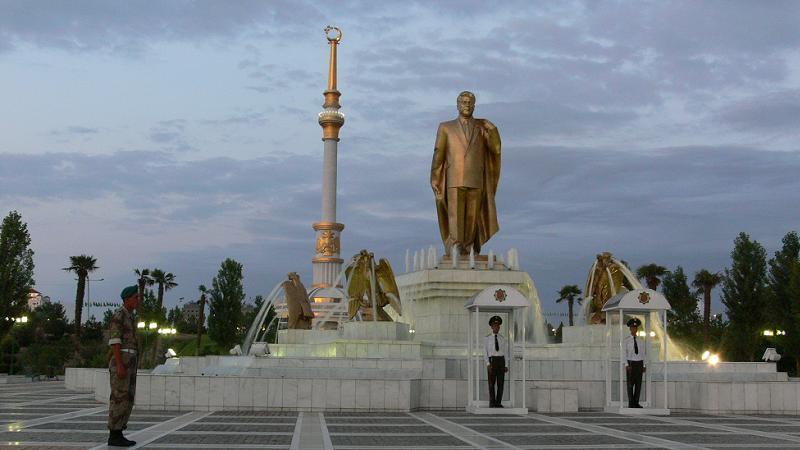 This one isn't the silliest either, though it is guarded day and night and forms the centerpiece of a theme park devoted to a book Niyazov "wrote" (despite being illiterate).
---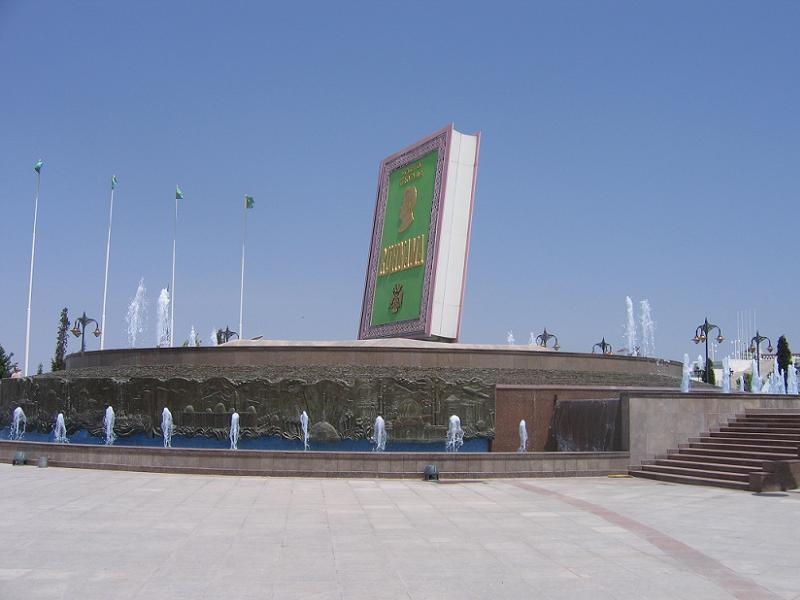 Here's the book. It's called
Runhama
, which we won't bother to translate because who cares. You have to memorize this thing if you want a driver's license or a government job in Turkmenistan, which is almost the only kind of job in Turkmenistan. This statue is actually motorized and, at 8:00 pm every night, the cover opens and loudspeakers start blaring out a selected reading. Reliable figures cannot be found on the time of death statistics for local suicides, but we're guessing they mostly happen between 8:10 and 8:30 pm. Source:
Wikimedia
---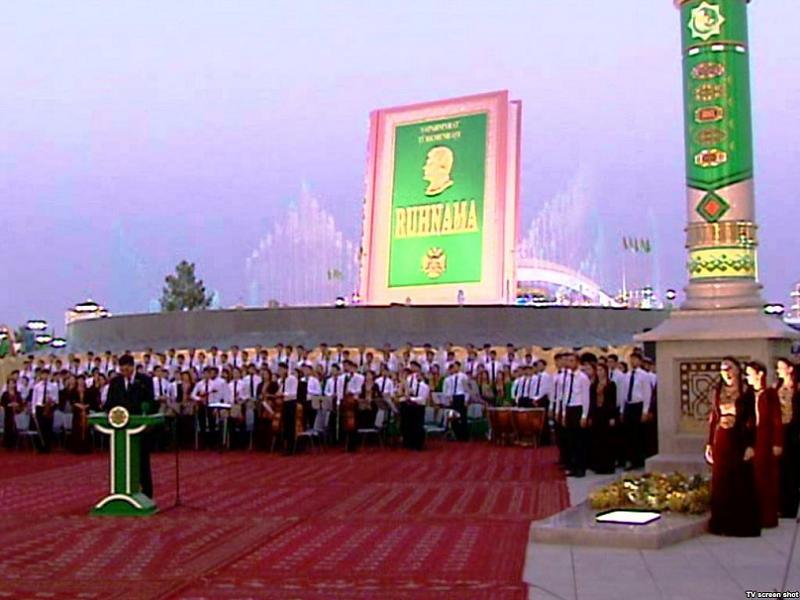 Seriously, this book is a really big deal. It is official government policy that reading this book three consecutive times earns you a place in heaven. We don't have an opinion about that, but not reading it because it sucks is probably a pretty quick way to hell. Source:
Balkanist
---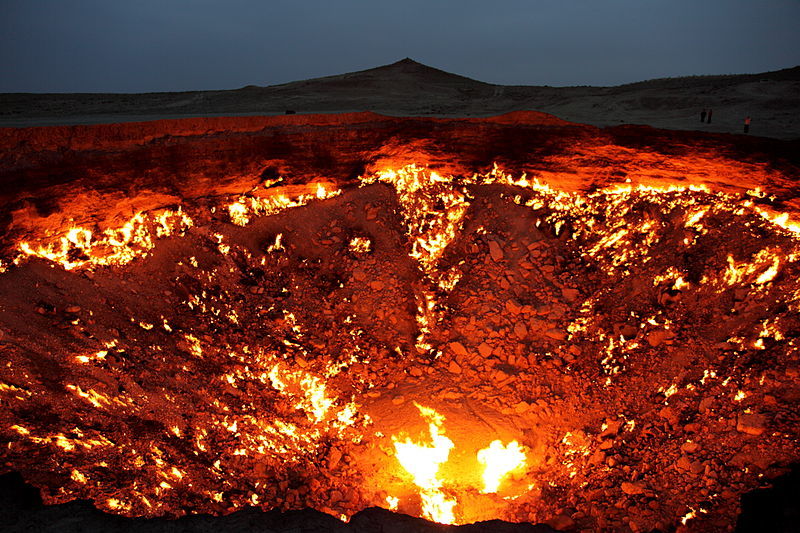 Speaking of hell, here's one of Turkmenistan's "tourist attractions." It's called the Door to Hell, and it's almost the only point of interest in the village of Derweze. Soviet engineers accidentally collapsed the ground here looking for natural gas. They obviously found it, and then they decided to set it on fire for a few weeks rather than let it leach out. As of 2014, the fire has been burning for 43 years. Source:
Flickr
---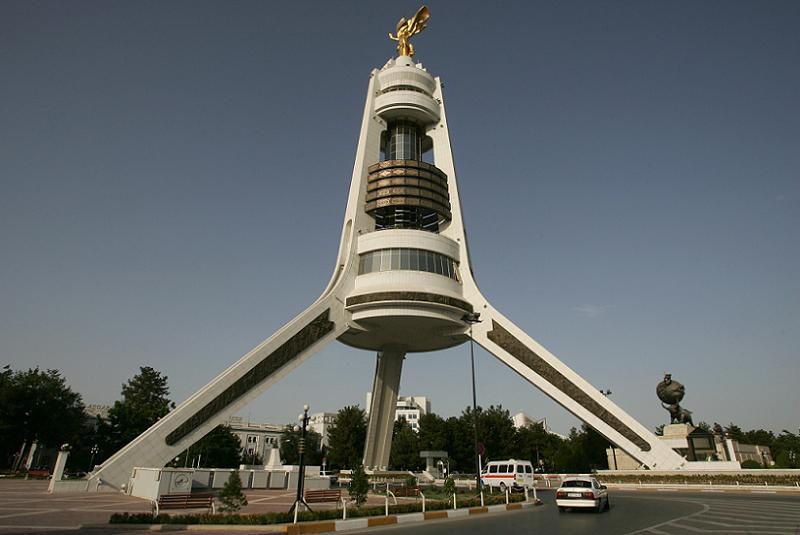 This is the Neutrality Monument in Ashgabat. It was built in 1998 to celebrate the way Turkmenistan doesn't usually take sides or get involved in wars. That's good, we guess? It seems odd that "not picking sides" should occasion a $12 million building project, but at least it gave Niyazov a chance to put up another ridiculous statue of himself. Source:
Central Asia Online
---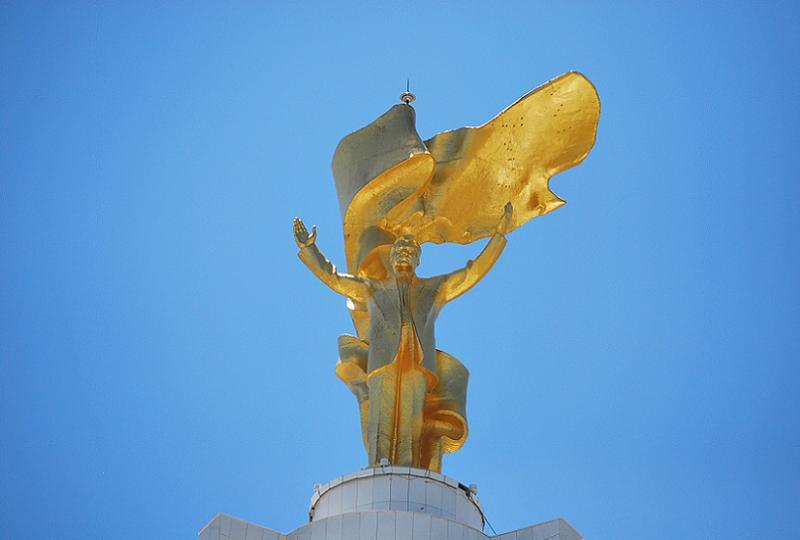 This is it: possibly the silliest statue in Asia. The way it was originally built, this enormous statue of Niyazov would slowly rotate to face the Sun on its path through the sky. Eventually they shut off the motor, and plans are underway to demolish the thing. Source:
Wordpress
---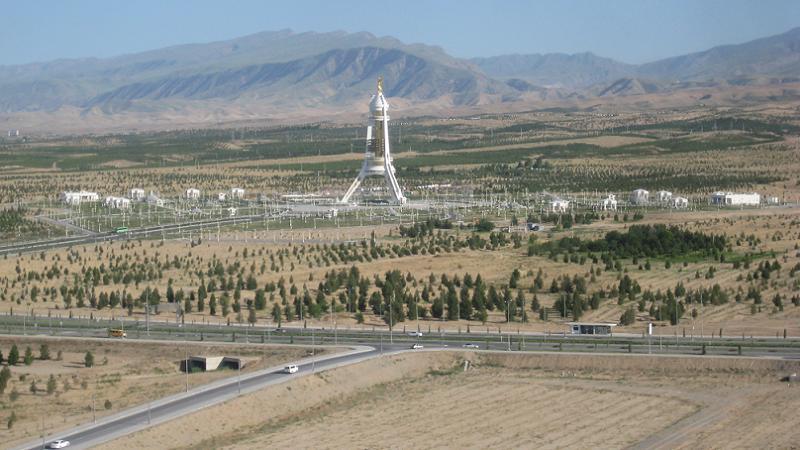 Monumental architecture really shouldn't be cluttered up with other buildings. Readers often write in and ask: "What would Lodi, CA, look like if aliens crushed it with a giant spaceship?" Nailed it, Niyazov. Nailed it. Source:
Wikipedia
---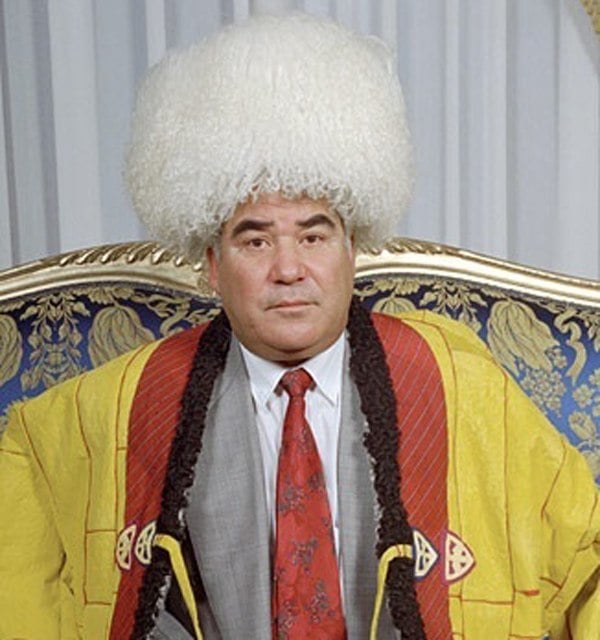 There is absolutely a golden chalice within arm's reach of this man. Source:
Evil Chili
---
Below is a video about Niyazov and his reign of terror over Turkmenistan:
---
Be sure to see our other galleries on China pollution and life inside North Korea.