From string bikinis to high-waisted bottoms and cutouts, bathing suit options are endless these days — patterns and styles exist for everyone and every body type.
But that wasn't always the case. The swimwear we recognize today didn't really emerge until the early 1900s, and as the following images show, women's swimwear has definitely come a long way since then: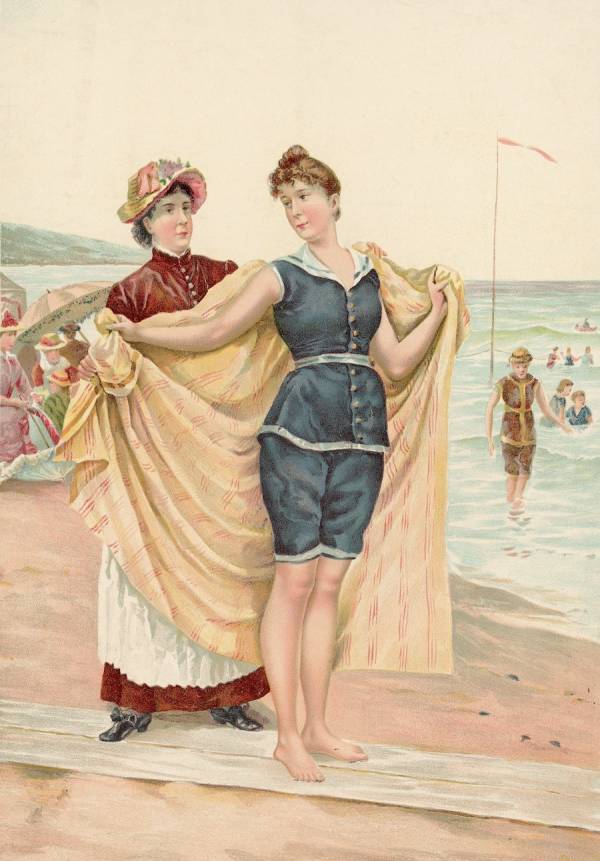 In the early 1800s people began to flock to beaches for sunny (and water-filled) amusement, which called for water-activity appropriate clothing.

In that time, modesty was key. Women wore long bathing dresses with weights to hold down the dress in the water and bloomers or stockings. Photo: Kean Collection/Getty Images
---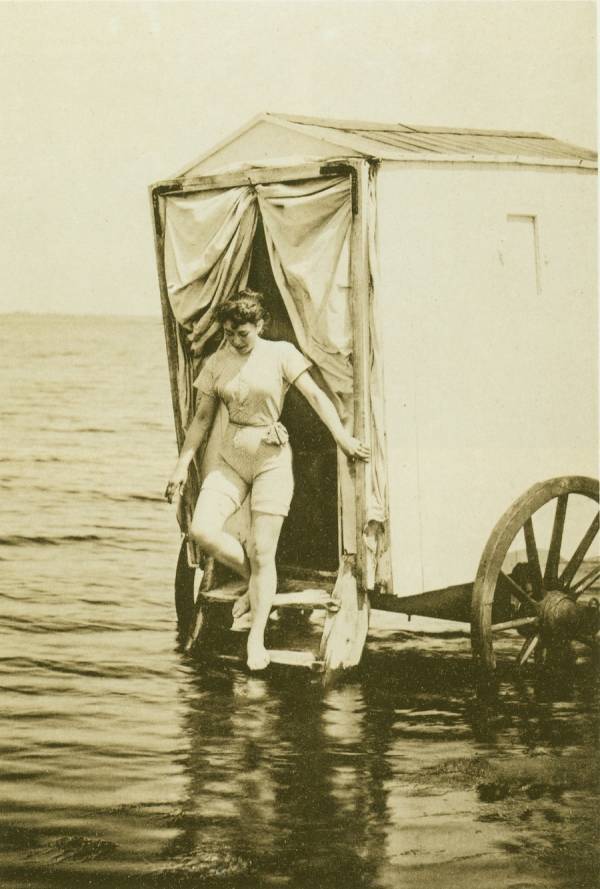 Bathing machines (seen above) were designed to protect the modesty of bathers. Pulled to the edge of the sea by horses, they were moved according to the tides. Would-be bathers then could enter the machine at the back fully clothed and emerge in a swimming costume straight into the sea. Photo: Flickr
---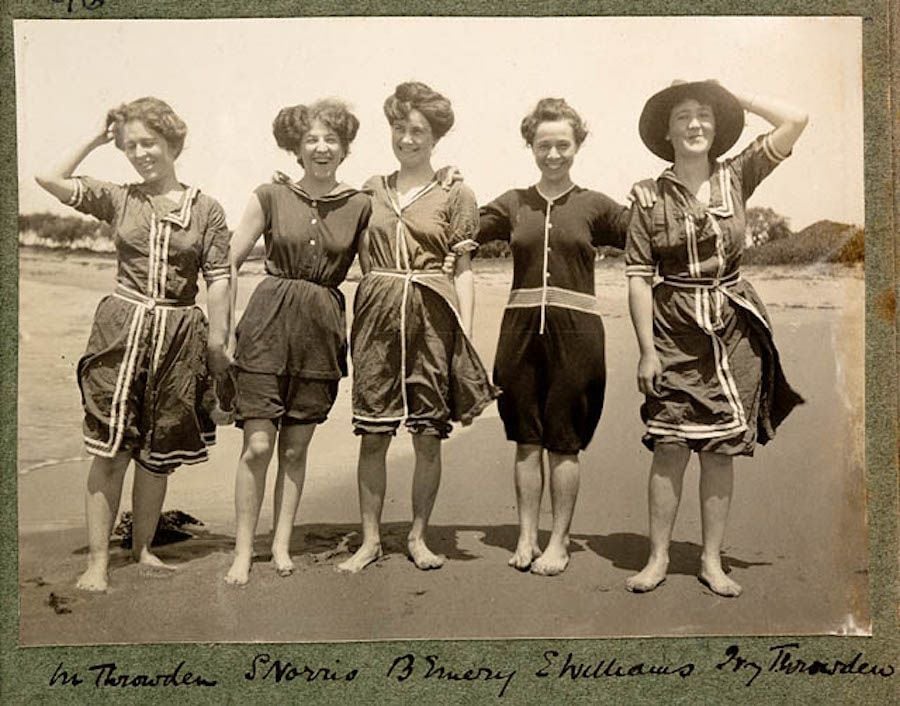 Women in bathing suits on Collaroy Beach, 1908. Photo: Colin Caird/Flickr
---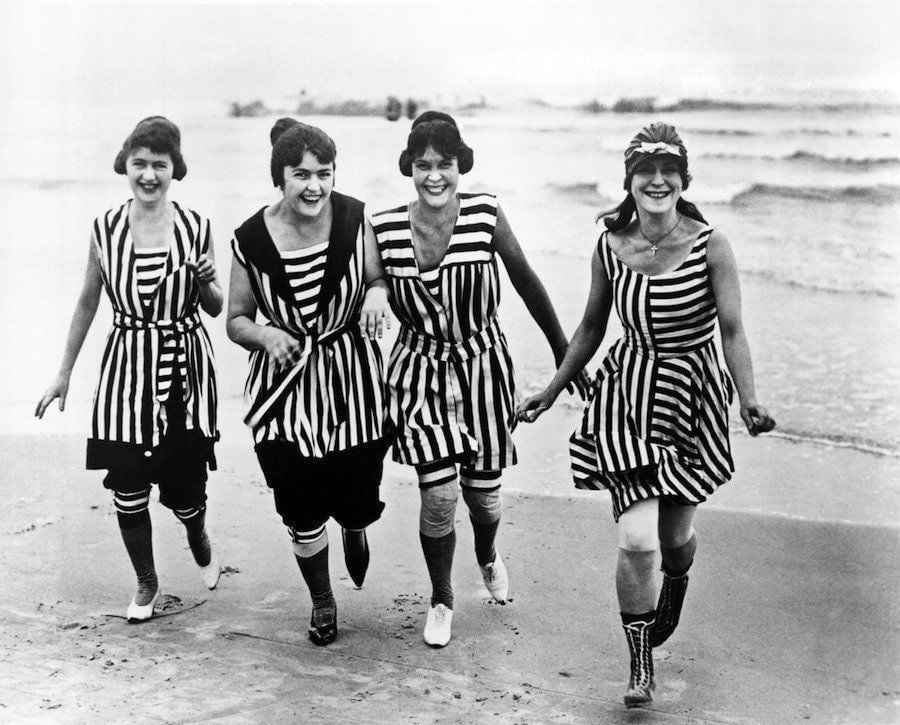 Women dressed in bathing suits walk arm in arm on a sandy beach, circa 1910. Photo: Underwood Archives/Getty Images
---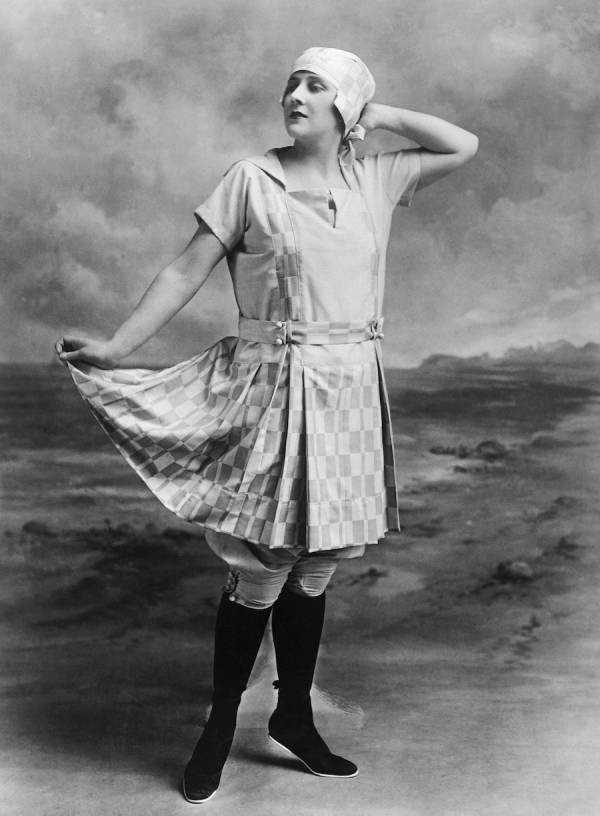 A woman models the latest in beach costumes in 1918. Photo: Bettmann/Getty Images
---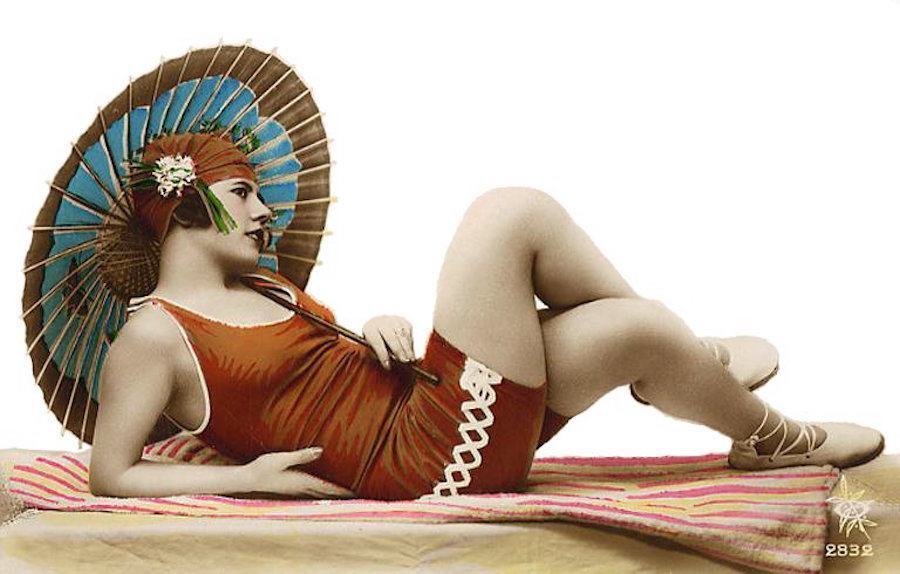 In the early 1900s, bathing suits no longer camouflaged the contours of the female body. The heavy fabrics were reduced to show a little more of the woman's figure and to allow for exposure to the sun. Photo: Wikimedia
---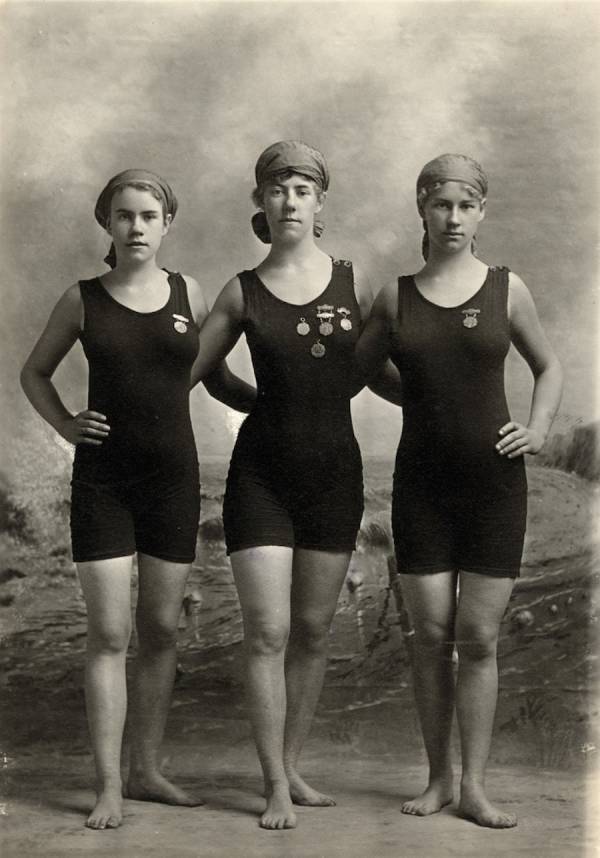 Three young women pose in swimsuits and their swimming competition medals. Photo: Trialsanderrors/Flickr
---
The one-piece garment seen above was the norm around 1910. Though matching stockings were occasionally worn, vintage swimwear began to shrink, exposing more and more flesh. Photo: Anyjazz65/Flickr
---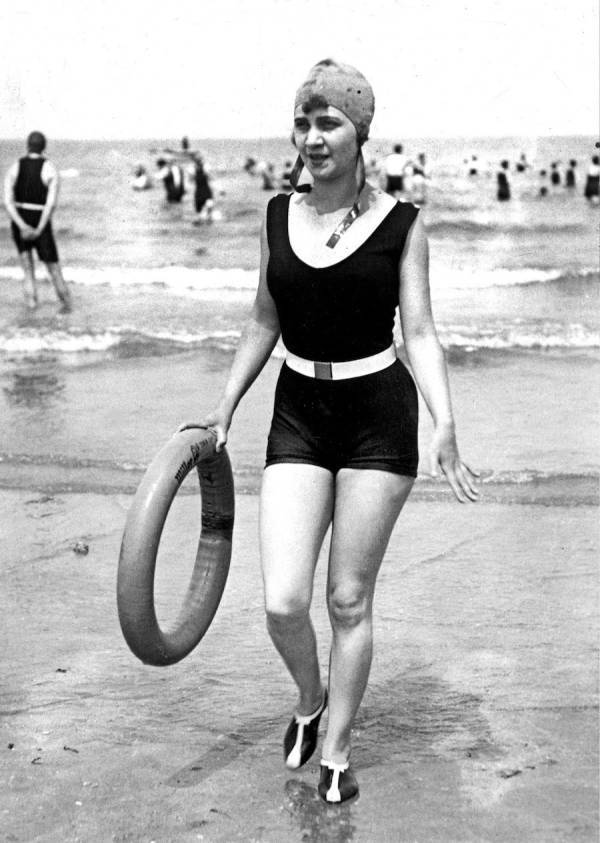 In the 1920s and early 1930s body hugging suits were in style. They were less restrictive and were cut at the upper thighs. Photo: STAFF AFP/Getty Images
---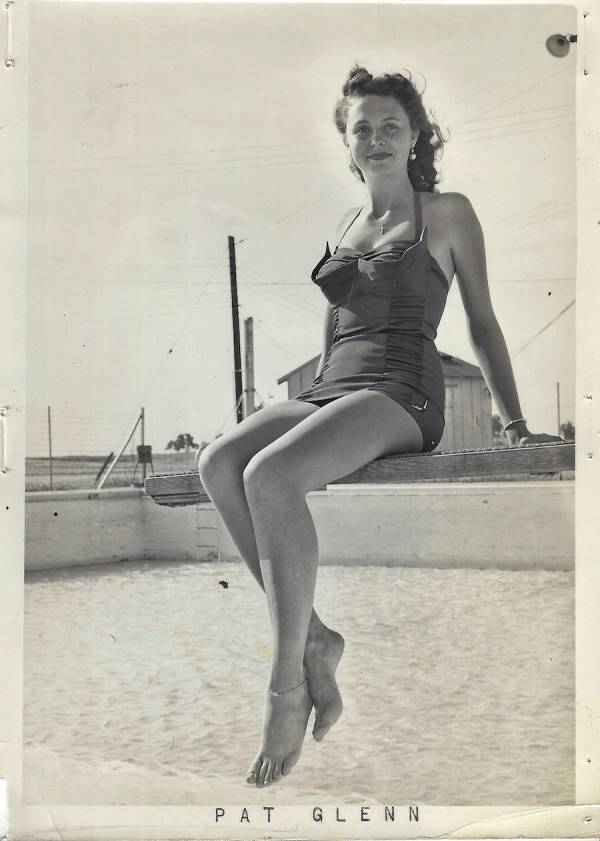 Filattering a woman's figure became the focus of the 1940s with elements like sweetheart necklines and ruching. Photo: Marion Hobbs/Flickr
---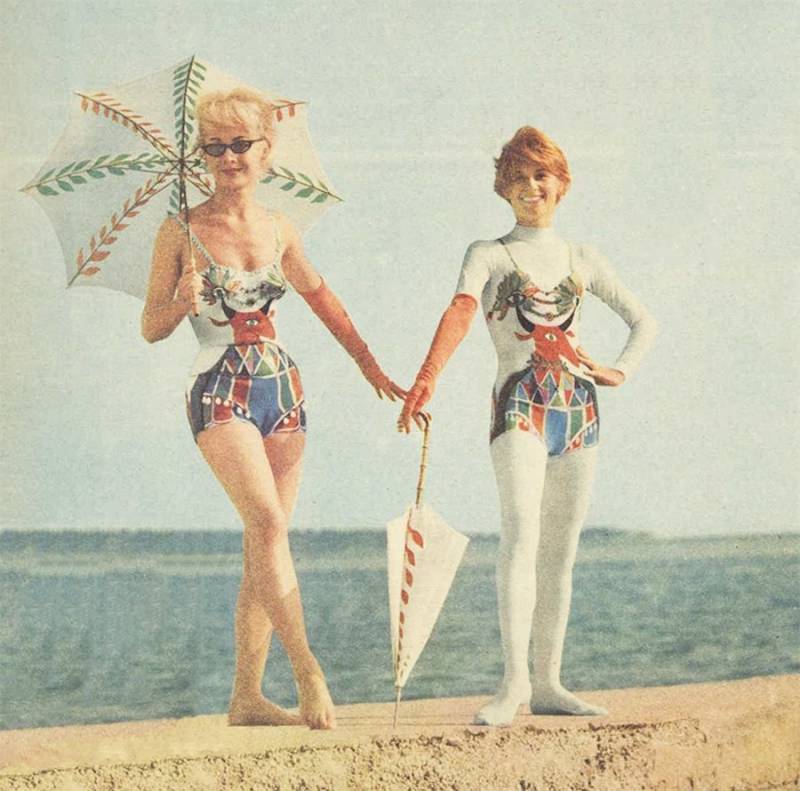 In 1959, two models pose in hand painted swimsuits in Australian Women's Weekly magazine. Photo: Bess Georgette/Flickr
---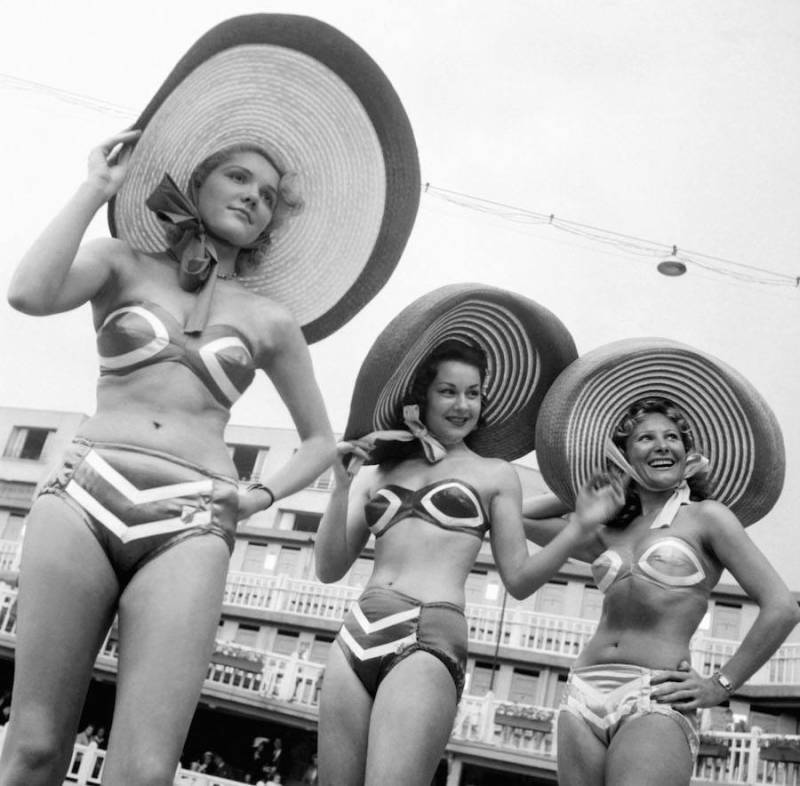 In 1946 the two-piece suit emerged. Necklines plunged at the back, sleeves disappeared and sides were cut away and tightened. Three swimsuit models present June 1951 at Paris Molitor open-air swimming pool the new two-piece bikini and matching pareos. Photo: AFP/Getty Images
---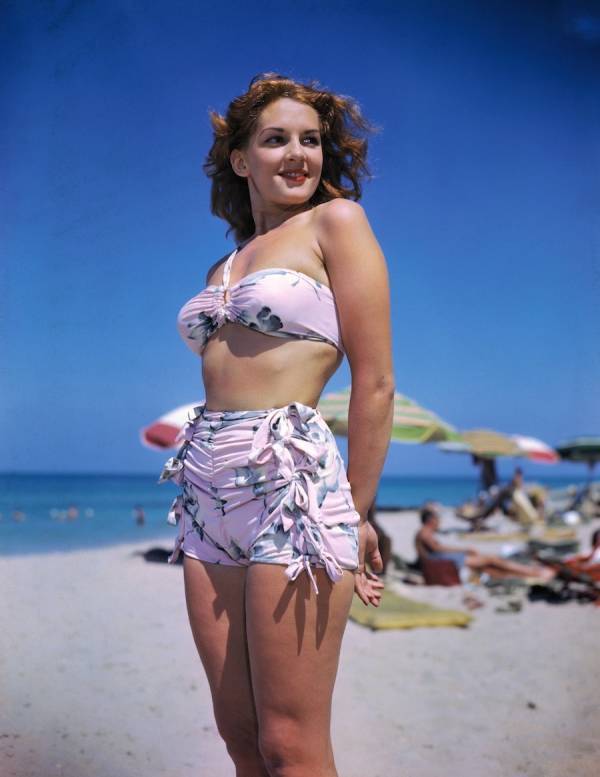 Frances Vorne, the model above, in a waist up photo wearing a bow tied bathing suit. Photo: Bettmann/Getty
---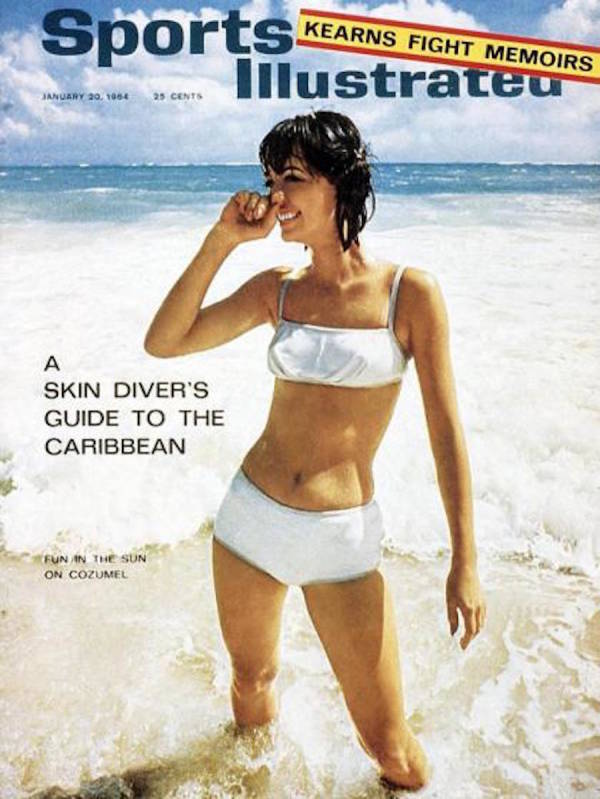 Sports Illustrated published its first swimsuit edition on January 20, 1964, with model Babette March on the cover sporting a simple, white bikini. Photo: Sports Illustrated
---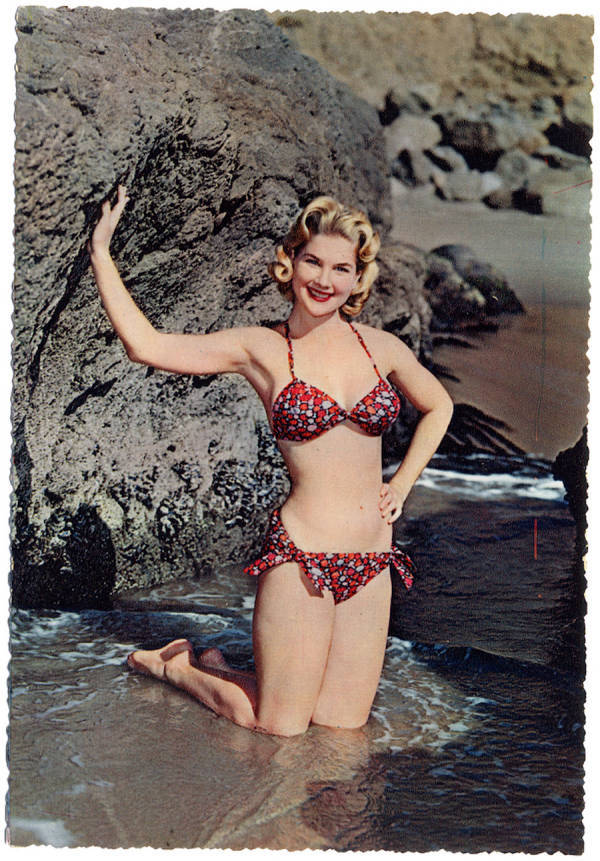 In the early 1950s, the bikini went mainstream. Photo: David Zellaby/Flickr
---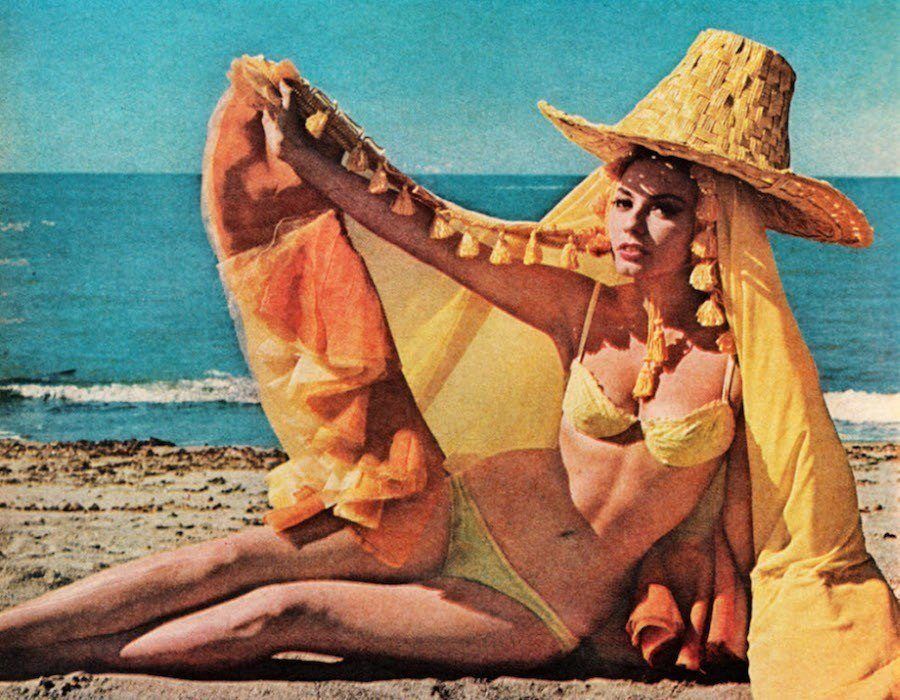 The early 1960s comprised the era of the SoCal-style beach party and the "itsy-bitsy-teeny-weeny-yellow-polka-dot bikini." Photo: Classic Film/Flickr
---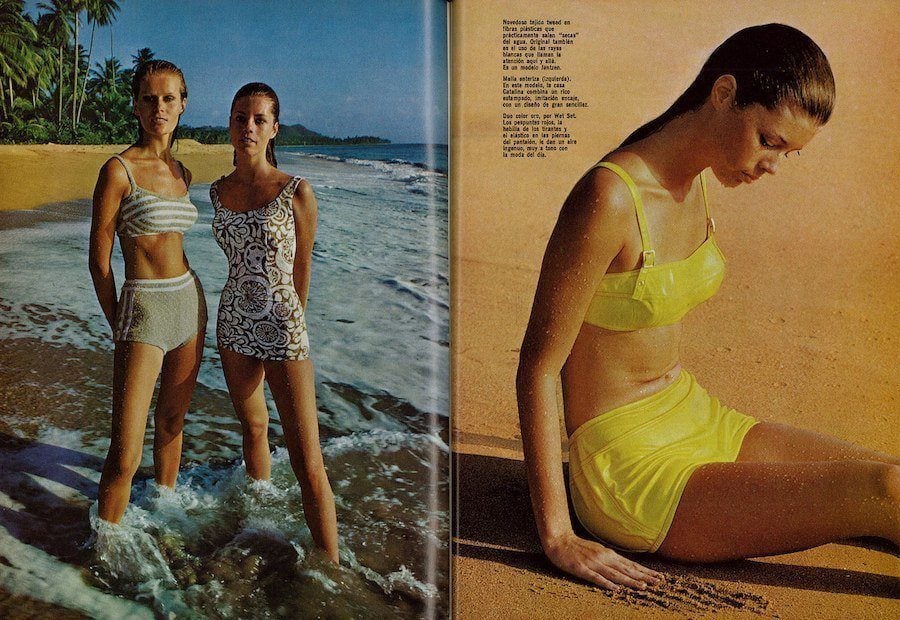 A magazine advertisement shows popular styles in 1967. Photo: Classic Film/Flickr
---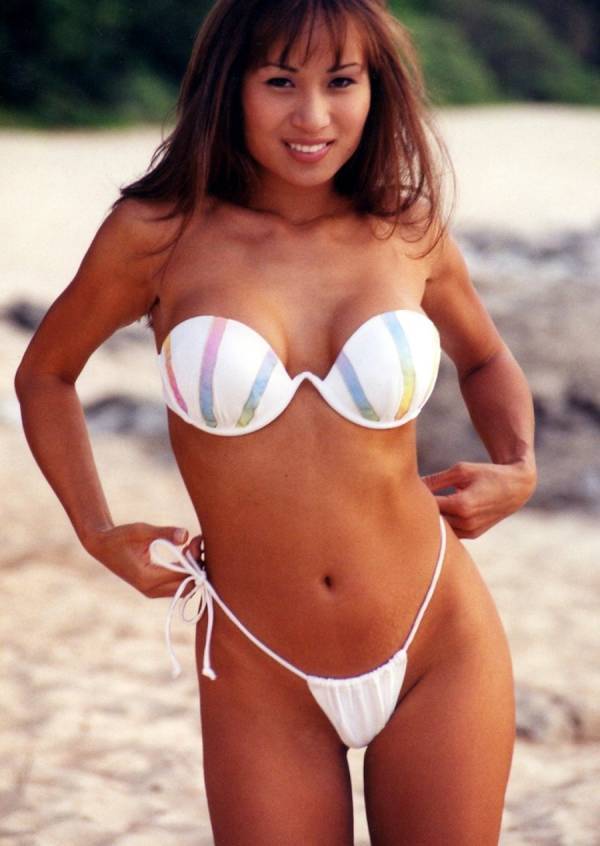 In the 1980s, high-cut bottoms were everywhere, making it no coincidence that Brazilian waxes were introduced to the U.S. in 1987. Photo: Carlton Abas/Flickr 2000
---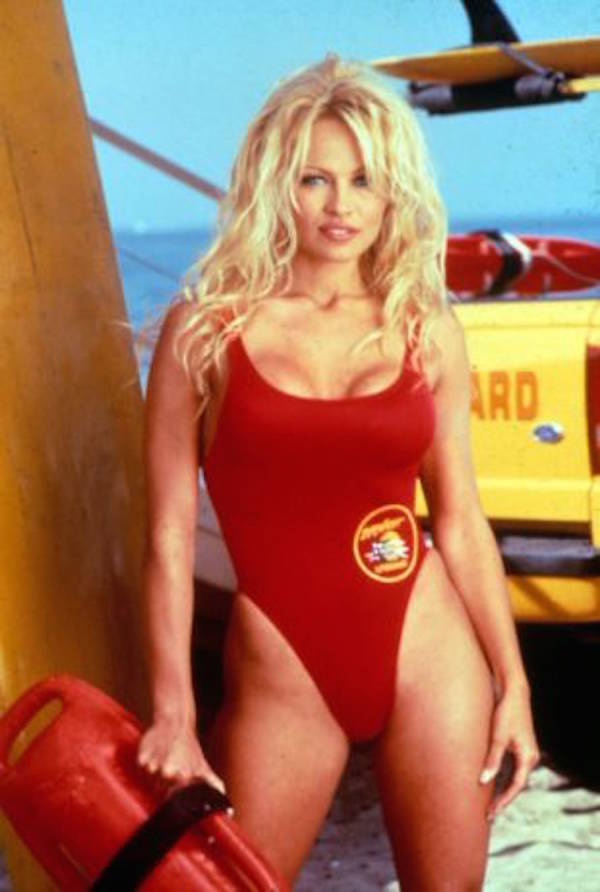 High-cut one piece swimsuits grew in popularity due to the popular show "Baywatch." The show ran in its original title and format from 1989 to 1999. Photo: NBC
---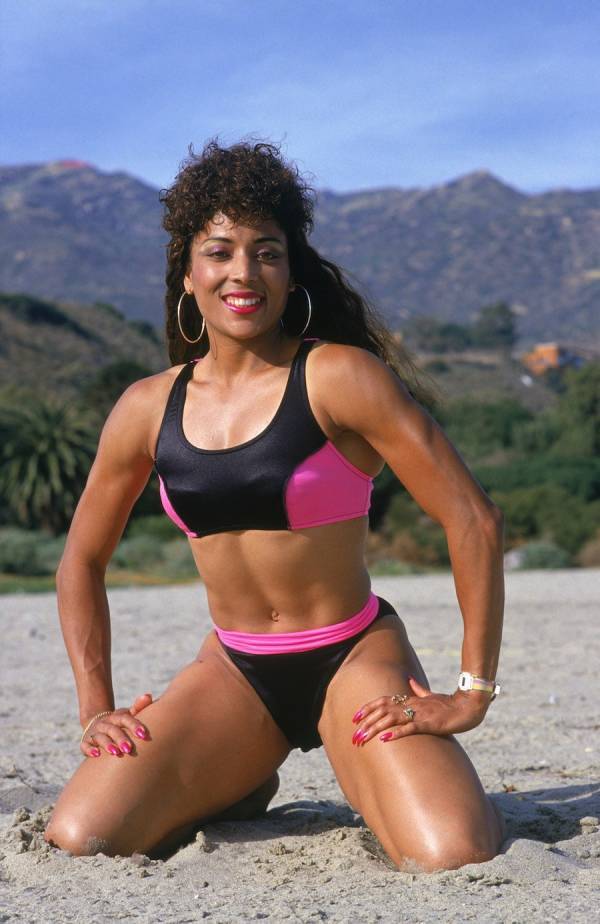 Olympic athlete Florence Griffith Joyner made sporty bathing suits popular in 1988. Photo: Tony Duffy/Getty Images
---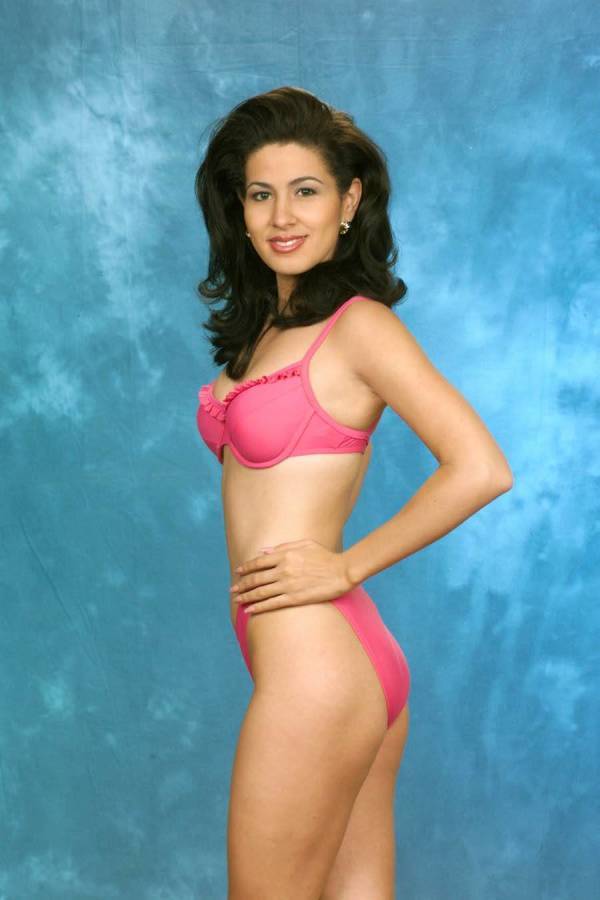 Pageant models, like Miss Nicaragua 1999 (above), have historically showed off their tans and big hair in skimpy bikinis. Miss Universe Organization/Getty Images
---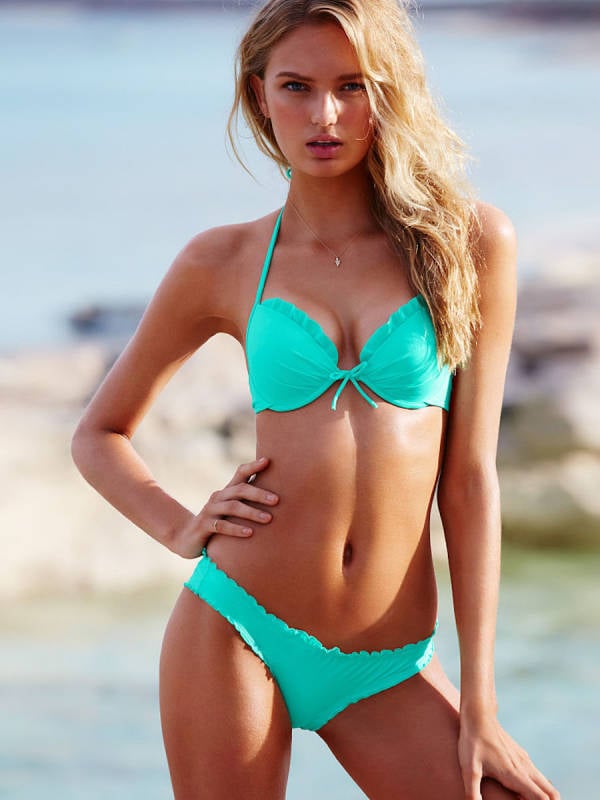 In 2002, Victoria's Secret swimwear was introduced. Victoria's Secret.
---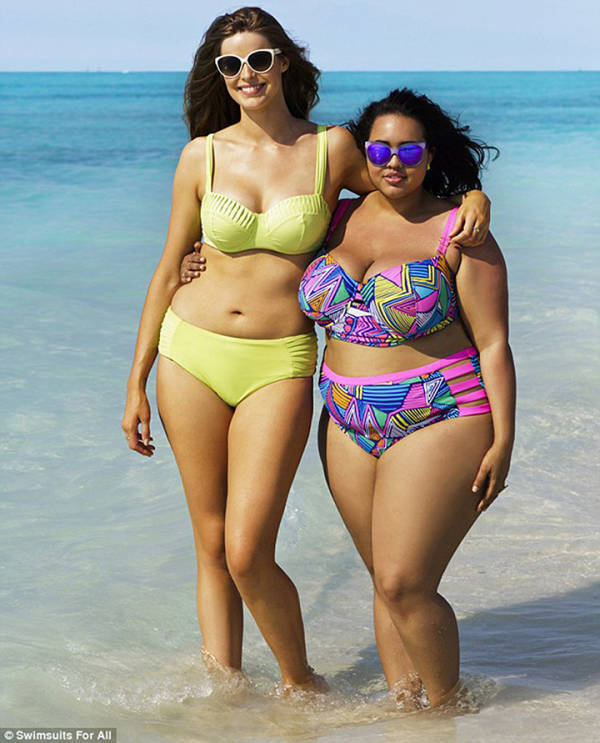 In today's stores, you can find swimsuits made for a wide range of body shapes promoting body acceptance. Swim Suits For All.
---
Be sure to watch the evolution of the bikini -- brought to you by model Amanda Cerny -- below:
---
If you enjoyed this, be sure to check out the history of high heels and this video cataloging 100 years of beauty in under one minute.