Ever since 1969, Jim Bishop has singlehandedly constructed Bishop's Castle, which is the largest self-built palace in the United States — and may be the largest self-built architecture project in the entire world.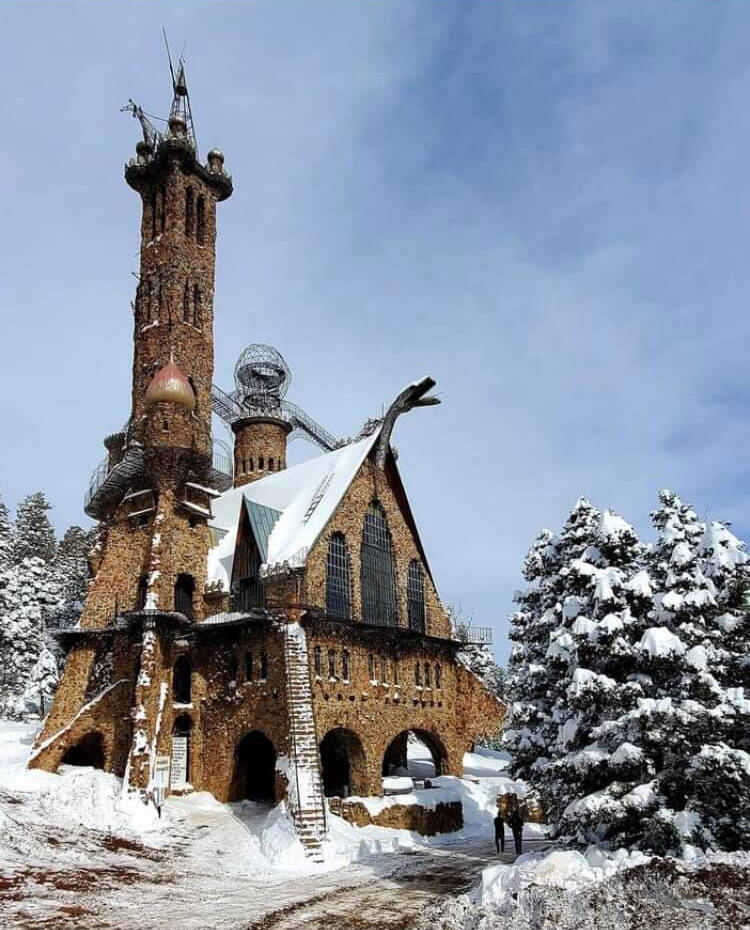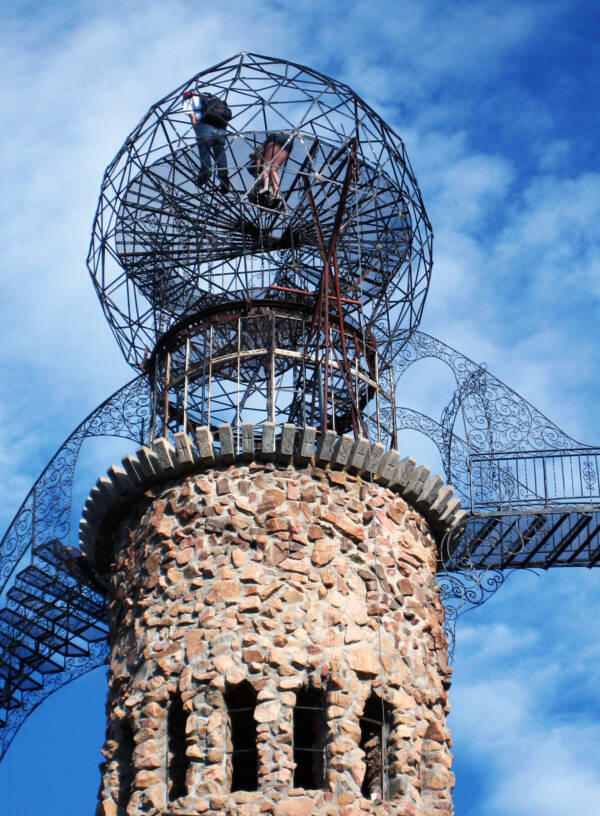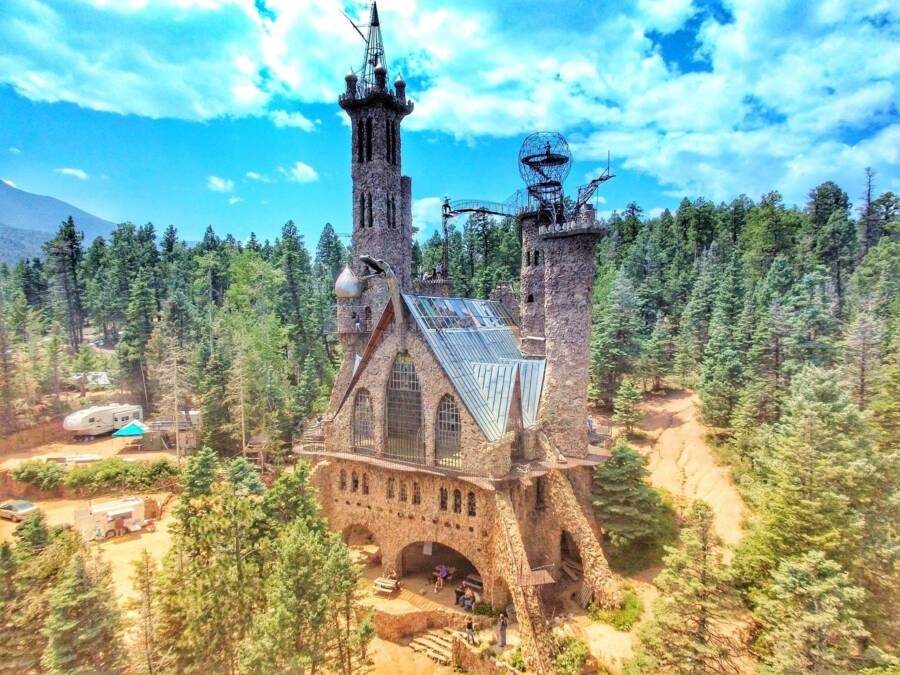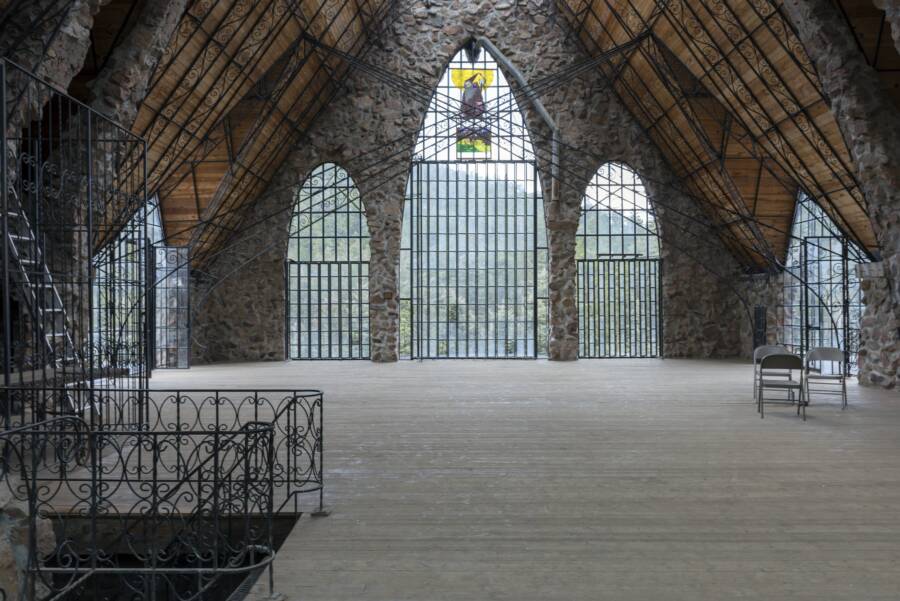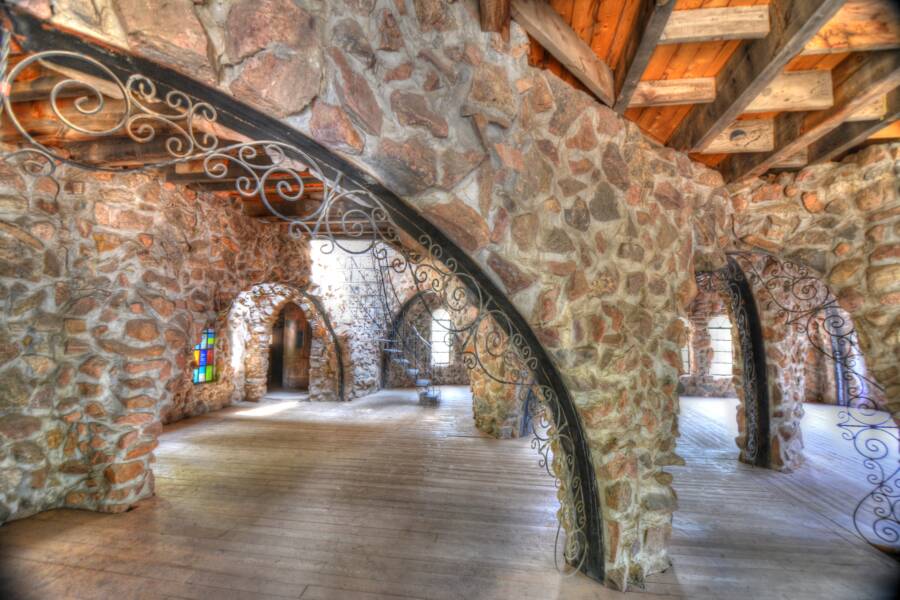 Joshua Gallegos via Bishop Castle Colorado/Facebook
Library of Congress/Wikimedia Commons
Bishop Castle Colorado/Facebook
Library of Congress/Wikimedia Commons
Library of Congress/Wikimedia Commons
Bishop Castle Colorado/Facebook
Hustvedt/Wikimedia Commons
There were no blueprints or diagrams for the eccentric Bishop Castle in Rye, Colorado. Built by Jim Bishop over the course of 60 years, the monumental structure is the result of his own imagination and lackadaisical building style. As he told one interviewer, "I just build. I don't measure."
Made of high, teetering bridges and stairs, Bishop's Castle is constructed on top of what once was his one-room cottage using over 1,000 tons of rock from the nearby San Isabel National Forest.
It is also littered with signs that warn visitors not to excessively shake them or they could collapse, as Bishop didn't believe in building codes.
Nevertheless, people flock from all around to see Bishop's Castle — and to marvel at its craftsmanship. Indeed, even though some may be wary of its stability, the beauty of the castle stands on its own merit.
Why Jim Bishop Built Bishop Castle
It was 1959 and Jim Bishop was 15 years old when he fell in love with two-and-a-half acres for sale in the mountains outside Pueblo, Colorado. He had enough money saved for the $450 down payment — of the total $1,250 price — from mowing lawns and delivering newspapers. His parents had to sign the paperwork since he wasn't legally able to buy the land himself.
His dream was to build a family cabin. For the next handful of summers, Bishop and his dad went camping at the site and made building plans. Those plans remained dreams until Bishop married his girlfriend, Phoebe, and decided to begin building them a place to live.
Taking rocks from the surrounding parkland, Bishop set out to construct a simple, one-room cottage. Building season in the mountains is quite short, however, between snowmelt and snowfall. Bishop and his father alternated weeks; one working on the home while the other ran the family's ironwork business.
There wasn't any running water at the cottage, so Bishop had to build a 40-foot-tall cistern for the water supply. When he began constructing it from stone as well, it resembled a castle tower. Neighbors noticed and jokingly asked if Bishop was erecting a castle.
The comments sparked his imagination: Why not build a castle?
Bishop's father thought this sounded like more work than he was willing to do, and with the main cabin finished, gracefully bowed out and let his son go on building to his heart's content.
Constructing The Eccentric Palace
Working in his family's iron shop meant Bishop learned how things came together. He chopped down trees and milled them into lumber. He dug 12-foot foundations and created scaffolding and pulley systems as he went.
According to Bishop, he'd dream up some feature he wanted, build it, and when it was finished it'd spark an idea for the next part of the castle.
The ironwork arches on the second floor of Bishop Castle are perhaps one of the palace's best examples of precision geometry. The support trusses are so large that it's hard to fathom them being put into place by one man. But they were. All of the castle was built by Bishop alone.
He would say Bishop Castle was "Built by one man with the help of God."
The facade of the building features a fire-breathing dragon made from recycled warming plates and a donated hot-air balloon warmer. The fireplace cleverly ventilates through the dragon's nostrils. Stained glass windows decorate the palace's grand hall.
Bishop Castle kept growing, and more visitors showed up to see it, but Bishop never considered charging them admission to enter. Bishop Castle can still be accessed free of charge.
In fact, Bishop drew up legal documents stating that as long as Bishop Castle stands, no one can ever charge admission. However, he did eventually set up a donation box.
Visiting Bishop Castle
Because of its unwieldiness, the Colorado Chamber of Commerce refused to list the castle as an attraction in their pamphlets. There was already some bad blood between Bishop and the state of Colorado, however, as he technically built his palace with rocks that belonged to a national park.
Additionally, no insurance company wanted to be responsible for the ongoing construction at the code-less "attraction."
Today, the castle is 160 feet tall, and construction has slowed considerably as Bishop has gotten older — but will probably not stop anytime soon. His eldest son, Daniel, handles the upkeep and interacts with the visitors. He put his own business on hold to help his parents as they moved into old age. Sadly, his mother, Phoebe, died in 2018.
The castle is no stranger to sad tales. Bishop and Phoebe lost another son, four-year-old Roy, in a tree-felling accident years earlier. There have been fires that claimed parts of the castle, including a gift shop, but they were always rebuilt.
Bishop still occasionally gets out to talk with tourists. He may be prone to anti-government rants, as is outlined by some of the signs on the property, but he is truly still humbled that people stop by to see his life's work.
He added memorials to Phoebe and Roy inside and maintains he built the castles for others, not himself.
"Them walls, them buttresses, arches, towers. If there wasn't somebody to climb on them, be inspired by them, get married up there, and use them, and have fun screamin', hollerin' and climbin', there'd be no point in doing it," he said. "It would be like the noise in the forest. Did it really happen? Was there a noise? Oh yes, there was, but how can you prove it? Well, the castle's its own proof."
---
After this look at Bishop Castle in Colorado, read about a similar palace in Florida known as Coral Castle, whose very construction still remains a mystery. Then, take a look at seven supposedly haunted castles.