The stark, often surreal portrayals of Hollywood's most beloved films revealed a startling — and intentional — divide between the East and West.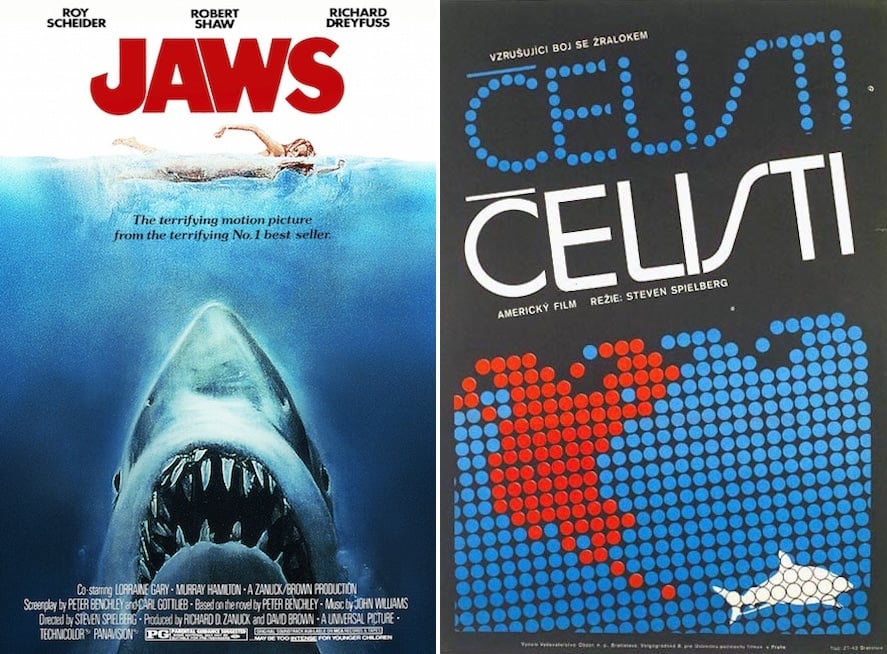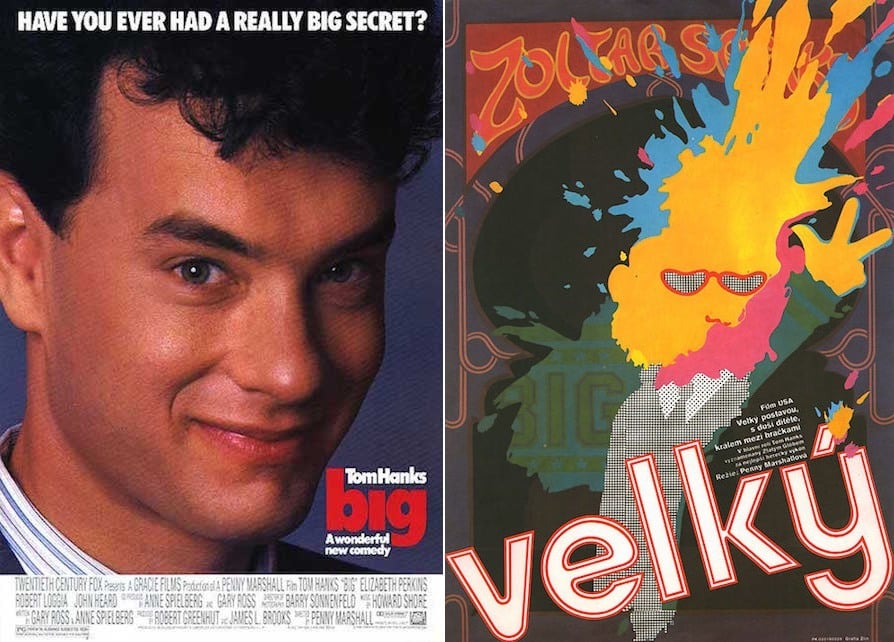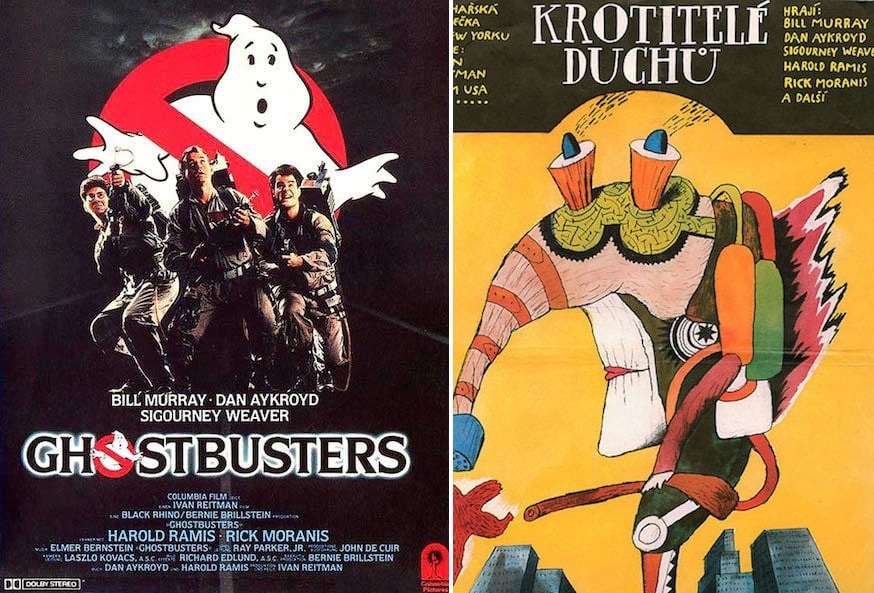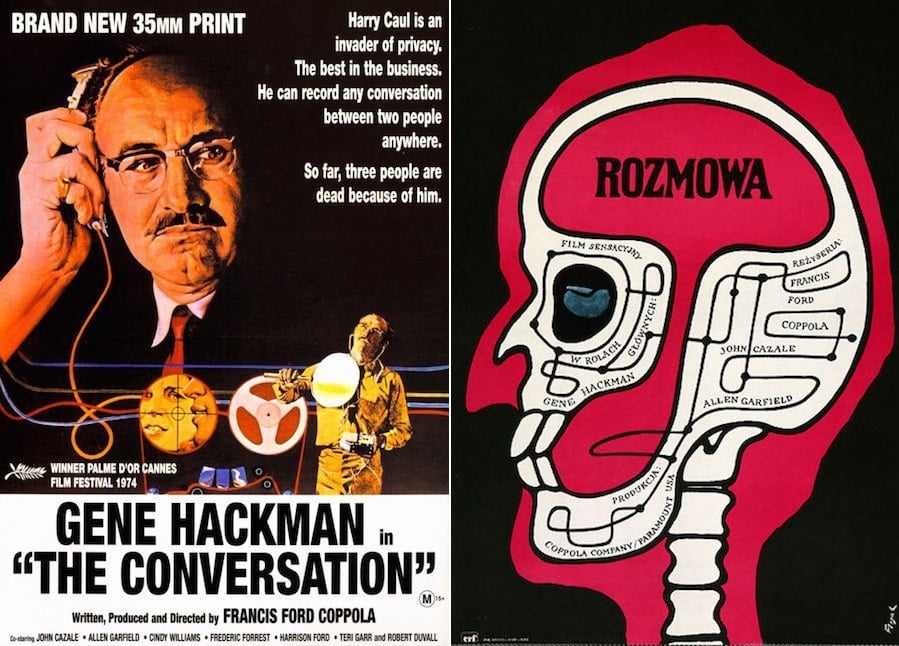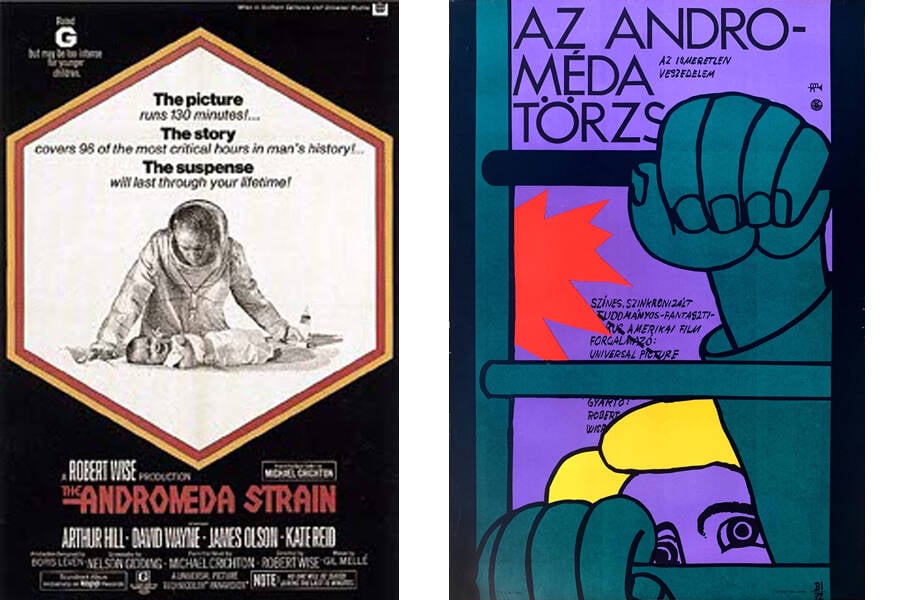 The Andromeda Strain (1971)
Hannah and Her Sisters (1986)
Anne of the Thousand Days (1969)
Butch Cassidy and the Sundance Kid (1969)
Planet of the Apes (1968)
Midnight Cowboy (1969)
Winner of Best Picture, Best Director and Best Adapted Screenplay, John Schlesinger's classic drama with Jon Voight and Dustin Hoffman was given a hallucinogenic twist by Prague's Zdenek Ziegler — a nod perhaps to the film's drug-induced party scene, which sees Voight's cowboy smoke weed, take a pill, then have a job getting it up with a party girl he's just picked up.
Murder on the Orient Express (1974)
What would you expect from a British Agatha Christie movie poster? Yes, lots of hats and snooty faces looking politely suspicious. Polish designer Andrzej Klimowski had none of that, giving Albert Finney's Poirot a pop art look, one of his faces with jaundice, the other a nauseous green, presumably after a night spent in the company of a bottle of absinthe.

Finney lost out on Best Actor to Art Carney in Harry and Tonto, but Ingrid Bergman bagged a Best Supporting Actress award.
My Fair Lady (1964)
Audrey Hepburn and the color pink are certainly the signifiers of choice in both posters. On the left, Bill Gold has crammed the film's entire plot into his sketched American poster, whereas Zdenek Kaplan has just gone for Hepburn's head, reversed and reflected beneath, surrounded by intriguing doodles.

While iconic in her role as Eliza Doolittle, the actress didn't win one of the film's eight Oscars (or even, in fact, a nomination).
Raging Bull (1980)
Robert de Niro's virtuoso performance as tragic boxer Jake LaMotta earned him the Best Actor gong, and both East and West chose to base their posters solely on his beastly, bashed-up face.

Communist film posters of the '80s were much more similar to the Western originals than in the '60s and '70s, though Zdenek Ziegler still modified American Tom Jung's simplistic design, his kaleidoscopic version far more menacing.
Guess Who's Coming to Dinner? (1967)
Who's coming to dinner? Sidney Poitier, that's who. The American film poster ruins any potential surprise there, whereas Karel Vaca's Czechoslovakian effort simply tells you that it's someone who has licked the plate clean. This 1967 film about interracial marriage earned Katharine Hepburn a Best Actress award for her role as the mother, and the film picked up another one for Best Original Screenplay.
The Professionals (1966)
Howard Terpning's American poster for Richard Brook's Oscar-nominated western is a little messy, with Lee Marvin and Burt Lancaster seemingly taped up in old camera film. In Josef Vyletal's Eastern version, the solitary gun fires out of a half-sketched, half-painted background.

In the years 1964-79, Vyletal created over 100 movie posters, most of which bore little or no resemblance to the film's actual content.
The Sting (1973)
Winner of seven Academy Awards, including Best Picture and Best Director, the tone of George Roy Hill's classic crime caper was reflected rather nicely in Richard Amsel's US poster. Over in Czechoslovakia, artist Karel Machalek gave the movie a more sinister look, with Robert Redford and Paul Newman's chiseled Hollywood faces looking like they had been chiselled in a street fight.
Big names, big slogans, and even bigger heads. That's typically been the make-up of a Hollywood movie poster since the 1920s. In the Soviet states, however, things were a little different.
As the Cold War dragged on throughout the 20th century, some of the most important ideological battles took place in the artistic sphere. Eastern Bloc artists — mostly from Czechoslovakia and Poland — were not merely stamping actors' grinning faces on a given film's promotional material. Rather, they used the poster medium to show off their artistic talent and technical precision.
Many poster artists hadn't even seen the film they were tasked with depicting. Instead, they created the posters based on an idea or some abstract association. Their stark portrayals of Hollywood's most beloved films revealed a startling, and intentional, divide between the East and West.
See for yourself in the gallery of Oscar-nominated or winning American film posters above.
Posters Symbolized Free Thought In A Stringent Society
From 1948 until the late 1980s, Czechoslovakia's isolation under the Soviet Union made for abstract interpretations of even the most popular Hollywood films.
There were no competing movie studios; just one distribution company. Rather than spend money to ship and receive the original posters, and to not bother with reviewing materials that may be banned, Czechoslokvakian executives commissioned their own artwork.
At least one plus to this system was that the state didn't place many restrictions on the artists, other than the rule that work couldn't be blatantly political in nature.
During the '60s, '70s, and '80s, Communist-era movie posters were definitely dynamic — and fairly surreal — as most artists never even saw the films. They often went off a synopsis or sometimes just a title in order to craft their posters.
Meanwhile, in Poland, most Communist-era movie posters were painted, though there are lovely examples of photo-collage during the late 1950s. From then until the 1980s, the communist state closely monitored the country's film industry.
However, throughout the Eastern Bloc, it was Poland that seemed to maintain the most autonomy — especially when it came to art and culture. Through this time of repression and limited freedoms, they used poster-making as a space to exert their creative freedom.
Poland rightly made poster design a true art form using vibrant colors and clever metaphors.
The Legacy Of Communist-Era Movie Posters
Hollywood couldn't do anything about the treatments their movies received in the Eastern Bloc during this time, but the artists certainly enjoyed their time of celebrated creativity.
That is, until the late '80s, when the Eastern Bloc crumbled, and Western companies could exercise more control over their movie releases there. Now, much of the same promotional materials are used internationally, with the only change being translated text.
While it is a shame to see this period of poster-making end, it has nonetheless left a mark on art history.
Historians refer to this graphic renaissance in Poland as the "Polish School of Posters." While it's not a school in the physical sense, it's definitely a phenomenon that has inspired makers across the world.
The head curator of Poland's poster museum, Marisuz Knorowski, described the breadth of the legacy of the Polish school of Posters: "We are talking about thousands of works' several prominent artists and at least three generations."
---
Next, enjoy more surreal examples of highly bizarre Polish movie posters. Then, check out these disturbing Nazi propaganda posters that the Reich used to control the masses.