While Hollywood tends to trumpet the stars of a movie, Communist-era posters from the Eastern Bloc tended to be more bizarre but beautiful works of art.
Big names, big slogans, and even bigger heads — ever since the 1920s, that has typically been the make-up of a Hollywood movie poster. In the Soviet states, however, things were a little different.
As the Cold War dragged on throughout the 20th century, some of the most important ideological battles took place in the artistic sphere. Eastern Bloc artists — mostly from Czechoslovakia and Poland — were not merely stamping actors' grinning faces on a given film's promotional material, but using the poster to show off their artistic talent and technical precision.
After all, many poster artists hadn't even seen the film they were tasked with depicting; instead, they created the posters based on an idea or some abstract association. Their stark, often surreal portrayals of Hollywood's most beloved films revealed a startling, and intentional, divide between the East and West. See for yourself in the gallery of Oscar-nominated or winning American film posters below: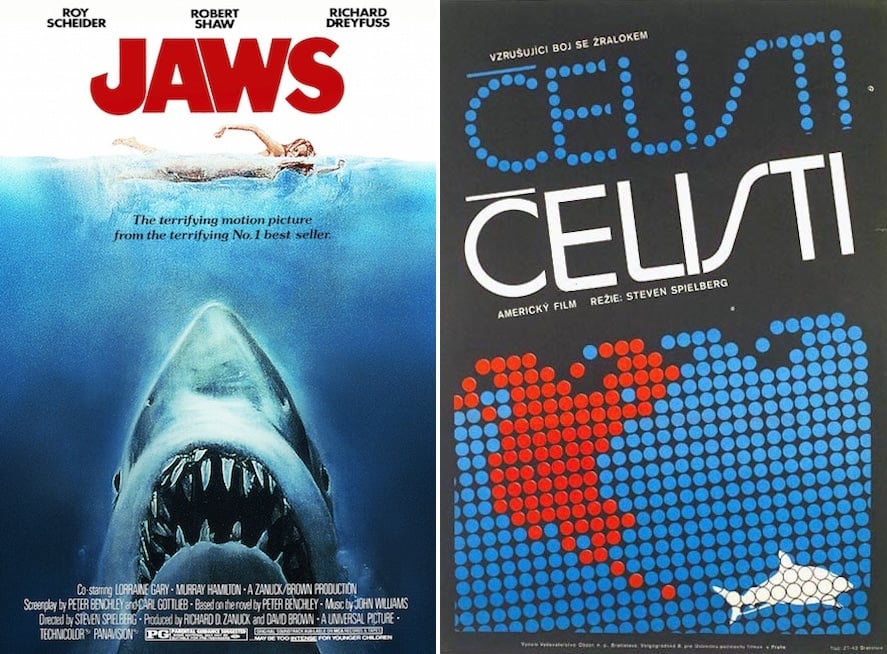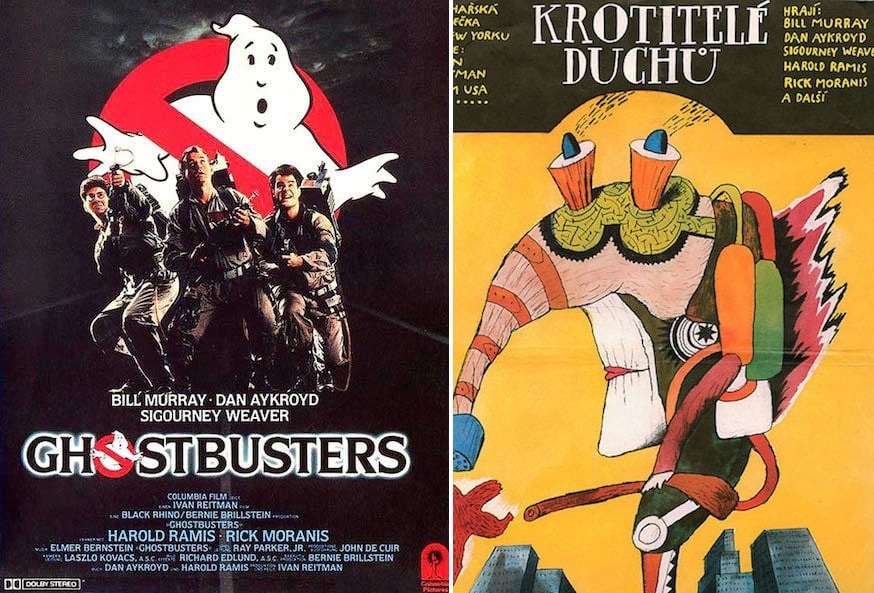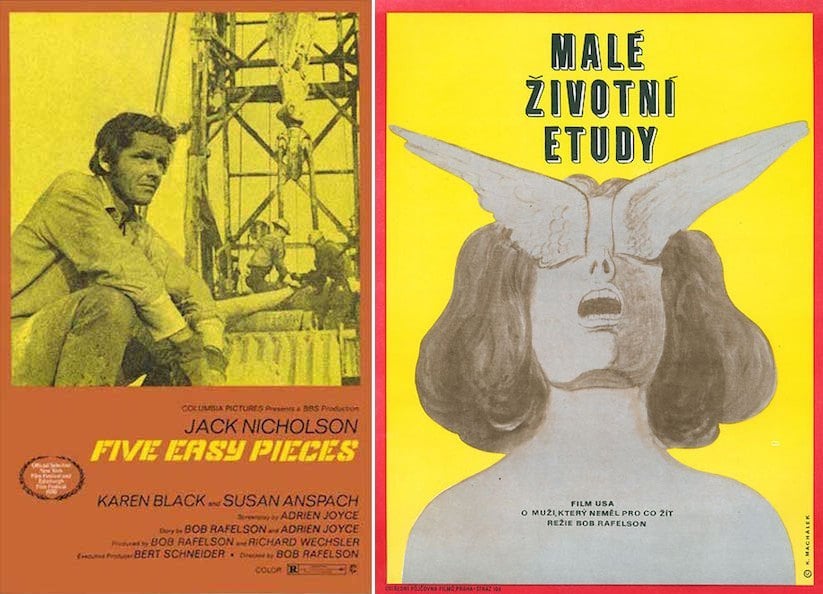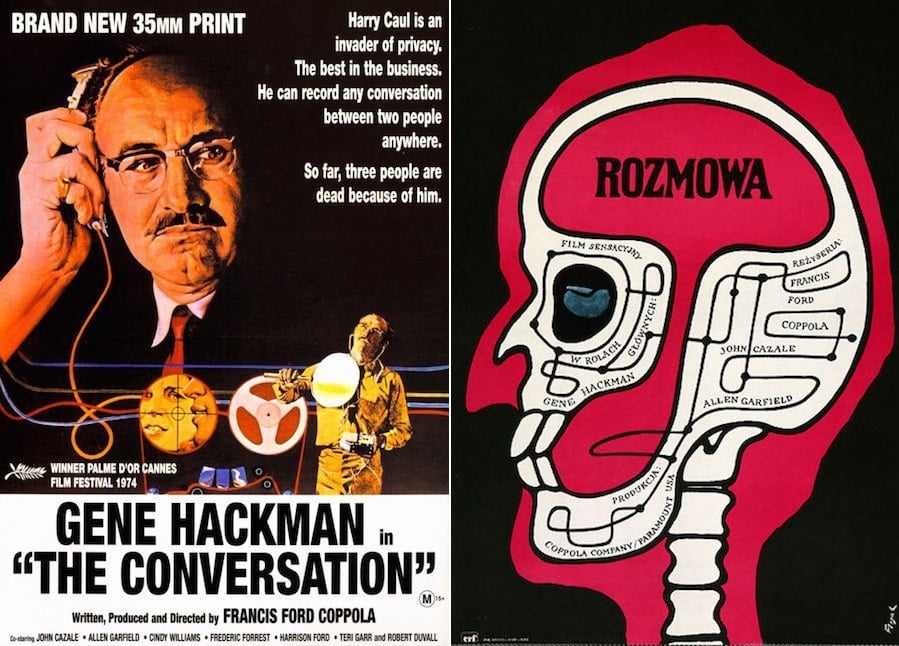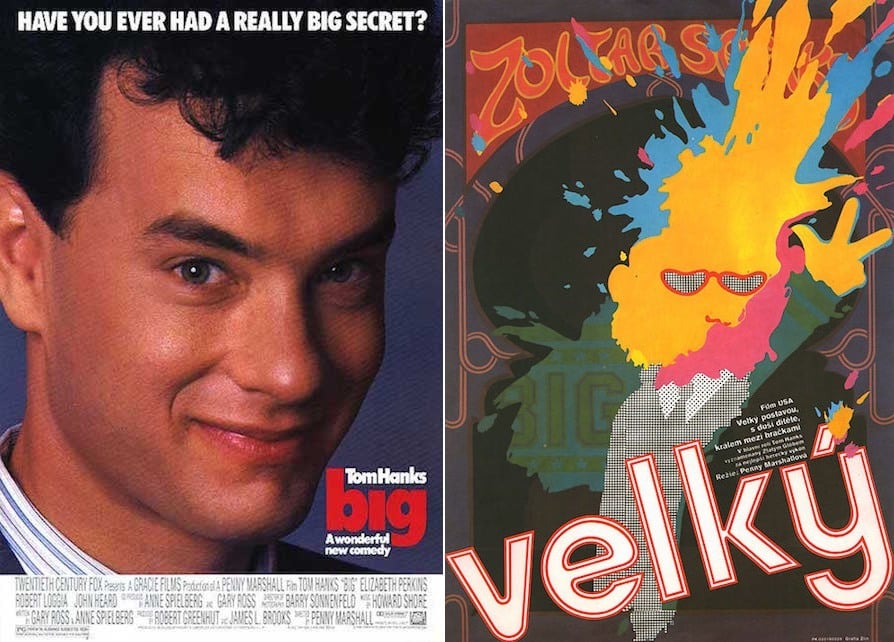 Jaws (1975)
If you want your shark movie poster to scream unbridled terror, do not turn to Olga Fisherova. Instead of going for Roger Kastel's classic "It's going to jump out of the poster and eat me!" approach, the artist's minimalist effort looks like a screengrab from an adorable video game.

Spielberg's movie won three technical awards, but lost Best Picture to One Flew Over the Cuckoo's Nest.
Ghostbusters (1984)
Ghostbusters? Nominated for an Oscar? Well, yes, two, actually — the Ghostbusters theme was nominated for Best Original Song, and the film itself was nominated for Best Visual Effects. Unfortunately, it was up against Indiana Jones and the Temple of Doom for the latter and Stevie Wonder's "I Just Called To Say I Love You" (from The Woman In Red) for the former, and was soundly beaten each time.

Far more interesting is the difference in promotional posters. In the US version, we see Bill Murray and co before the iconic Ghostbusters logo, whereas in Petr Pos' Eastern effort, viewers behold what appears to be a witch made out of socks.
Five Easy Pieces (1970)
Nominated for four Academy Awards, Carole Eastman's drama starring Jack Nicholson actually left the Oscars empty-handed. The US poster fittingly captures Nicholson's brooding oil rig worker, whereas Karel Machalek's depiction is far more surreal, featuring what appears to be Karen Black with a pair of wings sprouting out of her eyes.
The Conversation (1974)
What could possibly be good about losing out on Best Picture? Winning it with another one of your films! That's what happened to Francis Ford Coppola in 1974, when Godfather Part II beat his surveillance thriller, The Conversation, for the top prize. The latter was given the standard American poster treatment, but in Poland, author Jerzy Filak decided he didn't just want to look at Gene Hackman's face — he wanted to get inside it.
Big (1988)
One year before the Iron Curtain came crashing down, over in America a tiny child was trapped comically inside Tom Hanks' body — a performance from Hanks which earned him a Best Actor nomination (he lost out to Dustin Hoffman for Rain Man). For the poster, the Americans opted for Hanks' giant face; the Czech artist Bartosova went rather more psychedelic, with a poster that resembles a man with his head on fire drunkenly trying to order three beers.
Papillon (1973)
Zdenek Ziegler's butterfly-slicing poster has a cruel simplicity about it, and is similar in style to Henri Charriere's 1970 book cover. Tom Jung's US alternative is all about its two leads — Steve McQueen and Dustin Hoffman — shackled and looking forlornly into the distance. The film's strong Oscar contention was for Jerry Goldsmith's score, but it lost out to Barbara Streisand singing "The Way We Were" for the movie of the same name.
Butch Cassidy and the Sundance Kid (1969)
Winner of four Academy Awards (three for music and one for cinematography), this buddy western was portrayed rather differently in communist and capitalist territories. The Eastern version (by an artist known as Stanner) is a simple, iconic take, whereas Tom Beauvais' US poster is all guns blazing, Paul Newman and Robert Redford in full charge, complemented with a cut-out of what looks strangely like a Victorian advertisement for a bicycle (but which fans will immediately recognize as one of the film's most iconic — and catchy — scenes).
Planet of the Apes (1968)
Award-winning Czech artist Vratislav Hlavaty created 82 film posters in his artistic career. The award wasn't for this one, though, in which his portrayal of the Charlton Heston monkey romp looks a little like a flyer for a student rave. The celebrated film — classily shown in the American poster — was overlooked in the main categories, but unsurprisingly, picked up an honorary award for Best Make-Up.
Chinatown (1974)
A pair of breasts would most certainly have been an advertising no-no in the United States in 1974. This wasn't the case in Poland, however, where Andrzej Klimowski's risque depiction of Roman Polanski's film noir stands in stark contrast to Jim Pearsall's smokier effort.

The film won Best Original Screenplay but lost out on its other ten nominations, Jack Nicholson losing to Art Carney (Harry and Tonto) and Faye Dunaway losing to Ellen Burstyn (Alice Doesn't Live Here Anymore).
Mary Poppins (1964)
Julie Andrews won Best Actress for her tap-dancing, medicine-pushing heroics as Disney's favorite nanny. In the East, artist Eva Galova-Vodrazkova gave Poppins' shoe the star treatment. The US version went far more theatrical, although the end result does end up more closely resembling a promotional poster for a celebrity dance competition than an Oscar-winning movie.
Midnight Cowboy (1969)
Winner of Best Picture, Best Director and Best Adapted Screenplay, John Schlesinger's classic drama with Jon Voight and Dustin Hoffman was given a hallucinogenic twist by Prague's Zdenek Ziegler — a nod perhaps to the film's drug-induced party scene, which sees Voight's cowboy smoke weed, take a pill, then have a job getting it up with a party girl he's just picked up.
Murder on the Orient Express (1974)
What would you expect from a British Agatha Christie movie poster? Yes, lots of hats and snooty faces looking politely suspicious. Polish designer Andrzej Klimowski had none of that, giving Albert Finney's Poirot a pop art look, one of his faces with jaundice, the other a nauseous green, presumably after a night spent in the company of a bottle of absinthe.

Finney lost out on Best Actor to Art Carney in Harry and Tonto, but Ingrid Bergman bagged a Best Supporting Actress award.
My Fair Lady (1964)
Audrey Hepburn and the color pink are certainly the signifiers of choice in both posters. On the left, Bill Gold has crammed the film's entire plot into his sketched American poster, whereas Zdenek Kaplan has just gone for Hepburn's head, reversed and reflected beneath, surrounded by intriguing doodles.

While iconic in her role as Eliza Doolittle, the actress didn't win one of the film's eight Oscars (or even, in fact, a nomination).
Raging Bull (1980)
Robert de Niro's virtuoso performance as tragic boxer Jake LaMotta earned him the Best Actor gong, and both East and West chose to base their posters solely on his beastly, bashed-up face.

Communist film posters of the '80s were much more similar to the Western originals than in the '60s and '70s, though Zdenek Ziegler still modified American Tom Jung's simplistic design, his kaleidoscopic version far more menacing.
Guess Who's Coming to Dinner? (1967)
Who's coming to dinner? Sidney Poitier, that's who. The American film poster ruins any potential surprise there, whereas Karel Vaca's Czechoslovakian effort simply tells you that it's someone who has licked the plate clean. This 1967 film about interracial marriage earned Katharine Hepburn a Best Actress award for her role as the mother, and the film picked up another one for Best Original Screenplay.
The Professionals (1966)
Howard Terpning's American poster for Richard Brook's Oscar-nominated western is a little messy, with Lee Marvin and Burt Lancaster seemingly taped up in old camera film. In Josef Vyletal's Eastern version, the solitary gun fires out of a half-sketched, half-painted background.

In the years 1964-79, Vyletal created over 100 movie posters, most of which bore little or no resemblance to the film's actual content.
The Sting (1973)
Winner of seven Academy Awards, including Best Picture and Best Director, the tone of George Roy Hill's classic crime caper was reflected rather nicely in Richard Amsel's US poster. Over in Czechoslovakia, artist Karel Machalek gave the movie a more sinister look, with Robert Redford and Paul Newman's chiseled Hollywood faces looking like they had been chiselled in a street fight.
Thanks to Terry Posters for many of the images above.