Each year, mass prayer, generous feasts, and animal sacrifice take center stage at Eid al-Adha, one of Islam's holiest festivals.
https://www.youtube.com/watch?v=r-b_RHG41Jw
On September 13, when animal sacrifices at the Eid al-Adha festival in Bangladesh mixed with sudden rains, the streets of Dhaka literally ran red with blood.
Local authorities had designated 1,000 locations around the city where people could carry out the animal sacrifice portion of this annual Muslim festival, reported the Dhaka Tribune.
However, those locations proved to be insufficient as scores of festivalgoers began sacrificing animals at unsanctioned locations right in the streets throughout the city.
Then, when the rains came down and Dhaka's notoriously subpar drainage systems couldn't handle the burden, bloody water of a shockingly deep red began to run through the streets, leaving Eid al-Adha festivalgoers to simply walk through it.
Images of this aftermath quickly hit social media and reignited old criticisms of the animal sacrifice traditions (usually involving goats, cows, sheep, or camels) practiced at Eid al-Adha throughout the Muslim world each year.
As visceral as the outrage is and as unusually macabre as the scenes in Dhaka are, the animal sacrifices carried out at Eid al-Adha are certainly nothing new. This "Festival of Sacrifice," one of the two holiest Muslim holidays each year, has long been in place to honor Ibrahim (Abraham in Christian and Jewish traditions), who proved his willingness to sacrifice his own son at God's command.
Celebration of that devotion involves mass prayer, feeding the poor, and, again, animal sacrifice.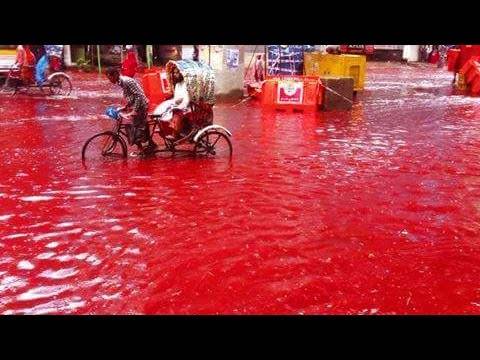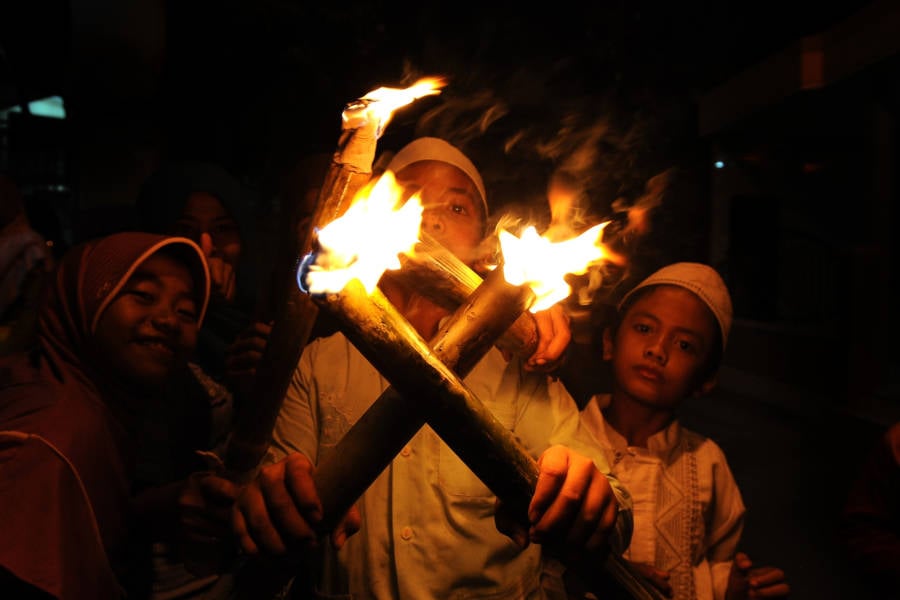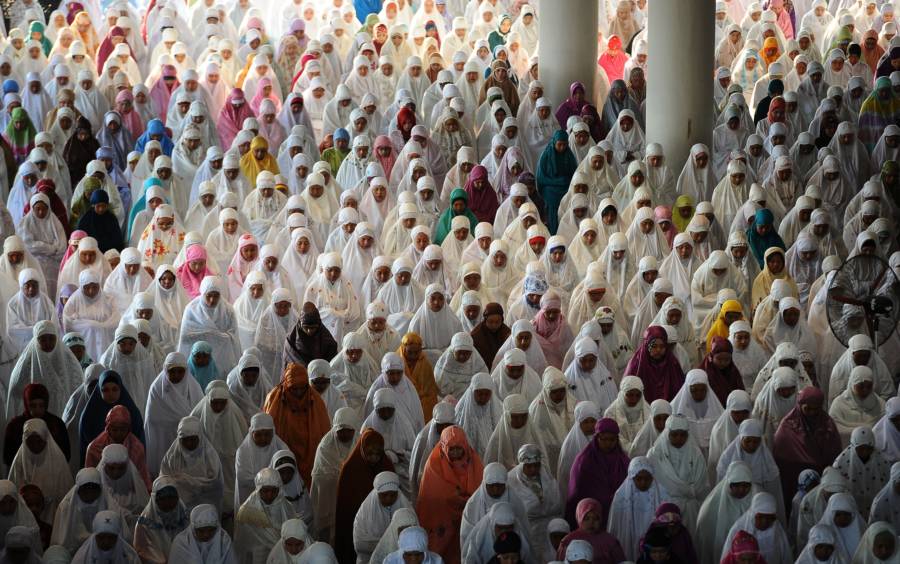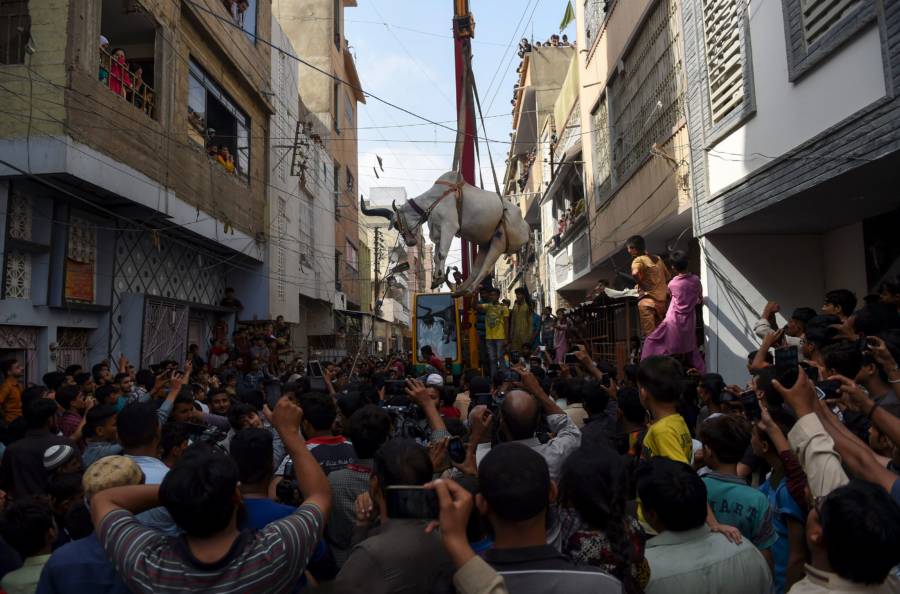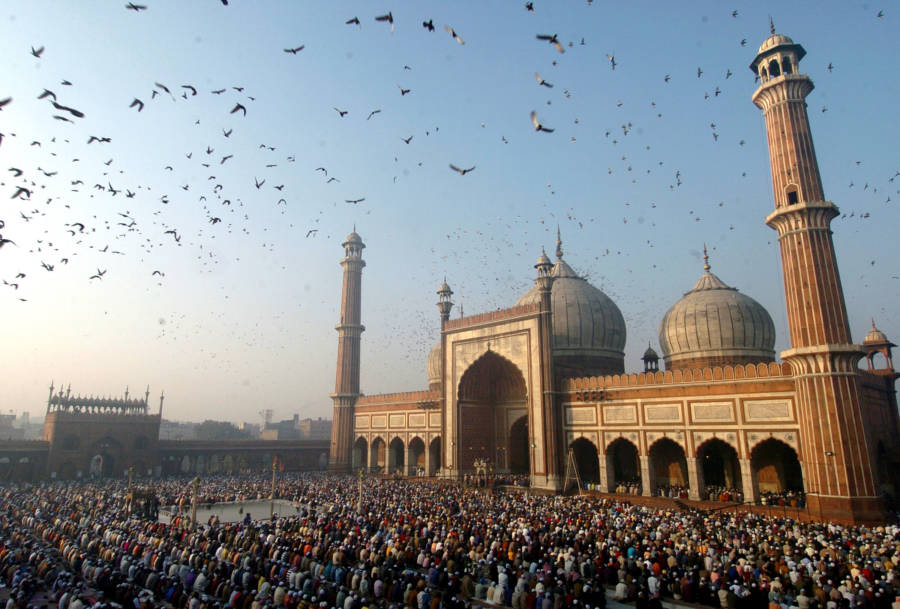 Robertus Pudyanto/Getty Images
Robertus Pudyanto/Getty Images
RIZWAN TABASSUM/AFP/Getty Images
MANAN VATSYAYANA/AFP/Getty Images
DMITRY SEREBRYAKOV/AFP/Getty Images
SHAH MARAI/AFP/Getty Images
RIZWAN TABASSUM/AFP/Getty Images
MOHAMMED ABED/AFP/Getty Images
STRINGER/AFP/Getty Images
Allison Joyce/Getty Images
Arif Ali/AFP/Getty Images
Daniel Berehulak/Getty Images
Manan Vatsyayana/AFP/Getty Images
MOHAMMED HUWAIS/AFP/Getty Images
NARINDER NANU/AFP/Getty Images
NOORULLAH SHIRZADA/AFP/Getty Images
While it is of course virtually impossible to keep a reliable accounting of all this animal sacrifice, one oft cited 2010 report out of Pakistan claims that, each year in that country alone, 7.5 million animals are sacrificed at a cost of $3 billion.
While the animals sacrificed at Eid al-Adha, in large part, go toward feeding the poor as a way of promoting social harmony, the controversial side of this practice certainly took on a far darker tone than usual this year on the streets of Dhaka.
---
Next, take a trip to Turkey's ancient camel wrestling festivals and China's controversial Yulin festival, where dogs are killed and consumed. Then, have a look at four of the most bizarre festivals on Earth.