In 1997, Princess Diana's funeral was televised worldwide to more than 2 billion mournful viewers after she was lost to a tragic car accident.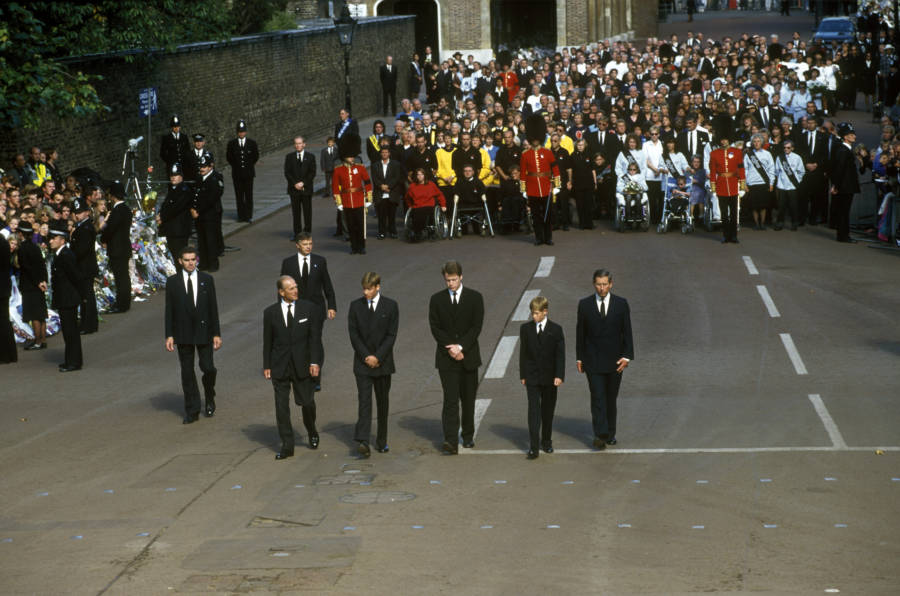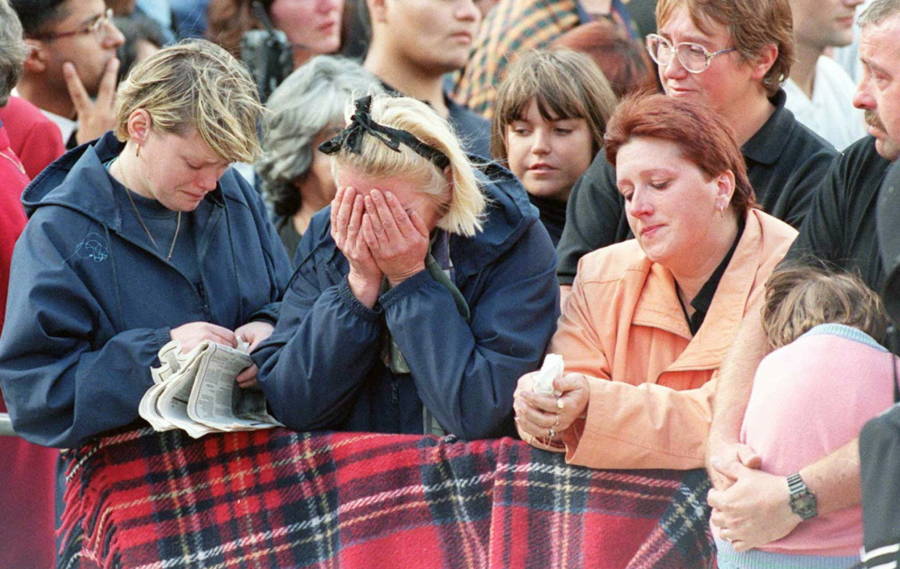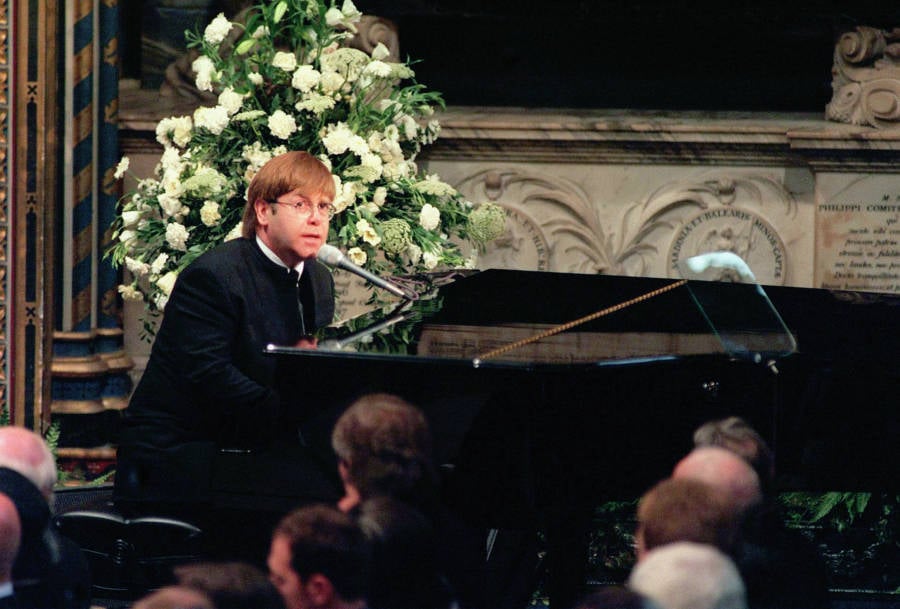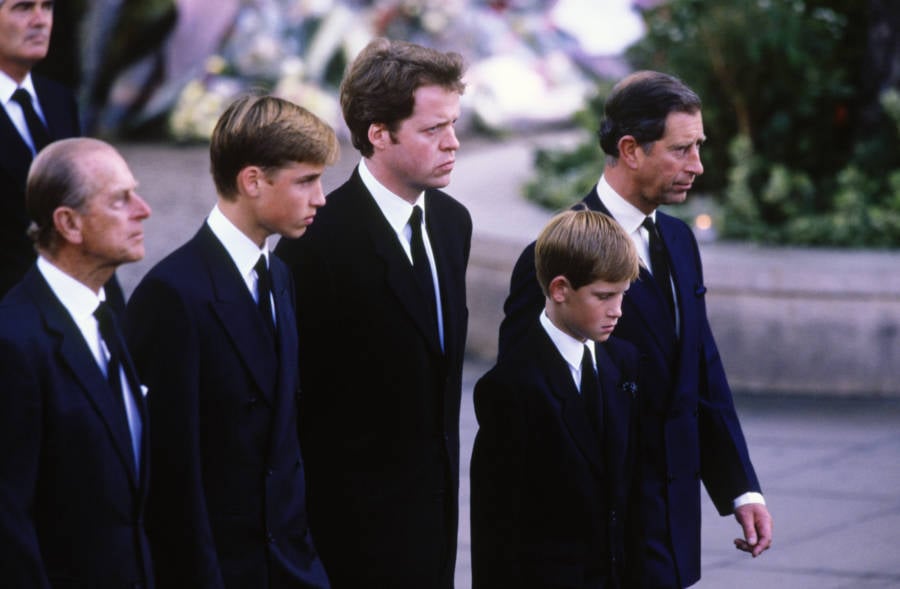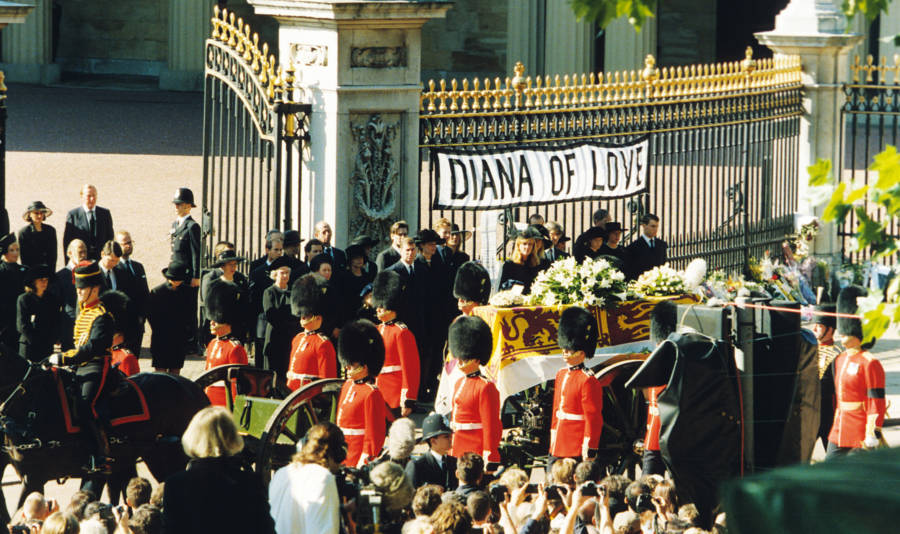 John Shelley Collection/Avalon/Getty Images
Gerry Penny/AFP/Getty Images
Anwar Hussein/Getty Images
David Levenson/Getty Images
Mike Maloney/Mirrorpix/Getty Images
Derek Hudson/Getty Images
Jon Jones/Sygma/Sygma via Getty Images
Adam Butler/PA Images/Getty Images
Jayne Fincher/Getty Images
Ken Goff/The LIFE Images Collection/Getty Images
Jeff Overs/BBC News/Getty Images
Thomas Coex/AFP/Getty Images
David Levenson/Getty Images
Robert Wallis/Corbis/Getty Images
Robert Wallis/Corbis/Getty Images
Derek Hudson/Getty Images
Paul Hackett/AFP/GettyImages
Robert Wallis/Corbis/Getty Images
Ken Goff/The LIFE Images Collection/Getty Images
Neil Munns/PA Images/Getty Images
Derek Hudson/Getty Images
Adam Butler/AFP/Getty Images
Jeff Overs/BBC News/Getty Images
Joel Saget/AFP/Getty Images
John Shelley Collection/Avalon/Getty Images
Peter Turnley/Corbis/VCG/Getty Images
Anwar Hussein/Getty Images
On the night of Aug. 31, 1997, the world was shocked by the news of Princess Diana's untimely death in a car crash in Paris, France. A week later, millions tuned in to watch the tragic funeral of Princess Diana.
At the time of her death, the People's Princess had been in the car with another well-known figure, her then-lover Egyptian billionaire heir Dodi al-Fayed. The pair had been trying to outrun a gaggle of paparazzi before their speeding car crashed into a pillar that dreadful night. Princess Diana was 36 years old when she died.
The news sent shock waves around the globe which stretched from Paris to London and on to the U.S. where Princess Diana's magnetic charms and royal flair had taken over the media as much as it had the rest of the world.
An audience of 2.5 billion viewers tuned in to watch the broadcast of Princess Diana's funeral which was a testament to her popularity.
Even after her marriage to the heir to the British Crown dissolved, she remained a popular icon and achieved an almost cult-figure status for her sense of style, grace, and genuine sympathy for the less fortunate. She was both mocked and adored by the British press for shaking up the country's notoriously traditional monarchy but she was nonetheless titled the "People's Princess."
Before Princess Diana's Funeral: A Royal Rebel
Before she was known as Princess Diana or Lady Di, and before news of Princess Diana's funeral sent shockwaves across the world, she was simply Diana Spencer. Her common life was turned upside-down after she married Prince Charles in 1981 when she was just 19 and he was 32.
The marriage meant that the charismatic commoner was now part of the royal family and, thus, forced to navigate the often stiff life of a British royal on her own. But the seemingly sheepish girl was more than just a pretty face.
Diana was determined to forge her own path from the start. For one, she picked out her 12-carat sapphire engagement ring from a catalog, despite the long-standing tradition of royals having their engagement rings custom-made.
Then, she refused to include the promise to "obey" her future husband during her wedding vows when. Their wedding venue, St. Paul's Cathedral, also broke with custom, as royals before had wed at Westminster Abbey.
She was especially keen on keeping as much normalcy as possible for her children. When it came time for her first born, William, to attend school, she had him attend public school. This was a bold statement that Lady Di wasn't going to let her life or the lives of her sons be changed because of their royal status.
It was this rebellious nature that made her so loveable and led to nearly 2 billion people later tuning in to watch Princess Diana's funeral.
An Admirable Compassion For Others
One of the most significant ways in which Diana changed the customs of the monarchy, was how she treated patients who were sick, and specifically those with HIV/Aids.
The HIV/Aids epidemic was roaring by the late 1980s as doctors tried to figure out this new and deadly disease. The whole situation had the public in a panic since many who contracted the virus were dying, especially among the gay community, which further stigmatized those patients and that community.
By then, Princess Diana had garnered a glowing reputation for her philanthropy. Charity appeared to be a duty she found most comfortable performing since she had become a part of the royal family. She had become a high-profile advocate for various other stigmatized causes, such as leprosy treatment, anti-landmines, and anti-homelessness.
During her visit to the opening of the U.K.'s first HIV/Aids unit in April 1987, in front of throngs of the world's media who were there to document the trip, Princess Diana shook the hand of a male HIV/Aids patient without wearing gloves. This simple yet powerful gesture challenged the notion that the virus could pass from person to person just by touch.
Her actions had a lasting impact. Former HIV/Aids Ward Nurse John O'Reilly told the BBC, "If a royal is allowed to go and shake a patients hand, somebody at the bus stop or in the supermarket could do the same. That really educated people."
Diana had always been different from the rest of the royal family, which was in a large part of her appeal. She stated openly her desire to be part of a monarchy that had more contact with its people. In a now infamous interview with BBC's Martin Bashir, Diana said that she didn't think she could ever become Queen because she had lost the favor of the royal family.
When asked why, she said, "I do things differently because I don't go by a rule book because I lead from the heart, not the head."
In 1992, her rocky marriage to Prince Charles finally gave in and the couple officially divorced. This only widened the rift between her and the British royals. This distance would remain up until Princess Diana's funeral — and beyond.
The Princess's Shocking Accident
Even after cutting her royal ties, Diana remained popular with the public. Her frustrations with hyper-media attention swelled.
In an interview with French newspaper Le Monde, Princess Diana confessed that the press had made her life so miserable that she would move to another country if she could. The only thing keeping her in London, she said bluntly, were her sons.
In 1997, she met her would-be lover Dodi al-Fayed. He was the oldest son of billionaire businessman Mohamed al-Fayed, who owned the Harrods luxury department stores. The pair were photographed enjoying vacations on the French Riviera aboard Fayed's family yacht over the summer before her death.
After six weeks of jet setting around Europe together, the pair landed in Paris. Princess Diana was still hounded by the paparazzi everywhere she went, including that fateful night of the car crash.
According to Christopher Andersen's book The Day Diana Died, the couple had planned a dinner at Benoit Paris but cancelled last minute due to rampant paparazzi awaiting the princess outside the Ritz hotel where they were staying. The pair decided instead to go to the L'Espadon restaurant which was located inside their hotel.
On the night that led to her tragic death and the eventual Princess Diana funeral, the couple reportedly attempted to flee photographers by leaving the hotel through its rear entrance so that they could return to his apartment just off the Champs-Élysées. Ritz security employee Henri Paul got into the driver's seat of their escape car.
Paul sped to outrun the photographers on their tails and collided with a concrete pillar in the Pont de l'Alma tunnel. The crash was so fatal that Fayed and Paul died on site. Diana, meanwhile, was severely injured and rushed to Pitié-Salpêtrière hospital in southeast Paris.
But the injuries she sustained during the accident had been too much. At 4 a.m. the princess was pronounced dead.
Craig R. Whitney, then The New York Times' Paris bureau chief, recalled being awoken at home by a phone call after midnight about Princess Diana's car crash. Only one of the vehicle occupants, who had worn the seatbelt during the crash, had survived.
Princess Diana's Funeral
Plans for Princess Diana's body to be repatriated from Paris were made immediately by her team back in London. Buckingham Palace had a week to organize what would become one of the most televised funerals in recent history: Princess Diana's funeral.
On Sept. 6, 1997, hundreds of thousands of mourners poured onto the streets of London to wave their final goodbye at Princess Diana's coffin. She was carried off from the royal palace to Westminster Abbey, where Princess Diana's funeral would take place.
Princess Diana's funeral was packed with powerful figures from politicians to celebrities and extended members of the royal family. The ceremony at the historic church fit 2,000 guests.
Her private secretary Patrick Jepson said that Princess Diana's funeral organizers had actually been unsure whether they would be able to fill the massive church with enough people.
"I remember saying if you get a hold of a guest list for the Princess' Christmas drinks in 1995, invite everybody on that guest list and you won't have missed out anybody important," Jepson said.
Elton John, a close friend of Diana's, did a somber performance of a reworked version of his hit song "Candle in the Wind" in honor of his late friend.
Among the other celebrities that came to Princess Diana's funeral to pay their respects was singer George Michael, who had been a close confidant of the late princess while she was going through her divorce with Charles.
Diana's brother, Lord Spencer, spoke emotionally at the funeral. His most memorable line came when filled with anger, Spencer blamed the media for his sister's death, saying she was the, "most hunted person of the modern age."
One of the most heartbreaking images from Princess Diana's funeral was the scene of her brother Spencer walking behind her coffin with her sons young William and Harry in tow. All eyes were glued to the family and the now motherless children, who unintentionally captured the mood of a mourning nation as they tried to keep their emotions in check for the cameras.
But tensions arose behind the scenes following Diana's death.
Spencer told the BBC Radio 4 that the idea to have the children walk behind her coffin along with their uncle came from the palace, and he thought the idea was "cruel and bizarre."
He had objected against it because his sister would not have wanted it, but he was allegedly told that the idea came from the princes themselves, which turned out not to be true. Spencer has since spoken out about the incident with the Royals.
"Eventually I was lied to and told they wanted to do it, which of course they didn't but I didn't realize that."
Spencer said that the experience of walking behind his sister's lifeless body was incredibly difficult for him, but he believed the experience was a "million times worse" for Princess Diana's sons.
In 2018, the ITV documentary Diana, Our Mother: Her Life and Legacy featuring sons William and Harry was released, marking the 20th anniversary of Diana's death. It was the first time the famous siblings had spoken about their mother together on-screen.
William spoke about how he was struck by how much love the public had for his mother.
"It was one of the hardest things I've ever done, that walk," Prince William shared in the documentary. "It felt she was almost walking along beside us to get us through it."
Harry added fondly: "She was one of the naughtiest parents."
After Princess Diana's funeral, she was eventually buried at Althorp, her family's estate in Northamptonshire, England. Even decades later, details of events that took place following her funeral continue to come out as our fascination of and reverence for the former princess persists.
---
Next, take a look at some inspiring photos of Princess Diana that honor her legacy. Then, read about Princess Margaret, England's royal wild child.