"There is a frantic race to merchandise tinsel and trash under the guise of 'modernism,'" Loewy once said. "I can claim to have made the daily life of the 20th Century more beautiful."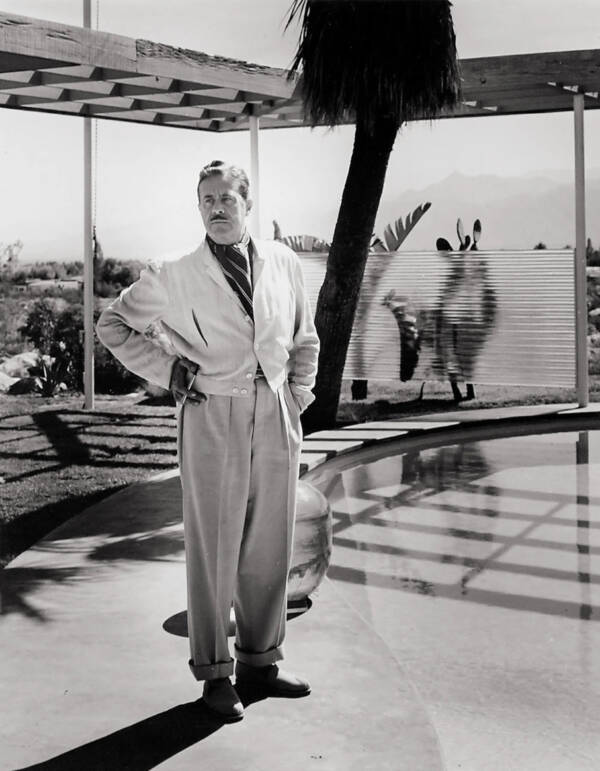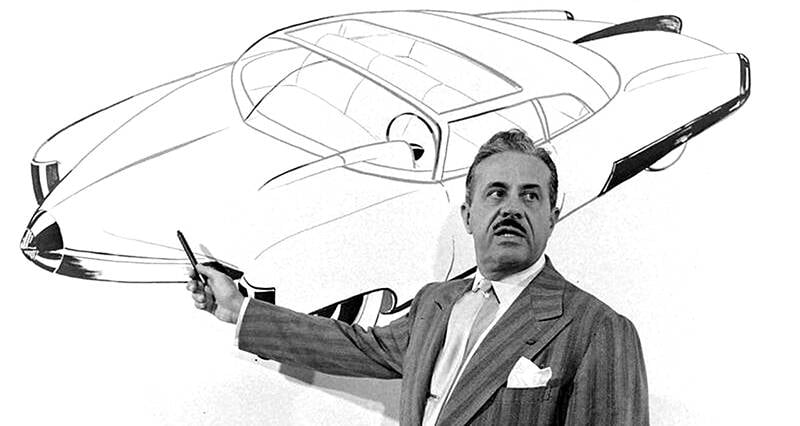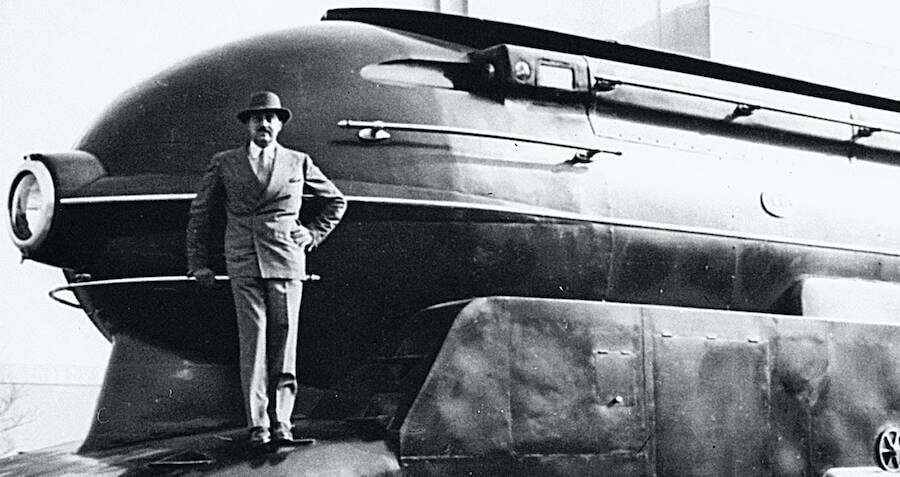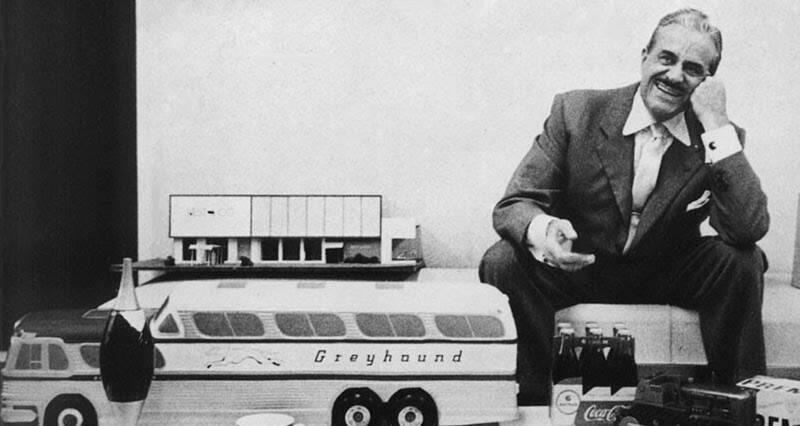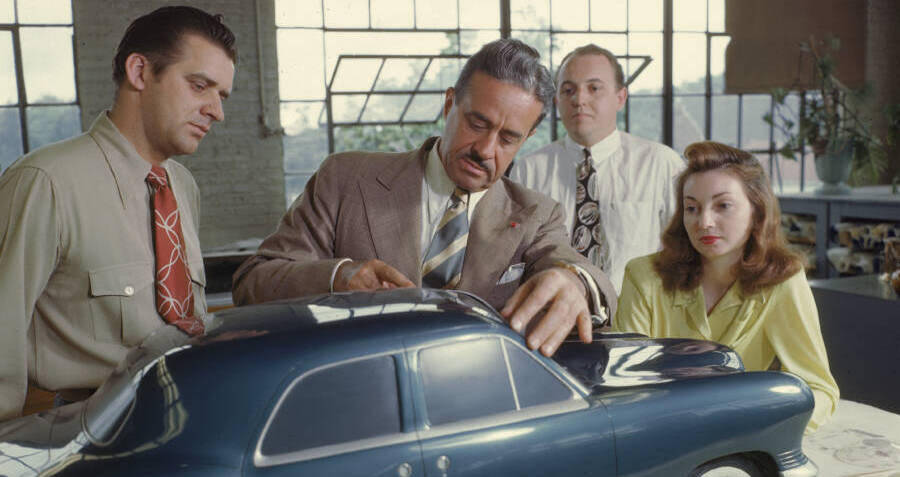 Bernard Hoffman/The LIFE Picture Collection via Getty Images
Slim Aarons/Hulton Archive/Getty Images
The LIFE Picture Collection via Getty Images
Bob Landry/Pix/Michael Ochs Archives/Getty Images
Peter Stackpole/The LIFE Picture Collection via Getty Images
NASA/Marshall Space Flight Center/Wikimedia Commons
Slim Aarons/Hulton Archive/Getty Images
ERIC SALARD/Wikimedia Commons
From cigarette cartons to Coca-Cola; from Studebaker to Skylab, one man shaped all these things — and many more — with his signature style. Indeed, we owe much of America's hyper futuristic mid-century aesthetic to Raymond Loewy, perhaps the most influential industrial designer in American history thus far.
When Loewy first began building his design empire, the term "industrial designer" had yet to enter the public lexicon. Creative talents aside, Loewy basically developed the concept of personal branding, which has since become a staple in modern marketing. He achieved superstardom and even became the first designer in history to appear on the cover of TIME magazine.
As a man, Loewy was the epitome of a Frenchman; dapper, confident, and with a flamboyant edge. More than this, he was willing to do anything to spark his inspiration — even if that meant using crayons and cut-out paper on the floor of JFK's Oval Office to redesign Air Force One.
Raymond Loewy Was Drawn To Art From The Start
Raymond Loewy was born in a Paris suburb on Nov. 5, 1893. He was a natural artist and later studied engineering at Ecole de Lanneau, France's premier technological university.
But before he had a chance to enter the workforce, the French army drafted him to fight in World War I. Loewy climbed the ranks from Private to Captain, and he earned the Croix de Guerre (military cross) for venturing into "No Man's Land" in order to fix communication lines.
After the war ended, Loewy returned home to France, but he found the city ravaged by war, and his parents both died from the 1918 Spanish Flu pandemic. With no money and nowhere else to go, Loewy decided to join his brother who was living in New York City.
On the U.S.-bound ship, Loewy met Sir Harry Armstrong, the British consul in New York, who immediately loved Loewy's drawings. When he got off the boat, Loewy hit the streets with $40 in cash and a glowing letter of recommendation from Armstrong. He went from window dresser to fashion illustrator in short order; becoming known for his art-deco styling and clean lines.
Loewy worked as an illustrator for nearly a decade before combining his drawing skills with his engineering background and began to promote himself under the new title of "industrial designer."
Everyone Wants Some Of The Signature "Loewy Look"
What made Loewy's work so desirable was its intentionality. He strove to find the ideal form of an object or the form that best expressed its function. The end result was usually something lightweight and sleek.
Known as "cleanlining" or "streamlining," this look expressed America's ideas of the future: efficient, hygenic, modern. Designers flock to streamline their products, from cars, to streamliner trains, and toasters.
"Simplification first and before everything else." Loewy said. "Prosperity was at its peak but America was turning out mountains of ugly, sleazy junk. I was offended my adopted country was swamping the world with so much junk."
Loewy's projects ranged from the seemingly inconsequential to the downright impressive. His first job with Penn Railroad was designing a simple trash can; his next was blueprinting an experimental, streamlined locomotive. He envisioned a popular Coca-Cola dispenser, and then went off to become a NASA consultant and design the interiors for Skylab, America's first space station.
He often went to great lengths to achieve the look he was going for. Armour Foods hired him to redesign the packaging of their entire product line, then didn't hear from him for six months. Turns out, Loewy and his team members were out interviewing scores of housewives that bought the products. He went with simplicity, (as usual) and the new two-color logo and scheme saved Armour enough money in printing costs to pay for Loewy's services.
He came up with the iconic red and white Lucky Strike cigarette pack on a bet with the president of the American Tobacco Company. After Loewy's redesign brought a dramatic sales increase, he collected his winnings of $50,000.
Loewy's longest-lasting contract, however, was with Studebaker, an American car manufacturer. He helped design the classic automobiles from 1936 until 1963, but perhaps his most well-known model was the Avanti from the early 1960s. It is still produced today, though in limited quantity.
His Designs Are Still In Use Today
From his first industrial design job revamping the Sears' Coldspot refrigerator in 1934 to the mid-1940s, Loewy was running the largest industrial design business in the United States.
He's designed planes, trains, and automobiles to be simpler, more attractive, and aerodynamic. However, he was seemingly just as dedicated to his creation of a streamlined pencil sharpener. He was never tied to any one industry. Loewy's famous logos for Shell Oil, Nabisco, and Exxon are all still used today.
After a life spent freeing Americans from "sleazy junk," Raymond Loewy retired in 1980 at the age of 87. He left the United States and returned to France. Six years later, he died at his home in Monte Carlo. He was survived by his wife Viola, and their daughter Laurence.
As with anyone talented in the art of self-promotion, Loewy has sometimes been branded a show‐off by his peers. "I found it difficult to reconcile success with humility," he once frankly stated. "I tried it first but it meant avoiding the very essence of my career — total exhilaration and the ecstasy of creativity."
---
Next, check out these 69 photos from Woodstock that will make you wish you were there. Then, read about what happened when a white man named John Griffin "became" black in mid-20th-century America.