One of the most iconic stars of Old Hollywood, Rita Hayworth was seen as the ultimate femme fatale, but she had a tragic backstory.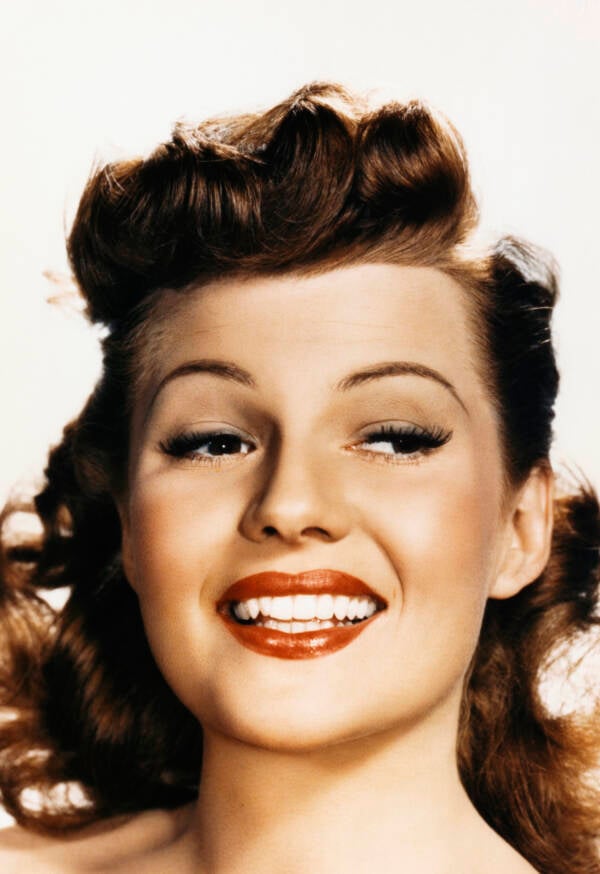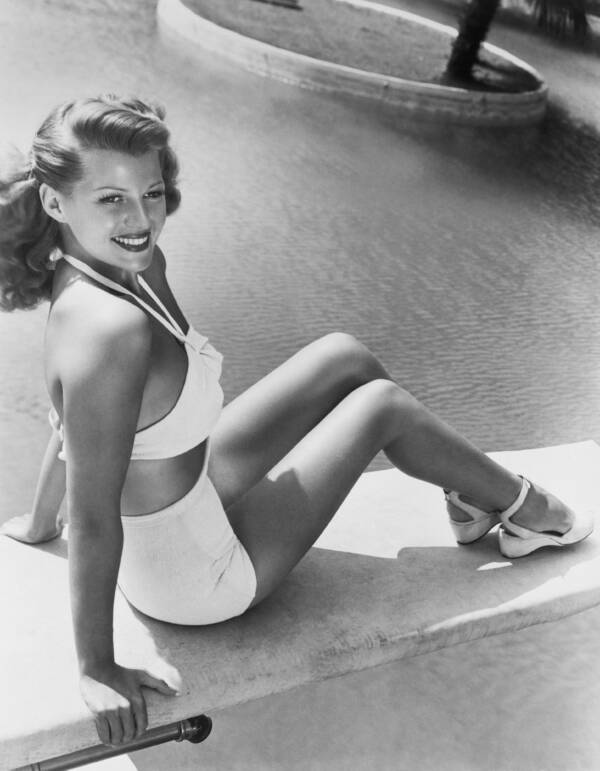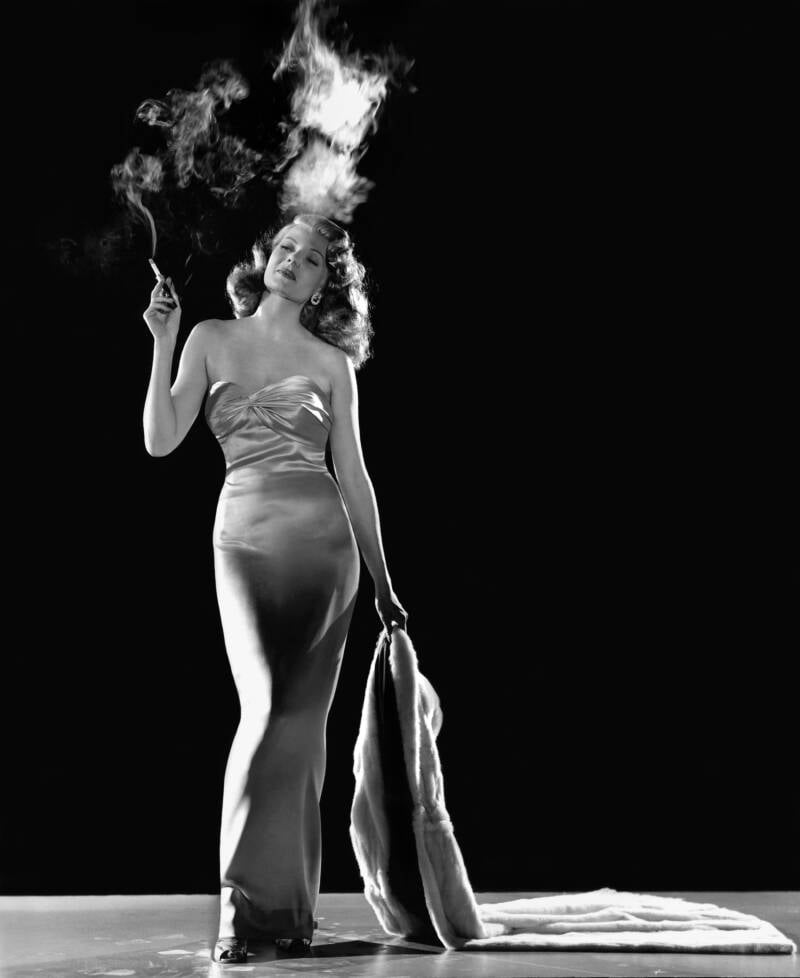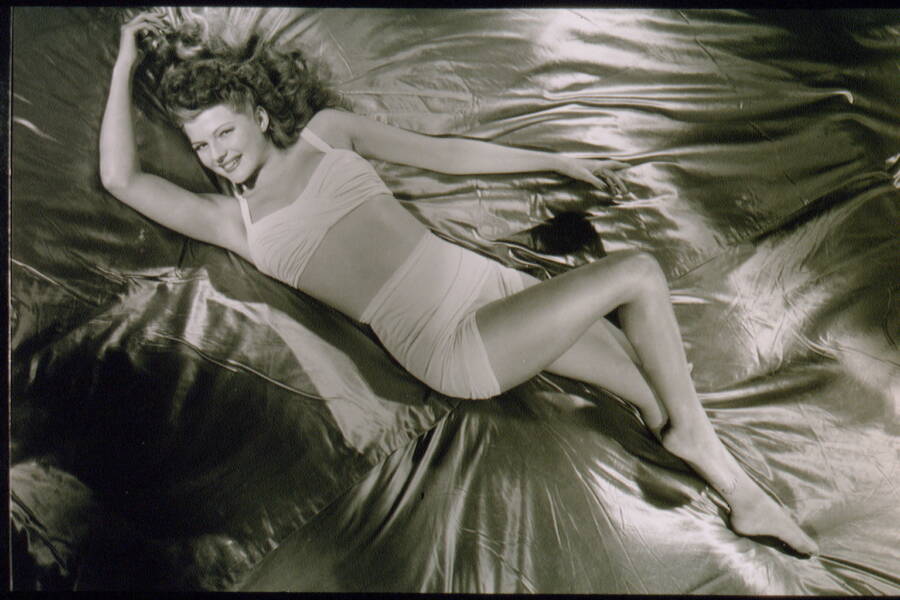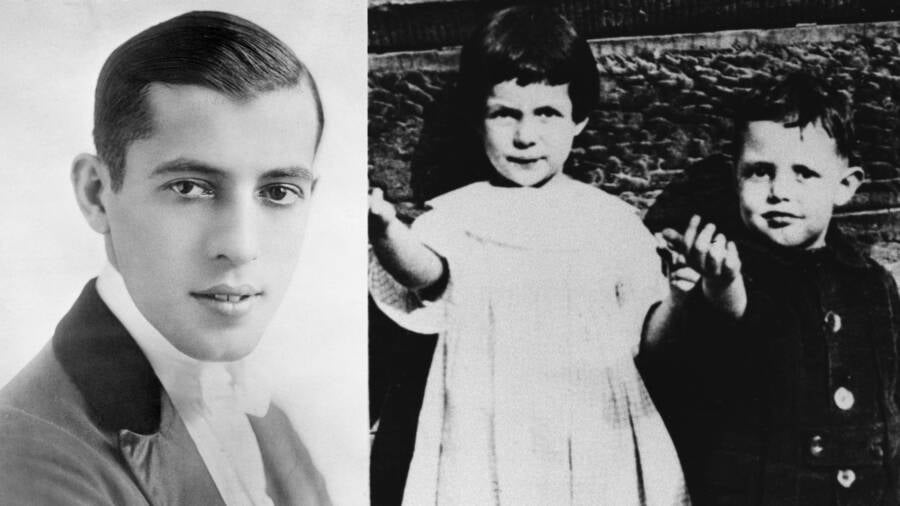 Herbert Dorfman/Corbis via Getty Images
Donaldson Collection/Michael Ochs Archives/Getty Images
Sunset Boulevard/Corbis via Getty Images
Bettmann/Contributor/Getty Images
Ivan Dmitri/Michael Ochs Archives/Getty Images
John Kobal Foundation/Getty Images
Hulton Archive/Getty Images
Bettmann/Contributor/Getty Images
Donaldson Collection/Michael Ochs Archives/Getty Images
Keystone-France/Gamma-Keystone via Getty Images
Silver Screen Collection/Getty Images
Donaldson Collection/Michael Ochs Archives/Getty Images
Silver Screen Collection/Getty Images
Donaldson Collection/Michael Ochs Archives/Getty Images
Bettmann/Contributor/Getty Images
Keystone/Hulton Archive/Getty Images
Hulton Archive/Getty Images
Bettmann/Contributor/Getty Images
Bettmann/CORBIS/Bettmann Archive
Bettmann/Contributor/Getty Images
Silver Screen Collection/Getty Images
Terry Disney/Central Press/Hulton Archive/Getty Images
George Rinhart/Corbis via Getty Images
If you asked Rita Hayworth, she was a Spanish peasant, not a femme fatale. Though the movie star was remembered for playing glamorous and overtly sexual characters like the one in the 1946 film Gilda, she never saw herself that way. After all, her real life was full of heartbreak.
All she craved were stable, lasting relationships that were based on mutual love and respect. Yet Hayworth's father was abusive, and later on, romantic suitors either used her or didn't know who she really was. In fact, the actress once famously said, "Men go to bed with Gilda, but awaken with me."
Hayworth never gave up on finding that love, but it always escaped her grasp. Like many stars of the Golden Age of Hollywood, she spent much of her life escaping men who were trying to manipulate her. She also struggled with alcoholism. But despite her personal struggles, she still had a breathtaking career to be proud of, and millions of adoring fans.
See some of the most iconic images of Rita Hayworth in the photo gallery above, and learn more about her tragic life story below.
The Troubled Early Life Of Rita Hayworth
Rita Hayworth was born Margarita Carmen Cansino on October 17, 1918, in Brooklyn, New York. Almost from the very start, she seemed to be destined for greatness. Her father, the Spanish-born Eduardo Cansino, was an exceptional dancer on the vaudeville circuit. And her mother, the Irish American performer Volga, was a Ziegfeld Follies girl.
Eduardo Cansino expected their children to carry on the bloodline of success, especially Margarita. She started dance lessons early and wowed her instructors. But her talent didn't stop her father from demanding more.
According to Vanity Fair, during her practice time at home, "He'd scream and holler at her, 'Don't do that! Don't be so stupid!'" a neighbor recalled. "He was kind of a small man, like a little banty rooster... I never heard her answer back at him, not ever. She would simply do the routine again."
By age 12, Margarita Cansino was already a professional dancer. She joined her father as the other half of the "Dancing Cansinos," a role that was once held by Eduardo's sister. They hit the road, and before long, she was performing all over Southern California and Tijuana, Mexico.
But Margarita's relationship with her father worsened. He was controlling and forced her to dye her brown hair jet black to make her look more "Latin." He also insisted that she quickly learn every dance to perfection.
On the dancing circuit, he often got drunk and gambled away their money. He sent the young Margarita out to catch fish for their dinner, and if she came back empty-handed he'd beat her. Tragically, she later told her second husband Orson Welles that her father also sexually abused her.
Despite the many traumas of her childhood, the future Rita Hayworth loved to dance, and she took pride in the fact that her talent had helped her family survive the Great Depression. However, she had her own ambitions and longed to break away from her father and make a career of her own.
And eventually, she did.
Becoming The All-American "Love Goddess"
In 1937, 18-year-old Margarita Cansino married her first husband Eddie Judson, a former car salesman twice her age. By that point, she had already appeared in a handful of movies after being discovered by a Fox Film Company producer. Judson quickly saw that his wife could be a Hollywood star — and used that to his advantage to make himself wealthy.
According to Biography, it was Judson who told her to change her last name to her Irish American mother's maiden name Hayworth. But her name wasn't the only thing he'd change in pursuit of his wife's success.
He pressured her to dye her hair auburn and to undergo painful treatments to change her natural hairline, all so she'd look less "Latin." Shockingly, he also pushed her to sleep with powerful men to secure movie roles.
Shortly after Columbia Pictures signed Rita Hayworth, Eddie Judson urged his wife to sleep with the studio boss, Harry Cohn. She refused, and Cohn took it personally, sparking a feud between them that would last 20 years.
But while Hayworth couldn't escape Cohn's ire, she did manage to divorce Judson in 1942, citing cruelty as the reason. She also leaned further into the joy of dancing, her lifeline that carried her through the tough times.
And meanwhile, as scores of U.S. soldiers went off to fight in World War II, many of them took a recent 1941 pinup of Rita Hayworth with them to remind them of home. According to LIFE magazine, that image became the most frequently reproduced American pinup photo of all time.
As Hayworth's star rose, the movie role offers continued to pour in. By the mid-1940s, it was clear that she had truly "made it" in show business. However, she continued to encounter obstacles behind the scenes.
The Tragedy Of Rita Hayworth
The sadness of Rita Hayworth's story is that she never got the lifelong, supportive relationship she craved. She did call Orson Welles, her second husband who she married in 1943, the love of her life. Unfortunately, Welles cheated on her with a number of other women and Hayworth drank to deal with their marital problems. They had one daughter together, Rebecca.
By 1947, the marriage was over. Hayworth, who continued working in show business, took a European vacation in 1948, where she met her future third husband Prince Aly Khan. The son of Aga Khan III — the imam of millions of Asian and African Ismaili Muslims — Prince Aly Khan came from a powerful family and was widely known to have been a notorious playboy.
Tellingly, Prince Aly Khan courted Rita Hayworth in France despite the fact that he was already married to another woman at the time. By 1949, Khan and Hayworth had wed — despite Hayworth receiving pushback from numerous organizations because of their earlier affair.
Though being married to a prince initially seemed like a dream come true, the shine quickly wore off. Rita Hayworth realized that the life of a royal was not for the shy, "Spanish peasant" girl she felt that she was at heart.
She hated the lack of privacy — and having a husband more enthralled by a playboy lifestyle than by being in a loving marriage. The two did try to make it work for a while, and Hayworth had another daughter, Yasmin.
Ultimately, Hayworth decided to make a clean break, taking her daughters back to America in 1951. She was wary of rushing back into a relationship, but she once again found herself charmed by a singer named Dick Haymes and married him in 1953. Unfortunately, he turned out to be abusive — and Hayworth was soon forced to battle for the custody of her children.
Though Hayworth temporarily lost custody of her daughters to the state, she regained it and left Haymes in the dust for good. Taking one more stab at love, Hayworth married producer James Hill in 1958, according to Nine Entertainment. But Hayworth's fifth and final marriage ended in divorce in 1961, with Hayworth alleging "mental cruelty" and Hill claiming that their relationship simply ended because Hayworth wanted to leave Hollywood.
By that point, Hayworth had already started to show signs of early-onset Alzheimer's.
But sadly, at the time, the disease was not nearly as well known as it is today, and many believed that she was simply suffering from severe alcoholism. It wouldn't be until 1980 that she was finally diagnosed with Alzheimer's. Her daughter, Princess Yasmin Aga Khan, would later use her mother's experience to help increase awareness of the disorder.
Sadly, Rita Hayworth would eventually die from complications of Alzheimer's disease on May 14, 1987, in New York City, in the apartment that she shared with her second daughter. She was just 68 years old at the time of her death. In the years since then, she's been remembered mostly for her legacy as an actress, appearing in over 40 films throughout her career and charming audiences with her flair for dramatic roles and her gifts as a dancer. But her loved ones remember her for the person she was.
"She was just the most wonderful mother," Princess Yasmin Aga Khan would later say of Rita Hayworth. "I knew she was famous, but she was my mom, a regular mom... It's a sad story. It's a sad disease."
---
After learning about Rita Hayworth, read about the tragic death of Marilyn Monroe, another Hollywood legend. Then, discover the surprising stories of other famous pinup stars of 20th-century America.