The claim is among the many new disclosures buried in the release of thousands of documents.
The massive release of some 2,800 files released pertaining to the assassination of President John F. Kennedy has given journalists, internet sleuths, and conspiracist theorists plenty to pore over. One file, however, is sure to draw some attention because it centers on the possible role of the Teamsters Union in Kennedy's assassination on Nov. 22, 1963, and also the murder of his assassin Lee Harvey Oswald on Nov. 24 by nightclub owner Jack Ruby.
In correspondence dated four days after the murder, the FBI Special Agent in Charge (SAC) in San Juan, P.R. sent correspondence designated "URGENT" to FBI Director J. Edgar Hoover and the FBI SAC in Dallas. The SAC in San Juan detailed an alleged interaction between an attorney for the Local 610 Hotel and Restaurant Workers Union named Sarah Torres Peralta, and an organizer for the Local 901 Teamsters Union named Miguel Cruz.
Peralta claimed that Cruz said, "Now that we've taken care of Kennedy, we'll have no trouble in taking over things."
He allegedly added, "They killed Kennedy and the second will be [President of the Local 610] Ramos Ducos."
Peralta subsequently informed the FBI office in San Juan and the U.S. Department of Justice in Washington.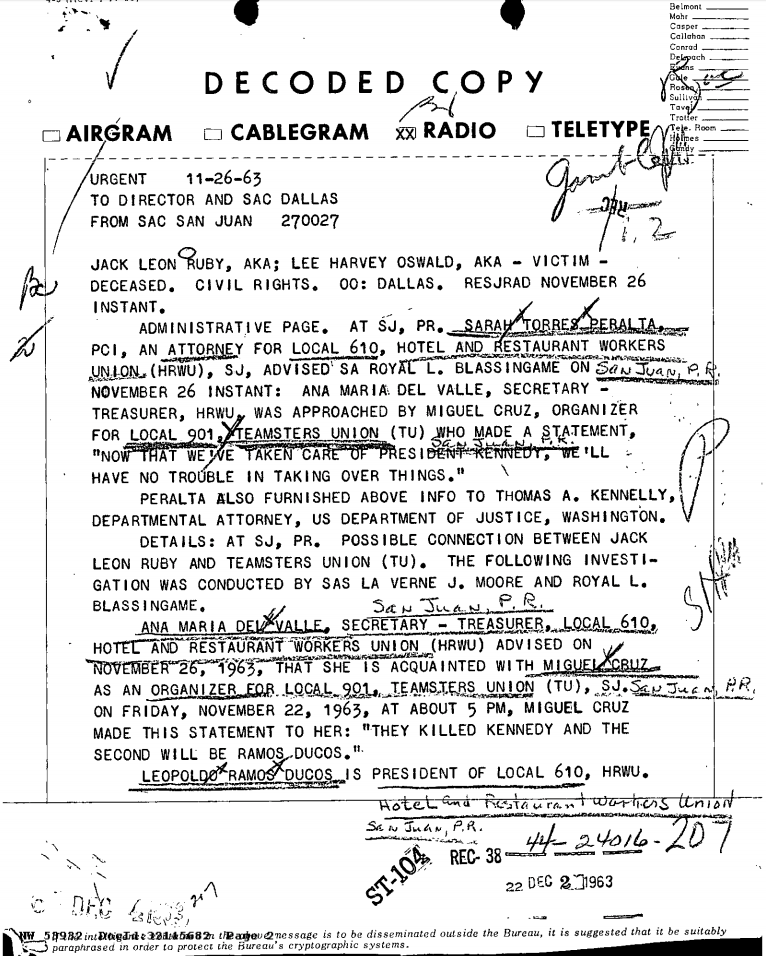 The document mentions a "possible connection" between Jack Ruby and Teamsters Union, which was known to have connections to organized crime. Teamsters president Jimmy Hoffa had been a prime target of U.S. Attorney General Robert Kennedy as part of a crackdown on the mob by the president's brother.
It should be noted that a man named Miguel Cruz, who may or may not be the Miguel Cruz mentioned in the above correspondence, has a direct connection to Lee Harvey Oswald.
On August 9, 1963, Oswald had been distributing pro-Castro leaflets in New Orleans when he was confronted by several anti-Castro Cubans, including an activist named Miguel Cruz. A fight ensued which ended in four arrests, including Oswald and Cruz. In the report, police noted Cruz's full name as Miguel Mariano Cruz.
According to the first report ever filed on Kennedy assassination, the Miguel Cruz arrested in New Orleans was born on Sept. 27, 1944, and presented his Selective Service (draft) card, which was dated May 27, 1961. In addition he presented his immigrant resident card, bearing the name "Miguel Mariano Cruz Enriquez."
According to that report,
"Miguel Cruz stated that he entered the U.S. in San Juan, Puerto Rico, on December 5, 1962, went to Miami, Florida, right away, stayed, for two days, in Plaza Hotel, and left Miami and came right to New Orleans, arriving December 12, 1962."
Thus, the report establishes that this Miguel Cruz had been in San Juan just like the other (or same) Miguel Cruz, but not necessarily on the day of Kennedy's assassination, which is where the previously mentioned Miguel Cruz was when Kennedy was killed. For the two Miguel Cruzes to be the same person, the man arrested in New Orleans would had to have returned to San Juan some time after his arrest in August 1963, and before Kennedy's murder on Nov. 22. Whether he did is unclear at this point. It should also be noted that "Miguel Cruz" is not an uncommon name in Latin America.
Whatever the case, we do know that the Miguel Cruz in San Juan on Nov. 22, 1963 was bragging about the alleged involvement of the Teamsters Union in Kennedy's assassination — a union whose president, Jimmy Hoffa, had a big axe to grind with the Kennedy administration for repeatedly putting him in its prosecutorial crosshairs.
Of course, Hoffa disappeared in suburban Detroit in 1975. It is strongly suspected that he was killed by members of organized crime. His body has never been found.
---
Next, see some Kennedy assassination photos few people have ever seen. Then, have a look at some of the most incredible John F. Kennedy photos ever taken.