Beijing can rest easier for the moment as it is no longer the most polluted city in the world. According to the World Health Organization (WHO), the dubious honor of the world's most polluted city goes to Delhi, India. It's estimated that the city's air pollution kills 10,500 people in the city every year — here's a glimpse at what that lethal atmosphere looks like: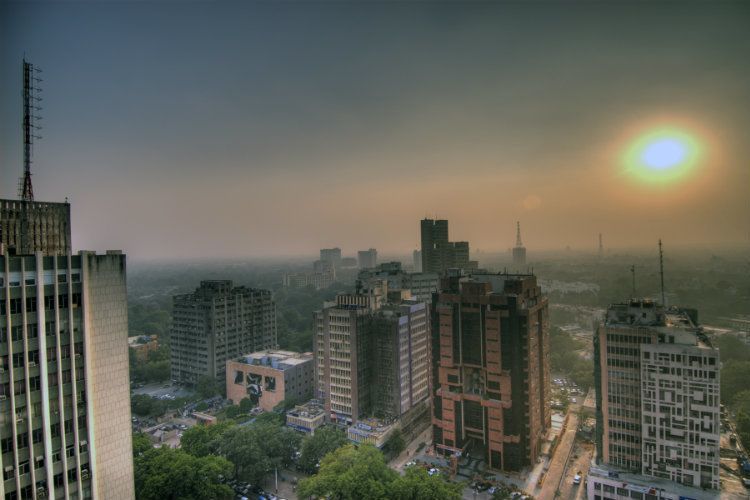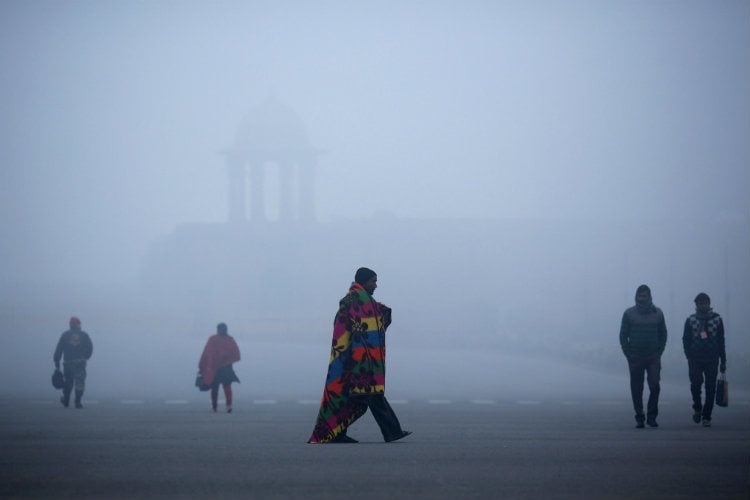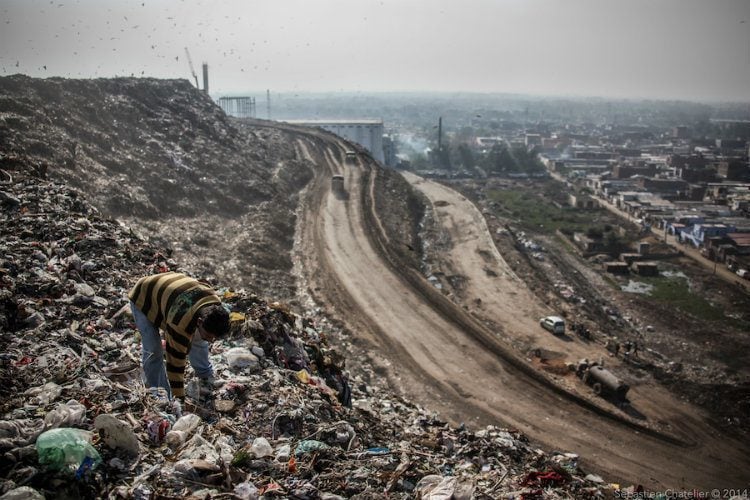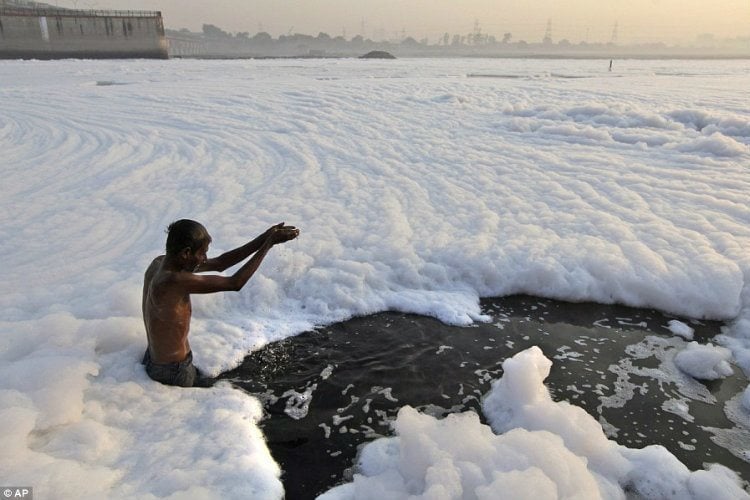 View of Delhi through a nearly permanent haze.
Commuters travel to work in the thick smog of the morning.
Delhi produces 9,000 tons of trash every day and has very few places to put it. However, 50% of the city's waste is fit for composting, which could solve some of the storage issues. Source:
Sebastian Chatelier
These aren't soap bubbles; they're industrial and residential waste particles.
Pollutants cause the Yamuna River to foam. Source:
Daily Mail
The Yamuna is important to observant Hindus who make offerings in the river. The government has encouraged them to use biodegradable and natural materials that won't harm the water.
This man churns sewage for a living, and does so without proper protective equipment. Building an efficient sewage system can help improve the environment in the city and the livelihoods of its citizens. Source:
University Of Texas
Many citizens share public water supplies. Source:
Japan Times
Garbage heaps are a common sight in the Indian capital.
The presidential palace is obscured by air pollution. The skies are cleaned up during the rainy season, but the dry winters keep the smog in place. Source:
News East West
Construction leaves behind dusty fields that add more particulate matter to the air when they aren't replanted. Source:
Flickr
Commuters pack on top of a train outside of Delhi. India's rising population makes it difficult to provide efficient transport, sanitary housing and clean water to all people, as it grows faster than the current infrastructure. Source:
Quartz
Citizens wear masks in a futile attempt to protect themselves from air pollution.
Alternative stoves are being introduced in an attempt to provide cleaner burning fuel and improve health. Source:
The Better India
Biomass stoves contribute to greenhouse gas emissions because they produce carbon monoxide and methane. Source:
Lowe Tech Magazine
Prime Minister Modi shows his constituents how to use a broom to help clean the streets as part of the Clean India Mission.
A Hindu devotee says prayers in the polluted Yamuna River.
The study analyzed the peak levels of fine particulate matter in the ambient (outside) air. It determined that the highest level of airborne particulate matter of PM2.5 (smaller than 2.5 microns) clocked in at 153 micrograms, which is significantly higher than any other city in the world.
For example, Beijing, once considered one of the world's most polluted cities, has a PM2.5 concentration of only 56 micrograms. Delhi's level is six times the WHO's recommended maximum and twelve times U.S. standards.
High concentrations of pollutants impact lung-health and cause asthma, bronchitis and cancer. Crop burning, coal-fired power plants and heavy vehicular traffic produce most of the particulate matter. Twelve other Indian cities also fell in the top 20 worst offenders on the list.
Fuelwood and biomass cake burning for cooking have also left their dirty little mark. A near-permanent brown haze looms over the city and much of the nation. India burns ten times more fuelwood than the U.S. and their stoves are less efficient. Many indoor stoves produce excess smoke that is emitted into the air and inhaled by residents.
But the environmental damage in the fifth-most populated metropolis in the world doesn't end there. The Yamuna River cuts through Delhi, and serves drinking, bathing and ceremonial purposes for the population. It's also extremely polluted. According to India's Central Pollution Control Board, 3,000 million liters of raw sewage are discharged into it every day via 19 canals.
Toss in some industrial waste run off and you have a "dead river." Fish and other marine life cannot survive, and a thick layer of foam covers the surface in the area around Delhi. This is the same water that naturally irrigates many nearby crops, and leaves behind chemicals and communicable diseases.
It might seem like the Indian government isn't concerned given the depth of issues facing the city. However, since the mid-1990s, the nation has undertaken some pollution-mitigating measures and continues to do so.
Delhi has the third highest quantity of trees among Indian cities; the government banned leaded gas in 1998, and ordered buses to transition to run on compressed natural gas. Vehicles over 15 years old are also banned from the capital by India's National Green Tribunal (NGT). The group also banned diesel engines over 10 years old in April 2015.
Prime Minister Narendra Modi also launched the Clean India mission in October 2014, a five-year plan focused on improving not only Delhi, but the country as a whole. The ambitious plan includes development of individual sanitary latrines for households that present need, converting dry latrines into sanitary ones, and construction of drains, soakage pits and proper waste disposal.
But, many environmental gains have been overshadowed by continued crop burning and a disregard for the laws enacted by the NGT in the past. Only time will tell if Delhi maintains its ranking.
For more on polluted global cities, check out our post on China's pollution and its cancer villages.