Ever since 2014, guerilla artist Jim Bachor has been creating mosaics to beautify the streets of Chicago — one pothole at a time.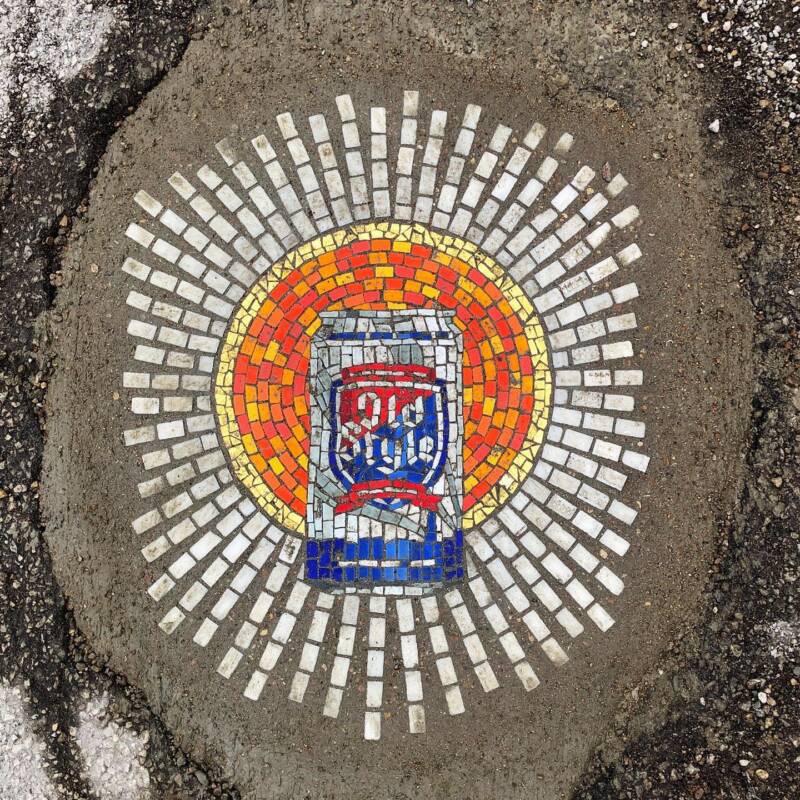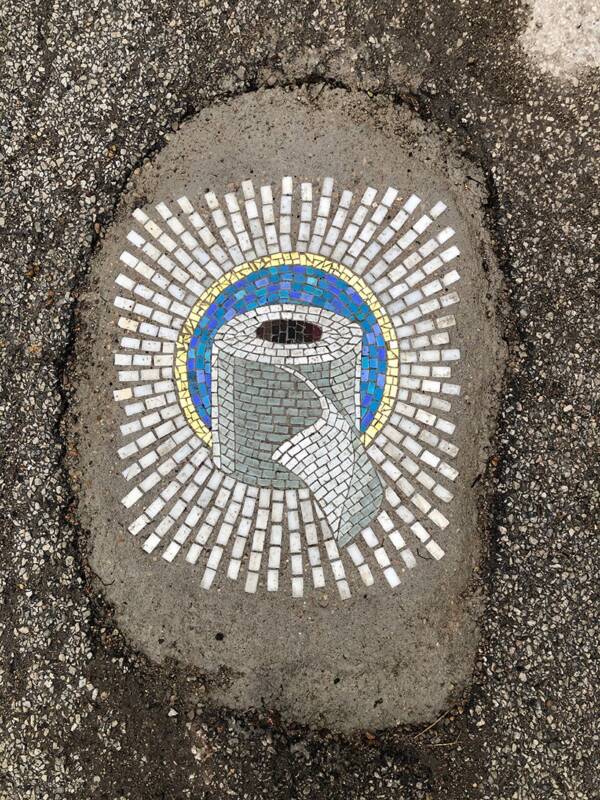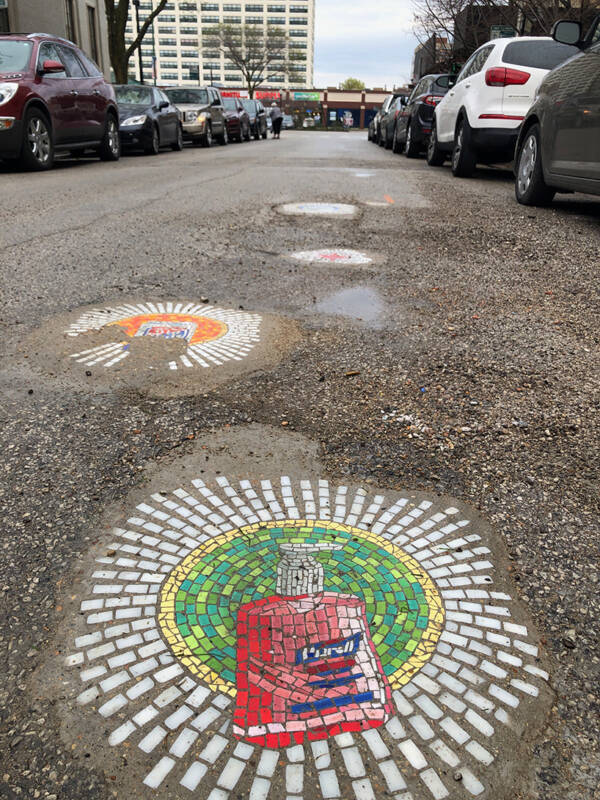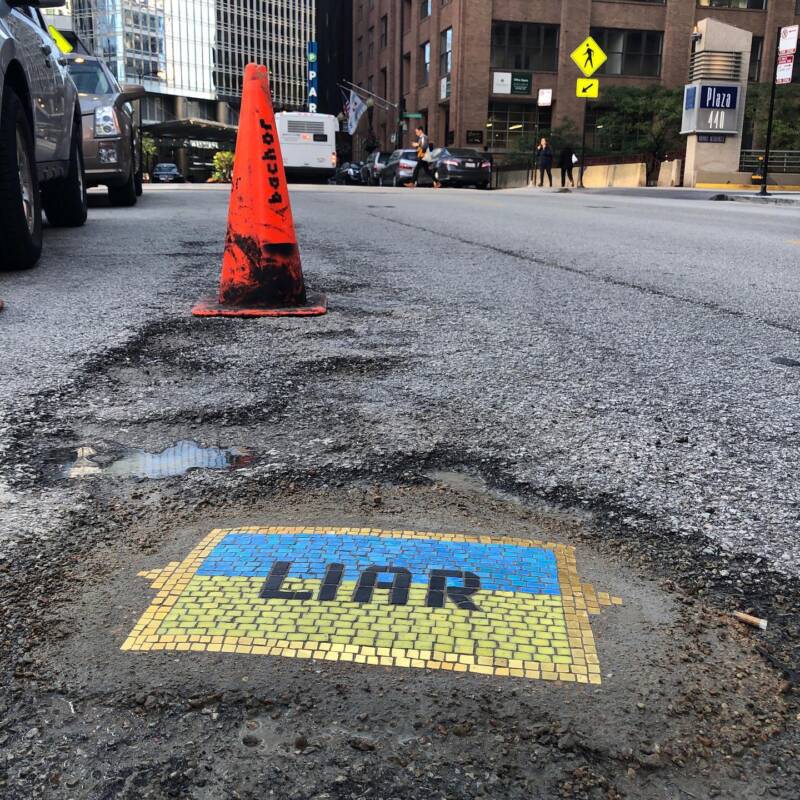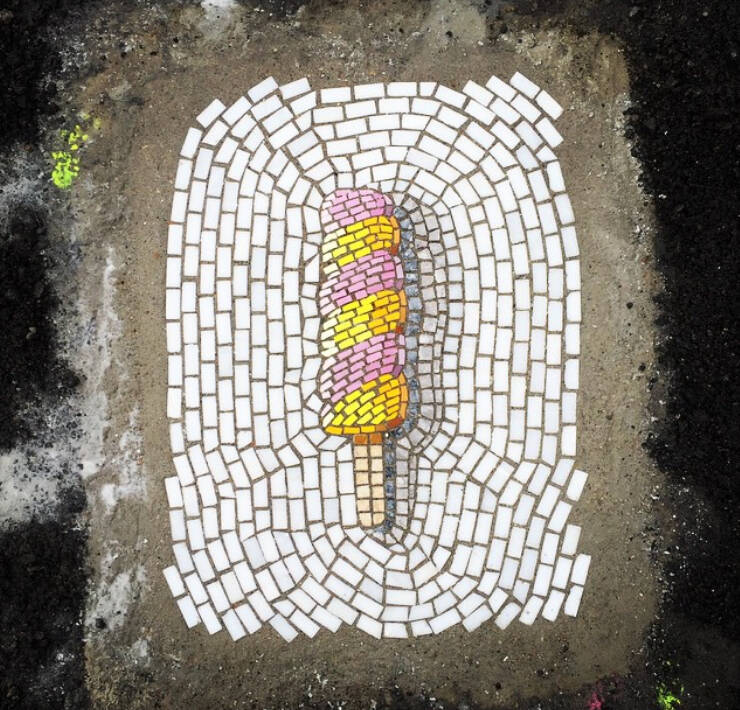 If you've ever driven over a pothole, you understand the vitriol people have for them. They can wreck your suspension, cause walkers to trip, and they're just plain ugly. Well, most of them.
Chicagoans may be surprised when they see a pothole that's actually beautiful. It's all thanks to Jim Bachor, a local guerrilla artist who started filling a few of the city's unsightly potholes with colorful mosaics in 2014. Now, he has a new muse: the COVID-19 pandemic.
His latest series, "Holy Trinity," humorously highlights a few absurdities that the pandemic has brought about in humanity.
"It's a little bit of an unexpected joy ... an unexpected grin," Bachor told CNA Lifestyle. "It's finding a little bit of humor in times that are not funny and elbow to the ribs of us humans and the ridiculous things that go on."
The trinity, in this case, consists of a toilet paper roll, a coveted bottle of hand sanitizer, and an Old Style beer can — a Chicago classic. A little tongue-in-cheek humor glistening cheerfully in the sun near the Green Mill jazz club is a welcome sight to all who encounter it.
Of course, the same can be said for all of Bachor's other street mosaics. Always fun by nature (and done with impeccable skill), these mosaics help the artist make his mark on the world.
An Ancient Art Form
Bachor studied the ancient art of mosaic making while volunteering to assist with an archaeological dig in the famed city of Pompeii. Realizing the glass and marble mosaics found there were durable enough to survive an ancient volcanic event, he got an idea: Surely, these same materials would survive modern road traffic.
And lucky for us, he was right. This was where Bachor's passion for mosaics began in earnest, and even though his work would get more views in a gallery, he gives it to the people on the street.
His first pothole project was one in front of his own house that went unattended for a little too long.
Now, dozens of potholes feature his handiwork. His pieces not only appear in Chicago, but also in the cities of Detroit, Philadelphia, New York, San Antonio, Nashville, and Los Angeles. All of these places now have an extra touch of beauty inlaid in their streets.
"Everyone can relate to potholes. It doesn't matter if you are rich, poor, young or old... everyone hates them," Bachor says.
While the durability of the mosaic is tried and true, something else is as well: Roads get repaved from time to time. Luckily, Bachor often posts photos of his work to his Instagram, where it can live on — even if city crews pave over it.
Skirting The Law
If you're the cynical type and wondering if this activity is legal, well... it's technically not. However, the mosaics are essentially filling the potholes, and their whimsical existence raises morale among residents. So road crews and city officials tend to let them be.
"I'm always worried about the cops, you know?" Bachor laughed while talking to CBS News. "I'm too old to be arrested."
With his orange vest and traffic cones displaying his name, Bachor (and a few helpers) look official enough to temporarily deter traffic while working on a pothole.
"I just want to get my work done and get out," he said. "I'm not interested in having people watch me, really."
However, Bachor's efforts don't go unnoticed by community members who catch him in the act. Many often express gratitude, and one neighbor stopped to thank him, bringing him a coffee and a snack.
It's the little things like this that will see us through the hard times.
If you're in Chicago (or one of the other cities listed above), Bachor keeps an ongoing list of the locations of his street art on his website.
---
Next, check out the remains of the 1893 Chicago World's Fair. Then, read about what archaeologists found when a sinkhole near the Pantheon opened up.