From Jimi Hendrix to Kurt Cobain, some of history's most iconic rock stars left this world far too soon thanks to addiction, suicide, and other tragedies. But these revealing mock-ups give us a glimpse of how they'd look if they'd lived.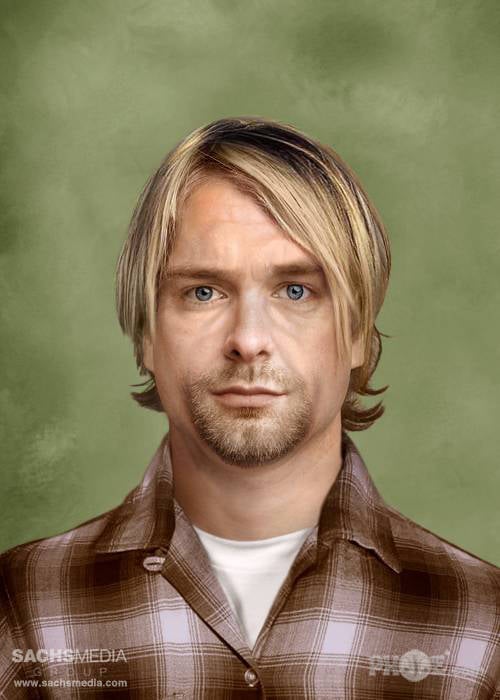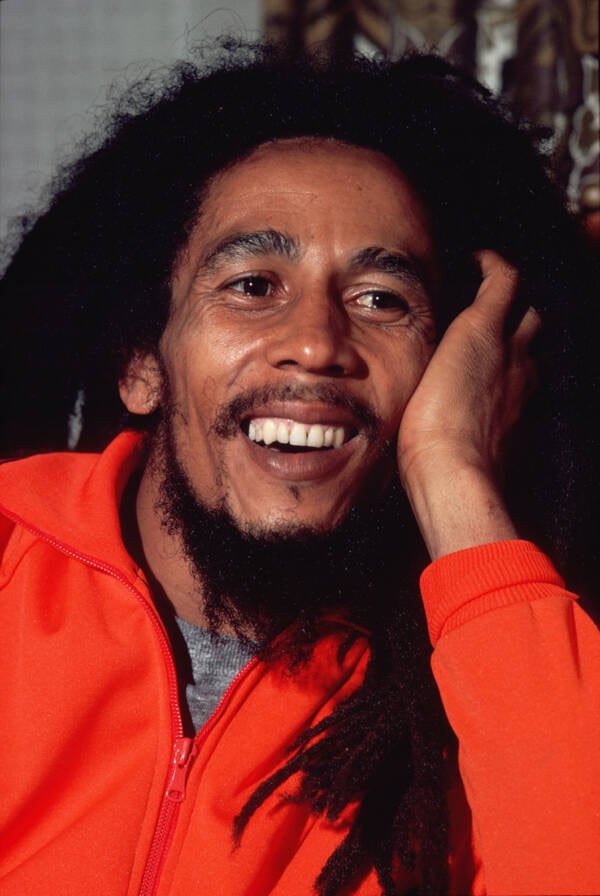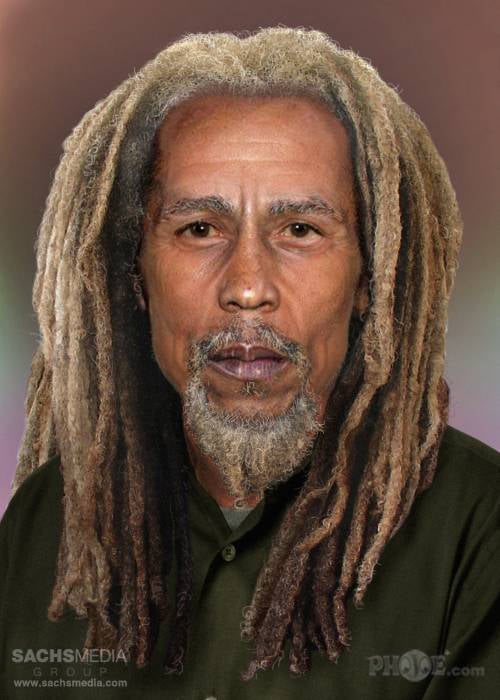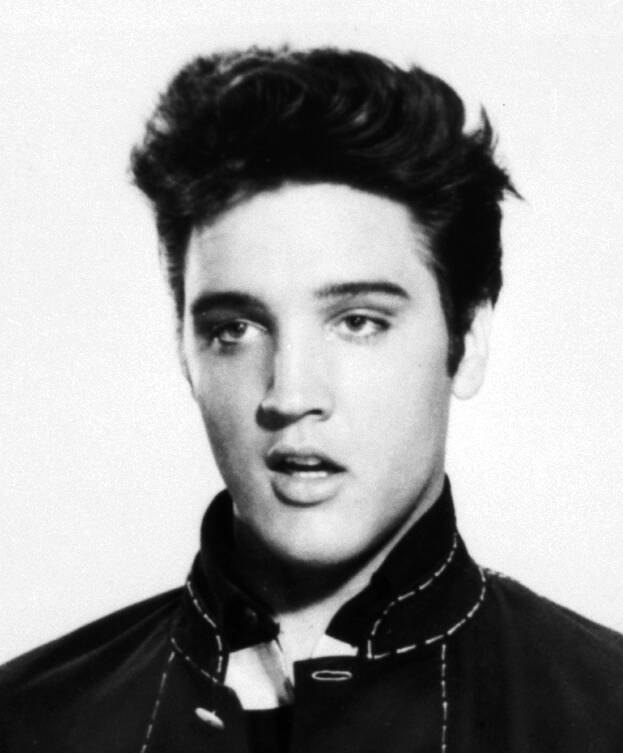 Bob Marley
Allan Tannenbaum/Getty Images
Janis Joplin
GAB Archive/Redferns/Getty Images
Jimi Hendrix
Peter Timm\ullstein bild via Getty Images
Bobby Darin
Silver Screen Collection/Getty Images
Cass Elliot
Donaldson Collection/Getty Images
Dennis Wilson
Michael Putland/Getty Images
Karen Carpenter
Harry Langdon/Getty Images
"Live fast, die young, and leave a good looking corpse."
This oft-quoted mantra — which has appeared in many forms over the years, often in a version mistakenly attributed to James Dean — has caused countless youths to throw caution to the wind. And that goes double for rock stars.
From the members of the tragic 27 Club — artists who all died at that tender young age — to those who hung on a little longer, countless rock stars have left this world before they got anywhere near their golden years. In these cases, it was often drug and alcohol abuse that was the culprit, especially for artists who achieved fame in the heady days of the 1960s and '70s.
According to The Atlantic, researchers from Liverpool's John Moores University found that American musicians whose first charting success occurred between 1956 and 1999 were up to three times more likely to die from drug and alcohol abuse than people in other walks of life.
From Jim Morrison to Elvis Presley, many of history's most celebrated rock stars have indeed allowed their vices and their demons to get the better of them — with fatal results. Meanwhile, we're all left wondering what might have been.
And as for what some of these luminaries might have looked like if they survived, recent artist's renderings from Phojoe Photo give us a place to start. Revisit these legends as they were in their heyday, and then as they might have looked had they lived to today, in the gallery above. Then, delve deeper into some of these tragic stories below.
Jimi Hendrix: Overdose Or Murder?
The death of Jimi Hendrix at the age of 27 on Sept. 18, 1970, in London has remained both tragic and — to some — mysterious ever since.
The official report said he took nine sleeping pills and died of suffocation from his own vomit. Hendrix had spent the previous night at the apartment of girlfriend Monika Danneman, a German painter, who found him in a coma the following morning and called an ambulance. He was pronounced dead at 11:45 a.m. at St. Mary Abbot's Hospital.
But for some of those closest to him, the story wasn't that simple. Though alternative theories about Hendrix's death remain somewhat fringe, they have gained traction at various points over the years. Many of these theories argue that Hendrix was murdered for financial gain (in most accounts) by someone in his inner circle.
For one, Hendrix road manager James "Tappy" Wright claimed in his 2009 book that the rock legend was killed via forced drug overdose on the orders of manager Michael Jeffery. Jeffery allegedly took out a $2 million life insurance policy on the singer and told Wright that Hendrix was "worth more to him dead than alive."
Though the doctor who treated Hendrix stoked the fires by claiming that this theory was medically plausible, it remains hotly contested. Additionally, even Jeffery once claimed that the death wasn't a suicide (but didn't offer another culprit), believing that the supposed suicide note was anything but.
"I don't believe it was suicide," said Jeffery. "I've been going through a whole stack of papers, poems, and songs that Jimi had written, and I could show you 20 of them that could be interpreted as a suicide note."
But as it stands, Hendrix's official cause of death remains suffocation from accidental drug overdose.
Kurt Cobain And Another Contested Tale Of Rock Suicide
Kurt Cobain's death, also at the age of 27, was similarly both tragic and ultimately controversial.
In the early 1990s, Nirvana was one of the biggest bands in the world. No other group was as celebrated in the grunge genre and no other frontman was as revered as Kurt Cobain. Sadly, it only took a few years of fame and drug abuse to spell his demise.
Just days before his apparent suicide inside his Seattle home on April 5, 1994, the rock star had fled rehab in California and was nowhere to be found. Little did his wife, mother, and friends know that he'd been living in the greenhouse next to his home all along.
This is where, according to the official reports, Cobain wrote a suicide note addressed to his childhood imaginary friend, Boddah, put a shotgun to his head, and pulled the trigger.
However, this story has been the subject of several conspiracy theories, often involving murder. These theories have perhaps found their most credible advocate in Tom Grant, a private investigator hired by Cobain's widow, Courtney Love.
For one, theorists say that Cobain had too much heroin in his system at the time of his death to be able to pull the trigger of a shotgun. Others say that the handwriting on Cobain's so-called suicide note was inconsistent with his own and that it was merely a doctored journal entry or letter.
What this supposed evidence adds up to, for believers, is that someone murdered Cobain and massaged the crime scene. Who that person might be remains fuzzy at best, though Grant and others have intimated that Love herself could be responsible. For one, Grant claimed that scraps of Cobain's handwriting reportedly found in Love's purse suggest that she was working on copying his handwriting for the purposes of crafting a "suicide" note.
Needless to say, the murder theories have remained on the fringes. But regardless of how it happened, what is clear is that Cobain's untimely death left millions of fans around the world mourning the loss of a once-in-a-generation icon.
Bob Marley May Have Been Able To Prevent His Own Death
When compared with some of the artists above, Bob Marley was lucky to live "long" enough to reach age 36 — though even that didn't always look like a sure thing. While the pioneering reggae icon died from a long battle with cancer on May 11, 1981, he had already survived an assassination attempt by three gunmen at his home in Jamaica in 1976.
But ultimately Marley died from a malignant melanoma that spread from his toe. He first discovered he was ill in 1977 after a mundane foot injury turned surprisingly serious.
He was told that an amputation would be best, but Marley refused, as Rastafarianism prohibited this — and he believed his performing career would suffer were he to be off his feet.
Marley opted for a skin graft instead. However, it didn't work well enough and the cancer soon spread. Eventually, he collapsed during a jog in Central Park and played his last gig in September 1980 while on tour in Pittsburgh.
After an unsuccessful eight-month treatment period in Germany, he flew home to Jamaica — but never made it. Marley was rushed to the hospital upon landing in Miami and died shortly after.
Marley was buried with his Gibson Les Paul guitar in a chapel near his birthplace on May 21, 1981. He remains, like so many others who perished too soon, a beloved icon around the world to this day.
---
Next, read up on the tragic death of folk artist John Denver. Then, learn the shocking stories behind the deaths of punk rockers Sid Vicious and GG Allin.