These Elton John pictures reveal a man who has overcome poverty, death, and drugs, to produce some of the most extravagant music the 20th century has ever seen.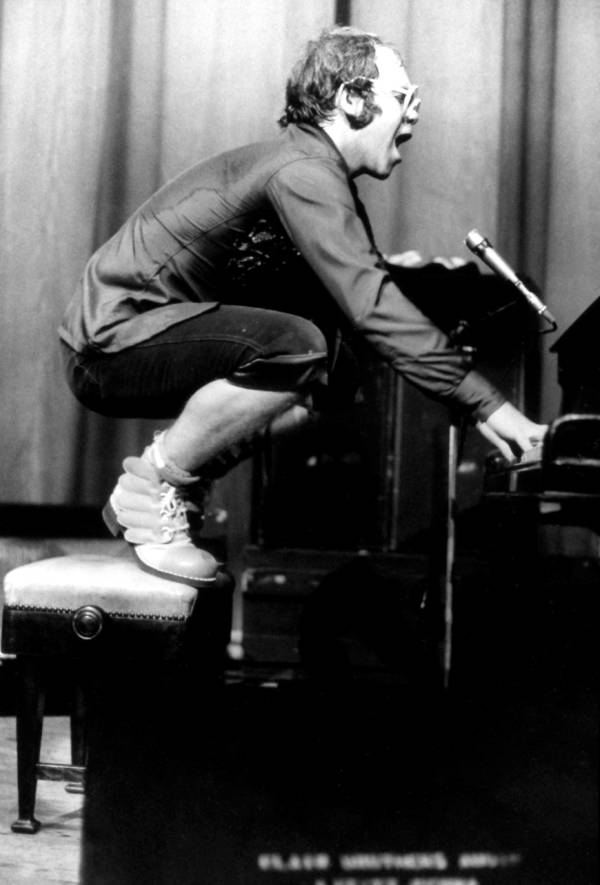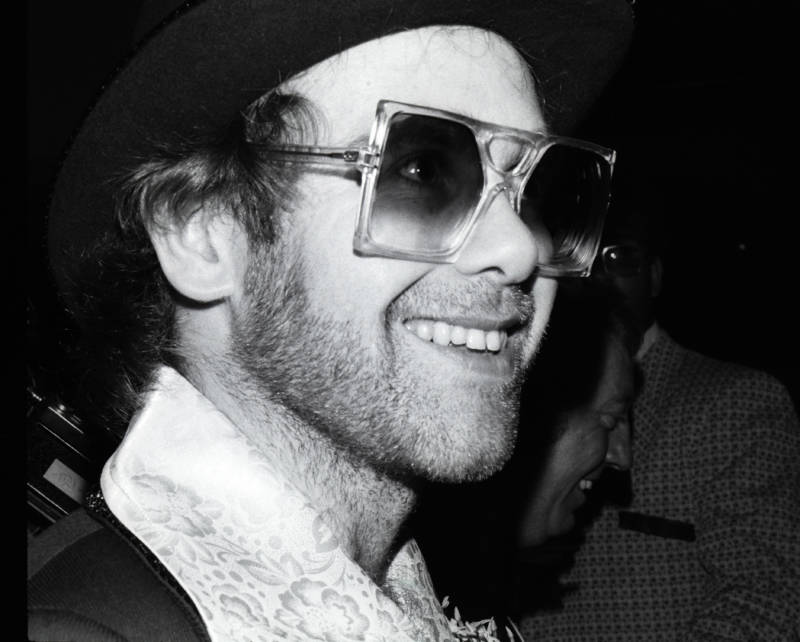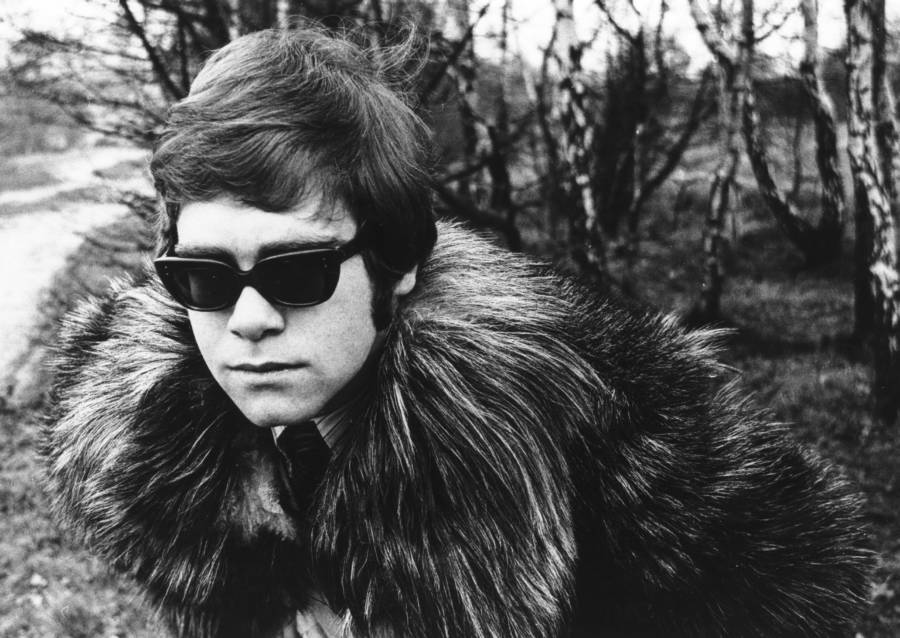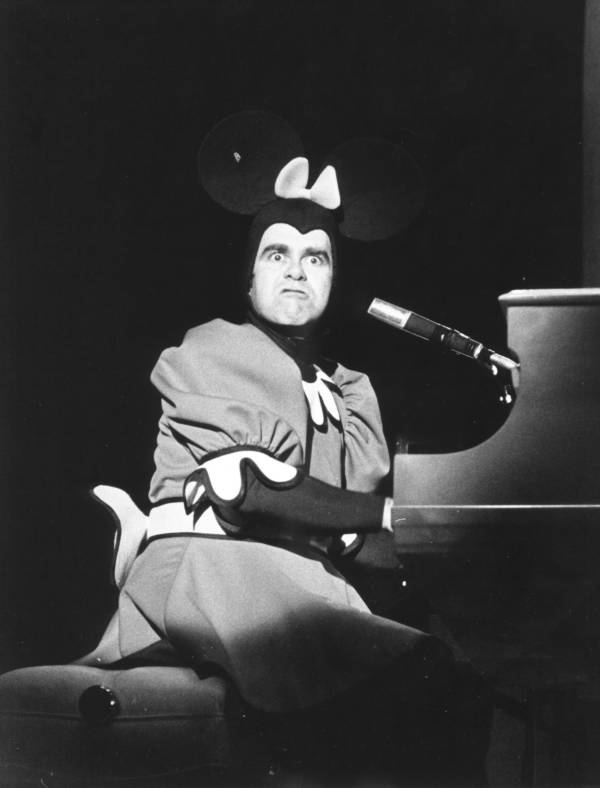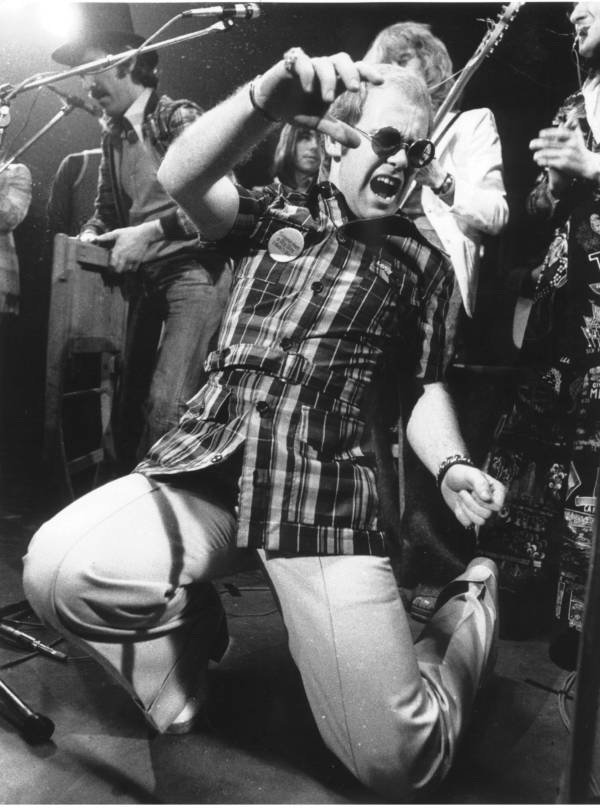 Michael Putland/Getty Images
Brad Elterman/FilmMagic/Getty Images
Val Wilmer/Redferns/Getty Images
Chris Walter/WireImage/Getty Images
Chris Walter/WireImage/Getty Images
In Pictures Ltd./Corbis/Getty Images
Val Wilmer/Redferns/Getty Images
Michael Ochs Archives/Getty Images
Gijsbert Hanekroot/Redferns/Getty Images
Mike Maloney/Mirrorpix/Getty Images
Michael Ochs Archives/Getty Images
Robert Altman/Michael Ochs Archives/Getty Images
Adam Scull/New York Post Archives /NYP Holdings, Inc./Getty Images
Kent Gavin/Mirrorpix/Getty Images
Ron Howard/Redferns/Getty Images
Michael Putland/Getty Images
Michael Putland/Getty Images
Terry O'Neill/Iconic Images/Getty Images
Peter Turnley/Corbis/VCG/Getty Images
Michael Ochs Archives/Getty Images
Michael Putland/Getty Images
GERARD JULIEN/AFP/Getty Images
Michael Ochs Archives/Getty Images
Steve Morley/Redferns/Getty Images
Robert Knight Archive/Redferns
Michael Ochs Archives/Getty Images
Don Preston/The Boston Globe/Getty Images
Terry O'Neill/Iconic Images/Getty Images
Michael Ochs Archives/Getty Images
Michael Ochs Archives/Getty Images
Michael Ochs Archives/Getty Images
Michael Ochs Archives/Getty Images
Terry O'Neill/Iconic Images/Getty Images
Terry O'Neill/Iconic Images/Getty Images
Terry O'Neill/Iconic Images/Getty Images
Terry O'Neill/Iconic Images/Getty Images
Michael Ochs Archives/Getty Images
Fresco/Evening Standard/Hulton Archive/Getty Images
Watford/Mirrorpix/Getty Images
Michael Ochs Archives/Getty Images
Terry O'Neill/Iconic Images/Getty Images
These pictures of Elton John best illustrate the rockstar's extravagant life.
The original Rocket Man has sold more than 150 million records since his self-titled debut in 1970. The knighted musician has cemented himself as a legendary artist of the 20th-century through performances that pushed stage design and showmanship to new heights.
He sent Princess Diana off with grace by singing "Candle In The Wind" at the royal's funeral. He gave an inspiring and unifying duet with Eminem at the Grammy Awards. Indeed, Elton John has crossed artistic and generational barriers for half a century like few artists before.
According to Biography, however, the singer-songwriter has had his fair share of turmoil, as well. The landscape of 1970s rock 'n' roll and 1980s era of excess wasn't exactly an easy stage for a young, famous superstar to overcome unscathed.
With a well-deserved feature film biopic on the way, it's time to fill in the gaps that Hollywood decided to leave out in the singer's story. Let's take a stroll down the Yellow Brick Road and meet the Rocket Man himself through these pictures of Elton John.
Welcome to the Honky Tonk Château.
Elton John's Childhood In Post-War England
Elton John was born Reginald Kenneth Dwight on March 25, 1947, in Pinner, Middlesex, England. The son of Royal Air Force member Stanley Dwight, John and his father didn't get along too well. John was almost immediately drawn to music and stunningly taught himself the piano when he was four.
Though he had already proven his mettle as a young musical talent, John's father had different plans for him. As a teenager entranced by the sounds of the 1960s, John realized fairly quickly what dreams he wanted to pursue.
As if a stern ideological conflict with one's father wasn't difficult enough, John had to witness his parents divorce. Fortunately, John was just as convinced as his father when it came to his future. He dropped out of school at 17 fully committed to his goals.
With a little bit of luck and John's glaring talent doing the rest, the young man won a scholarship to a youth program at the Royal Academy of Music in London. Now a struggling musician in the big city, John joined a group called Bluesology and put some thought toward his eventual stage name.
As creative as the multitalented singer-songwriter was, his stage alias was pieced together with the effort and ingenuity of a high school slacker. John simply used two members of his new group and stuck their names together.
"Elton John" was officially born.
Elton John's Career Takes Off
It was 1967 when John took a chance and answered an advertisement for a songwriter position. To his welcome surprise, Liberty Records gave him the job. It was here that John met his lifelong songwriting partner and friend, lyricist Bernie Taupin, who is present in some of these Elton John pictures above.
The creative duo left Liberty Records in favor of DJM the following year and crafted music for a variety of artists. When it came to actually laying down his own vocals, John got his first chance in 1969 with his nine-track studio album debut, Empty Sky.
Unfortunately, the album failed to reach an audience. It wasn't until the following year when John released his self-titled album that he cemented himself as a new artist to behold.
"We were swimming in deep water and both needing someone to hang on to," said Taupin of this time, according to Vulture.
This second album saw the pair snag their first hit, "Your Song." His third album Madman Across the Water birthed the ultra-popular "Tiny Dancer" and so by the time Honkey Château was released in 1972, Elton John had become a superstar of psychedelic rock.
His piano-centric hits like "Rocket Man," or "Mona Lisas and Mad Hatters" were instant classics and John made sure to parallel his studio efforts with impressive and bold live performances. His name and identity, as you'll see in these pictures of Elton John, were now synonymous with extravagance.
The Theatrical Appeal Of Elton John Performances
John had become one of the top musical acts in a matter of three to five years. Since he wasn't often regarded as physically appealing as his contemporaries and relegated to the visually uninteresting position of a piano stool, he knew he had to compensate in some regard, as these Elton John pictures illustrate.
"I wasn't a sex symbol like Bowie, Marc Bolan or Freddie Mercury, so I dressed more on the humorous side because if I was going to be stuck at the piano for two hours, I was going to make people look at me," he explained.
From childish Mickey Mouse costumes to flamboyant headdresses and sparkling jackets, John's eccentricity certainly did work to captivate his huge audiences. His stage design and lighting work complemented this, as well, ensuring no concertgoer was ever bored by the show.
By 1973, the singer had curated an impressive roster of No. 1 singles such as "Crocodile Rock," "Bennie and the Jets," and "Island Girl." His albums were now top-selling records like Goodbye Yellow Brick Road and Rock of the Westies.
The young boy who taught himself the piano was now a top-selling triple-threat artist as these Elton John pictures reveal. He would soon feel comfortable enough to broach the topic of his sexual identity to his fans.
Sex, Drugs & Rock 'N' Roll
John had seven No. 1 albums in a row in the United States in the early 1970s. These records spent a whopping 39 total weeks at the top of the Billboards. John was the most successful album and singles act of the early '70s and the third-best singles artist of all time.
Overall, the singer sold over 150 million albums and 100 million singles across the globe.
The road to eternal glory wasn't easy, however, and John went through his own phase of frenzied fame. As a shy man who presented himself as a wild eccentric on stage, John was a bit of a contradiction.
Though he'd come out to his close friends at an early age, the speed at which he was working — about two albums a year — and the chaos of celebrity compounded his personal problems. Toward the late 1970s, a friend of his forced John into therapy.
In the sanctum of counseling, he finally admitted that he was a complete and utter addict. His habits ran the gamut — drugs, pills, sex, alcohol, and food. Ultimately, this spiritual nosedive was reflected in his music, which lost the levity of its early work and became, well, middle-aged and sardonic.
"He went very Judy Garland on us," a friend said.
Ultimately, John took an entire year off to get his affairs in order but it would take another decade for him to sober up entirely. The 1980s were arguably John's least successful personal and professional period.
Of course, his sheer talent still resulted in the occasional top-ten hit, but his demeanor and output simply veered off in a more cynical, pessimistic direction.
"I hate fucking videos," he said at the time in reference to MTV and the seeming need to produce high-quality videos alongside the actual music. "They are fucking loathsome. It's probably because of my looks."
Elton John Pictures: A Rockstar's Photohistory
Elton John was royally acknowledged — knighted — by Queen Elizabeth II in 1998, but the singer had a long history with the family way before he was able to add "Sir" to his name.
According to Harper's Bazaar, John and Princess Diana first met in 1981 at Prince Andrew's birthday party in Windsor Castle. The pair became entranced with one another and danced the Charleston for nearly half an hour that night.
The two friends eventually had a major falling out, but fortunately reconciled shortly before Diana's tragic death. John's connection to the royal family, however, began far earlier. In the 1970s, Princess Margaret and the Queen Mother loved his music.
John would go to art exhibits with Margaret and routinely performed at Prince Charles' annual Prince Trust concerts.
"He had remained for years on the guest list to parties at Buckingham Palace and, again according to reports, at one such event jived with the Queen to Bill Haley's hit 'Rock Around The Clock,'" the Press Association said.
When John and Diana met, however, the love and trust between the two were unlike any other relationship he'd had with the Royals up to that point.
"(I was) playing for Prince Andrew's 21st birthday party at Windsor Castle," recalled John. "When I arrived, there was no one there but the dance band and Princess Diana. We danced the Charleston alone on the floor for 20 minutes."
"Then Princess Anne came up to me and said, 'Would you like to dance?' What am I going to say — 'No, fuck off?' We went into this disco where the music was so quiet, you could hardly hear it. As we're bobbing up and down, the Queen comes up with an equerry and says, 'Do you mind if we join you?'"
"Just at that moment, the music segues into Bill Haley's 'Rock Around the Clock'' So I'm dancing to 'Rock Around the Clock' with the Queen of England."
Unfortunately, John's 1997 coffee table book Rock and Royalty put his relationship with Diana and her family on hold. The two old friends didn't speak for months because of the book's use of semi-nude photos in close conjunction with images of Diana and her children.
"Pictures of members of the royal family, including one of the Princess and the boys, appeared amid a portfolio of semi-nude male models, and Diana feared that would upset the Queen," wrote British journalist Tina Brown at the time. "Royalties from the book benefited John's AIDS foundation."
Diana died on Aug. 31, 1997, six weeks after Gianni Versace was murdered in front of his South Beach, Miami home. Both were dear friends of John's, particularly because of their personal efforts to raise funds for and awareness about the AIDS epidemic.
"She was very much loved," said John. "She was a controversial figure in some respects, but not to me. I loved her because she did so much for AIDS and she was a great friend to me. We had our fallings out, but we reconciled in the end. It was an extraordinary summer."
"Gianni Versace was murdered, and then Diana rang me up and we reconciled. And six weeks later, I'm in the same house, and she's dead. It was an extraordinary and mesmerizing summer, and I just couldn't believe what was going on."
Diana's death prompted John to rewrite the song "Candle in the Wind." Originally written in tribute to Marilyn Monroe, he tailored it to his late friend and performed it at her funeral. The record became a No. 1 hit in the U.K. and all the proceeds of which went to the Princess Diana Trust. John won a Grammy.
John eventually explained to Barbara Walters in a 20/20 interview just how compassionate and selfless the Princess of Wales was during her time on earth.
"She kept her cool for me...at Gianni's funeral and she held her composure," he said. "I've got to do the same for her. When I started crying and she put her arms around me and she was, that's exactly what she was like. She was such a caring and a very calming person."
"Me playing at the funeral was one of the most surreal things I have ever done," John confessed. "What was going through my mind was 'Don't sing a wrong note. Be stoic. Don't break down and just do it to the best you can possibly do it without showing any emotion whatsoever."
"My heart was beating quite a lot, I have to say."
But the Rocket Man's slew of celebrity friendships didn't start and end with the Royal family.
When Eminem burst into the music world as a trash-talking rapper who offended almost everyone, critics were sharply focused on his seeming homophobic and misogynistic lyrics. His album, The Marshall Mathers LP, had become a phenomenon in spite.
When the Grammy's nominated the rapper for Best Rap Album of The Year, he was slated to perform one of the album's singles in which an angry fan, "Stan" portrays a more self-aware and sensitive side of Eminem over a beautiful chorus sung by English pop star, Dido.
There were rumors leading up to the big moment that Elton John and Eminem would be a duet that night, but surely, the world's most famous gay singer wasn't going to soil his reputation by being on the world stage, hand in hand, with a symbol of hate and bigotry.
"I didn't know he was gay," Eminem said in 2004. "I didn't know anything about his personal life. I didn't really care. But being that he was gay and he had my back, I think it made a statement in itself saying that he understood where I was coming from."
Ultimately, John felt quite differently about Eminem than most critics at the time.
"For me, Eminem was never homophobic," said John, according to Refinery29. "I listened to the whole of the Marshall Mathers album when I drove to a show in South Hampton and I was floored by it. And I thought how could anyone think this is...he's just writing about the way things are."
"Not the way he thinks, but the way things are."
Since their seemingly controversial performance (or as Eminem said in his music, "since me and Elton played career Russian roulette"), the pair have remained close. From lovingly name-dropping each other in interviews to having long chats on the phone, even to the most trusting of matters.
"When I first wanted to get sober, I called (Elton) and spoke to him about it," said Eminem after a near-fatal drug overdose in the late 2000s. "He's somebody who's in the business and can identify and relate to the lifestyle and how hectic things can be."
"He understands...the pressure and any other reasons that you want to come up with for doing drugs. I reached out to him and told him, 'Look, I'm going through a problem and I need your advice.'"
It's likely that the unusual pair found a familiar kinship in each other. Both artists have faced artistic struggles and substance abuse issues. While the performance appeal was likely a huge middle finger to critics for one, it was a call for love by the other. Fortunately, it was mutually beneficial.
"Your sobriety is in my diary. I'm so proud of you," John told his friend in a phone interview. "I'm so happy you exist in the world, and I'm just so proud of you. You've worked so hard on yourself, and no one deserves this more than you, Marshall, and I love you from a long way away, okay?"
"Thank you, Elton," Eminem replied. "I love you, too."
Elton John's Life In A Post-Trump World
According to The Guardian, sitting down to practice is the last thing John wants to do when he gets home.
As you'll see in these pictures of Elton John, the singer has quite a comfortable and all-encompassing family life.
"I play 107 shows a year, why am I going to go home and play the fucking piano?" John inquired.
Only a few years ago, before the final Farewell Yellow Brick Road tour, that was actually true. Nearly every third day on average, the music icon would perform for countless thousands. His work ethic across the decades has certainly paid off — John owns numerous homes in various cities across continents.
"I've got one at Woodside and one at my house in Atlanta, and I never touch them," he said. "Rufus Wainwright plays every morning when he gets up — 'I have to play an hour every day' — so everyone's different, but, God, I couldn't think of anything worse."
"I have leisure, and I have work. And I do enough work. When I get home, the last thing I want to do is play the piano."
At this stage in his life, the singer has relegated much of his day-to-day on Rocket, his management company, and to his husband David Furnish. The latter serves as its CEO. As such, John said Furnish has essentially "taken over" the singer's entire life.
"Yeah, I've started calling him Yoko," said John.
Tales of Furnish taking over and firing people in an effort to cut costs have been greatly dramatized, John explained. He's merely tried to do a good job for his husband which can often be greatly unappreciated by those on the receiving end.
"Oh, I'm a recluse, what a load of bullshit," John said. "My businesses have been badly run for the last five or six years, he's come in, had a look at what's gone on, pruned a few people away, made it a leaner, meaner machine."
"We've made some changes and some of them haven't been very popular, because people don't like being gotten rid of, which is quite right. On a human level, I understand that people are hurt; on the other hand, they needed to go."
The Biopic He Deserves: Rocketman (2019)
Dexter Fletcher wasn't going to make the Elton John biopic, Rocketman, unless he could do away with the standard biopic template and specifically tailor the film to John's aesthetic. According to Rolling Stone, the director wanted the film's identity to reflect John's own persona, which as you'll see in these Elton John pictures, is absolutely singular.
"Elton is all about fantasy and imagination and magic," said Fletcher. "We wanted to use his songs to elevate this to be more than just a biopic. We wanted to make a magical fantasy that tells the story of his life, or at least elements of his life."
Rocketman is certainly a traditional biopic in the sense that it tells John's story from beginning to end, but Fletcher wanted to mirror John's penchant for pageantry in his cinematography, tone, and direction, throughout. The turmoil of John's life, too, had to be presented with equal affectation.
"He's our narrator, and he's telling the story as he recalls it," explained Fletcher. "He's dealing with his demons and these kind of emotional beats and gestures. And what I find interesting about that is that I can tell you a story of an event that I remember, but it's going to be colored by my own perception of what was going on at that time."
For Taron Egerton, Rocketman's leading man, the responsibility of portraying Elton John on-screen was certainly no casual assignment. He took it very seriously — meeting John, getting into character, and even singing the classic catalog with his own voice.
"Musicals are all about expressing yourself through song," said Egerton. "If you don't sing them yourself, then you aren't really expressing anything."
For both the director and the talent, meeting Elton John himself was imperative. Egerton sang "Your Song" to audition for drama school when he was 17. Coincidentally, Fletcher did the same thing for The Rocky Horror Picture Show in his mid-twenties.
Fortunately for them, John and his husband and manager, David Furnish, were fairly hands-on producers on this project — and when Fletcher and Egerton met the iconic singer, they couldn't have been more gratified but the person they encountered.
For once, expectations and reality didn't just match, but the scales were tipped in the preferable ratio.
"He doesn't disappoint," said Egerton. "They say don't meet your heroes, but that isn't true for Elton John."
---
After this look at the life and career of the Rocket Man through these pictures of Elton John, have a look at 45 rare Woodstock photos that will transport you back to 1969. Next, check out these 23 stunning photos of the Ziegfield Follies, the 1920s' sexiest Broadway revue.