Found in nearly every frontier town, the saloon was a place where outlaws and lawmen alike enjoyed gambling, swapping wild tales, and stiff drinks.
The tumbleweed towns that dotted the American West in the 19th and early 20th centuries almost always had one thing in common. There, miners, outlaws, cowboys, lawmen, and dance hall girls routinely gathered at Wild West saloons to gamble, swap stories, and throw back drinks.
Many of these saloons started off as simple places. As Legends of America notes, they were initially nothing more than a hastily erected tent or lean-to where weary travelers could pop in for conversation and a drink.
But as towns grew, so did their variety of watering holes. In 1848, the town of Santa Barbara, California had just one saloon. Then, gold was discovered nearby, and just a few years later, the settlement boasted over 30 saloons.
Explore some of these Wild West saloons in the photo gallery and then learn more about these iconic frontier institutions below: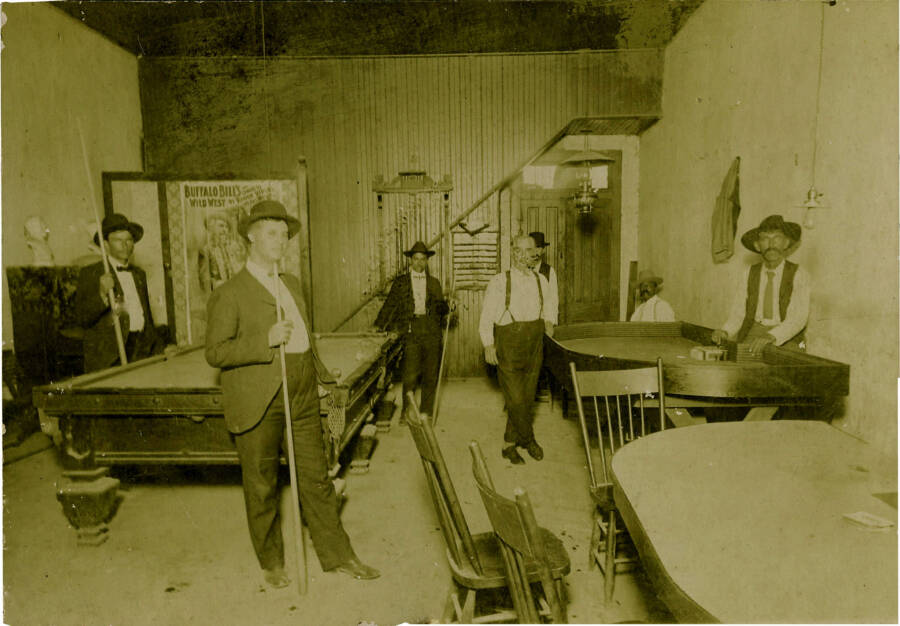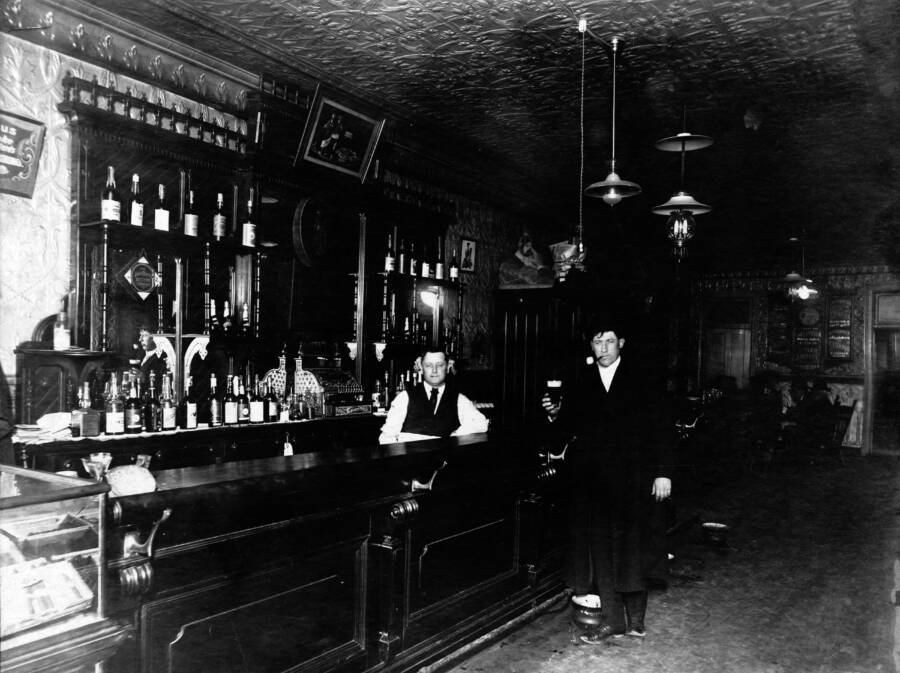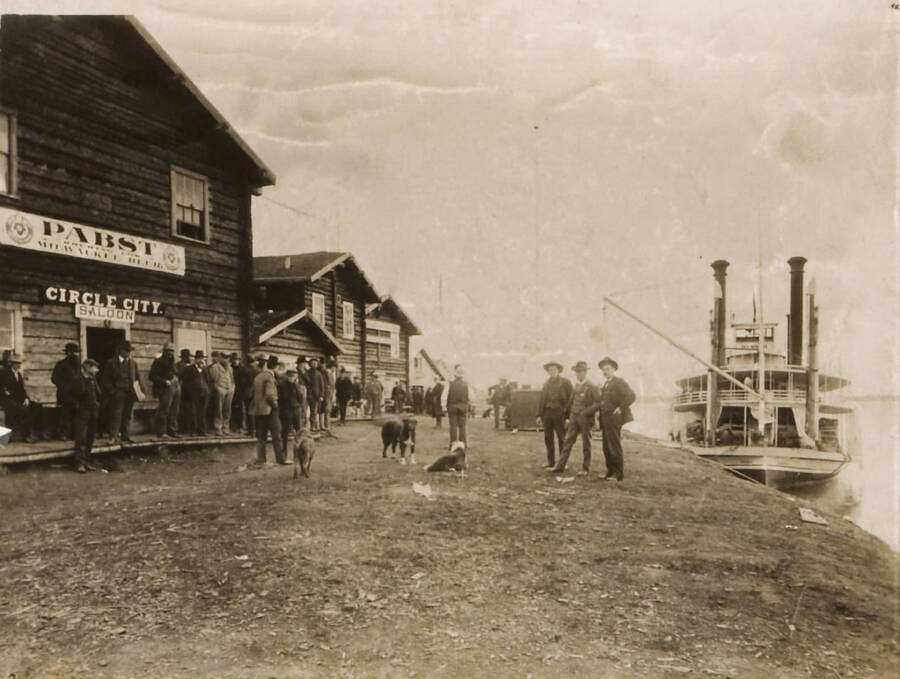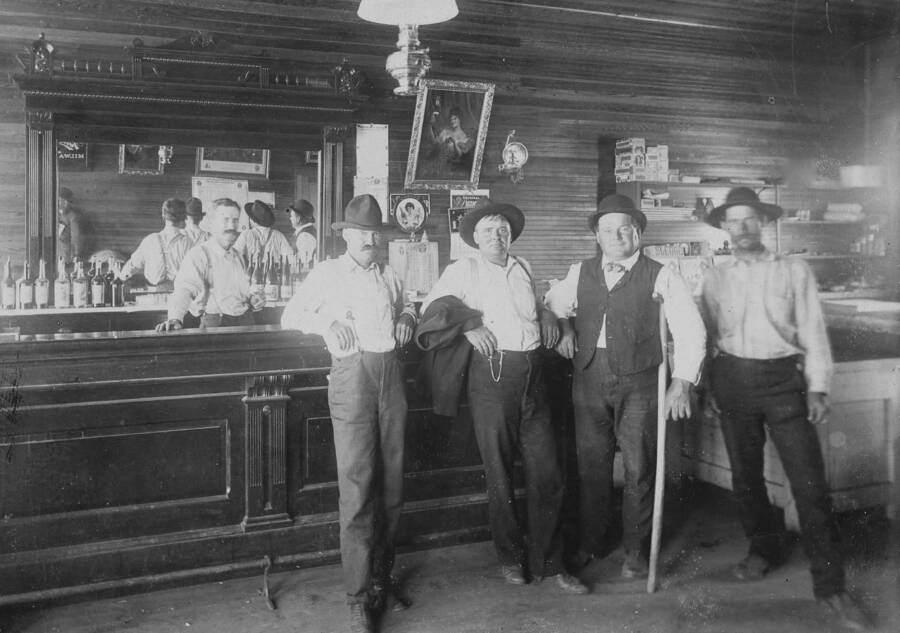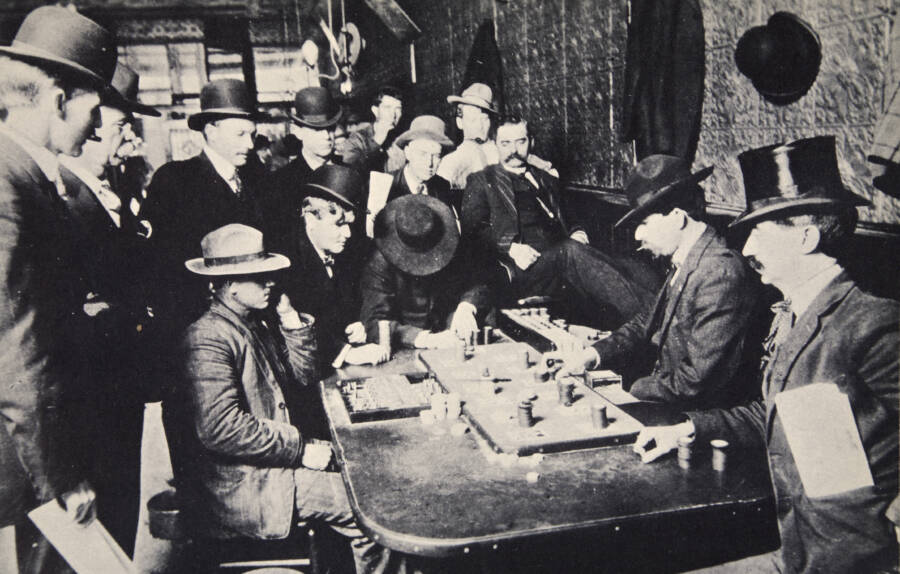 Historica Graphica Collection/Heritage Images/Getty Images
McClelland/Library of Congress/Corbis/VCG via Getty Images
R.L. Kelly/Buyenlarge/Getty Images
Mark Jay Goebel/Getty Images
Murray Utah Parks and Recreation
Montana Historical Society Research
Yellowstone National Park Heritage and Research Center
Sherratt Library/Southern Utah University
Mansfield Library/University of Montana
University of Texas at Arlington Library
Plainfield Public Library/Plainfield Historical Society
Online Archive of California
Inside The Rowdy World Of Wild West Saloons
Saloons were so prevalent in some Wild West towns that they completely consumed daily life. According to Legendary Watering Holes: The Saloons That Made Texas Famous, drinking and gambling were considered "Big Business" in Fort Worth, Texas during the 1880s. Back then, the future city had just nine churches — and more than 60 Wild West saloons.
Some of these saloons looked a lot like they do in Hollywood films. Many had swinging doors — called cafe doors or "batwing" doors — which allowed for easy access, ventilation, and privacy. Some even had a swinging chandelier or a big mirror behind the bar, but as Ranker notes, these fancy embellishments were relatively rare.
Regardless of what they looked like, most Wild West saloons attracted the same kinds of people. From Oklahoma to Kansas to California, they served everyone from cowboys to outlaws to miners to dance hall girls, where people could gamble — games like Chuck-A-Luck, Three-Card-Monte, Faro, and poker were popular — and enjoy a drink.
Modern-day drinkers, however, might not recognize the beverages offered. According to Legends of America, the whiskey was often made of raw alcohol, burnt sugar, and chewing tobacco, and sometimes went by names like bottled courage, coffin varnish, joy juice, and gut warmer. The nicest cocktail available would probably be Cactus Wine (tequila and peyote tea) or Mule Skinner (whiskey and blackberry liquor).
Attempting to order a fancier mixed drink could incur the ire of other bar customers — unless the person ordering already had a "tough" reputation.
Although Wild West saloons welcomed a variety of characters, from dust-encrusted miners to scowling cowboys, they usually didn't accept women or people of color as customers. Black people in the Wild West — who found work as cowboys, lawmen, mail delivery people, and more — were not typically welcome at white saloons and opened their own instead.
Indigenous Americans and Asian Americans would similarly not enter most Old West saloons. They might have been invited in on rare occasions, but would generally not cross the "color line" because of the deep-seated prejudices held by most white bargoers in the Wild West.
For women, the relationship with Wild West saloons was a little different. According to Legends of America, "respectable" women would never enter a saloon in the Old West, but women less concerned with their reputations might work at one. Women could find jobs as dance hall girls or sex workers, though they rarely held both of those positions at the same time.
At saloons, they entertained male patrons by singing, dancing, and flirting. They sometimes drank watered-down whiskey or even plain tea that looked like whiskey to ensure that they didn't get too drunk.
But Wild West saloons were primarily patronized by white men — miners, farmers, cowhands, outlaws, lawmen, and others who used the saloon as a gathering place. Since they didn't want to drink at home, men came to enjoy a glass of whiskey and to strike up a conversation with a fellow bargoer.
These gatherings sometimes devolved into violence but were far more often peaceful affairs. Artifacts found at old saloons usually include bottles, smoking pipes, and game boards. Bullets and other evidence of shootouts are rare. By and large, saloon patrons were careful not to ask each other too many personal questions, but they frequently bought each other drinks and often offered a drink to anyone unable to afford one.
---
After looking through these storied Western saloons, go back in time with these fascinating Wild West mugshots of old-school outlaws or peruse these vibrantly colorized photos of the Wild West.