Whether it's his abusive mother or his mind-control program with the CIA, these Charles Manson facts will upend all of your assumptions.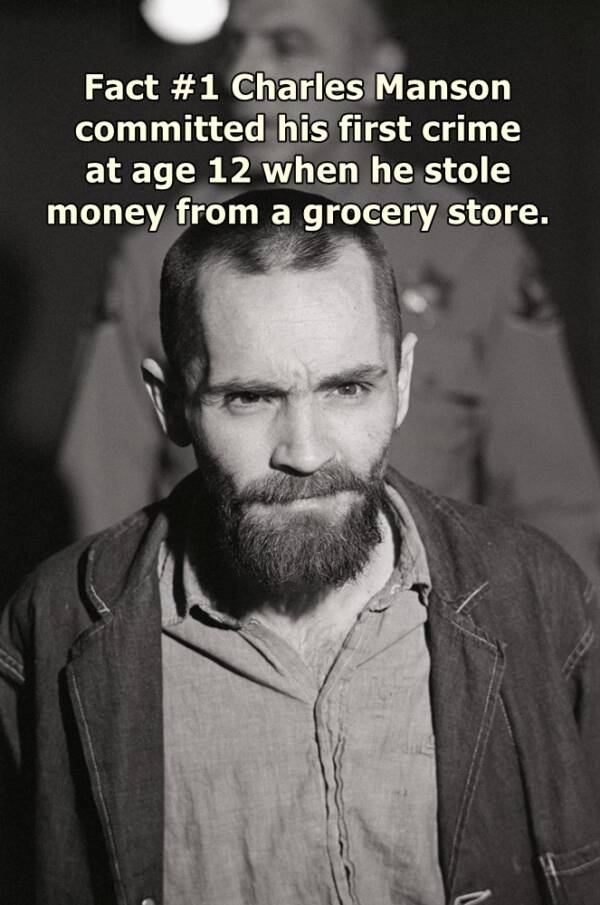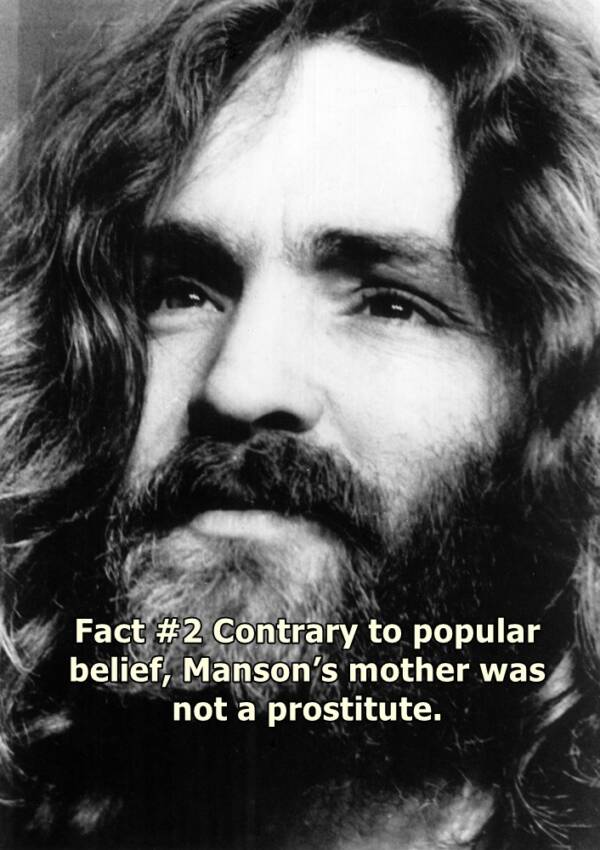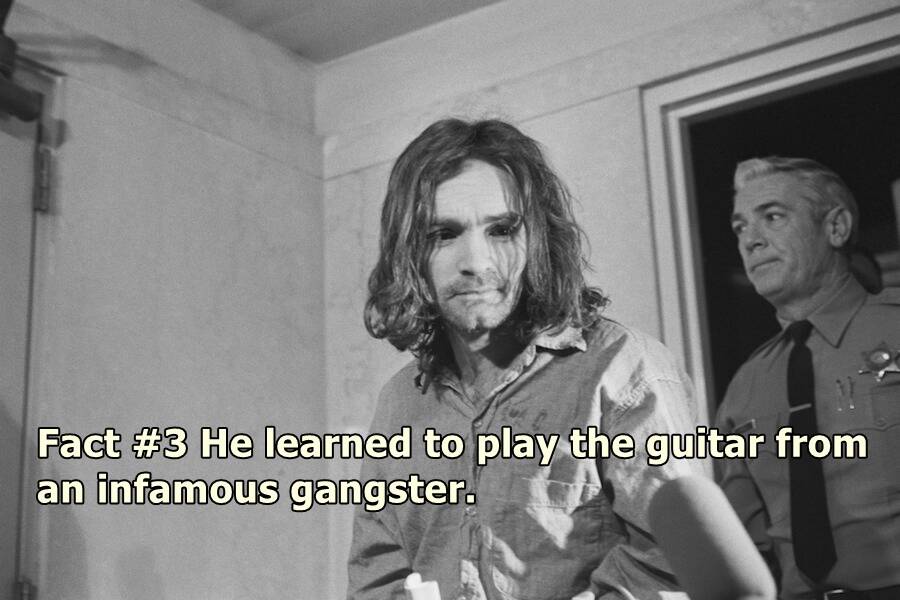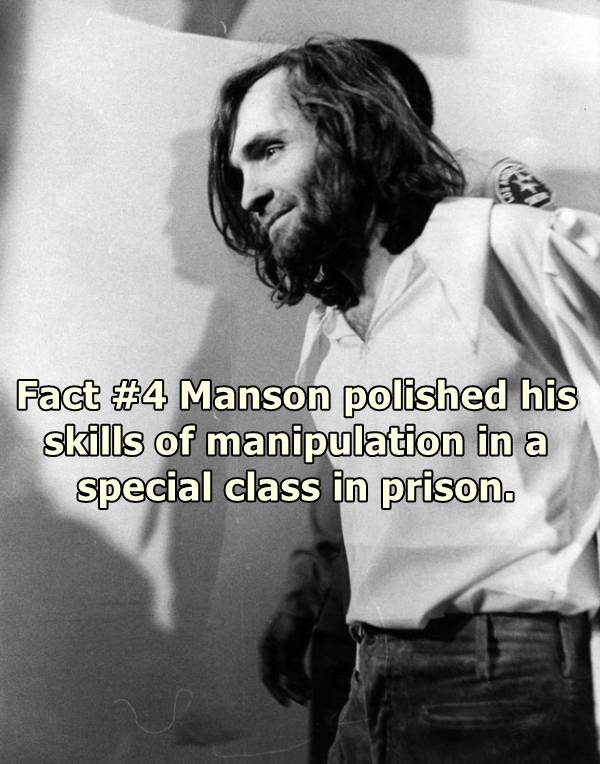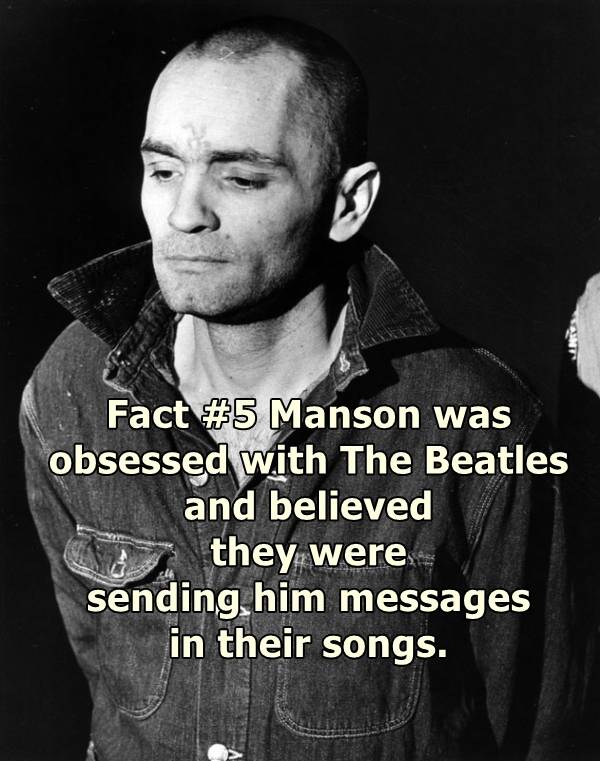 Mondadori Portfolio via Getty Images
Rick Browne/Los Angeles Times via Getty Images
Michael Ochs Archives/Getty Images
Albert Foster/Mirrorpix/Getty Images
Albert Foster/Mirrorpix/Getty Images
Michael Ochs Archives/Getty Images
Michael Ochs Archives/Getty Images
Albert Foster/Mirrorpix/Getty Images
Albert Foster/Mirrorpix/Getty Images
Albert Foster/Mirrorpix/Getty Images
Los Angeles Times via Getty Images
California Department of Corrections and Rehabilitation via Getty Images
Michael Ochs Archives/Getty Images
Watford/Mirrorpix via Getty Images
A half-century after the Tate-LaBianca murders shocked a nation, Charles Manson remains one of the most chilling figures in American crime history. The Manson Murders have long since gone down in history as some of the most disturbing killings of all time, with Manson himself viewed as one of the most disturbing figures in all of American crime lore.
But the intense spotlight on Manson over the decades has only blurred the lines between man and myth, leaving us to wonder what was fact and what was fiction? However, the Charles Manson facts above and below will begin to clear things up and shed some light on this terrifying yet fascinating man.
Charles Manson Facts: A Rough, Unusual Upbringing
Charles Milles Manson was born on November 12, 1934 in Cincinnati, Ohio as the illegitimate son of Kathleen Maddox and a local laborer named Colonel Walker Henderson Scott. He would later acquire the name Manson from his stepfather William Eugene Manson, who had wed his mother shortly before his birth.
The marriage was short-lived, with the senior Manson citing Maddox's drinking and "gross neglect of duty" as reasons for the divorce. Manson indeed grew up in an unstable environment as his mother continued to drink and steal.
When he was five years old, his mother and his uncle were arrested for committing a fake hold-up using a bottle of ketchup that they pretended was a gun. They got away with a car and $27 before local police caught up to them. After his mother and uncle went to prison, Manson was taken in by his aunt Glenna and her husband, Bill.
According to Manson's cousin Jo Ann, as a child he could be both charming and tyrannical, constantly lying, stealing, and sometimes even displaying signs of violent behavior (she claims he attempted to attack her with a sickle on multiple occasions). Other times, however, he would pick up an instrument and belt out beautiful hymns.
Nevertheless, by age 12, Manson committed his first notable, known crime: stealing money from a grocery store. This was the first of several burglaries he committed, later stealing many cars and carrying them across state lines, a federal crime that he first carried out at 16. Meanwhile, he also stole mail, forged checks, and pimped out women he dated, like Leona "Candy" Stevens, who he ultimately married (his second wife after Rosalie Jean Willis).
Eventually, after a string of such crimes, Manson served several years in prison in California for violating parole after trying to cash a forged government check in 1959. Interestingly, being locked up gave Manson a certain sense of stability and belonging that he never had on the outside.
Among all the other prison activities and clubs that he was part of during his stint, he also learned how to play the guitar. Thus began his obsession with music.
He started listening to The Beatles and quickly became obsessed with them. He even believed his musical talent could make him bigger than The Beatles, if only he had a shot — which is precisely what he sought when he finally got out in 1967.
The Manson Family
In 1968, the year after Manson was released from prison, he set up shop in California and began building what would ultimately be seen as his cult, the Manson Family. By all accounts, his unusual charm and penchant for persuasive if unhinged speechifying helped attract young loners, runaways, and the like into his orbit.
As Manson once so poetically put it to a friend in prison, "I am a very positive force... I collect negatives."
Many of his followers were young, white, middle-class, educated women, many of which felt either bored with or isolated from their real families. Thus the Manson Family was born.
His followers later claimed that they hung on Manson's every word and did whatever he told them to do. He ordered the women to perform household chores, coaxed them to perform sexual acts on each other, and took them dumpster diving as a way to scrounge for food. One of his first followers out of prison was a woman named Mary Brunner. She would later give birth to a baby boy named after his father, Charles Luther Manson.
Often, he would give sermons to his group to talk about an impending race war between whites and blacks that he believed would soon erupt. He told them that there would be bloodshed between the races while their "family" would go into hiding underground until the war ended.
Later, he told them, their clan would emerge as saviors to the Black race that had won the war. Manson named his deranged prophecy after the Beatles song, Helter Skelter.
Meanwhile, his powers of persuasion and musical talent got him a shot with some of Hollywood's music industry insiders, including Dennis Wilson of The Beach Boys. The nomadic cult even moved into Wilson's home on Sunset Boulevard for several months and cost Wilson about $100,000 worth of food, medical bills, and repairs resulting from property damage.
Manson also asked Wilson for money — while crashing his car, taking his possessions (including a Beach Boys gold record), and persuading him to take the Family to doctors in Beverly Hills. They partied, did drugs (primarily LSD) and had sex without a care in the world while staying at Wilson's.
Despite all of this, Wilson still liked Charles Manson and tried to get people, including record producer Terry Melcher, interested in Manson's music. Although nobody doubted that he had talent, Manson (a diagnosed schizophrenic) was far too mentally unstable to forge any sort of professional connections in the industry that could allow him to build a sustainable career.
He once even pulled out a knife after Melcher's team tried to train him in the studio and gave him unwelcome feedback on his music. But even if he couldn't make it in the music business under his own name, his compositions did find their way into the spotlight. Wilson took Manson's "Cease To Exist" and redid the lyrics to create the Beach Boys song "Never Learn Not To Love."
When Wilson ultimately died in a drunken drowning accident in 1983, Manson believed it was karma: "Dennis Wilson was killed by my shadow because he took my music and changed the words from my soul."
According to Vincent Bugliosi, the prosecuting attorney on the Manson murder case, Manson's obsession with music and lack of success in the industry contributed to the 1969 murders that made him infamous. Manson reportedly became obsessed with the rich and the insiders who'd scorned him, calling them "pigs," and deciding that they needed to suffer and die.
Charles Manson Facts: The Tate-LaBianca Murders
In August 1969, Manson reportedly summoned his followers and announced that it was time for Helter Skelter to begin. He sent som of his most trusted devotees — Susan Atkins, Patricia Krenwinkel, Linda Kasabian, and Charles "Tex" Watson — to both commit homicides against Hollywood's wealthy elite and try to frame black men for the crimes, thus initiating the race war Manson believed was coming.
Fittingly, the first place Manson sent hid killing posse, according to the prosecution, was a mansion in Benedict Canyon at 10050 Cielo Drive, where Manson believed Melcher had been living (though other evidence suggests that Manson already knew that Melcher had moved out).
When the Family got there on the night of August 8, they beat, brutalized, stabbed, and shot everyone on the premises, killing actress Sharon Tate, celebrity hairstylist Jay Sebring, coffee heiress Abigail Folger, and writer Wojciech Frykowski. A fifth occupant, 18-year-old Steven Parent, who was not even supposed to be there and was only visiting the property's caretaker was also killed by the Manson Family.
After she finished cutting up Tate's lifeless, pregnant body, Atkins took some of Tate's blood and scribbled "PIGS" on the house's front door, a reference that was supposed to lead police to the Black Panthers.
The group perpetrated another set of murders the next night, allegedly upon a request from Manson again. This time, Family member Leslie Van Houten joined in and helped the others to kill Los Angeles business owners Leno and Rosemary LaBianca inside their home.
Afterward, in a move similar to that of the previous night, the Family wrote "DEATH TO PIGS" in blood on the wall. The group also added another message that read "HEALTER SKELTER," a misspelling of Manson's race war rallying cry.
After four months, the cops finally linked the murders back to the Manson Family, who had been living at a place called Spahn Ranch outside of Los Angeles. Atkins, who had been thrown in jail on a separate case, had told other inmates that she killed Sharon Tate. That confession, eventually combined with damning testimony from Watson and Kasabian, brought the Manson Family down.
In the end, Manson was convicted as the brainwashing leader of the group, found guilty of murder, and sentenced to death, which was commuted to life imprisonment after California abandoned capital punishment soon after.
Charles Manson would spend the remainder of his life since behind bars before dying in prison on November 19, 2017 at age 83.
Discover some of the most interesting aspects of the rest of his story in the gallery of Charles Manson facts above.
---
After discovering these Charles Manson facts, experience some of the most outrageous Charles Manson quotes. Then, read all about infamous Manson Family member "Squeaky" Fromme.