He's known for his deranged rambling, but these Charles Manson quotes will have you questioning how wise this murderous cult leader may have actually been.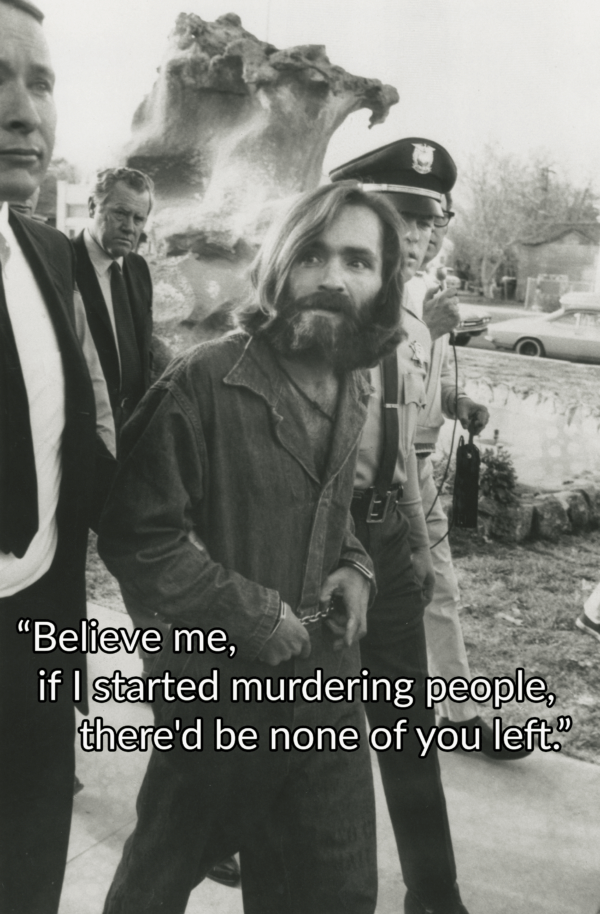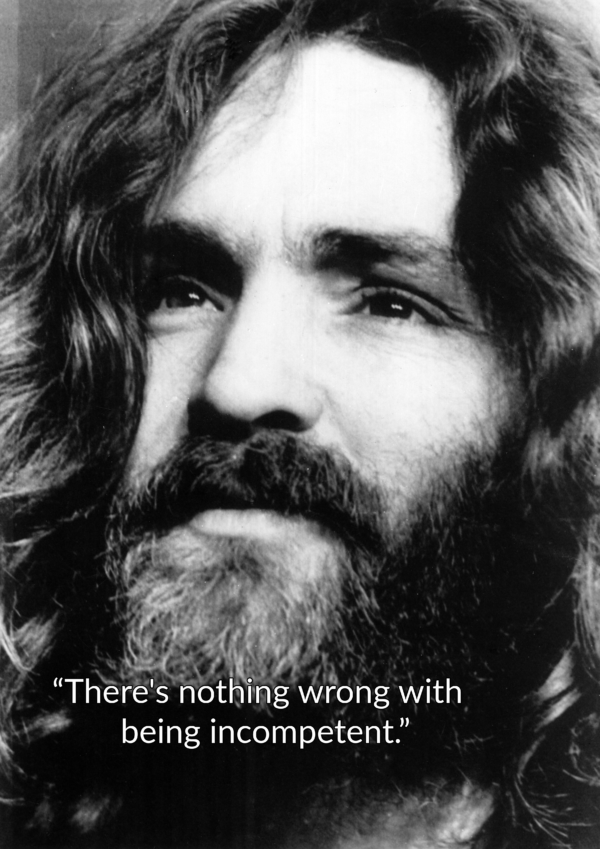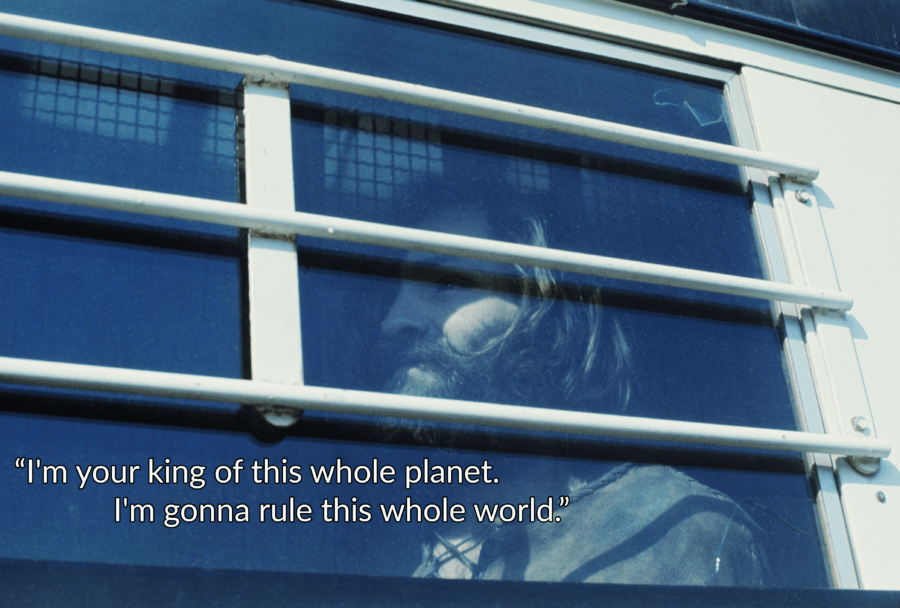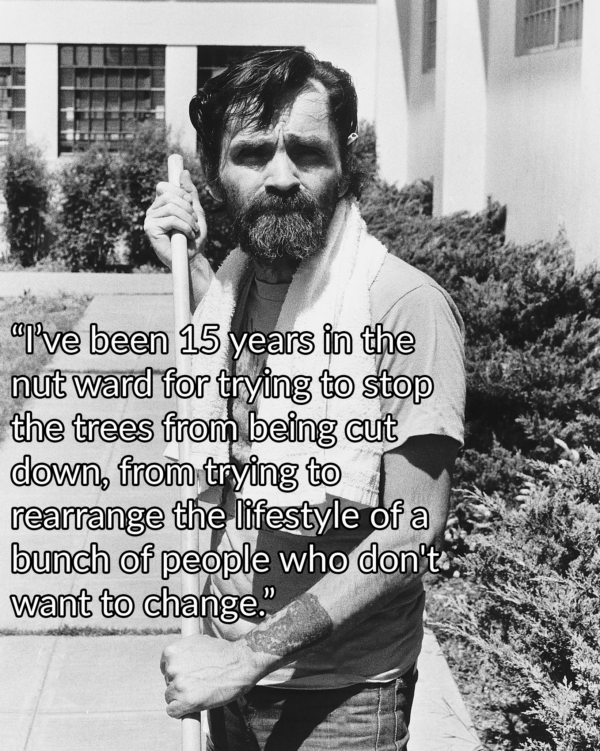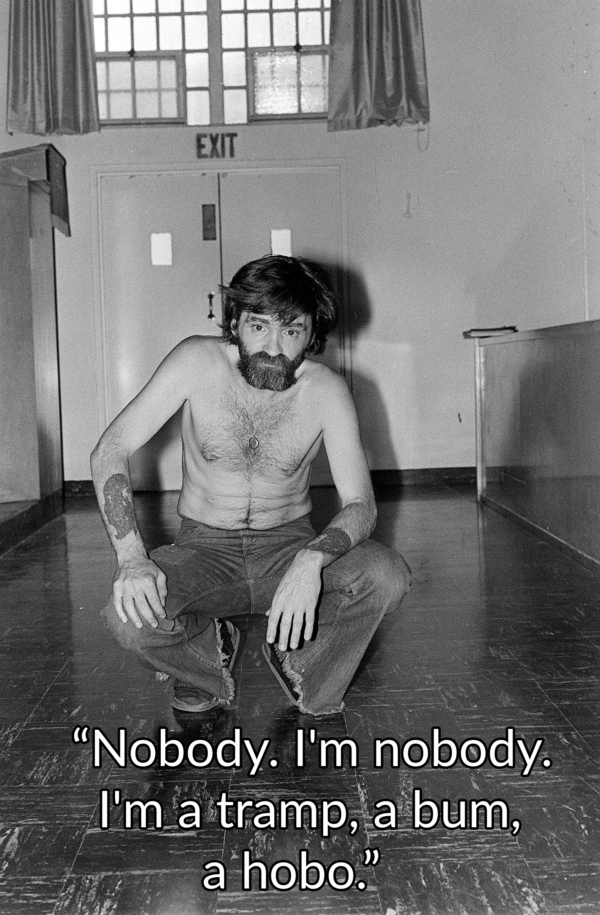 Vernon Merritt III/The LIFE Picture Collection via Getty Images
Mondadori Portfolio via Getty Images
Albert Foster/Mirrorpix/Getty Images
Albert Foster/Mirrorpix/Getty Images
Michael Ochs Archives/Getty Images
Vernon Merritt III/The LIFE Picture Collection via Getty Images
Vernon Merritt III/The LIFE Picture Collection/Getty Images
Vernon Merritt III/The LIFE Picture Collection/Getty Images
Sahm Doherty/The LIFE Images Collection via Getty Images
Albert Foster/Mirrorpix/Getty Images
Vernon Merritt III/The LIFE Picture Collection via Getty Images/Getty Images
Los Angeles Public Library
Los Angeles Public Library
Michael Ochs Archives/Getty Images
Vernon Merritt III/The LIFE Picture Collection via Getty Images
Michael Ochs Archives/Getty Images
Even a half-century after the murders that made him infamous and terrified a nation, Charles Manson remains fascinating to countless people around the world.
What remains of the late cult leader are stories of sex, drugs, and brutality, as well as a hypnotizing kaleidoscope of quotes that range from disturbing to strangely insightful.
It's words like these — some of the same words he used to draw in the followers that ultimately killed eight people — that help keep Charles Manson's legacy interesting to this day.
Experience some of the best Charles Manson quotes in the gallery above and learn more about the story of his strange and macabre life below.
The Manson Murders
On August 8 and 9, 1969, the Manson Family killed actress Sharon Tate and her companions as well as Leno and Rosemary LaBianca inside their Los Angeles homes. These ghastly crimes saw the killers stab their victims dozens of times, disembowel them, and leave messages scrawled in blood at the scene.
After a few months, police eventually determined that Manson himself had ordered his young followers to commit these brutal murders. Immediately, the nation was bewildered at how this strange man had managed to draw so many people in. How could a failed musician, who was an amateur thief-turned-cult leader on the side, recruit so many obedient youths into a makeshift "Family" that adored him to the point that they were willing to kill?
The authorities, the media, and the public clamored to hear from Charles Manson — and he did not disappoint. Vocal with the press and willing to represent himself at trial, Manson began spouting his bizarre brand of philosophy and jibberish for all the world to hear. Charles Manson quotes quickly found their way into newspapers and television, leaving us with a window into his disturbed mind.
But before this image of Manson became immortalized, he led a life that may surprise those unfamiliar with his story. As a matter of fact, the notorious criminal was married twice and fathered two (some say three) sons before he forced a nation to pay attention to him.
Once the spotlight shone on him — the Jesus-looking hippie who forced a group of brainwashed youths to murder Hollywood elite — it stayed on him for good. But the story of Charles Manson of course began long before he was in the spotlight.
Charles Manson Before The Murders
Born Charles Milles Maddox in Cincinnati, Ohio on November 12, 1934, Manson didn't have a pleasant childhood. His mother, Kathleen Maddox, was a runaway who gave birth to him at just 16. Unfortunately, she was also a relentless alcoholic who was in and out of jail.
Maddox married William Manson shortly after she became a mother. Though this union didn't last long, the young boy would be known as Charles Manson for the rest of his life. Maddox was incarcerated for robbery in 1940 and spent little energy — if any — on motherhood.
"Mom was in a cafe one afternoon with me on her lap," Manson later recalled. "The waitress, a would-be mother without a child of her own, jokingly told my Mom she'd buy me from her. Mom replied, 'A pitcher of beer and he's yours.' The waitress set up the beer, Mom stuck around long enough to finish it off and left the place without me. Several days later my uncle had to search the town for the waitress and take me home."
After that traumatic experience, things didn't get much easier for the young boy. Manson spent his childhood being passed around from a fanatically religious grandmother to a verbally abusive uncle, and another uncle who killed himself upon learning his property was being seized by the government.
When he was nine years old, Manson had an unproductive reunion with his estranged mother. This was exactly the same period of time when the young boy began stealing. At 12, he was sent to the Gibault School for Boys in Terre Haute, Indiana.
Manson eventually escaped Gibault, only to get caught and be sent back several times. But soon enough he was out of school for good and able to begin his career as a burglar and car thief. At 17, he drove a stolen car across state lines and was sent to prison.
But thought he was behind bars time and again, Charles Manson was actually able to live something of a normal life — for a time.
Marriage, Children, And Attmpted Normalcy
In 1954, 19-year-old Charles Manson was released on parole and met his first wife, Rosalie Jean Willis. A young hospital waitress, Willis would soon become pregnant and give birth to his first son, Charles Manson Jr.
The pair drove to California in a stolen car, putting Manson behind bars again. His sentence was three years in Terminal Island Prison in San Pedro, California. It wouldn't be the last time Manson left a single mother behind while he went to prison.
The relationship quickly became too difficult for Willis to maintain. Manson's mother told her son during a prison visit that his wife had moved in with another man, and in June 1957, Willis divorced her troubled husband and left his life for good.
Manson got out of prison in 1958 but his freedom was short-lived. He quickly fell back on old habits such as robbery and even began pimping out women. A year later, he unsuccessfully attempted to forge Treasury checks and was sentenced to 10 years in prison.
This was also the same year he'd met Leona "Candy" Stevens, who'd soon became one of his prostitutes — and then his wife. He'd gotten her pregnant but was now on his way back to jail. Once again, Manson had landed himself in jail and left a wife and child behind. This marriage, too, ended in divorce.
With two failed marriages and two abandoned sons behind him, Manson's chance at a normal life was over. When he got out of prison, the countdown to the murders would begin.
The Manson Family Forms
On March 21, 1967, Charles Manson regained his freedom and headed for San Francisco. It was the Summer of Love and the aspiring musician (he'd learned to play guitar while serving his sentence) took off for the place to be if you wanted to become a songwriter.
It was here that he met Mary Brunner, a U.C. Berkeley librarian who fell head over heels for him. When he took her up on an offer to move in together, she quit her job and followed Manson down the rabbit hole of psychedelic drugs and sexual experimentation.
Brunner was one of the first members of the Manson Family and helped its figurehead recruit like-minded disciples. Lynette "Squeaky" Fromme came next and it didn't take long for other San Francisco hippies to hear about the man who sang trippy songs and spouted odd wisdom to all who would listen. Even before the murders, Charles Manson quotes were developing a certain dark mystique.
Manson was incredibly successful at drawing people in. His followers quite literally saw him as a prophet, one they'd often compare to Jesus Christ himself. They'd follow him anywhere — and that's just what happened.
In 1968 — one year before the Tate-LaBianca murders — the Manson Family drove to Southern California, to settle on a disused movie filming location called Spahn Ranch. It was here that they grew closer than ever as a cult and it's here where the murders were born.
Spahn Ranch And Helter Skelter
After moving to Los Angeles, Manson was still keen on becoming a famous musician, but that dream never came to pass. He did, however, comes close.
Manson met Dennis Wilson of the Beach Boys through Gary Hinman, a music teacher who recorded Manson's original composition "Never Learn Not to Love" for him.
It was Hinman who introduced Manson to record producer Terry Melcher, who Manson believed would be his ticket to fame. When this didn't work out, Manson was enraged and retreated to the Family compound at Spahn Ranch.
The compound was unfurnished and desolate but isolated from the rest of society, so Manson could control his environment and subjects as he needed.
And when The Beatles' White Album came out in 1968, Manson became obsessed with the song "Helter Skelter." His fascination with the track was so strong that he used the term to refer to what he thought would be an impending race war. He thought his followers would survive the war on their ranch and then take over afterward.
These odd beliefs, prosecutors would later say, are what helped inspire the Family to start committing murder (though the explanations do vary). At least according to some, Manson told his followers to start killing people in order to make it seem as though the race war was already underway, to bring the Helter Skelter prophecy to fruition.
The killings began with Gary Hinman in late July 1969 and the Family tried to make it look as though the Black Panthers were responsible. Then Manson's followers committed the murders that still strike fear into the hearts of millions 50 years later.
The Tate-LaBianca Murders
According to prosecutors, Manson ordered his followers to invade the house at 10050 Cielo Drive on August 9, 1969 and kill anyone and everyone inside. The house previously belonged to Melcher, which some said was Manson's motive for choosing that location. However, the explanations for the killings remain murky and there is evidence that Manson knew Melcher was no longer living there before he gave the murderous orders.
Instead of Melcher, it was film director Roman Polanski and his new wife, actress Sharon Tate, who were renting the house at the time. And though Polanski happened to be away at the time, it was Tate who was brutally stabbed to death — while eight months pregnant — alongside four others who happened to be there that night.
Manson Family members Charles "Tex" Watson, Susan Atkins, Patricia Krenwinkel, and Linda Kasabian snuck inside the home and both stabbed and shot everyone within. They scrawled the word "PIG" on the front door in blood and left mutilated bodies out for all to see.
The next night, the Manson Family committed their next set of murders when they stabbed Leno and Rosemary LaBianca to death inside their home. The killings shocked the nation and left the authorities and the public anxious for justice.
Charles Manson Quotes Enter The American Lexicon
The police first believed the Tate murders to be a drug-deal-gone-wrong scenario. It took authorities several months to find those actually responsible, thanks to some confessions from Family members, and so Manson along with many of his followers were arrested in December.
The trial began the following summer and Manson was eventually found guilty of first-degree murder and conspiracy to commit murder. He was sentenced to death but California soon did away with capital punishment and Manson's fate changed to life in prison — the same fate that soon befell several of his followers as well.
As the decades passed behind bars, the murderous cult leader's legacy grew larger than ever before as he gave countless interviews and more and more Charles Manson quotes made their way into the American consciousness.
Though he tried to be released on parole a dozen times, the requests were always denied. Charles Manson died of natural causes behind bars on November 19, 2017, at age 83. And though he is now gone, Charles Manson quotes like the ones above will certainly live on for years to come.
---
After reading these astounding Charles Manson quotes, take a look at other serial killer quotes that will chill you to the bone. Next, check out these Charles Manson facts that demistify the monster.