Discover the strangest photos ever taken in this collection of bizarre animals, unusual inventions, and extraordinary events that are completely one of a kind.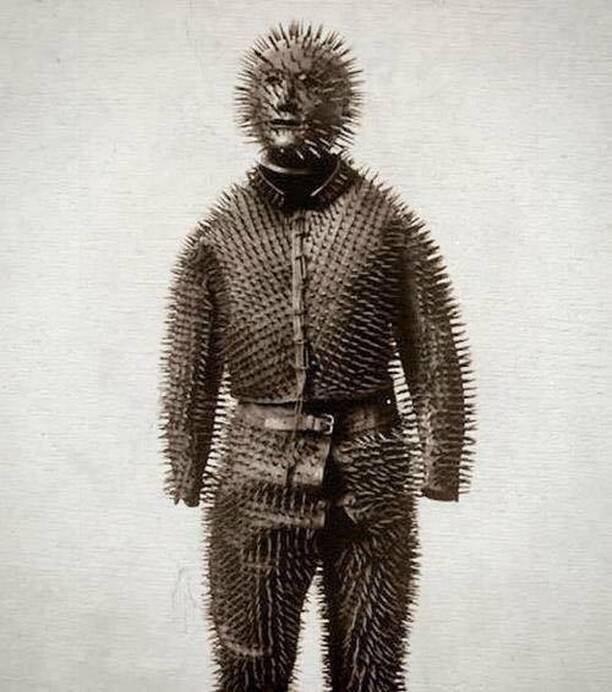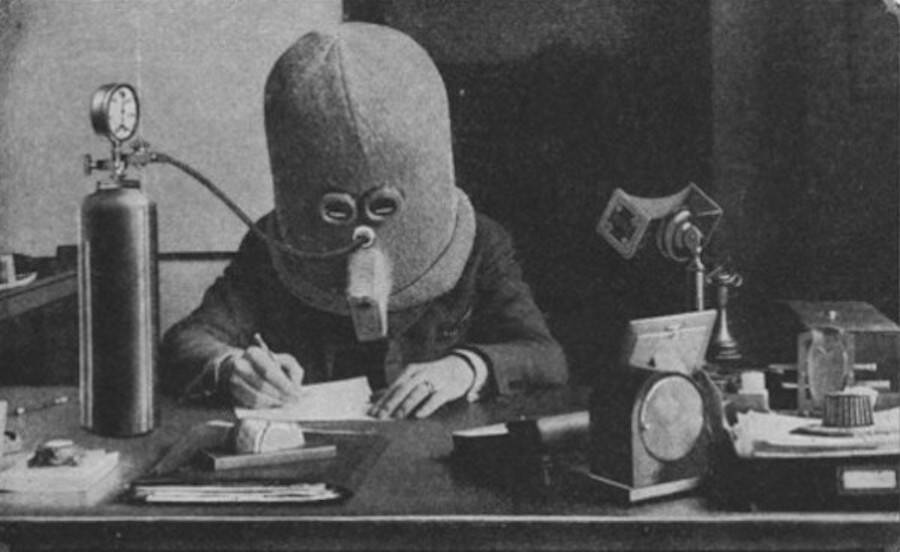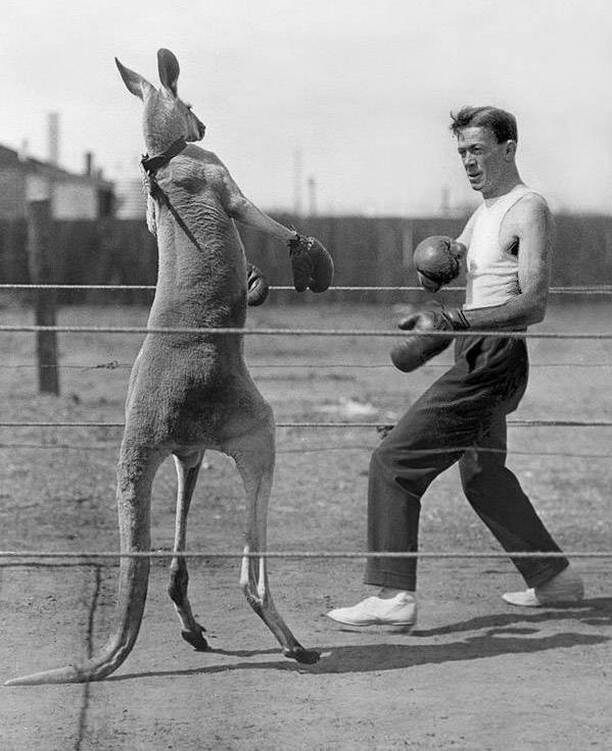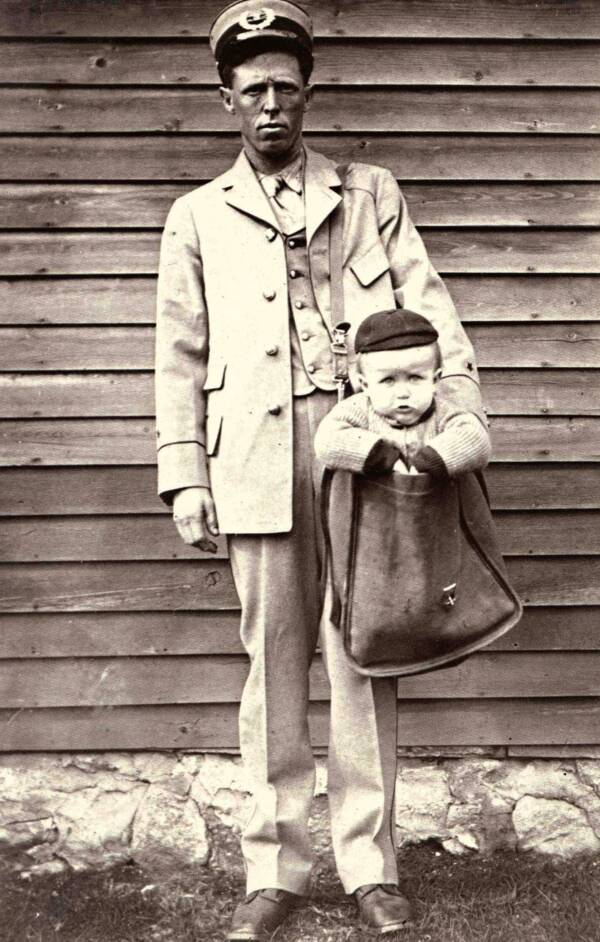 Weird Pictures: The "Wildman Suit"
John Smith, The "137-Year-Old Man"
Strange Photos: The Isolator
When Children Were Shipped In The Mail
The Strange Picture Of A.L. Kahn's Manta Ray
When Thanksgiving Was More Like Halloween
Strange Pictures: The Disneyland Cafeteria
The Woman Who Went Over Niagara Falls In A Barrel
Weird Pictures: The Original Ronald McDonald
A Strange Photo Of A Policeman's Portable Holding Cell
Hulton Deutsch/Corbis/Getty Images
Weird Pictures: Miss Atomic Bomb
Las Vegas Sun
Strange Pictures: Operation Babylift
One Of The Weirdest Pictures Of The Punt Gun
A Half-Catholic, Half-Protestant Couple Buried Side By Side
Preserved Human Hands Captured In This Weird Photograph
André The Giant Meets A Fan
Neptune Rising Out Of The Sea
When Hard Drives Had To Be Transported By Plane
Alfred Hitchcock Meets Leo The Lion
Strange Pictures: Salvador Dalí And His Anteater
Trying To Escape To Mexico In 1939
A Weird Photograph Of Soviet Soldiers Feeding Polar Bears
World War I Sound Finders
Weird Pictures: Sunlight Therapy
The Mickey Mouse Club In The 1930s
Buzz Aldrin's Space Selfie
Spectators At The Trial Of Al Capone
Ullstein Bild/Getty Images
Nintendo's Original Headquarters In 1889
Motorized Roller Skates
Motorized Roller Skate Company
How To Avoid Trigger-Happy Police During Prohibition
Testing The Bulletproof Vest
A Strange Picture Of A Vintage Coca-Cola Advertisement
Vintage Halloween Costumes
A Weird Photograph Of A Wheat Field In Manhattan
Night-Fishing In Hawaii In 1948
Rapatronic Image Of Nuclear Detonation
Smithsonian National Museum of American History
Weird Pictures: 1950s Smoking Device
Human Chess In Soviet Russia
Margaret Howe Lovatt's Intimate Relationship With A Dolphin
A Mother And Son Watch An Atomic Bomb Test From Their House
Strange Photos: Dr. Carl Tanzler And His Human Doll
The Statue Of Liberty's Head
Poon Lim's 133 Days At Sea
The Motorboard
Peter Stackpole/The LIFE Picture Collection/Getty Images
Finding The Collyer Brothers
Tom Watson/NY Daily News/Getty Images
While the annals of history are littered with weird pictures, the truly strange photos are the ones that remain eerie or downright disturbing even after you've learned the stories behind them. In fact, some of the most astoundingly weird photos from history are the ones that only become more bizarre after you've learned their backstories.
For example, it's one thing to see the impossibly wrinkled face of Minnesota Chippewa Chief John Smith, but it's quite another thing to learn that he supposedly got those wrinkles by reaching the astonishing age of 137 before dying in 1922.
Then there are the weird historical photos from more than a century ago that show mailmen carrying real live infants in their bags. Though it may sound literally unbelievable, the United States Postal Service actually allowed its carriers to transport small children who had been shipped somewhere by their parents for about two years starting in 1913.
And these are just some of the weird pictures pulled from the strangest recesses of history. From humans boxing with kangaroos to the woman who went over Niagara Falls in a barrel, see more of the weirdest historical photos in the gallery above and learn more about a few of their stories below.
The Story Of A.L. Kahn's Manta Ray And One Of The Weirdest Pictures Ever Taken
On August 26, 1933, New York silk merchant A.L. Kahn was fishing off the coast of Deal, New Jersey when something enormous became ensnared on his anchor line. For hours, he and his mates struggled with the great beast, eventually getting help from the U.S. Coast Guard and using several dozen bullets to finally subdue this gargantuan "devil fish."
When they finally got it aboard, they saw the enormous manta ray they'd just landed. At more than 20 feet wide and weighing in at over 5,000 pounds, this was one of the most staggering sea creatures ever captured.
Soon, Kahn had the ray taxidermied and strung up on a crane, charging ever-growing crowds 10 cents a piece to see this astounding marine beast that remains shocking to this day.
As the St. Louis Post-Dispatch wrote at the time, it was "a harrowing three-hour struggle to decide whether the fishing party was capturing the fish, or the fish was capturing the boat and its four occupants."
What we're left with, some 90 years later, is a weird historical photo that continue to evoke gasps of disbelief.
The Strange Photos Of Dr. Carl Tanzler's Human Doll — And The Chilling Story Behind Them
It's one thing to refuse to accept that a loved one has died, but quite another to desecrate their corpse in order to pretend they're still alive. For German-born Dr. Carl Tanzler, that loved one was a beloved patient who perished from tuberculosis in 1931, a passing that broke his heart. But what happened next was unspeakably macabre.
Eleven years earlier, Tanzler had gotten married and fathered two children, but then abandoned them after securing a job as radiologic technician in Key West, Florida. It was here, while working at a U.S. Marine Hospital under the name Count Carl von Cosel, that he met Cuban-American Maria Elena Milagro de Hoyos.
The 22-year-old reminded him of all the dark-haired women he had dreamt of as a child and he became convinced they were destined to be together. When she eventually died of tuberculosis in 1931, he was shattered — and became determined to somehow keep her around. Two years after her death, he broke into the mausoleum to get her back.
Tanzler brought the body to his home in April 1933, and kept it in an old airplane he repurposed into a laboratory. Desperate to infuse some life into the two-year-old corpse, he used glass eyes to maintain her facial integrity and added in Plaster of Paris, coat hangers, and wires to retain her skeletal frame.
Perhaps most disturbingly of all, he stuffed the woman's torso with rags. Next, he covered her scalp in human hair — and regularly applied mortician's wax to her face to make it look "alive." Tanzler also dressed Hoyos in fine clothing — and slept in bed with her for the next seven years.
Eventually, a local boy reported seeing the doctor dancing with what looked like a giant doll — which Hoyos' sister quickly realized was her dead sibling after paying Tanzler a surprise visit. Though the doctor eventually stood trial in 1940, he got off scot-free.
Unfortunately for the Hoyos family, the statute of limitations had expired. On the bright side, the woman's body was finally laid to rest with no further desecration. But the images that remain of her violated corpse rank with the most disturbingly strange pictures ever captured.
---
After learning about these 55 remarkably weird pictures from history, take a look at 77 bizarre photos that prove history was far stranger than you ever realized. Next, check out 33 rarely seen photos taken mere moments after history was made.